Fried Onion recipe is a simple recipe on how to deep fry onions which is an essential ingredient that can be used in many dishes like biryani or curries or korma recipes.
 There are certain spices or essential requirements that are a must learn and made at home for special rice delicacies and making them homemade is the best option for a better taste like frying onions for rice recipes or like homemade ginger garlic paste which gives out a better taste in main dish recipes…
In this recipe I would like to show my readers how easy it is to deep fry them and an important ingredient to make rich dishes like korma recipes or biryani recipes  such as hyderabadi mutton biryani or pakki yakhni mutton biryani recipe , hyderabadi veg biryani recipe, chicken biryani in oven , biryani in cooker etc… where the dish is incomplete without adding the fried onions.
One more such dish where I have used these fried onions is Hyderabadi Chicken Dum Biryani Recipe and any more korma recipes.
If the onions are fried and kept in an air tight container then, it can be stored for few days and the deep fried onions can be used in any recipe without wasting much of a time.
Apart from making these homemade stuff, it is also important to prepare freshly home made spices to be used in cooking such as I have cumin powder and dhaniya powder which I always use home made.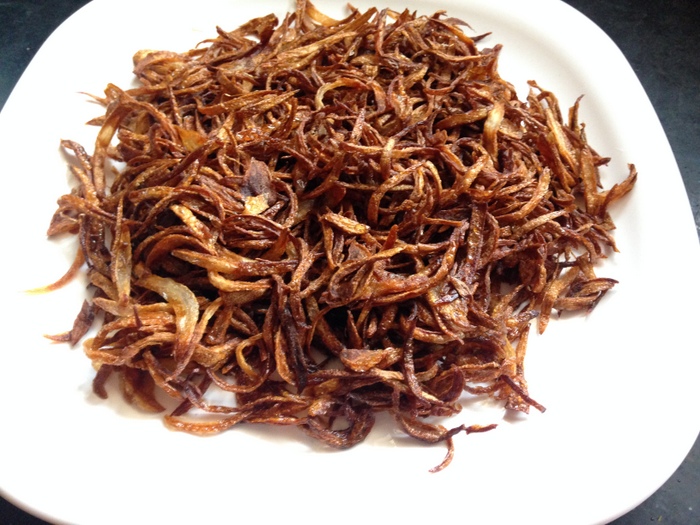 As they take  a lot of time to be deep fried especially, if they are fried in large quantity, it is better to make them in advance and store them for later use for many other recipes which require this ingredient.
If slicing onions is a difficult task then there are lots of onion slicers available in the market which saves our time and tears…. Watch this space as I will be showing many recipes using this ingredient and making delicious recipes….
               It is also called as pyaz ka barista or onion barista for biryani…
Below I would be sharing how to deep fry onions which is a very easy procedure to follow.
Fried Onion Recipe or How to fry onions for biryani: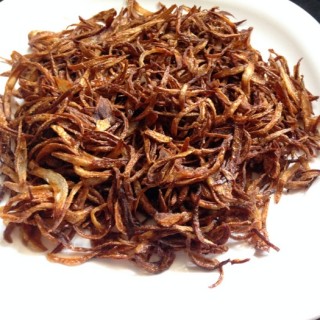 Fried Onion Recipe, How To Fry Onions For Biryani
Easy and crispy deep fried onions for delicious recipes.
Print
Pin
Rate
Ingredients
3 - 4

large sized onions vertically and thinly sliced

oil for deep frying
Instructions
Firstly, add oil in a wok and heat it.

When the oil is heated up, add the sliced onions.

Stir for a while.

Fry the onions on sim flame.

Fry them until a pinkish color is observed.

Keep stirring in between so that all the onions are fried well and evenly attain the pinkish color.

When the onions are fried well and attain the golden brown color strain them out.

Place them on a tissue paper and spread them loosely.

Let the oil be absorbed by the tissue paper.

Place them uncovered for 5 - 10 minutes so that they become dry and get the crispy texture to the onions.

When the onions are crispy and crushy, they are ready to be used.

Store them in an air tight container.

They can be used for few days.
Notes
Do not fry the onions on high flame.
If done so the onions may turn darker and lose the flavor which is actually required in the recipe.
Nutrition
Want To Watch Video Recipes?
SUBSCRIBE US ON YOUTUBE!
A simple and quick video on fried onion recipe for a glance….