Check out this list of many vegetable side dishes of Indian origin suitable to be served with roti, rice, or any flatbread, or just steamed rice is enough.
India grows so many vegetables, and now it is easy to find those veggies worldwide, such as in countries like the United States and the United Kingdom.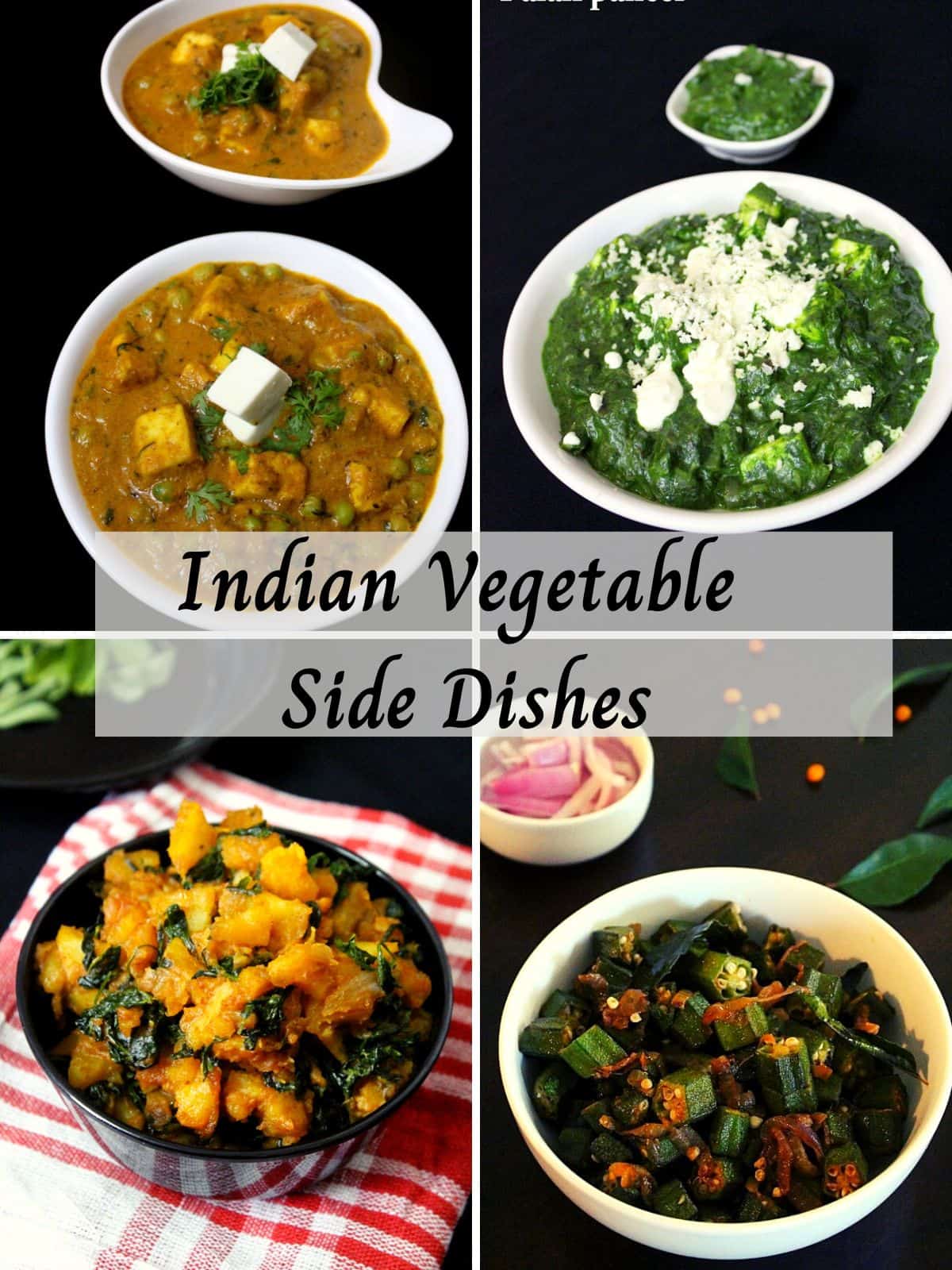 Jump to:
Making them is pretty straightforward, and vegetables are easy to make regardless of your chosen cooking method.
Below are more than 31 Indian side dishes made using potatoes, spinach, bhindi or okra, eggplant or brinjal, etc.
You can also find paneer dishes, matar or green peas, cauliflower side dishes, methi or fenugreek dishes, etc.
There are different sabji recipes, curry recipes, stir fry recipes, chutney recipes, or gravy recipes made from vegetables to choose from and make.
Suggested
List of 31 Indian vegetable side dishes
Potato Fry
Potato is a veggie liked by almost every Indian. If you are not looking at your carbs and want this vegetable as your next side dish, make it with roti or phulka.
The recipe is quick to make as potatoes take less time to cook and can be stir-fried easily.
Peel the potatoes, cut them into thin slices, and stir fry them in basic spices by giving a slight tempering initially.
Matar Paneer
This gravy-based curry recipe is a must-try for your next meal as it tastes similar to a restaurant kind of paneer recipe.
This side dish goes perfectly with Naan or paratha, and I am sure you will never want to have outside paneer curry.
Make a gravy of onions and tomatoes richer by adding cashew nuts to the gravy base to make a base that goes perfectly with bread.
Adding green peas and combining them with cottage cheese or paneer gives a delicious taste to the gravy.
If you are looking for indian vegetable side dishes, try this recipe and get the feel of restaurant food at home.
Baingan Masala
This vegetable side dish uses eggplant, commonly called baingan, in some Indian states, and the taste of this vegetable in the curries tastes so good.
Try this recipe of masala baingan which contains a gravy base with stir-fried eggplants in it.
Cooking the eggplants in a base of coconuts, peanuts, and sesame makes it a special gravy suitable for festivals, special occasions, and regular dinners with family.
Bhindi Fry
This is a popular north indian style of making bhindi recipe. Stir-frying the okra or the bhindi quickly with chilies, curry leaves, and some basic spices makes a healthy indian vegetable side dish.
The bhindi recipe is perfect with roti or phulka and tastes so good with flatbreads.
If you like bhindi amongst all the different vegetables, try this side dish or pack it for your lunch box.
Also, check out bendakaya fry for a southern touch to the recipe.
Bhindi ki sabji
This side dish has a slight curry texture; you can say it is not completely dry.
The bhindi sabji is suitable to serve with rice and roti and is cooked to get the texture of a curry.
You can cook this sabji with only onions or add tomatoes to get a curry base and have it with rice.
Choosing roti or rice is optional, and go for sides that suit you the best and the veggies you like the most.
Bottle Gourd Recipe
Bottle gourd is commonly called lauki in northern India and sorakaya in some South Indian states and has different names in different languages.
I also have dalcha recipe and kaddu ka dalcha made with this vegetable, and you can have a look if you like to use more like a dal.
It is a light green colored bottle shaped veggie that can be made as curries, sabji, or curries.
Punjabi Chole Masala
Kabuli chana is another vegetarian option to make various side dishes with it, and popular dishes using it are chole masala which consists of an onion tomato gravy base.
The curry tastes good when combined with chana, and this chana masala is a trendy side dish in North Indian states eaten with bhatura or poori.
Vankaya Fry
Vankaya is a Telugu term for brinjal or baingan, or eggplant. In southern India, this vegetable is cooked after tempering using mustard, cumin, chiles, and curry leaves to give a flavorful touch.
The brinjal or the eggplants are thinly sliced and stir-fried in spices to give a pleasant aroma and to serve the dish with dal pr pappu, rice, pickle, pappadoms, and sweet as a meal platter.
Cauliflower fry
A quick side dish using gobi, called cauliflower stir fry, serves as a quick-to-make fry recipe with chapati.
Cauliflower is a low-calorie vegetable and is an excellent food to add to healthy weight loss diets and to make low-calorie recipes.
Having cauliflower regularly controls weight and is a tasty vegetable that helps make delicious curries.
Gobi 65
This makes a great side dish if you are making a vegetarian meal platter and looking for various recipes to add to the platter.
The recipe needs to be deep-fried after coating the cauliflower florets with corn and all-purpose flour.
Serve it as an appetizer, have it with a cup of tea, serve it as a side dish to different meals, or serve it with onion rings and dips.
Aloo Methi
Potatoes are highly used in Indian cuisine, and they taste good if combined with different veggies such as fenugreek or methi.
They also combine well with green peas or matar and also with eggplant.
They pair well with palak, too, and I have some of the best recipes shared on the blog combining aloo or potato with all of the mentioned veggies.
Make a sabji from methi and serve it with roti, phulka, or paratha.
Dal Tadka
Dal is a staple food of every Indian household and is often made in Indian families.
The dal is made by tenderizing the lentils in a pressure cooker or open pot, then tempering the dal with cumin, mustard, chilies, and spices and adding a slight tangy touch of tomatoes to the dal.
Check out this dal recipe made by giving an aromatic tadka to the cooked dal.
Green Moong Dal Curry
Green moong is a healthy dal amongst various lentils and a good protein source too.
Utilizing green moong to make pesarattu or green moong dosa or sprouts, or curry, as shown below, is a good way of adding it to our daily diet.
Making a moong dal tadka is easy, and having it with roti, paratha, or chapati gives you complete meal satisfaction.
Aloo Matar Curry
Potatoes or aloo combine well with green peas, commonly called 'matar' in Indian languages.
This type of curry or side dish with the vegetable potato accompanies poori or 'bhatura'.
Make mini pooris and serve this curry with it, and this makes a good breakfast or dinner recipe.
Aloo Gobhi ki sabji
Cauliflower is a healthy vegetable, but it also pairs well with some the veggies, such as potatoes.
Combine gobhi and aloo and make a sabji out of these veggies; I am sure you will love the deliciousness and aroma of this combination.
Aloo Palak
Spinach or palak is another vegetable that is a high fiber source and a low-calorie filling vegetable.
Making palak and combining it with aloo is the most popular sabji recipe in Indian households, as the curry has a yummy flavor.
This can be a great side dish for your lunch box recipe and served with many other Indian recipes.
Jeera Aloo
Another popular potato combination is with cumin and spices. Add cumin powder or seeds, which is the perfect dry sabji for Indian dishes.
Boiling the aloo and roasting it in spices, main cumin, gives a pleasant aroma and is a healthy way of cooking potatoes.
Palak Paneer
Paneer or cottage cheese cooked with spinach puree is the most popular Indian vegetarian side dish, often with Naan.
Blanching spinach and blending it into a fine puree and cooking with paneer gives a flavor recipe often made at weddings and special occasions in Northern India.
Palak Sabji
If you do not want to combine palak with veggies and feel like making it as a plain sabji just by sauteing it with spices, this is the curry you are looking for.
Making it as a plain curry quickly by sauteing helps cook the spinach in 10-15 minutes.
Gongura Pachadi
If you like gongura leaves, these are commonly available during Summers in India and abroad.
I usually find them in Summer in the United States, and these leaves are beneficial for making gongura pachadi or gongura chuntey or gongura pappu.
All the recipes to be made with gongura are shared below as you scroll below.
Gongura chutney
Gongura pappu
Use gongura leaves and cook them with lentils or dal such as toor dal and make a healthy lunch or dinner side dish.
This pappu or dal is quite popular in Telangana and Andhra regions, and people over there love the taste of this green leafy vegetable.
Tomato Pickle
Tomatoes are vitamin-C-rich vegetables that are good for the skin and a must in Indian recipes.
Most Indian dishes use tomatoes to make a gravy base with onions.
Tomatoes can be used to make other dishes, such as pickles and chutneys, and they can be stored for a long time in the refrigerator and served.
The tomato pickle below is an instant pickle to be made quickly and stored for a long time.
Tomato Rasam
Rasam is a popular south indian vegetarian recipe where the tomatoes are crushed to make a thin liquid out of them.
The liquid is cooked in spices and then finished with an aromatic tempering.
Onion Tomato Chutney
This is the best chutney for meal platters or with idli or dosa.
Sauteing onions, tomatoes, chiles, and tamarind together, blending them into a paste, and giving an aromatic tempering makes a chutney that can be served for 2-3 days.
Make and store it in the refrigerator; you can have it with Indian breakfast recipes.
Karela Fry
Karela is a vegetable that is preferred less amongst Indians, but having it is a good way of controlling diabetes and is also other ailments.
Eating karela as a stir fry dish, make its juice, make its sabji, and serve it as a side dish.
It tastes bitter, but there are many tips and tricks to get rid of its bitterness, use it for edible purposes, and stay fit and healthy.
Bendakaya Pulusu
For tangy flavors in your indian vegetable side dishes, try this pulusu made using bhindi, bendakaya, or okra.
Use onion tomato gravy base, add tamarind pulp, and cook the okra.
It tastes best with steamed rice and pappadoms and pickles.
Pudina chutney
Mint or pudina is generally added as a herb to different recipes, but did you know that a chutney out of pudina tastes best?
Yes, make chutney using mint leaves and chiles; you will like the chutney flavor when served with steamed rice and ghee.
It is the best option with rice, but it can also be eaten with sambar or dal rice.
Methi Bhaji
Fenugreek or methi is a good way of controlling diabetes, and this is a healthy green leafy vegetable to add to your diet.
Making a plain sabji by sauteing and cooking methi leaves in spices and pairing it with rice, paratha, or roti is a healthy option.
To keep your meals healthier, use brown rice or quinoa to serve these indian vegetable side dishes.
Lauki chana dal ki sabji
Bottle gourd or kaddu makes a great combination with chana dal, and they both make a perfect curry.
Using bottle gourd to make koftas, curries, halwa, juice, and chutneys is the best way to use this vegetable.
Mango Dal
Dal is the most common vegetarian side dish in Indian households, but can it be made by adding mangoes?
Yes, make a mango dal or mamidikaya pappy by adding raw mangoes to the cooked dal and make a tangy-flavored lentil dal as your side dish.
I hope you liked our list of Indian vegetable side dishes, do not forget to leave your feedback on which curry is your favorite, and also do not forget to like, share and subscribe to receive more such recipes.
Recipe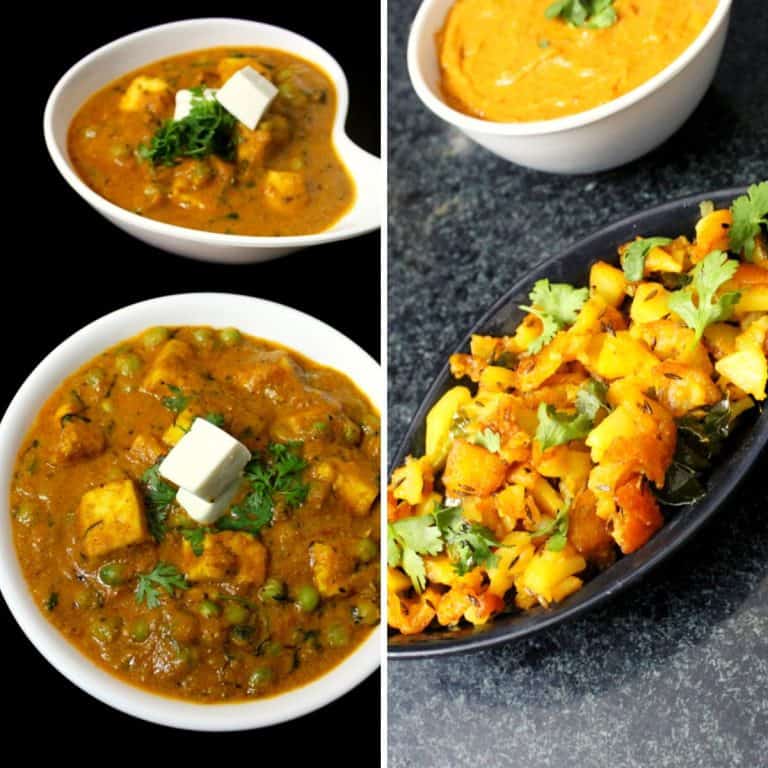 31 Indian Vegetable Side Dishes (with aloo gobi matar)
A collection of Indian vegetable side dishes and also sharing a recipe of aloo with gobi and matar.
Ingredients
¼

cup

potato

peeled and cut into cubes

1

cup

cauliflower florets

1

cup

green peas or matar

2

tablespoon

oil

¼

teaspoon

cumin seeds

1

small onion

peeled and sliced

2

slit green chilies

2-3

curry leaves

salt to taste

½

teaspoon

red chili powder

¼

teaspoon

turmeric powder

½

teaspoon

ginger garlic paste

½

teaspoon

coriander powder

¼

teaspoon

cumin powder

1

tablespoon

chopped cilantro leaves
Instructions
Take a pan, add oil, and heat it.

Add cumin seeds, slit green chiles, and curry leaves.

Add sliced onion and saute for a few seconds.

Add the seasoning, such as salt and red chili powder.

Also, add turmeric powder, ginger garlic paste, cumin powder, and coriander powder.

Mix well and cook the masala for a minute.

Add the veggies and mix well.

Cook the veggies on medium heat until the veggies turn soft.

Refrain from overcooking the veggies, as the sabji may become soggy.

If you like the dry texture of the sabji, cook it without covering the lid.

If you like a gravy texture, cook by covering the lid.

Lastly, add chopped cilantro leaves, mix and serve hot.
Nutrition
Nutrition Facts
31 Indian Vegetable Side Dishes (with aloo gobi matar)
Amount Per Serving
Calories 128
Calories from Fat 63
% Daily Value*
Fat 7g11%
Sodium 91mg4%
Potassium 275mg8%
Carbohydrates 13g4%
Protein 3g6%
Vitamin A 381IU8%
Vitamin C 44mg53%
Calcium 30mg3%
Iron 1mg6%
* Percent Daily Values are based on a 2000 calorie diet.