Gongura pachadi or gongura pickle is a widely made pickle all across Andhra Pradesh mainly across the andhra region… It is eaten as a side dish with either roti or rice.
Looking for some more South Indian kind of instant chutney recipes then do try tomato pickle and mango pachadi on the blog which goes well with any main course recipe such as rice or other rice varieties or any dosa recipe.
Related gongura recipes to be tried:
If we visit South India and its several parts we find chutneys or pickles common in the vegetarian thali or the meal platter. Meals in South Indian thalis are incomplete without chutneys and the chutneys that are made are of hundreds of varieties and every chutney tastes delicious and special.
This particular gongura pachadi is famous in Andhra region but if one travels across the South India there are many vegetable chutneys found on the veg platter which can be eaten or served with just plain rice and ghee.
It is a tangy flavored pickle with an aromatic tempering and is eaten by adding thickly chopped onions all over the pickle. The pickle tastes yum by mixing it with rice and also by adding ghee into the rice.
What are sorrel leaves and how do they appear?
Sorrel leaves are commonly called as Gongura in South Indian telugu language and it is a green leafy vegetable with two kinds of stem. One has a green stem and the other has a red stem.
The leaves of this green leafy vegetable are plucked and used in various chutneys, pickles and in curries mixed with mutton or chicken which tastes yum.
This is rarely found in Indian places but mostly found in Guntur region of Andhra Pradesh.
Benefits of eating gongura:
It is said to help in weight management and is believed to have lots and lots of minerals and vitamins such as Vitamin A, B and C.
It has lots of fibre and aids in proper digestion.
It strengthens the immune system if consumed regularly and helps in proper blood circulation in the body.
It is highly useful for those suffering from Anaemia as it helps in treating iron deficiency disorders.
One should take care while consuming these leaves especially during any sort of allergies. It is said to cause side effects if consumed during allergies and one should consult a doctor and eat this veggies before going ahead with its preparation.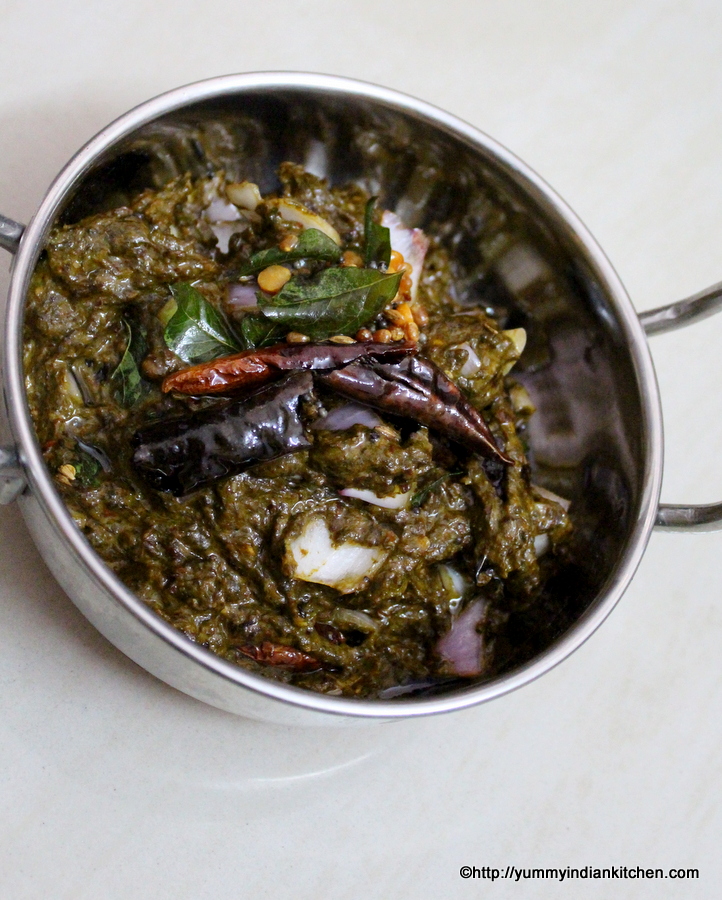 It is the most popular pickle across andhra region. The gongura is a tangy flavored leaf and many recipes are tried with it down south like gongura pappu, gongura chutney, gongura mutton, gongura chicken.
Here I have not added onions or tomatoes like I have done for instant gongura chutney. This gongura pickle is meant to be stored for long time as they do not contain onions or tomatoes. Thickly chopped onions to be added only while eating.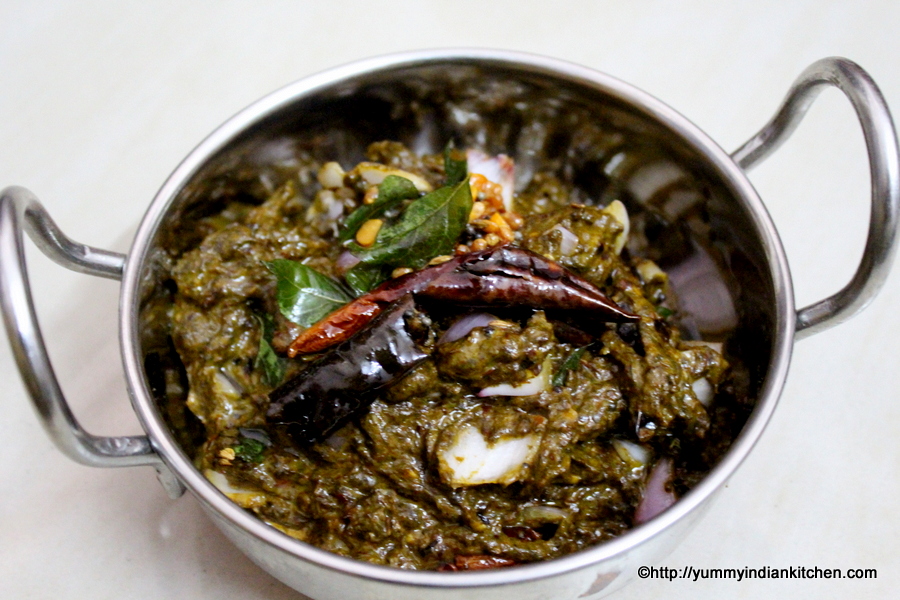 Important points to make this pickle:
The leaves should not contain any moisture content for making pickle with gongura leaves or sorrel leaves. The leaves should be first washed well and dried to remove the moisture or water content from the leaves. Then start the cooking process.
Water or moisture in pickles spoils the pickles.
Below are the recipe details to make this amazing tangy gongura pickle or gongura pachadi for longer storage.
How to make gongura pickle or gongura pachadi: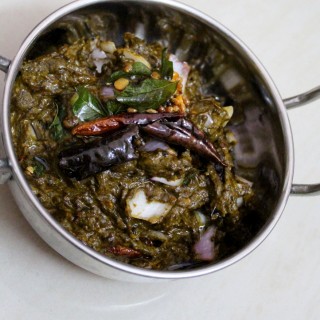 Gongura Pachadi Recipe Andhra Style, Gongura Pickle
Traditional andhra style gongura pickle or gongura pachadi made with gongura leaves with an aromatic tempering…
Ingredients
6-7

small bunches sorrel leaves/gongura leaves

2

tbsp

oil

15

dried red chillies

1

tsp

coriander seeds

1

tsp

cumin seeds

3-4

fenugreek seeds

salt – to taste

6-7

garlic cloves

1

large size onion

diced into thick medium size pieces
For tempering:
2

tbsp

oil

1/2

tsp

chana dal

1/2

tsp

urad dal

1/2

tsp

cumin seeds

1/2

tsp

mustard seeds

4-5

dried red chillies

6-7

curry leaves
Instructions
Note:
Firstly, pluck all the gongura leaves, wash them and set them aside freely so that they are free from moist and any water content on the leaves.
Step 1(Cook the gongura):
In a wok, add about 1 tbsp oil, add the gongura leaves and cook them for about ten minutes until they turn soft and mushy.
Step 2(Cook the Spices):
In a separate pan, add a tbsp of oil, add cumin seeds, coriander seeds, fenugreek seeds, add dried red chillies and saute them for about a minute(not for a long time).

Take them out and set aside to cool down.
Step 3(Blending all together):
In a blender, add the cooked spices of step 2, add some salt and blend into a fine powder.

Into it garlic cloves and blend well.

Into it add gongura leaves and blend roughly.

Take the pickle out into a bowl and mix thickly sliced onions into it and give tempering as mentioned below.
Step 4(Give the tempering):
In a tadka pan, add oil and heat it.

Into it, add chana dal, urad dal and stir well.

Into it add cumin seeds, mustard seeds and let them pop up.

Add dried red chillies, stir for few seconds.

Add curry leaves and let them crackle.

Add the tempering to the pickle.

Serve hot with ghee and rice!!!
Notes
 Mix thickly chopped onions only while eating this pickle instantly. Do not add onions if planning to store.
 Onions release water and may spoil the pickle.
Nutrition
Nutrition Facts
Gongura Pachadi Recipe Andhra Style, Gongura Pickle
Amount Per Serving
Calories 250
* Percent Daily Values are based on a 2000 calorie diet.
WANT TO WATCH VIDEO RECIPES?
SUBSCRIBE US ON YOUTUBE