Gongura Chutney Recipe is an authentic andhra cuisine chutney recipe from andhra pradesh made with 'gongura' leaves called as sorrel leaves in english. Gongura are usually found across the southern part of India and they are called as "Sorrel leaves" in English which usually appear in two different colors of stem, that is one kind of sorrel leaves have green stem and the other has a red color stem.
Some more chutney recipes to try: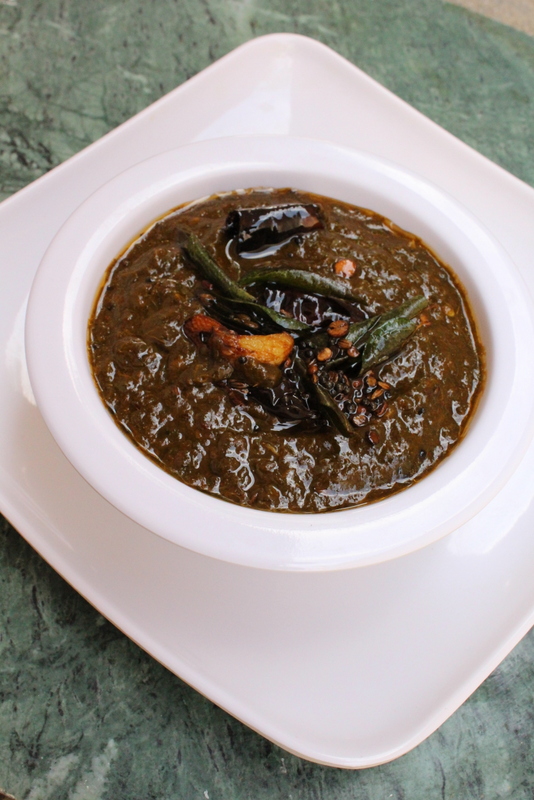 Gongura is highly used green leafy vegetable in andhra recipes and the way every recipe is made is delicious and irresistible. I love trying out andhra cuisine.
The gongura chutney is a bit sour in taste and this is what makes the dish enjoy with hot steamed rice. Andhra cuisine is full of chutneys and pachadis and every recipe is a delight to try out and it just comes out perfectly.
I often make various dishes from gongura and the common one's are gongura pappu, gongura pachadi, gongura mutton and gongura chicken.
I have also updated with gongura pickle or gongura pachadi which is slightly a variation with this recipe.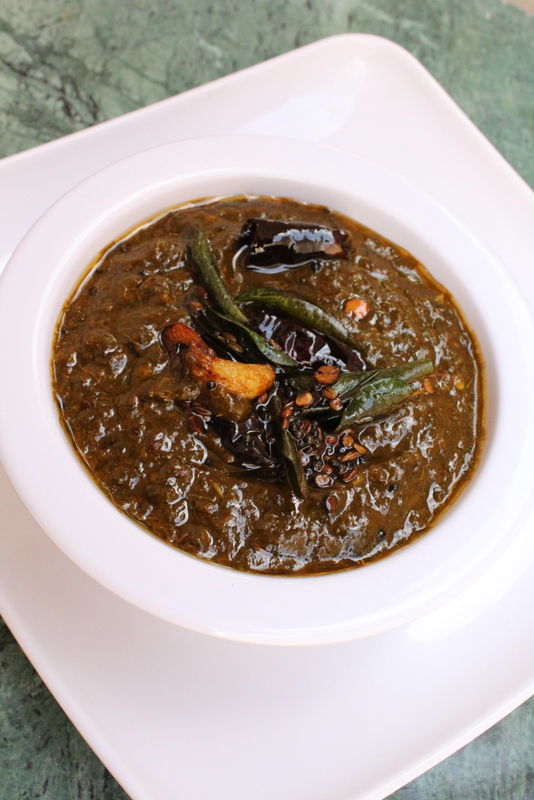 This chutney recipe with ambada/gongura leaves/ambadi is pressure cooked with spices and in this chutney I have added onion and tomato to give a better flavor and I am sure it would be loved by my blog readers.
The gongura chutney or andhra chutneys can be stored in refrigerator for a couple of days and enjoyed with rice and also they taste well as an accompaniment to rice and dal.
This is one version of gongura chutney which has a blend of hyderabad and andhra style of making...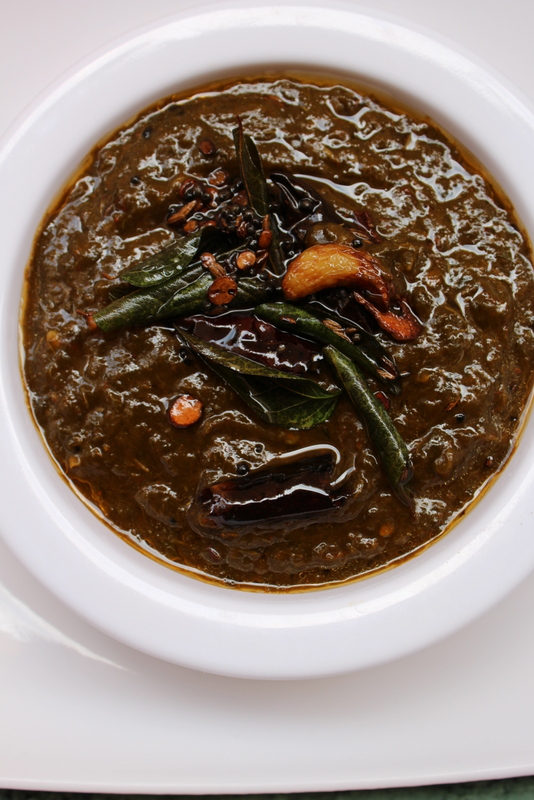 Things to remember while making the chutney for storing:
1. The gongura leaves need to be washed well and dried to get rid of moisture content in the leaves or dry them using an absorption cloth/muslin cloth.
2.If the chutney leaves are not dried then the chutney cannot be stored for a long time and can be eaten as an instant chutney.
3.If the leaves are dried and made then the chutney can be stored for a couple of weeks.
4.In this recipe I have added onions and tomatoes while cooking gongura leaves and these ingredients can be skipped if planning to store the chutney as the chutney spoils if water content is available in the chutney.
5.The chutney can be made with red stem sorrel leaves for a tangy taste or green sorrel leaves too can be preferred.
6.Here I am making instant chutney and did not dry the leaves and all the above would be followed in gongura pachadi/gongura pickle.
The instant gongura chutney which I made here is directly added after washing without drying the leaves and cannot be stored for more than three to four days as it is made by adding onion and tomato and it gives an amazing taste...
Recipe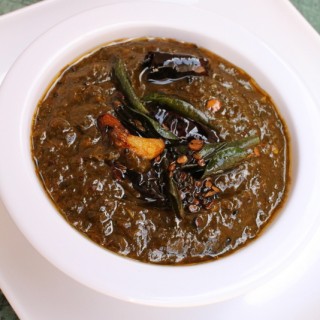 Gongura Chutney Recipe Andhra Style
Gongura chutney recipe made with sorrel leaves and enjoyed with steamed rice...
Ingredients
For The Chutney:
7-8

bunches of gongura leaves red stem/sorrel leaves

1

tablespoon

oil

salt - to taste

2

teaspoon

red chilli powder

½

teaspoon

turmeric powder

3-4

green chillies

1

medium size onion finely sliced

1

medium size tomato chopped

2

tablespoon

coriander leaves

3-4

garlic cloves

½

cup

water
For The Tadka:
3

tablespoon

oil

½

teaspoon

urad dal

split black gram

½

teaspoon

chana dal

bengal gram/chick pea gram

1/ 2

teaspoon

mustard seeds

½

teaspoon

cumin seeds

1

teaspoon

finely chopped garlic

4-5

dried red chillies

5-6

curry leaves
Instructions
Firstly, take a cooking vessel or a pressure cooker.

Into it wash and add the gongura leaves, add salt, red chilli powder, turmeric powder, garlic cloves.

Also add green chillies, coriander leaves, chopped onion and chopped tomato.

Add little oil, add little water(¼th cup) and pressure cook until the leaves get soft or pressure cook for two whistles.

Reduce the steam, cool it and blend it into a paste or mash it well.
For The Tadka:
In a sauce pan, add oil and heat it.

Add urad dal, chana dal and saute.

Add mustard seeds, cumin seeds and let them splutter.

Add chopped garlic.

Add dried red chillies and stir well.

Add curry leaves and when they give out a crackling sound transfer the tadka into the gongura chutney/ambada/ambadey ki chutney.

Cut onions into small cubes and mix in the chutney and enjoy it with hot hot rice!!!
Notes
1.For a sour taste it is better to make the chutney with red stem leaves.
2.Adding red chilli powder can help in reducing the sour taste.
3.Do not add water, onion and tomatoes if the chutney is used to store for few days and just cook the gongura with spices, then blend and give the tempering...
Nutrition
Nutrition Facts
Gongura Chutney Recipe Andhra Style
Amount Per Serving
Calories 170
* Percent Daily Values are based on a 2000 calorie diet.