Tamatar ki chutney, a chutney recipe made by cooking red tomatoes by giving a tempering and by adding basic spices into it.
There are many tomato recipes on the blog such as tomato pickle, tomato pappu and shall be adding many more recipes that use tomato as the main ingredient.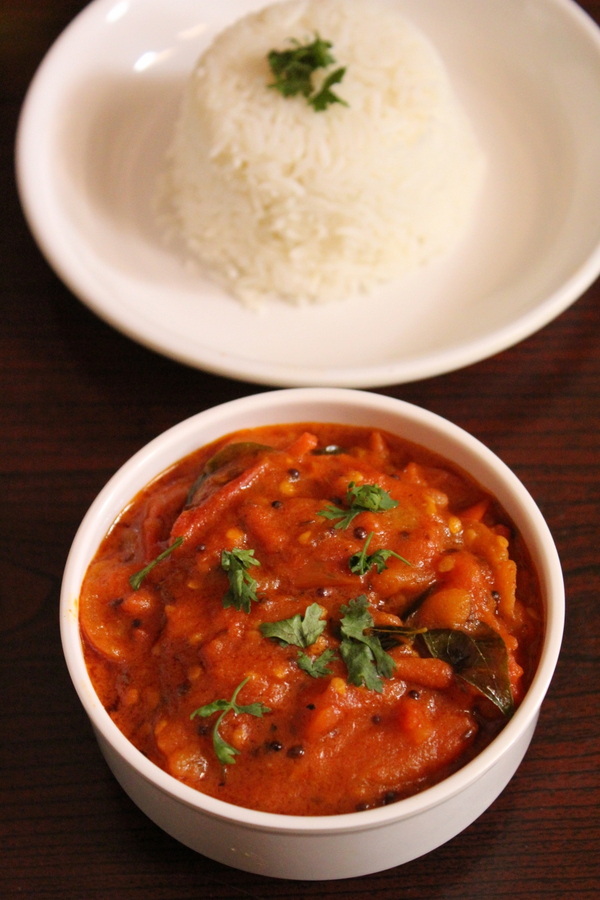 Different colors of tomatoes available in India:
Tomatoes are available in green and red colors mainly in Indian origin.
Ripe tomatoes are highly used to make chutneys, pickles, sauce, ketchup, puree, salads etc...
Benefits of using tomatoes:
Tomatoes are great for skin as they are high source of Vitamin C and gives a good glow to the skin texture if included regularly in our daily diet.
Tomatoes are also said to reduce the risk of cancer and other diseases related to heart and blood pressure.
Tomatoes are also a great source of Vitamin K which is helpful in blood clotting and hence healing any sort of wound quickly.
How to use tomatoes in many ways:
Tomatoes can be used in various ways such as it is highly used to make all sorts of gravy recipes including vegetarian and non vegetarian.
It is basically chopped or made into a puree and added into curries to give a rich gravy texture.
It is also made into pickles by sun drying the tomatoes or the tomatoes can be used instantly to make instant pickle such as tomato pickle.
It is highly used in salads and also as stuffing in many recipes.
It is highly used as a spread in the form of a ketchup or a sauce to many baking recipes such as burgers, pizzas, puffs, fritters, rolls etc...
In Southern India tomatoes are usually used to make pickles and chutneys. The chutneys that are made using this vegetable are basically served as a side dish to idli chutney or just eaten plain with white rice and ghee.
Here, in this video the tamatar ki chutney made is in Hyderabadi style and one can make various versions of this chutney.
I have slow cooked the chopped tomatoes which turn mushy and pulpy as we cook the tomatoes. But, to get a good aroma and flavor to the chutney, tempering can be done initially and then cooking the tomatoes by adding spices that give a good gravy to the chutney.
Other ways to make the chutney recipes:
The chutney that is made to be served with breakfast recipes such as idli, dosa is mainly made by using tomatoes as the main ingredient along with peanuts, green chillies, tamarind etc...which are roasted well, blended well by making them into a fine paste.
This tamatar ki chutney made here is a very delicious chutney, that can be served with rice or other South Indian breakfast is shared along with a video and also by sharing step by step detail for the recipe.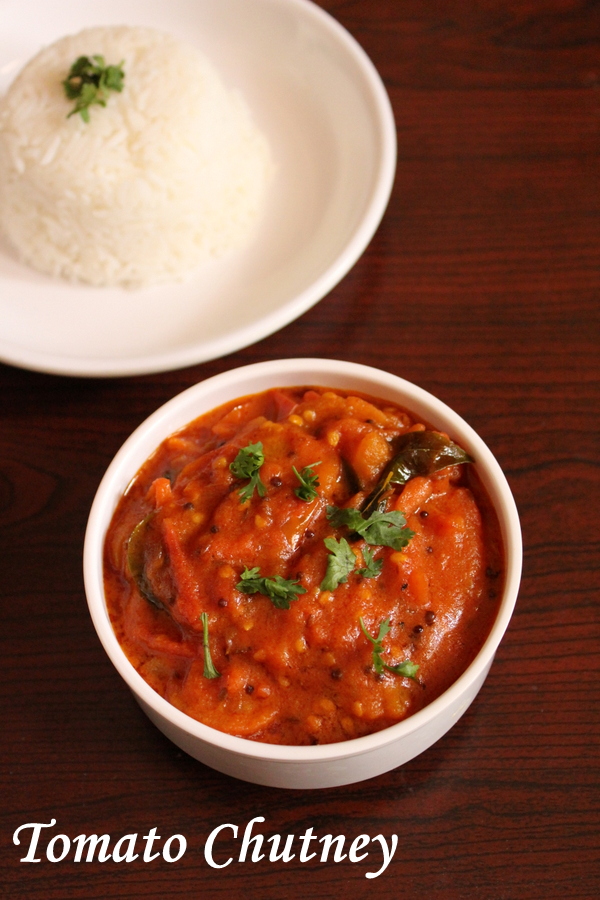 How to make this tamatar ki chatni:
To make this chutney, first chop the tomatoes. The tomatoes that are used should be ripe and red and not over ripe and green.
The chutney if made using green tomatoes or firm red tomatoes do not give out a juicy chutney.
To get a juicy chutney, make sure to use ripe tomatoes.
Give a tempering, add tomatoes into it, add spices, mix and cook the tomatoes until a good gravy is obtained.
Tempering that is given should be of the pickle flavored tempering such as mustard seeds, red chillies or green chillies, curry leaves etc... that gives a good aroma and taste to the chutney recipe.
Serve the chutney with rice or any simple rice recipe such as lemon rice, tomato rice or any quick rice recipe as an accompaniment to the rice variety.
Tamatar ki chutney recipe: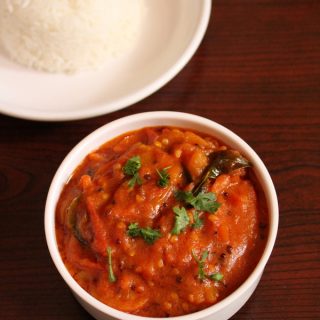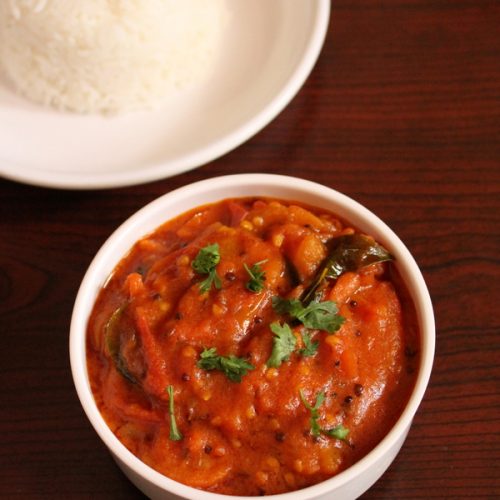 tamatar ki chutney recipe, tamatar ki chatni
A simple semi gravy kind of chutney recipe made using tomatoes...
Ingredients  
4

tomatoes

(chopped)

3

tsp

oil

½

tsp

cumin seeds

½

tsp

mustard seeds

8-10

fresh curry leaves

2

slit green chillies

salt - to taste

½

tsp

red chilli powder

a pinch of turmeric powder

½

tsp

ginger garlic paste
For garnishing:
1

tbsp

freshly chopped coriander leaves
Instructions 
Firstly, take a sauce pan or a wok.

Add oil and heat it.

Add cumin seeds, mustard seeds and let them pop up.

Add fresh curry leaves, saute well.

Add the slit green chillies and saute well.

Add the chopped tomatoes, mix well.

Add the dry spices such as salt, red chilli powder, turmeric powder, ginger garlic paste, mix well.

Cover the lid and cook the tomatoes for 4-5 minutes on low flame.

Remove the lid, give a stir.

Cover the lid again and cook the tomatoes until they turn soft and mushy for about 10-12 minutes.

Remove the lid and stir the gravy.

Once the tomatoes cook well, switch off the flame.

Garnish with fresh coriander leaves.

Serve the gravy chutney with rice.
Video
Notes
Always cook the gravy on low flame as the chutney might burn if cooked on high flame.
Here, I have added green chillies but dried red chillies too can be used in place of green chillies.
Other ingredients such as onion seeds/kalonji can be used while giving tempering to get a good aroma to the chutney recipe.
Nutrition
Nutrition Facts
tamatar ki chutney recipe, tamatar ki chatni
Amount Per Serving
Calories 250
* Percent Daily Values are based on a 2000 calorie diet.
WANT TO WATCH VIDEO RECIPES?
SUBSCRIBE US ON YOUTUBE
Loved this recipe? If you like this recipe then do leave us your feedback below in the comments section and share us your valuable feedback and also share us your different version of making a tomato chutney recipe using tomatoes...