Tomato pickle recipe is a south Indian style kind of pickle recipe made using chopped tomatoes which can be made instantly and quickly and stored. South India is very popular in pickle making and the kinds of pickles that are made range from instant pachadi to long time storage pickles that last for at least a year without spoiling.
Watch the video procedure below for making instant tomato pickle.
Normally the common pickle that is usually heard of is mango pickle which is made and stored for at least a year or more and I have already shared an instant and quick version of mango pickle. Do check out instant mango pachadi on the blog which can be served with hot steamed rice. Also check out gongura pickle as well.
Kinds of pickles:
The other kinds of pickles are made with different vegetables and nowadays we even see pickles being made using non vegetarian as well.
Pickle can be made with almost all kinds of eatable veggies such as mix veg pickle, carrot pickle, lemon pickle, red chilli pickle, tamarind pickle, ginger pickle, garlic pickle, green chilli pickle and the list goes on but the pickles never end.
This tomato pachadi is a typical guntur style pickle recipe which can be made in a couple of minutes and it tastes awesome and amazing...
Check out tomato recipes below:
The tomato pickle goes very well with rice and it does not require any patience to make the pickle. The pickle recipe is so easy and can be made very quickly.
Different ways of making pickle:
Pickles always can be done in two ways. One is the easy quick and instant method and the other is the method which needs lots if efforts and utmost care must be taken while making it as the long time storage pickles spoil in no time if not done with proper precautions.
While making such long life storage pickles one should take care of not even drop of water falling on the pickle or left over on the utensils which are used to make the pickles.
Tomato pickle is also made in sun dried method and is a long time lasting pickle which shall be updated as I continue writing down different pickles.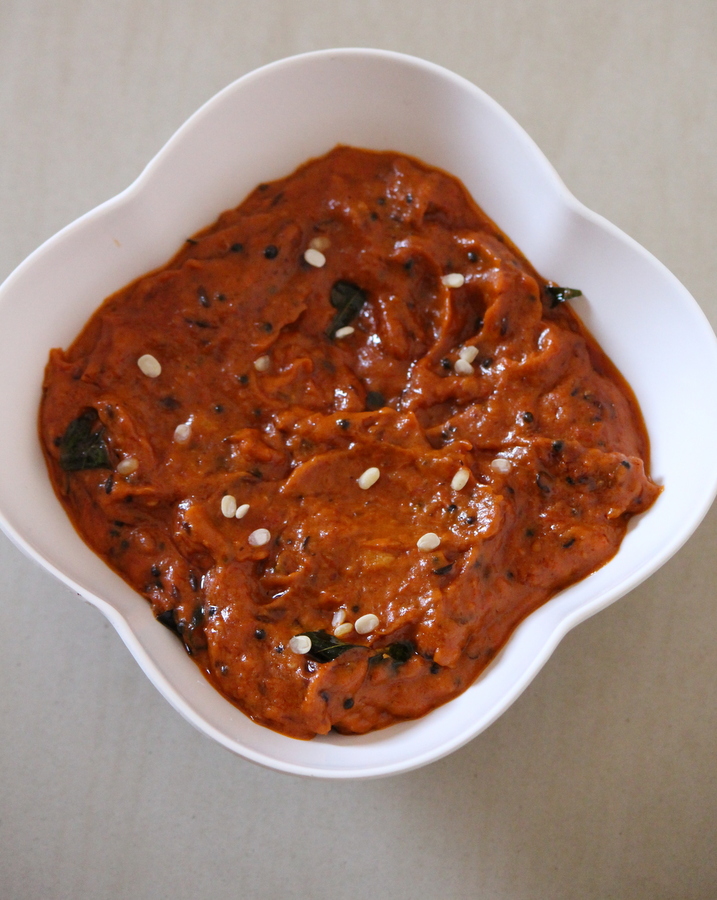 Summer time is the best time to make pickles as they require hot sun to form into a delicious pickle but this particular tomato pickle recipe is so quick in making and can be made in any season and stored.
The recipe does not take too many ingredients and the key ingredients are tomatoes, tamarind and garlic which are easily available in our Indian kitchens.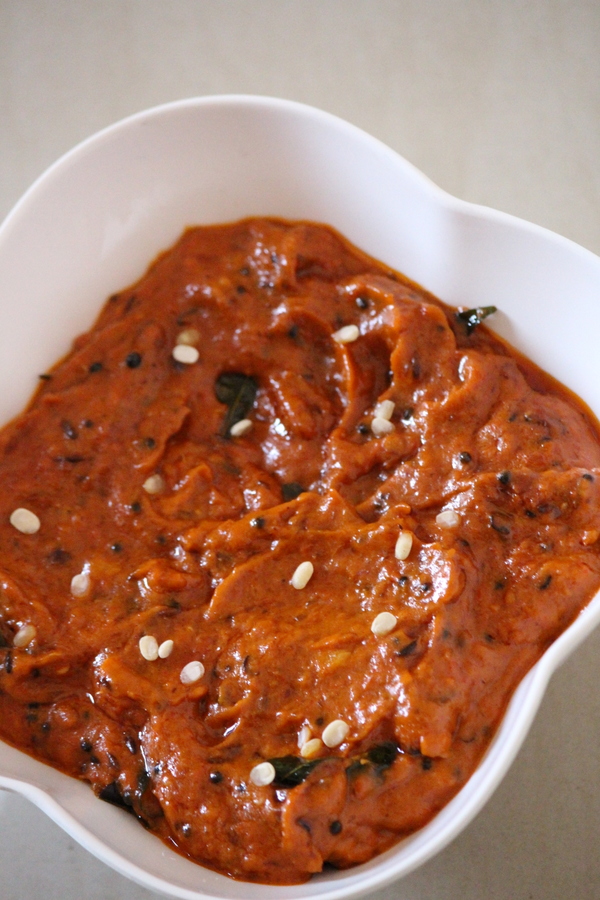 Tomato pickle here in this post is shown in detail with a step by step procedure with the help of a video and can be made very instantly.
Since this is an instant pickle, I have not added any preservatives to store it for a long time. This pickle can last upto 4-5 days if stored airtight in refrigerator without adding any preservative.
However, salt, oil, turmeric powder act as natural preservatives which help in storing these pickles for a long time.
The tempering in the end of the recipe gives the pickle an aromatic flavor and it is very irresistible.
Do check out the recipe of tomato pickle or tomato pachadi recipe which is made in traditional Andhra style method and also watch the video below for a better understanding.
Recipe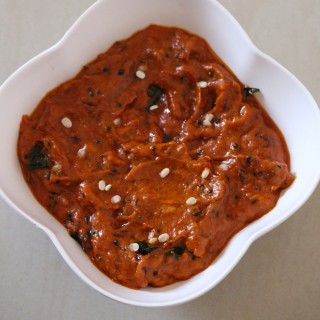 Tomato Pickle Recipe Andhra Style or Tomato Pachadi
Pickle recipe made using tomatoes to be taken with rice and given tempering in the end.
Ingredients
½

kg

tomatoes washed properly

wipe them dry and finely chopped

2

tablespoon

oil

8-10

garlic cloves

6-7

small pieces of tamarind/small lemon size tamarind

salt - to taste

1 ½

teaspoon

red chilli powder

1

teaspoon

roasted fenugreek seeds powder+roasted mustard seeds powder
For tempering:
2

tablespoon

oil

1

teaspoon

cumin seeds

1

teaspoon

mustard seeds

1

teaspoon

urad dal/split black gram

1

teaspoon

chana dal/bengal gram

5-6

dried red chillies

8-10

curry leaves
Instructions
For cooking tomato pickle:
Firstly, take a wok, into it add oil and heat it.

Add garlic cloves into it and saute.

Add chopped tomatoes, mix well and cook till they turn soft.

Add tamarind, mix and cook for 4-5 minutes.

Cool the whole mixture.

In a blender, add the mixture, add salt, add red chilli powder, add roasted methi seeds and mustard seeds powder.

Blend the tomato mixture into a smooth paste.
For the tempering:
In a wok, add oil and heat it.

Add cumin seeds, mustard seeds and allow them to pop up.

Add urad dal/split black gram and stir well.

Add chana dal and saute well.

Add dried red chillies and stir well.

Add fresh curry leaves and let them crackle.

Add this tadka/tempering into the pickle and mix well.

Enjoy it with dal and rice/ Store it in an air tight container and use it when required.
Notes
The blended mixture can directly be stored and fresh tempering can be given to the pickle while using the pickle too.
Nutrition
Nutrition Facts
Tomato Pickle Recipe Andhra Style or Tomato Pachadi
Amount Per Serving
Calories 300
* Percent Daily Values are based on a 2000 calorie diet.