Gongura Mutton recipe is made with 'gongura leaves' and mutton. Gongura is a telugu term for 'sorrel leaves' in english. Gongura mutton curry is a mouthwatering recipe which is a South Indian Cuisine mainly it hails from the andhra region of Andhra Pradesh. It is like one of the most popular recipes in andhra along with gongura chicken.
Mutton is usually mixed with various vegetables and made as curry recipes or sabzi recipes by combining mutton and mixing with veggies. Mutton is mostly mixed with potatoes or it can be made as korma recipes such as mutton korma, also mutton is used to make various gravy recipes ...
The recipe gives a different and unusual taste to the mutton as the gongura leaves or sorrel leaves have tangy taste. But adding the right amount of gongura or sorrel leaves would lessen the tangy flavor and gives the perfect taste if the ingredients are added in balance.
Another tip to reduce the tangy taste is adding red chilli powder while cooking gongura, as doing so helps in reducing the sour taste to a large extent.
How to serve this dish?
Gongura recipes can be served with simple rice recipes or plain pulao recipe which go perfectly with any gongura dish.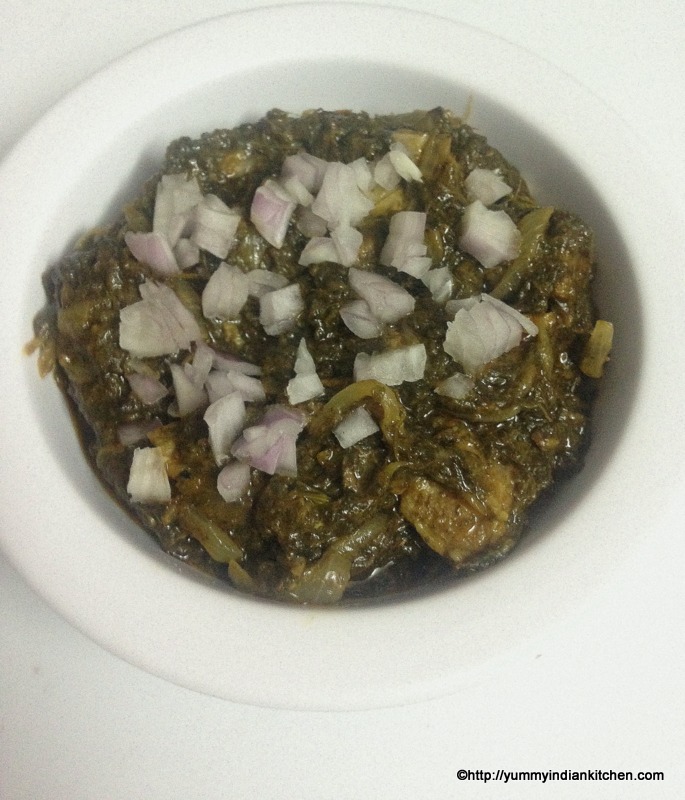 The main ingredients in this gongura mutton recipe are the leaves and the mutton and the combination of both veg and non veg ingredients should definitely be tried.
Related Recipes With Gongura:
I have tried this recipe and have been successful many times and it tastes really well with bagara rice or simply plain rice.
This combination has never been new since I am a Hyderabadi and we do make gongura mutton often which is called 'Ambada Gosht' in Hyderabadi lingo. I have seen my family members making this dish but when I tried the recipe I was happy with the end result.
The dish can also be tasted with roti and can be had for lunch or dinner. This dish is usually served to guests as a special dish in the andhra region of andhra pradesh.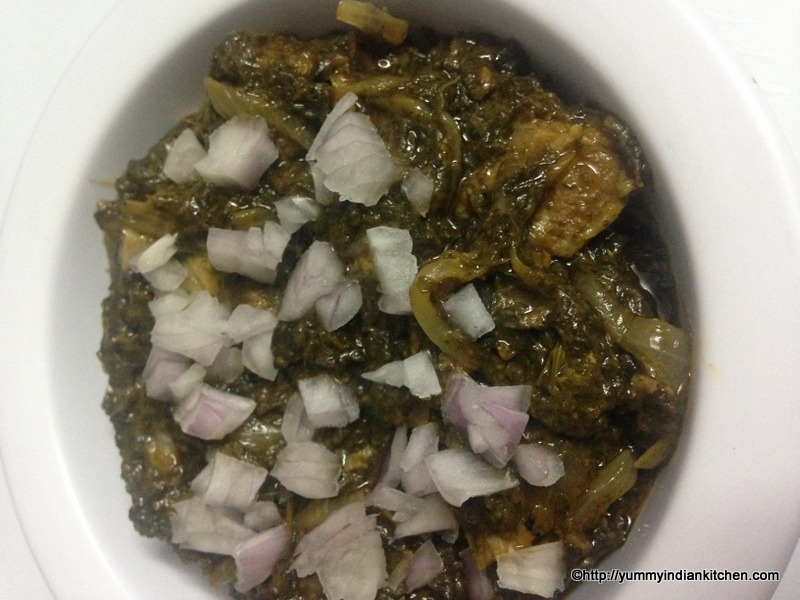 Gongura recipes are very interesting and I just love using these leaves and trying out different recipes like gongura pickle, gongura chutney, gongura pappu in andhra style etc...
Gongura is good to be included in our daily diet as it has got good amount of health benefits, very nutritional and good with lots of Vitamins too.
The leaves have a red stem and a green stem and both the varieties are edible but red stem gives a bit sour taste and it is our choice as to which leaves we need to use.
Recipe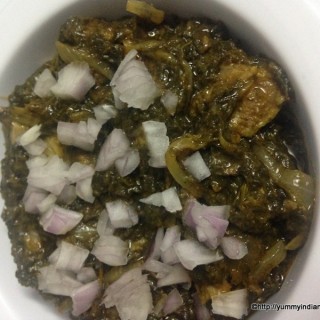 Gongura Mutton Recipe Andhra Style Curry
A popular andhra region recipe combined with sorrel/gongura leaves and mutton...
Ingredients
500

gms mutton cleaned and washed well

salt to taste

1

teaspoon

red chilli powder

½

teaspoon

turmeric powder

1

teaspoon

ginger garlic paste

2

cups

of red gongura leaves washed well

sorrel leaves

1

large sized onion finely chopped

2

tablespoon

oil

1

tablespoon

coriander leaves

2 - 3

slit green chillies

4 - 5

curry leaves

optional
Instructions
Firstly, boil or pressure cook the mutton or meat until it gets tender by adding salt, red chilli powder, turmeric powder, ginger garlic paste, water and rest it aside.

In a cooking vessel add gongura leaves, add little oil and cook until they are soft.

When the leaves gather and become soft, cool it down and make a paste of the leaves and rest it aside.

In a separate cooking vessel, add oil and heat it, add chopped onions, slit green chillies and saute till the onions get slight pinkish.

Add curry leaves as an optional ingredient.

Add the stock of the pressure cooked mutton and cook well until the stock gets absorbed.

When the stock is absorbed totally add the cooked mutton and fry it well.

Finally, add the gongura paste into the curry, mix and cook for few minutes.

Check for salt, red chilli powder and cook for about ten minutes.

Garnish with coriander leaves and serve hot with rice or roti.
Notes
1.If the flavor is too tangy then reduce the amount of sorrel leaves or increase the quantity of onions in the curry the next time you try the dish.
2.One can add red chilli powder while cooking gongura to reduce the sour taste.
3.Also try my gongura chicken recipe. And the same procedure can be applied to gongura mutton too.
Nutrition
Nutrition Facts
Gongura Mutton Recipe Andhra Style Curry
Amount Per Serving
Calories 350
* Percent Daily Values are based on a 2000 calorie diet.