Gongura Chicken is an amazing combination of gongura leaves or sorrel leaves with chicken and is a special Andhra style recipe that is made commonly in the Andhra region of south India. Gongura mutton too is a traditional dish in that region as gongura chicken is. In this recipe, I have used red stem sorrel leaves but one can also use green stem sorrel leaves.
Do check out some more interesting indian chicken recipes:
Chicken is one such non vegetarian ingredient which is hardly combined with any vegetable but here in south india chicken is made combining with green leafy vegetables such as palak chicken and gongura chicken which is often liked by south indians.
Other recipes that can be made using gongura are gongura pickle .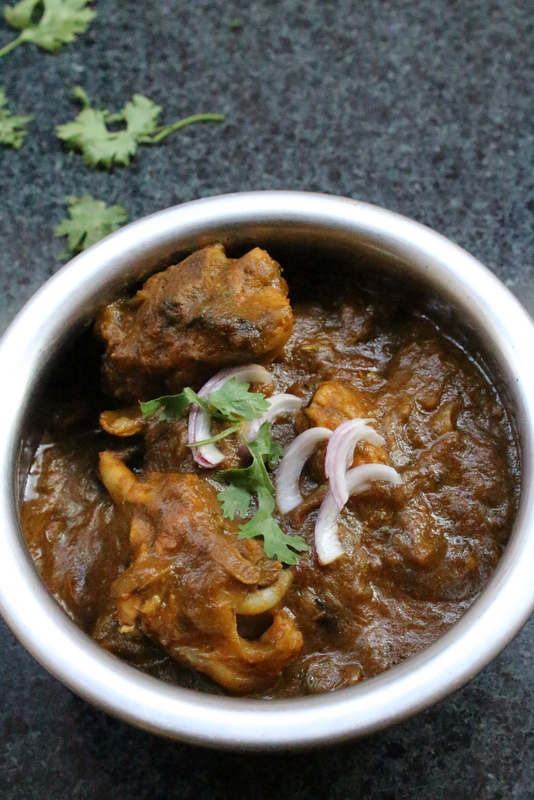 No matter which kind of gongura leaves one uses, the sour taste can be balanced by using green chillies and red chilli powder. That is one main reason why we add green chillies or red chilli powder in gongura recipes to reduce the sour taste in them.
In andhra region of andhra pradesh vegetables mainly green leafy are used in variety of ways and the green leafy vegetables are cooked in the form of saag and enjoyed with steamed rice. Along with that chutneys and pickles are used as accompaniments.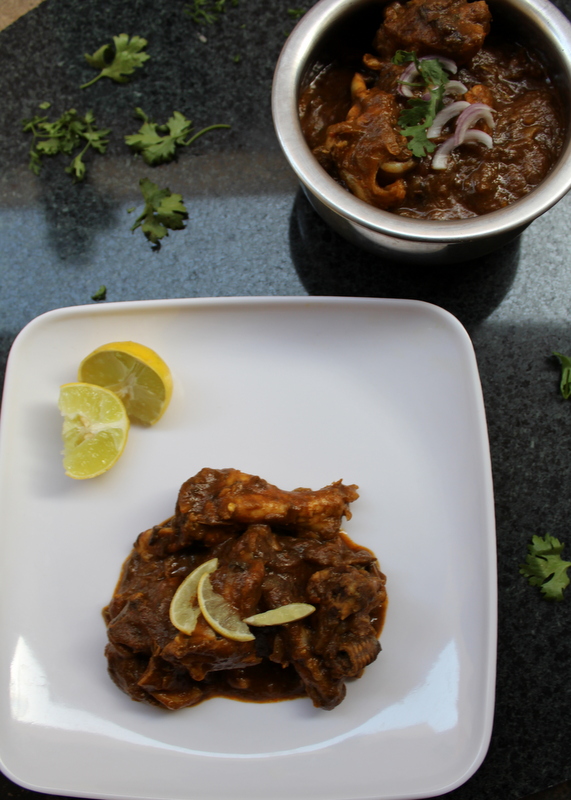 This chicken recipe posted here is surely a delicious one that is simply irresistible. The recipe is prepared by separately cooking gongura and blending it into a paste and adding into the chicken and cooking it together which brings a wonderful taste to the complete dish.
Andhra cuisine is an amazing cuisine and me especially coming from south indian background and a hyderabadi too has picked up the food culture of certain south indian regions and I am sure that is going to reflect in my posts in future.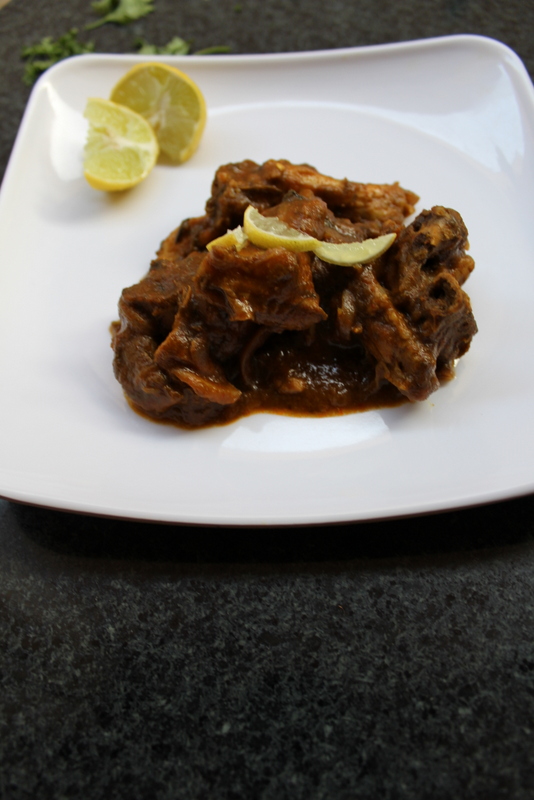 I have learnt to make many kinds of gongura recipes such as gongura mutton, gongura chicken, gongura chutney, gongura pappu etc...which are so traditional and tasty too. These gongura recipes taste the best when served with rice or in rare cases can be managed with flat breads.
This chicken curry is surely a hit in my family and I am sure the same would be from my blog readers too when they try this recipe.
Do check out gongura chicken recipe and the leaves are called as ambaadi in Marathi and ambada in Urdu and gongura in Telugu and sorrel in English.
Recipe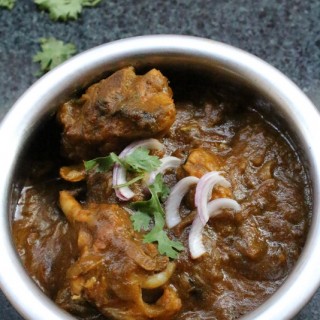 Gongura Chicken Recipe Andhra Style
Andhra style gongura chicken recipe made with sorrel leaves and chicken.
Ingredients
For Cooking Gongura:
4-5

bunches of sorrel leaves/gongura leaves/ambada leaves with red stem

salt - to taste

1

teaspoon

red chilli powder

½

teaspoon

turmeric powder

1

teaspoon

ginger garlic paste

1

medium sized chopped onion

2

medium sized chopped tomatoes

1

tablespoon

coriander leaves

2-3

slit green chillies

½

cup

water

1

tablespoon

oil
For Cooking Chicken:
500

gms chicken cleaned with lime juice and washed well

2

tablespoon

oil

2-3

slit green chillies

3-4

medium sized onions finely sliced

1

tablespoon

ginger garlic paste

salt - to taste

1

teaspoon

red chilli powder

½

teaspoon

turmeric powder

2

tablespoon

coriander leaves finely chopped

½

teaspoon

garam masala powder

½

teaspoon

roasted coriander powder
Instructions
Firstly, take a pressure cooker, add gongura leaves into it.

Add salt, red chilli powder, turmeric powder, ginger garlic paste.

Add slit green chiilies, add coriander leaves, add chopped onions, add chopped tomatoes into it.

Add little water into, add oil into it.

Mix all the ingredients well.

Pressure cook the gongura leaves for about 4-5 whistles on high flame.

Allow it to cool.

Blend the cooked gongura into a fine paste and keep it aside for later use.
For The Chicken:
Take a cooking vessel, add oil and heat it.

Add chopped onions, add slit green chillies and saute until the onions get soft(not brown).

Add ginger garlic paste and saute to get rid of raw smell.

Add the chicken pieces into it, mix and roast well.

Add salt, red chilli powder, turmeric powder, mix and cook for about five to ten minutes by covering the lid on medium flame.

Add the gongura paste that has been blended and kept aside.

Mix the gongura chicken well.

Add coriander leaves into it.

Add garam masala powder, add coriander seeds powder, mix well.

Cook the gongura chicken by covering the lid until chicken gets tender or for about 15 minutes.

Serve hot with bagara rice or steamed rice!!!
Nutrition
Nutrition Facts
Gongura Chicken Recipe Andhra Style
Amount Per Serving
Calories 330
* Percent Daily Values are based on a 2000 calorie diet.