This post will highlight some of the easy healthy chicken breast recipes to make quick and also that are healthy to eat, and chicken is the easiest meat to cook faster.
Making some quick and easy recipes to stay fit is a healthy option using chicken breast.
Also, check out some of the chicken recipes to try out from the blog, such as air fryer boneless chicken thighs, chicken seekh kabab, chicken tikka, tandoori chicken in the oven, chicken jalfrezi, etc...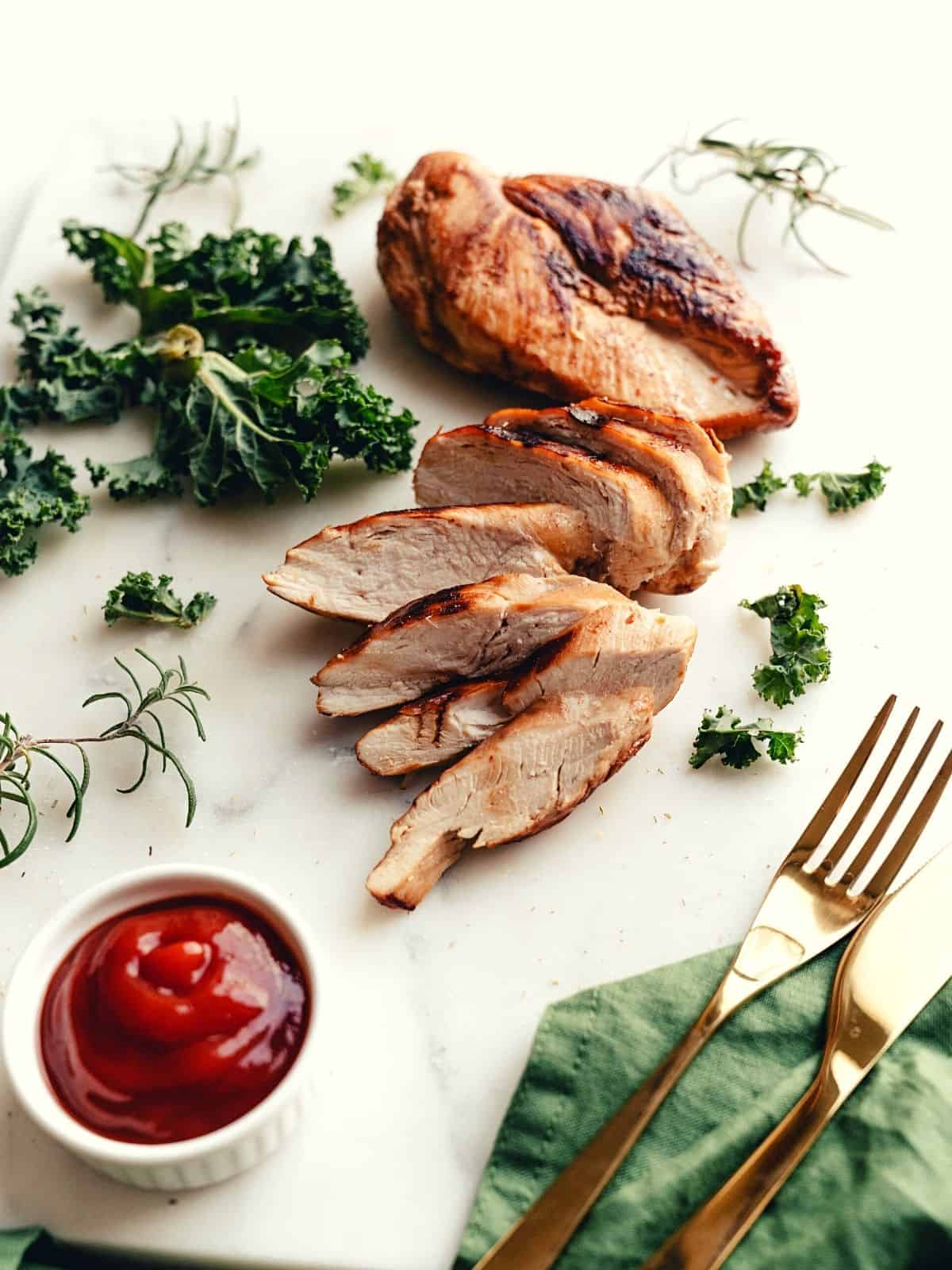 Jump to:
Why is chicken breast healthy?
This white meat is the leanest part of the chicken, with a high protein value and fewer calories.
The other parts of the chicken have high-fat content and high calories, such as wings, chicken thighs, etc...
Having food less in calories helps them burn quickly and helps us stay fit throughout the day as well as not put on extra weight.
Food with fewer calories is always a good idea for healthy meal planning.
Good protein food keeps us full and does not require us to fill up with other foods higher in calories that increase the body weight.
Skinless chicken breast is entirely boneless, and compared to other chicken parts, it is the healthiest part.
Therefore, including healthy chicken breast recipes in weight loss diet plans is the best way to have yummy and healthy food.
Can I eat other chicken parts for fat cutting?
Other chicken cuts such as chicken drumsticks, chicken thighs, and chicken wings contain high-fat content though it is rich in protein and has more calories than chicken breast.
To lose weight, foods need less fat content, and the fats should be healthy and not unhealthy.
Fats contain more calories, and these mentioned parts of chicken have extra calories.
Eating more fats is more calories that do not burn and store in the body without burning. Thus, increasing weight.
Eating other parts of the chicken is not wrong, but when making a healthy diet plan for weight loss, always consider lean portions of the meat.
The wings and thighs are good for building the body's muscle to create the body's mass but to lose weight, go ahead with breast recipes made healthily.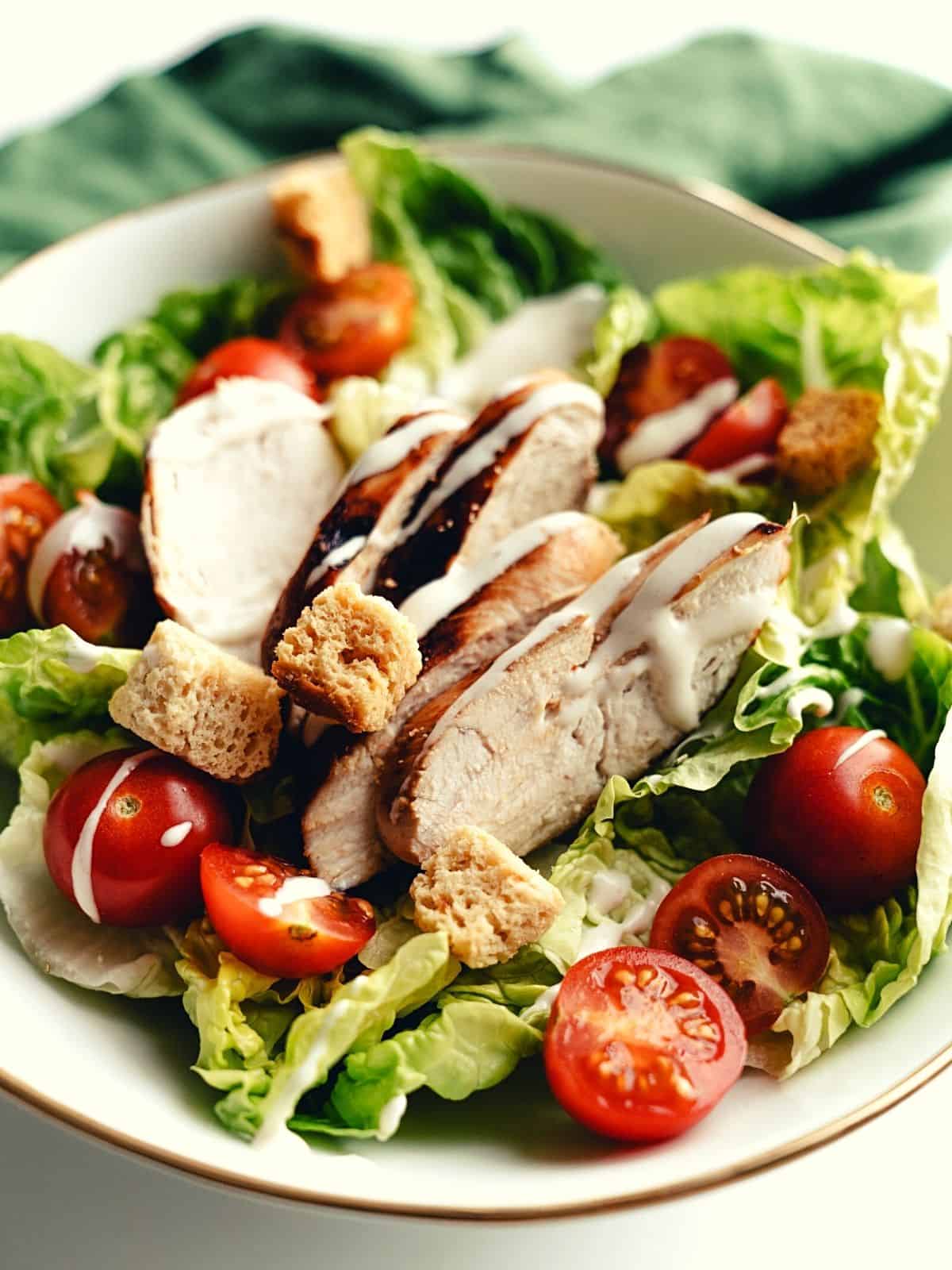 Health benefits of chicken breast
Good source of protein: The white part of the poultry chicken, that is, the breast, contains a high amount of protein.
It is essential to build the body's muscles and repair the cells of the body.
Some of the advantages listed below on why to have healthy chicken breast recipes in a diet.
Reduces cholesterol and diabetes: This part of the chicken has less fat and fewer calories, which helps lower the body's cholesterol levels.
This can reduce the risk of heart disease and maintain sugar levels.
Rich in vitamins: It is also a rich source of Vitamin B6 which can increase the body's metabolism. Also rich in Vitamin D and C, which also help make strong bones.
Aids in Weight Loss: Foods rich in protein always aid in losing weight, and adding protein-rich foods is a great way to kick start a weight loss plan with fewer calories.
Is baked chicken or grilled chicken breast good for weight loss?
Yes, baked form or grilled form is good for losing weight and increases fats in the body.
Since the breast is the lean part of the chicken and has no fat content, it is advisable to have it rather than deep frying.
Bakin or grilling does not require too much oil, and even if it needs it, it just uses a little bit of oil.
Using olive oil instead of unhealthy oils to cook chicken is a much better way of cooking healthy foods.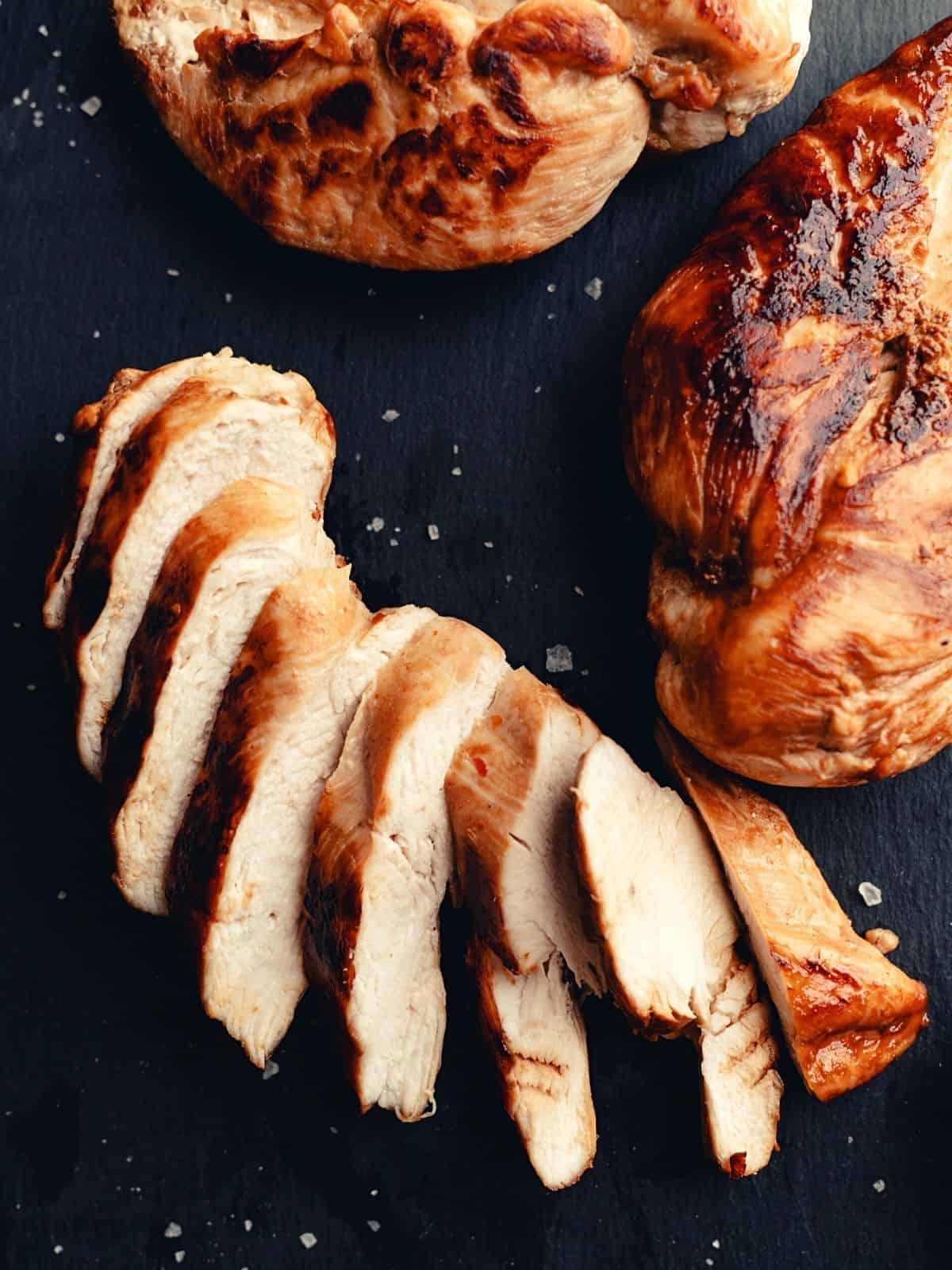 Can we eat chicken every day to lose weight?
Consuming chicken almost every day is not a good idea. If one prefers to eat chicken every day, include it in tiny quantities, such as 3 ounces or 4 ounces in a day.
Just include a handful of chicken in the daily diet but not more in quantity. Using chicken breast is a much better way of having chicken in the daily diet than its other fat sections.
Too much chicken equals more protein, and more protein is equivalent to more calories in which some are burnt, and the rest are stored in the body. They ultimately convert into fat and weight gain.
Therefore, limit the daily intake or include it regularly or weekly thrice to be on the safe side.
Which way of cooking chicken is healthy?
There are commonly three ways to cook chicken in a healthy manner such as poaching or boiling, baking, and grilling are good ways to make chicken recipes.
Other common ways include cooking chicken with less oil and fewer spices quickly.
Other uncommon cooking methods include stir-frying, but you can prefer it occasionally for a tasty meal.
Check out healthy chicken breast recipes below to make.
1. Quick air fryer baked chicken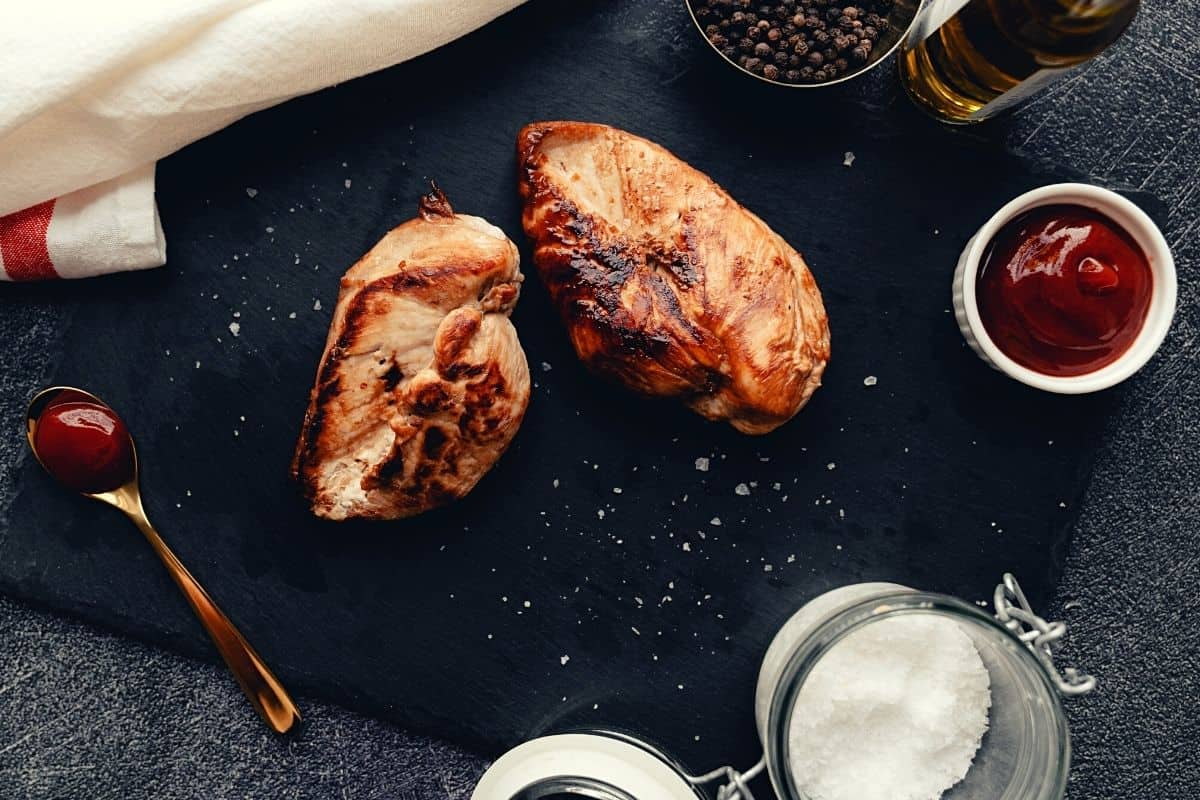 Simple chicken breast recipe marinated with dry spices and baked in the air fryer. This baked chicken recipe goes perfectly for lunch or dinner.
Ingredients
2 boneless skinless chicken breasts
salt to taste
¼ teaspoon black pepper
¼ teaspoon paprika powder
½ teaspoon garlic powder
1 teaspoon lemon zest
¼ teaspoon olive oil
½ teaspoon dried parsley leaves
Method:
Take a bowl, and add the chicken breast pieces.
Add in the seasonings such as salt, pepper, paprika powder, garlic powder, lemon zest, and parsley leaves.
Mix all the ingredients well with the chicken.
Add olive oil and mix well.
Cover and marinate the chicken in the refrigerator for at least 20-30 minutes.
Place the marinated chicken breasts in the air fryer basket.
Cook them at 380°F for 8 minutes.
Flip the chicken pieces and cook the other side too at 380°F for 8 minutes or until it gets tender.
Cut the breast into slices.
Sprinkle lemon juice all over the chicken and enjoy with steamed broccoli.
The same method can be followed in the oven, but increase the baking time for at least 10 minutes for a well-cooked chicken on both sides.
2. Easy chicken stir fry with veggies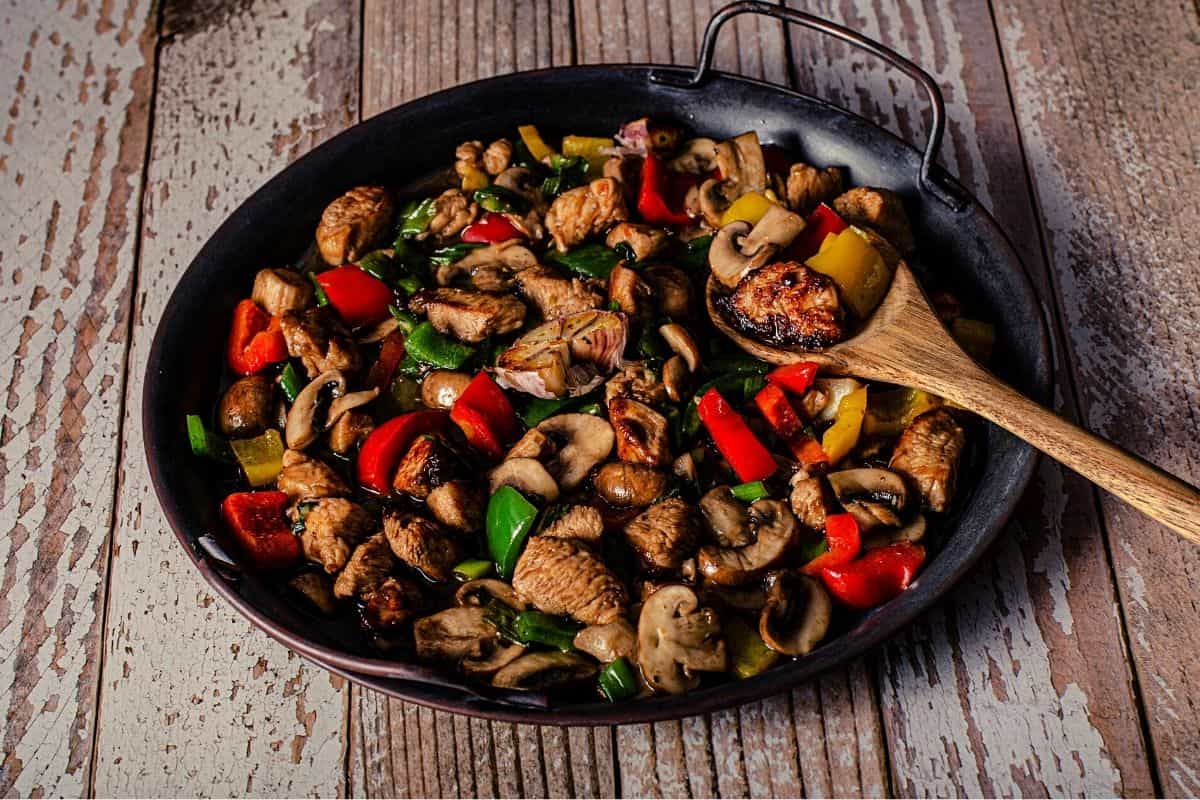 Another simple way of making healthy chicken breast recipes is to make and stay fit.
Ingredients
2 chicken breasts, cut into small pieces
salt to taste
¼ teaspoon cumin powder
quarter teaspoon coriander powder
¼ teaspoon paprika powder
1 carrot cut into round slices
1 medium-sized onion, cut into slices
½ bell pepper, each red and yellow, cut into thin slices
¼ cup broccoli florets
2 tablespoon olive oil
Method:
Use a non-stick pan; heat a tablespoon of olive oil.
Add the chicken pieces and dry spices such as salt, pepper, and paprika powder, and saute for at least 5-6 minutes.
Add a tablespoon of olive oil and all the veggies, such as sliced onions, bell peppers, carrots, and broccoli, in a separate pan.
Sprinkle some salt as per taste all over the veggies.
Saute the veggies well for 3-4 minutes on medium heat.
Add the sauteed chicken to the veggies, and saute the veggies and chicken for another 3-4 minutes.
Cook until the chicken tenderizes well, or sprinkle some water to help the chicken cook well.
Serve the chicken breast stir fry with brown rice or quinoa and store it as a meal prep bowl or enjoy for dinners.
3. Chicken noodle soup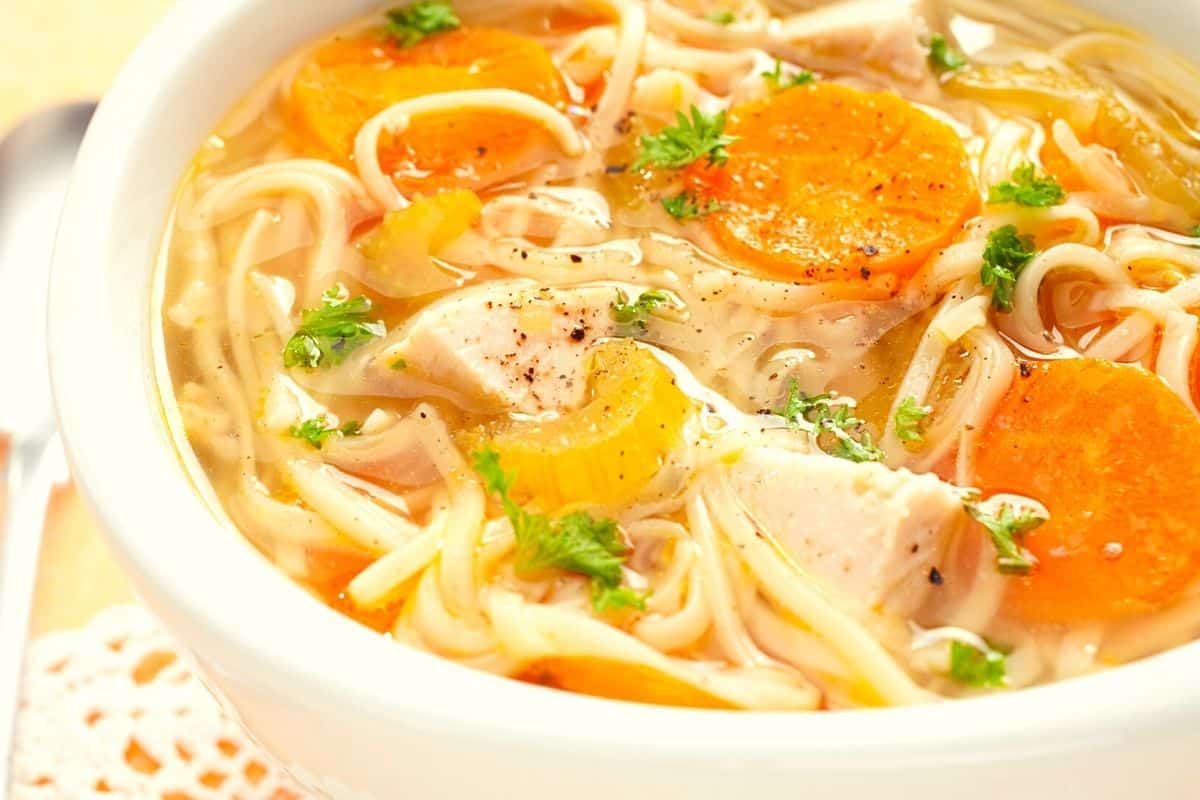 Easy soup recipe with chicken breast, noodles, and veggies.
Ingredients
1 chicken breast
1 small ginger piece, peeled
2 garlic cloves, peeled
salt to taste
3 cups vegetable stock (750 ml water)
50 gms wheat noodles
1 carrot, finely chopped
½ cup shredded cabbage
2 tablespoon canned corn
1 tablespoon green peas frozen
¼ onion, finely chopped
1 spring onion, finely chopped
¼ teaspoon black pepper
1 teaspoon soy sauce
2 tablespoon cilantro leaves
Method
Take a cooking pot, and add chicken breast, ginger piece, garlic cloves, salt, and pepper to the vegetable stock.
Cook the chicken breast until tender. Once it tenderizes, take the chicken out and shred it into small pieces using a fork.
Add the shredded chicken pieces to the stock, wheat noodles, chopped onions, chopped carrots, canned corn, shredded cabbage, green peas, etc...
Also, add veggies that one likes to have with the soup.
Add some black pepper to the stock.
Add the wheat noodles to the soup.
Let the soup simmer for about 3-4 minutes until the noodles cook well.
Add soy sauce, and stir.
Garnish with spring onions and chopped cilantro leaves.
Serve this healthy soup in a bowl and serve it hot.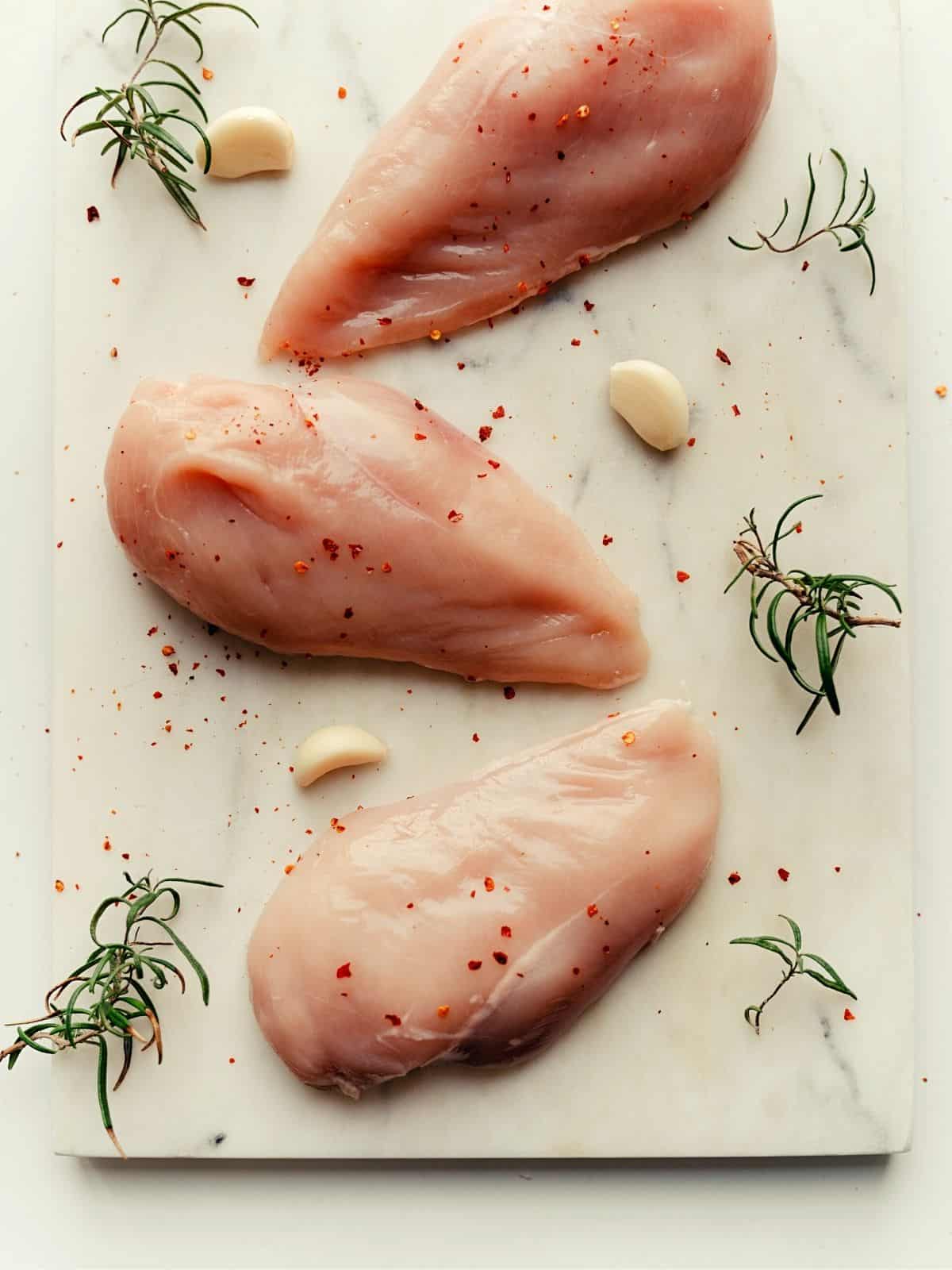 4. Poached chicken recipe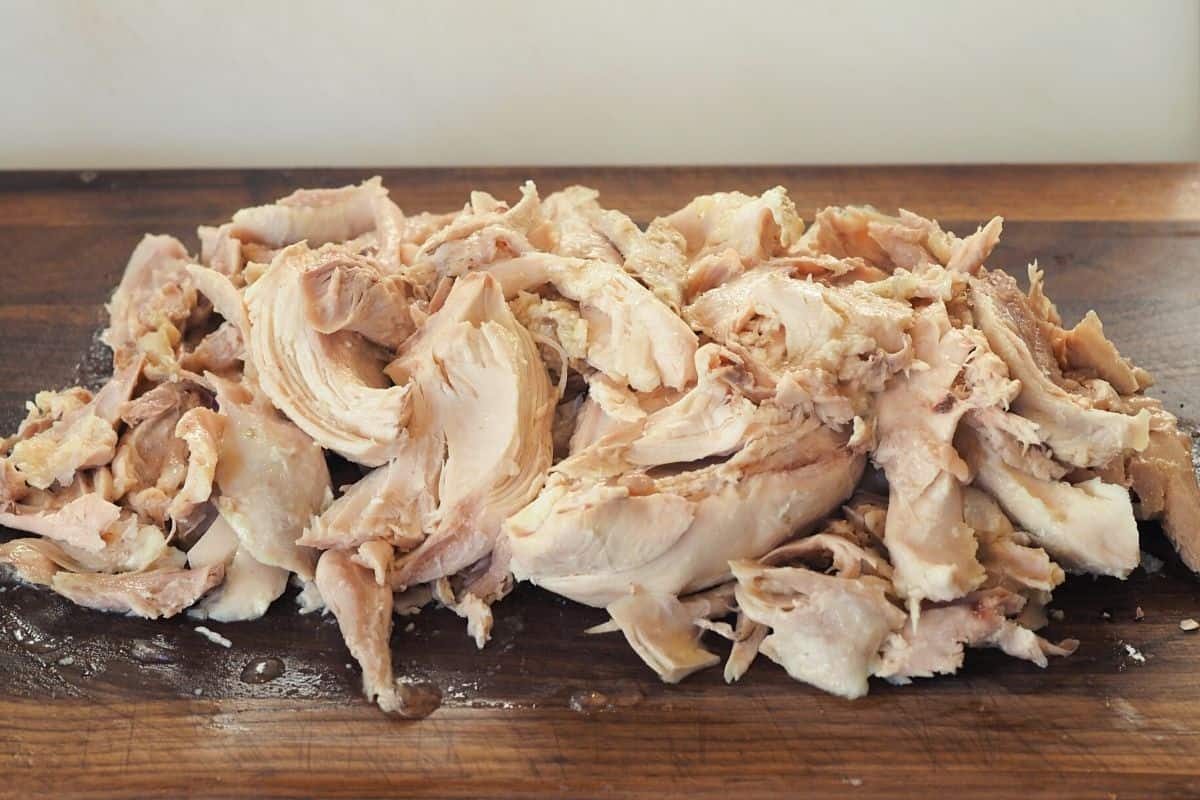 A quick and healthy way to boil the chicken without any herbs and spices.
Ingredients
1 chicken breast
salt and pepper
water to poach the chicken
Method
Take a cooking pot, add chicken breast piece, and add enough water to boil the chicken.
Add salt and pepper.
Bring the chicken to a boil and simmer after a boil.
Let it simmer until the chicken tenderizes.
Take the chicken breast piece out.
Shred the chicken into pieces.
This shredded chicken can be used in various ways, such as in chicken salad with veggies, chicken sandwich fillings, and soups, and to make many healthy chicken recipes.
Example recipe 1: Add this shredded chicken to corn and lettuce leaves with some lemon juice.
Example recipe 2: Add the shredded chicken with chopped cucumber, mix some mayonnaise, salt, and pepper, and use it as a sandwich filling.
5. Healthy chicken salad with avocado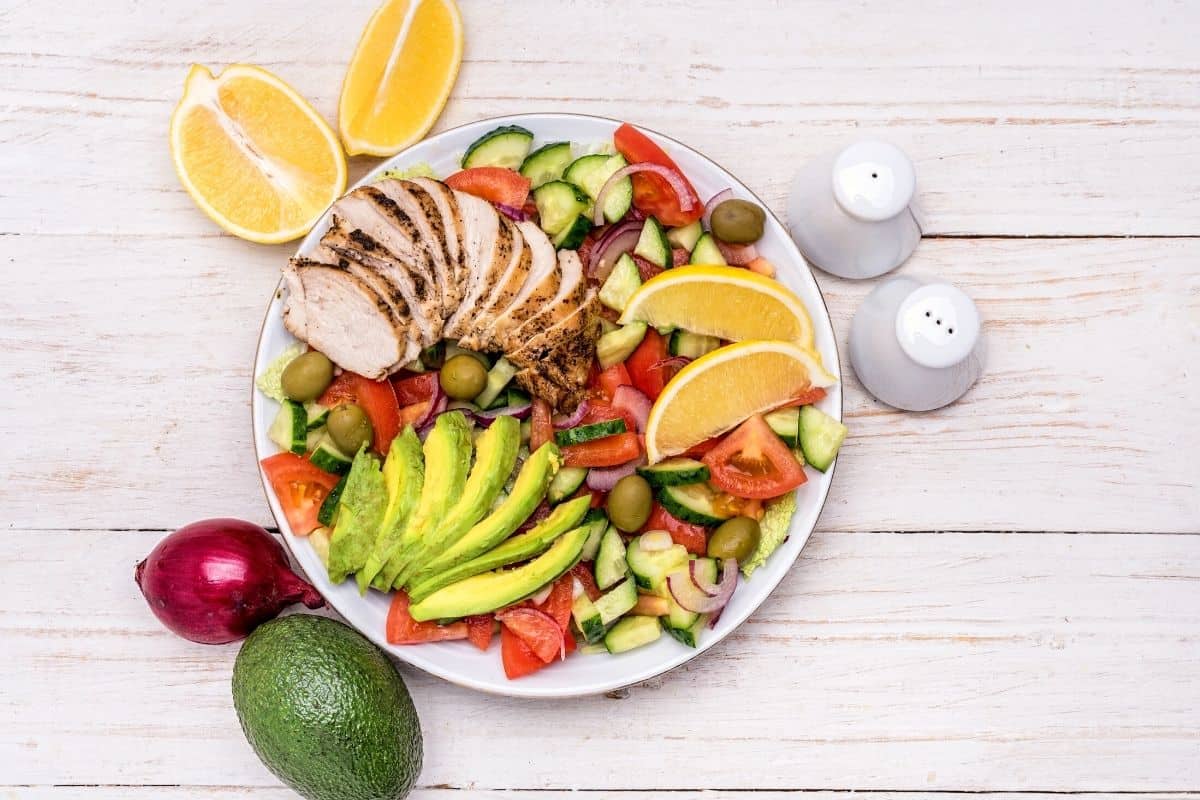 Easy way of making a salad using chicken and veggies.
Ingredients
1 chicken breast
salt and pepper
¼ teaspoon ground cumin
¼ teaspoon chili powder
1 teaspoon olive oil
¼ teaspoon oregano
¼ teaspoon garlic powder
1 cucumber, peeled and cut into small cubes
2 tablespoon chopped parsley leaves
1 avocado, peeled and cut into small pieces
1 medium-sized onion, chopped
4-5 cherry tomatoes, halved
Method
Brush the chicken breast with olive oil on both sides.
In a bowl, add salt and pepper, paprika powder, ground cumin, oregano, and garlic powder.
Mix all the ingredients well.
Coat the chicken breast piece with the spice mix.
Marinate the chicken for at least 1 hour in the refrigerator.
Bake the chicken at 400°F for 20-25 minutes for a well-cooked chicken.
Let the baked chicken sit out for 5 minutes, then cut them into slices.
Add chopped onions, grape tomatoes, avocado, chopped cucumber, and sliced chicken pieces to the veg salad in a mixing bowl.
Add parsley leaves, sprinkle lemon juice, mix, and serve.
Note: Use any veggies, such as spinach leaves, grated carrots, boiled corn, chickpeas, etc...to add to the salad.
These are just some easy and quick recipes to make, but there are many ways to make healthy chicken recipes to reduce fat and live a healthy life.
Leave us your feedback in the comments if you wish us to add more unique recipes with chicken.
Related recipes
Recipe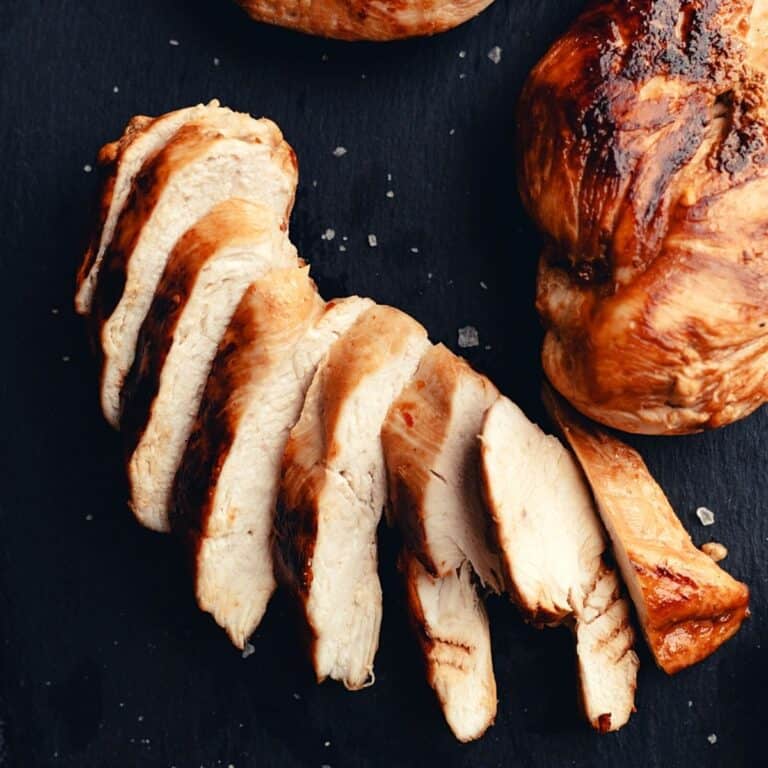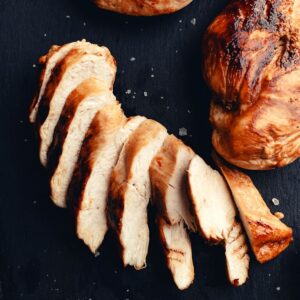 healthy chicken breast recipe for weight loss
Simple chicken breast recipe to include in daily diet in a healthy way.
Ingredients
1

chicken breast

1

teaspoon

olive oil or cooking spray

1

teaspoon

minced garlic

¼

onion, finely chopped

¼

tomato, chopped

¼

red and yellow bell peppers, chopped

¼

cup

shredded cabbage

2

tablespoon

tomato sauce

1

teaspoon

soy sauce

salt and pepper

1

cup

brown rice, cooked
Instructions
Cut the chicken breast into small cubes.

Take a pan, add a teaspoon olive oil and add the chicken pieces.

Add salt and pepper, stir and cook the chicken pieces until nicely done.

Take the chicken pieces out.

Into the same pan, add a teaspoon olive oil.

Add minced garlic, add chopped onion, saute well.

Add bell peppers, add chopped tomatoes, add shredded cabbage.

Mix and saute a few seconds.

Add tomato sauce, mix and cook for 2-3 minutes.

Add the cooked brown rice, soy sauce, mix well.
Notes
Can use other veggies too such as green beans or french beans, green peas, broccoli etc...
Nutrition
Nutrition Facts
healthy chicken breast recipe for weight loss
Amount Per Serving
Calories 330
Calories from Fat 90
% Daily Value*
Fat 10g15%
Cholesterol 145mg48%
Sodium 903mg39%
Potassium 1204mg34%
Carbohydrates 8g3%
Protein 50g100%
Vitamin A 1249IU25%
Vitamin C 52mg63%
Calcium 50mg5%
Iron 2mg11%
* Percent Daily Values are based on a 2000 calorie diet.
Faq's
Can I eat only chicken breast to lose weight?
Try to include other healthy foods in weight loss diet plans and try to have a balanced diet and not eat only chicken breast and do not eat only protein.
How many ounces of chicken to eat every day?
Do not exceed more than 5 oz, and having 3 to 4 ounces regularly is a good idea to include the protein-rich recipe in the diet plan.
Consult medical experts before following any diet plan to decide how much is better for healthy living.
Recommended