Chicken seekh kabab, made using minced form of chicken with spices mixing into the the chicken mince, fixing the chicken mix to kabab sticks and cooking in a pan.
Today, I have come up with another interesting recipe that is seekh kabab also spelled as sheek kabab for my viewers to try it out and not to worry since this recipe does not require any tandoor or barbecue set up and can easily be made in a pan or tawa.
Other interesting chicken recipes on the blog are chicken changezi, chicken jalfrezi etc...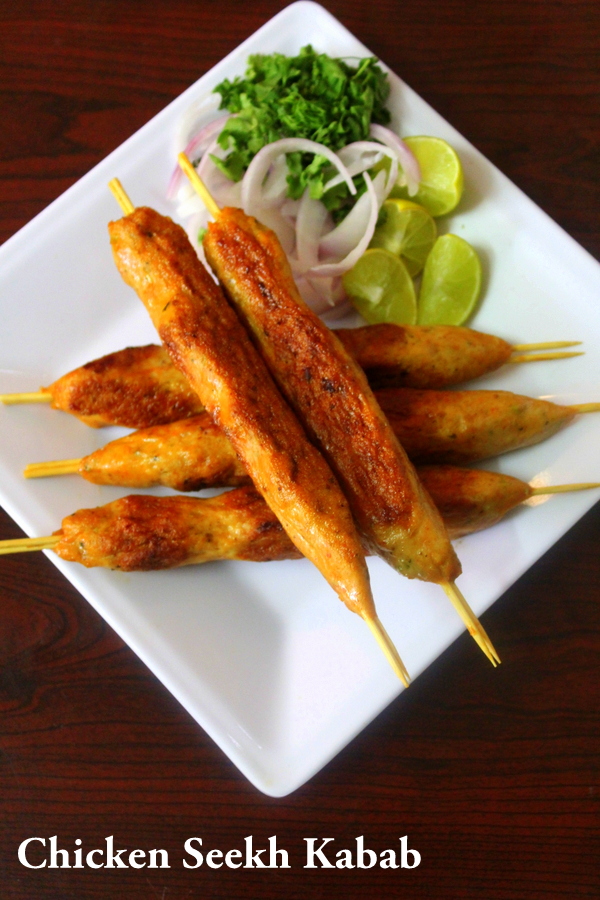 Usually, seekh kabab is made out of meat but today I have made this yummy and tasty starter recipe using boneless chicken which is blended and minced well.
This is a very good starter recipe for the auspicious month of Ramadan and can be easily made at home and it also does not take too much time to get cooked like mutton seekh kabab.
This recipe of mine is cooked from both inside and out and I often have come across seekh kababs which are not cooked well from inside but here though it is made in pan, it is well cooked from inside.
The technique is to fix the minced chicken well to the satay sticks and cooking each side until each side is well cooked. The sides need to be turned and have to be cooked well on each side.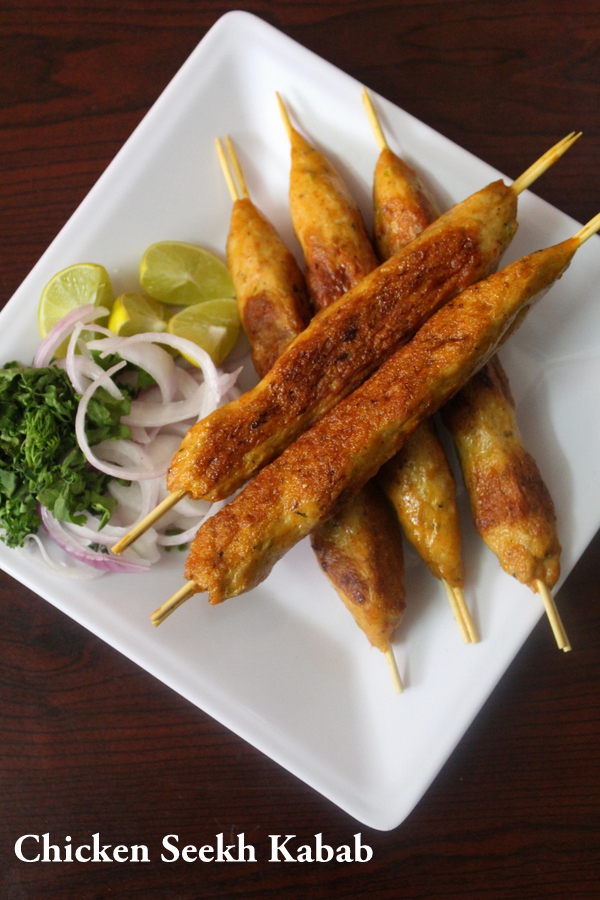 Here, I have used kabab sticks commonly called as skewers or satay sticks which are basically used to cook kababs in oven, tandoor or a pan.
Satay sticks are easily available online or in super markets and are available in medium size and large as well.
I have used long satay sticks which I found easily in super markets... These satay sticks have to be soaked in water for about 30 minutes before cooking to avoid burning of the sticks while getting cooked.
The seekh kabab can be eaten plain or it tastes lip smacking if served with onion rings and lemon wedges... It also tastes good if served with chutney dips...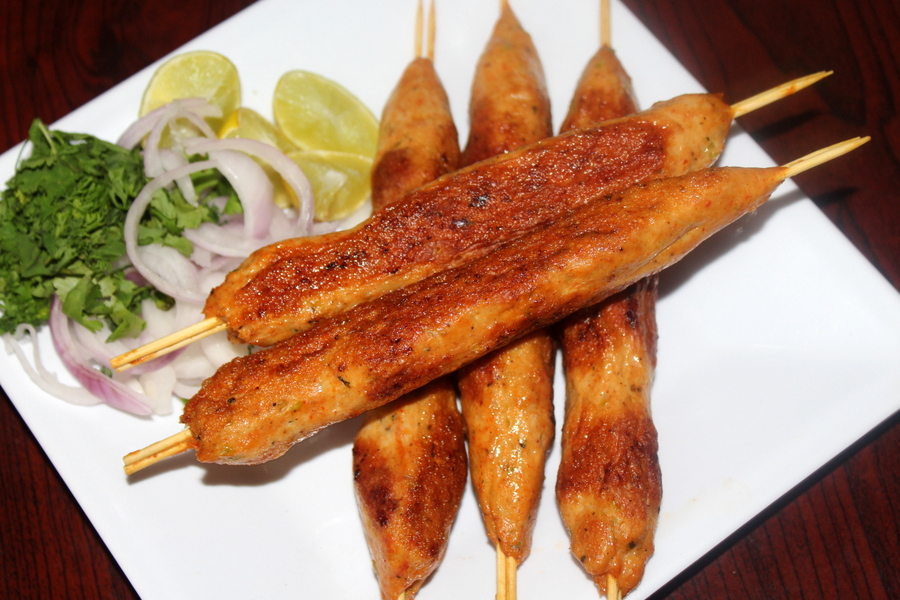 Sprinkle lemon all over the seekh kabab and serve to get a tangy touch to the kabab. Chicken seekh kabab is easy to cook as we use boneless chicken and the spices that are used are also basic that are handy at home.
Chicken seekh kabab can also be barbecued if there is a barbecue set up at home but if they are placed on a barbecue then one should use skewers to make them on a barbecue and do not use satay sticks while doing barbecue.
The recipe is quite simple and should definitely be tried during special occasions like Ramzan or Eid or any other occasion.
It can be made as evening snacks or starters and served to guests during gatherings as well. This can be served with parathas too.
Check out the recipe below which has chicken seekh kabab written in detail and also a video procedure is shared to help my blog readers understand it in a much better manner.
Video procedure for chicken sheek kabab:
Chicken seekh kabab recipe below: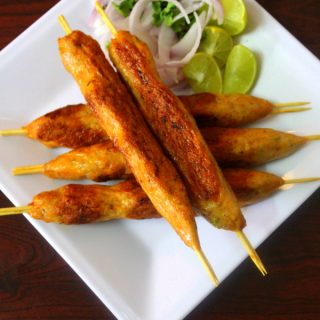 chicken seekh kabab recipe | without oven or tandoor
Chicken seekh kabab made using boneless chicken mince mixed with spices, fixed to kabab sticks and cooked in a pan.
Ingredients  
Making of chicken seekh kabab mix:
250

gms boneless chicken washed well

2

green chillies+1 tbsp chopped coriander leaves+pinch of salt blended into a paste

salt to taste

1

tsp

red chilli powder

¼

tsp

turmeric powder

1

tsp

ginger garlic paste

¼

tsp

garam masala powder

¼

tsp

black pepper corn powder/kali mirch powder

1

tbsp

lemon extract
For garnishing:
onion rings

lemon wedges

freshly chopped coriander leaves
To make kabab:
satay sticks or kabab sticks
Instructions 
Firstly, wash the boneless chicken well.

Strain the chicken completely until there is no water in it.

Add the chicken into a blender, add paste of green chillies and coriander.

Blend the chicken completely and make it into a thick paste.

Transfer the chicken into a bowl.

Add salt as per taste, red chilli powder, turmeric powder, ginger garlic paste, garam masala powder, kali mirch powder, lemon extract into the chicken paste.

Mix the chicken well using hands and keep pressing and mixing until all the masalas are blended well with the chicken paste.

Take two satay sticks for each seekh kabab.

Apply oil over the palm.

Take a portion of the chicken dough.

Apply the chicken dough to the sticks and spread evenly in a long cylindrical shape.

Similarly, keep applying oil to the palm and make rest of the seekh kababs.

Take a non stick pan, add oil and brush it all over the pan.

Heat the oil.

Place the chicken seekh kabab sticks in the pan.

Cook the seekh kababs for 5 minutes on medium flame.

Turn to the other side, cook for 5 minutes on medium flame.

Now keep turning and cook each side for 6-8 minutes on low flame.

Make sure all the sides are cooked evenly and keep turning them until every side is well cooked on low flame.

When all the sides are cooked well, switch off the flame.

Take them out and place them on a plate.

Serve them hot with onion rings, lemon wedged and coriander leaves.

Serve them with paratha too.
Notes
1. If oil is not applied to the palms then the chicken dough is not handled by hands and can't be fixed properly to the sticks and therefore, applying oil to the palms is necessary before making seekh kababs.
2. The same chicken mix and be applied to skewers and then barbecued if there is a barbecue set up at home.
3. Soaking of satay sticks in water for at least half an hour is very essential before using them in cooking the kababs.
4. There should not be any water in the chicken while blending. Make sure there is no water in the chicken by straining it for a while. The kababs cannot be given a proper shape if there is water present in the chicken.
5. The same procedure can be used to make mutton seekh kababs as well.
Nutrition
Nutrition Facts
chicken seekh kabab recipe | without oven or tandoor
Amount Per Serving
Calories 350
* Percent Daily Values are based on a 2000 calorie diet.
WANT TO WATCH VIDEO RECIPES?
SUBSCRIBE US ON YOUTUBE