Are you looking for leftover rice recipes in Indian methods? You are at the right place to check out the easy collection of rice dishes to make for breakfast, lunch, or dinner.
The best part is to make them using leftover rice if you are running out of ideas and confused about how to use it.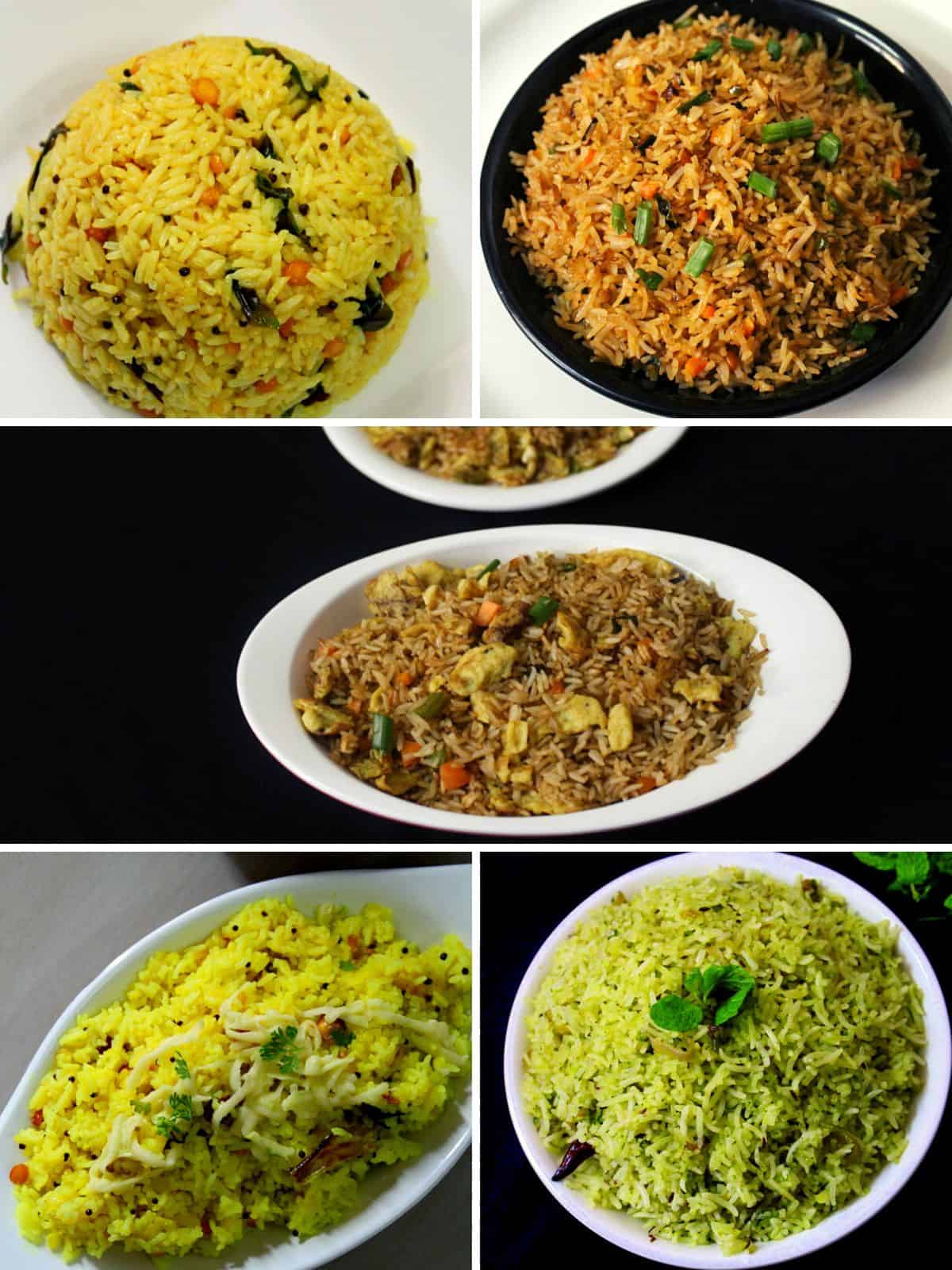 Also, check out other Indian recipe collections, such as indian chicken breast recipes, a curated list of all boneless chicken breast recipes, Indian chicken drumstick recipes.
Other recipes collections of my recipes are indian vegetable side dishes, mutton curry recipes, indian vegetarian dinner recipes.
Keep scrolling through the list, pick the recipe of your choice, make it, and enjoy your day.
Jump to:
What is leftover rice?
If you have cooked any meal to eat with rice and when you have completed the meals, there is some rice still left, which we generally store in the refrigerator.
The stored rice from the refrigerator is the leftover rice that can be used within 2-3 days to make quick and flavorful recipes.
If you have stored the rice at room temperature for a long time, do not use the rice and discard the rice immediately.
The rice starts to become stale in a few hours when kept at room temperature and needs to be thrown away.
Always store the leftover rice in an airtight container and use it within 2-3 days to keep the freshness of the rice.
You can use any leftover rice, such as basmati rice, sona masoori, or any regular white rice, from your kitchen.
Ways to use leftover rice?
Rice Recipes
Generally, leftover rice recipes taste the best when we give a quick tempering to the rice, add aromatic ingredients, and stir fry the rice.
Plenty of rice recipes to choose from below list to use the leftover rice quickly.
When living in the United States in India or any country abroad, we often look for quick and easy recipes on a busy day.
Therefore, making aromatic rice recipes with easy temperings makes cooking easier; meals will be light and avoid needing to head to a restaurant.
Eating Indian food outside can be expensive, but if you know how to use leftover food, you can save money and have homemade food at no cost.
Breakfast and snacks
Other recipes such as instant idli, instant dosa, or appetizers such as pakoras are the best way to make leftover rice recipes in Indian style.
Check out the list of different rice recipes that are quick and colorful; there is quite a range of options to choose from delicious recipes.
All the recipes below can be made using freshly cooked rice, and you can also use these recipes to make meals from leftover rice.
Left Over Rice Recipes
Mango Rice
Raw mangoes are every Indian's favorite, and if you have plenty of mangoes at home, grate them and use them to make bright yellow-colored mango rice.
This is a recipe you can try in the summer, especially when we can see mangoes everywhere.
Use any rice to make this quick recipe. All you need is rice and mangoes; the rest of the tempering ingredients are always handy in Indian kitchens.
Lemon Rice
This is the most popular rice recipe in South India; if you have lemons at home, they can make the most delicious meal of the day.
You can make lemon rice using the leftover rice just by adding a tempering of mustard, chillies, curry leaves, spices such as turmeric, salt, etc.
The tempering is finished by adding rice mixed with lemon. The bright yellow color comes from the turmeric spice, the crucial ingredient in the recipe to bring out the color and the taste.
Pudina Rice
Mint leaves are often underrated, but they have many uses, one of which is to make yummy recipes.
If made into a paste, the mint leaves can be mixed with leftover rice to make flavorful rice, making a quick lunchbox recipe.
This rice recipe can be eaten directly or served with any pickle and is generally green colored recipe because of the green herb added to it.
Tomato Rice
Another interesting rice variation to make with leftover cooked rice is to use tomatoes in the tempering.
Use tomatoes generously, cook like a curry, and add the rice. This is another quick lunch recipe suitable for kids and young ones.
Tamarind rice
Like to add some tangy touch to the dish? Try this tamarind rice recipe, commonly called 'pulihora', a traditional south indian dish.
This is made using tempering, tamarind pulp, and turmeric spice, which gives unique flavors if we mix cooked or leftover rice with it.
Curd rice
Curd rice tastes best when the rice mixed with curd is given a tadka or tempered with mustard, chilles, and curry leaves.
This is a perfect recipe for your lunch or dinner and a healthy recipe that adds protein to your meal.
You can use curd or yogurt, which is homemade or store-bought, and make this quick and simple recipe garnished with pomegranates to enhance the flavors.
Veg Fried Rice
If you are bored of traditional tempered rice flavors, make fried rice recipes in indo Chinese style, which are easy to prepare.
Saute some veggies, add regular soy sauce and chili sauce, and mix the leftover rice with the veggies and sauce.
You will never visit a restaurant if you try these fried rice recipes as they give you a taste similar to the street food joints.
Egg fried rice
Are you looking forward to making meals filled with protein and like to make a filling meal for lunch or dinner?
The answer is simple, add some scrambled eggs to the sauteed veggies and sauce and mix the leftover rice, and you will get to eat the best-fried rice ever.
This is a quick recipe if you have some eggs, leftover rice, basic sauces, and frozen veggies.
Chicken fried rice
Have some fried chicken at home? Enhance the egg fried rice by adding some cooked chicken breast pieces and make a simple Indian meal in Indo-Chinese style.
Making fried rice recipes using simple Indian techniques and Indian spices makes the dish more colorful and adds the perfect flavors.
Schezwan fried rice
This is the most straightforward recipe of all the leftover indian rice recipes. Use schezwan fried rice masala and add it to your rice.
The recipe needs some sauteing of veggies and some schezwan masala powder to add to rice and stir fry quickly.
It takes 5 minutes to make this quick recipe which is the easiest meal option for any time of the day.
Hibachi fried rice
Please do not go by its name as it is a Japanese way of making fried rice, but it is almost similar to veg fried or egg fried rice.
It only needs veggies, leftover rice, soy sauce, and an optional scrambled egg.
Use the rice to make this recipe and serve with any Indo-Chinese recipe or have it directly.
Instant dosa
If you have cooked or leftover rice, make a quick dosa batter using the rice in a blender and make a crepe or dosa for your evening snack or breakfast.
It takes only a few minutes to make the recipe but follow it carefully so that the dosa comes out well.
Serve it with idli chutney or dosa chutney, as the dosa goes well with chutneys.
Rice Pakora
If you want some fritters and have rice left in the fridge, make these pakodas or fritters by making a paste of the leftover rice, adding some seasoning and herbs, and frying them.
Have them with tea or ketchup, and you will love their taste.
Some more recipes
I have shared some of the leftover rice recipes of Indian origin, but the list is not the end.
You can use leftover or cooked rice to make various recipes in many more ways.
Additional leftover rice recipes to try are jeera rice, carrot rice, coriander rice, coconut rice, masala rice, paneer fried rice, etc., to fry for breakfast, lunch, or dinner.
I hope you like this curated list of rice recipes from the leftover rice. Please leave us feedback on the recipe you tried, and don't forget to like, pin and share our recipes.
Related Recipe Roundups
boneless skinless chicken thigh recipes
thin sliced chicken breast recipes
Recipe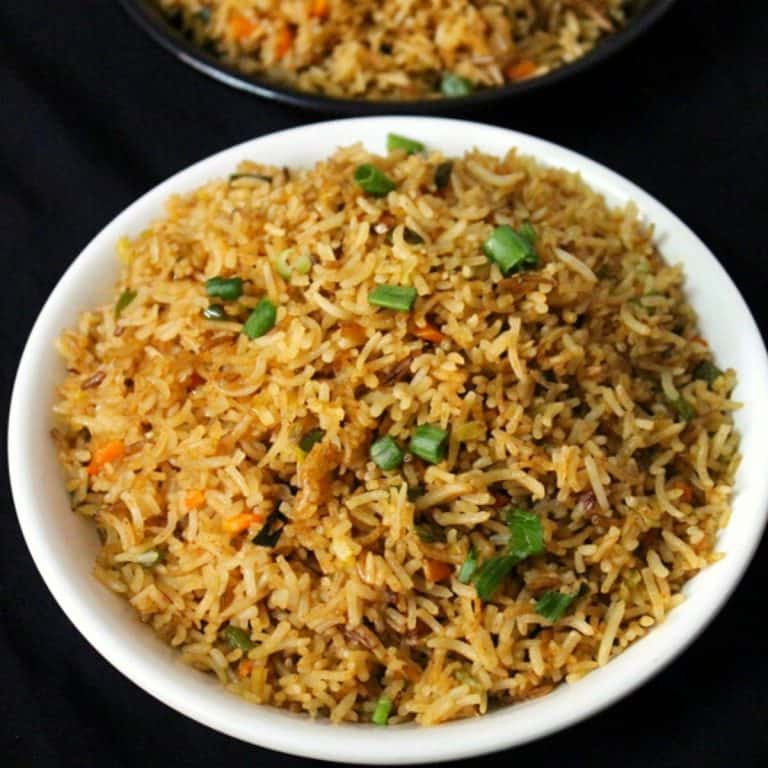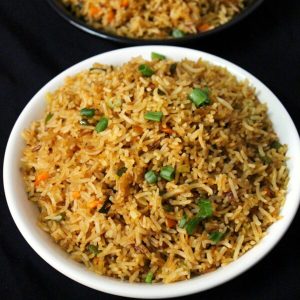 Leftover Rice Recipe Indian
A quick cumin flavored rice recipe made using leftover cooked rice.
Ingredients
1

cup

leftover rice

2

tablespoon

oil

2

slit green chillies

¾

teaspoon

cumin seeds

3-4

curry leaves

½

onion

(finely sliced)

2

tablespoon

frozen peas or matar

¼

teaspoon

ginger garlic paste

salt to taste

1

tablespoon

chopped coriander leaves

(cilantro leaves)
Instructions
Take a pan, add oil, and heat it.

Add the slit green chillies, cumin, and curry leaves.

Add sliced onions and saute for a minute.

Add frozen peas to the above ingredients.

Add ginger garlic paste and saute for a few seconds.

Add the leftover rice, sprinkle salt, and some chopped coriander leaves.

Mix the rice, cook for two to three minutes, and stir fry well.

Serve hot with raita or pickle, or pappadams.
Nutrition
Nutrition Facts
Leftover Rice Recipe Indian
Amount Per Serving
Calories 546
Calories from Fat 279
% Daily Value*
Fat 31g48%
Sodium 887mg39%
Potassium 322mg9%
Carbohydrates 61g20%
Protein 8g16%
Vitamin A 1890IU38%
Vitamin C 88mg107%
Calcium 67mg7%
Iron 2mg11%
* Percent Daily Values are based on a 2000 calorie diet.