Instant dosa recipe is a quick and instant early morning breakfast recipe that can be made for kids as a very instant breakfast if there is leftover cooked rice available at home.  There are many recipes that are made with leftover rice and instant dosa is one among them. There are several rice recipes too that could be made using leftover rice.
It can be served with chutneys like peanut chutney or ground nut chutney, pudina chutney , nariyal ki chutney or any other idli dosa chutney.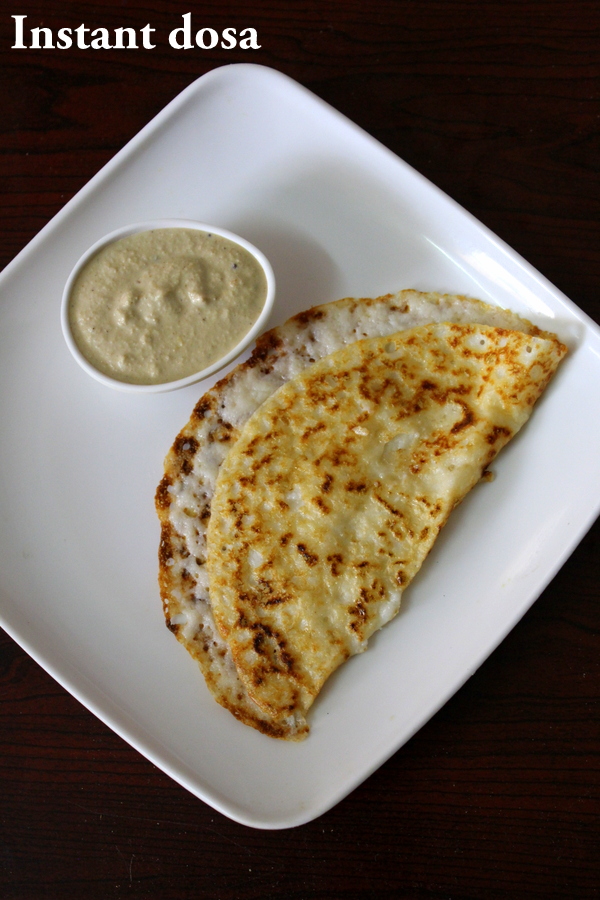 There are several dosa recipes that are made perfectly using perfect dosa batter, and to make dosa, we need to have a proper fermented dosa batter.
I have already shared on my blog dosa batter recipe and that batter is used to make normal dosa like plain dosa, masala dosa, mysore masala dosa, egg dosa etc..
Here, in this recipe I have made a very quick and instant batter that is used to make instant dosa and no fermentation is required.
Generally, to make any dosa, fermentation is a must requirement to get dosas without breaking them.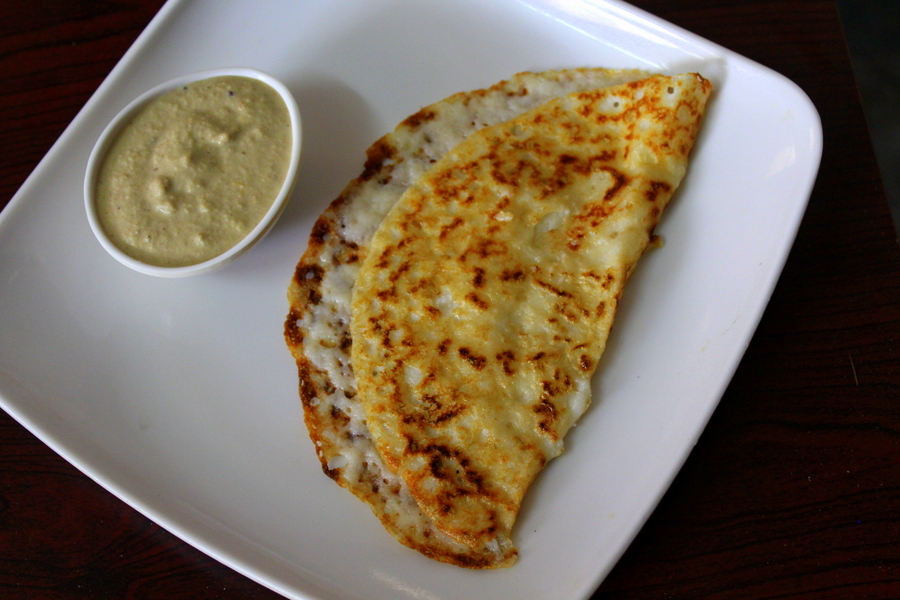 Since this is an instant dosa, one has to follow some important instructions to get a perfect dosa without breaking the dosa as it is not a normal dosa batter with fermentation done.
Here are few tips that should be followed to make an absolutely fine and perfect dosa and these tips are based on my experiences while making this dosa.
Tips to make a fine dosa:
Firstly, always use a non stick tawa.
The batter made should be blended fine and smooth.
Water has to be carefully mixed into the batter, after mixing water, the batter should neither be too thick nor too thin and should have a normal dosa batter.
Do not flip the dosa while making instant dosa as flipping the dosa will break the instant dosa.
I have used rice flour as one of the ingredient in making instant dosa batter but, we can also replace rice flour with either rava/wheat flour.
If you are using left over rice then make sure it is eatable and not stale food. If left over rice is not available then, we can also make fresh cooked rice and make the dosa.
Another important step in making this dosa is to not attempt to spread the batter like a paper dosa, it has to be spread carefully and it can't be spread in the form of a paper or as a thin dosa. Try to spread it little thickly.
Following the above tips gives us a perfect and quick dosa and one need not struggle while making them.
This is one of the ways to make instant dosa batter, however, there are several other ways of making dosa instantly and several dosa mixes can be made.
Video
Recipe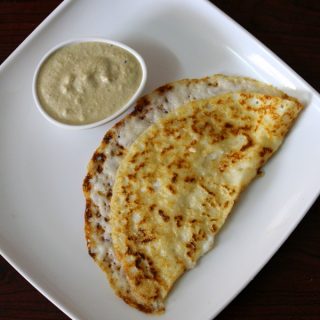 instant dosa recipe, left over rice dosa
A quick and instant dosa made using cooked rice or left over rice.
Ingredients
To make instant dosa batter:
1

cup

cooked rice/left over rice

2

tablespoon

besan/chick pea flour

2

tablespoon

rice flour

½

cup

yogurt/curd

salt - to taste

¼

teaspoon

baking soda

1

cup

water
other ingredients:
oil for appying while making dosa
Instructions
Firstly, take a blending jar.

Into it, add cooked rice, besan, rice flour, yogurt, salt as per taste, baking soda.

Add 1 cup water and blend it into a fine smooth batter.

Transfer the batter into a bowl.

If the batter is too thick then, add some more water gradually and mix the batter.

The batter should have a normal consistency which is neither too thick nor too thin and it should have exactly dosa batter consistency.

Take a tawa, take an oil brush and brush the tawa with oil.

Take an onion slice and wipe the tawa with the onion slice.

Take a ladle full of dosa batter, spread it in circular motion very carefully.

Smear 1 tablespoon oil all over the corners of the dosa and on the dosa.

Cook the bottom side on medium to low flame for about 4 minutes.

When the bottom side is done perfectly, carefully fold the dosa.

Serve the dosa on a plate with any dosa or idli chutney.
Notes
1. Here, I have added rice flour as one of the ingredients but we can also add sooji or wheat flour in place of rice flour to make the instant dosa batter.
2. Since it is cooked rice batter, it takes few minutes to cook the dosa and do not take it out before it is cooked. Doing so the dosa might break.
Nutrition
Nutrition Facts
instant dosa recipe, left over rice dosa
Amount Per Serving
Calories 300
* Percent Daily Values are based on a 2000 calorie diet.