Ragi dosa, an instant dosa made using ragi which does not require fermentation and is quick to make as a morning breakfast recipe which is a healthy one.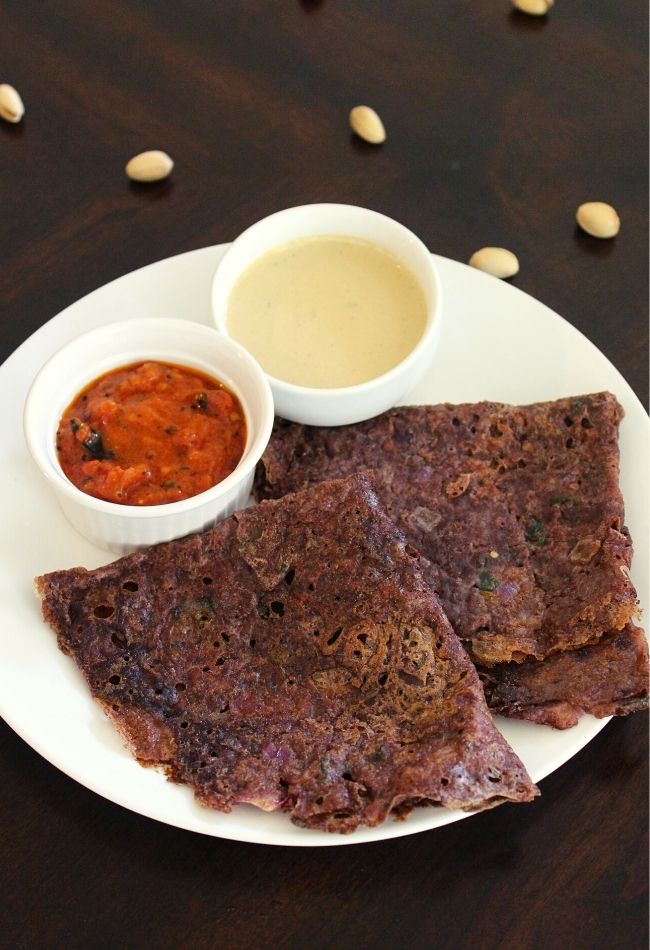 Ragi is a great source of fibre and it is a healthy substitute for many unhealthy recipes that are usually eaten as indian breakfast or indian snacks.
Ragi is a common word for finger millet as it is named in most of the Indian languages and it is called with various other names in other Indian languages but 'ragi' is the most commonly used word for finger millet.
It is widely used in southern indian regions such as telangana, andhra pradesh, tamil nadu, karnataka for many ragi recipes etc…
Different recipes to make using ragi:
The various recipes that can be made uisng ragi are ragi malt also called as ragi java, ragi idli which is similar to the normal idli but made using ragi flour, ragi roti , ragi sankati, ragi mudde and ragi dosa are some of the south indian ragi recipes made using finger millets.
Other common recipe made is ragi porridge which has a porridge consistency that is given to kids or toddlers as it has many health benefits.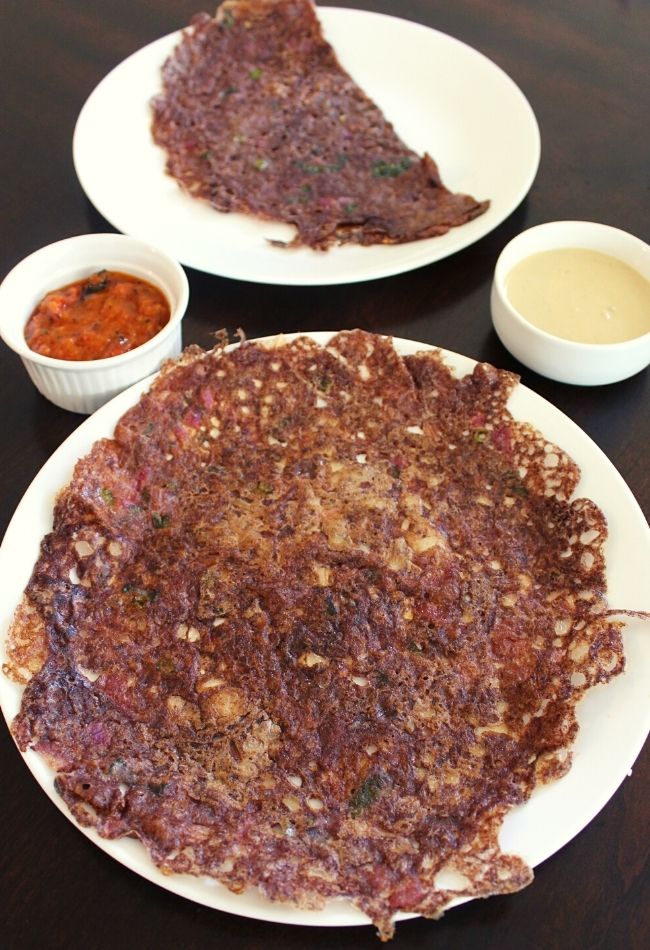 What is ragi dosa:
Ragi dosa or nachni dosa can be made with many variations such as by fermenting as well as without fermenting.
Both the methods give good results but making instant ragi dosa is definitely one of the quick ways to make best use of it for breakfast/tiffins or snacks.
It is a thin crepe like dosa made using thin ragi batter and should be made carefully as it is slightly different from the dosa made out of fermentation.
It is made by making a batter using finger millet flour that is nothing but fine ragi flour, rice flour, and some spices and herbs and to make it perfect and give good flavor curd is added to the batter. All these ingredients are mixed well with water and made like a thin batter.
The batter is then spread on the tawa and cooked well on both the sides until it is nicely done.
Tips to make perfect instant ragi dosa:
The batter made should be too thin for it to spread like a thin crepe or else the dosa does not cook well nor comes out perfectly.
The batter while spreading on the gridle should spread like a thin layer as it takes a long time for the dosa to cook if the batter spread has a thick layer.
Each side should be cooked on high heat for it cook well .
Each side should be cooked for at least 2-3 minutes on high heat for perfect texture and flavor.
The dosa has to be followed using these tips as the dosa might break on the tawa or may not spread properly if the right technique is not followed.
The herbs should be chopped finely to add them into the batter.
This batter does not need any fermentation and dosa can be made immediately.
Benefits of ragi or finger millet:
It is a rich source of calcium, iron and fibre which is highly essential for a human body.
Generally, kids too are given a diet of ragi with the help of doctor's consultation as it is beneficial to small one's as well to improve calcium and vitamin d levels.
It is usually in demand during the summer season in India and mainly in south india as most of them prefer to take ragi malt or ragi java as their healthy breakfast which is nothing but a porridge kind of a dish and is made by mixing ragi in either milk or buttermilk.
Regular usage of ragi keeps us healthy and could keep many weaknesses away because of its rich source of iron.
Below I would be sharing step by step details on making this easy and instant ragi dosa.
In this recipe I have not added rava to the batter but it can be added and while mixing to enhance the dosa.
This method shown below is the quickest way to make simple and crispy ragi dosa.
A video procedure too is shared below…
Video to make ragi dosa:
How to make instant ragi dosa: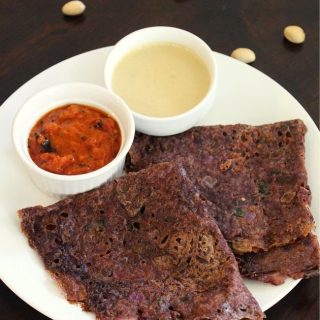 ragi dosa recipe, instant ragi dosa
An instant dosa made using ragi flour, spices and herbs.
Print
Pin
Rate
Ingredients
3/4

cup

ragi flour/ finger millet flour

2

tbsp

rice flour

salt to taste

1/2

tsp

cumin seeds/ jeera

2

tbsp

very finely chopped onions

1/2

tsp

finely chopped green chillies

1

tsp

finely chopped curry leaves

1

tsp

finely chopped coriander leaves

2

tbsp

yogurt/curd

2.5

cup

water approximately

3

tbsp

oil to smear on the dosas
Instructions
Make the batter:
Take a mixing bowl, add the ragi flour, rice flour.

Add cumin seeds, finely chopped onions, green chillies chopped finely, chopped coriander leaves, chopped curry leaves.

Add yogurt into it and give a mix.

Add water and mix well using a beater and make sure the batter is without lumps.

The batter consistency should be slightly thin.

If the batter has not got a flowing consistency, add little more water and mix without lumps.

Add salt as per taste and mix the batter well.
Making of the ragi dosa:
The tawa should be hot enough to make the crepe.

Take a ladle full of thin batter and cover the tawa by spreading thin layer all over.

It comes by practicing once or twice.

Smear oil all over the dosa and its corners.

Cook the bottom side on high heat for 2-3 minutes.

Carefully loosen all the corners once the bottom side is done well.

Flip the dosa very carefully .

Cook the other side too for at least 2 minutes.

Continue making dosa of the remaining batter in a similar way.
Notes
Check taste of salt in the end and add more if required.
Add a table spoon fo rava or sooji if required and rest the batter for a while before making dosa.
Since this is an instant dosa I did not make use of rava/sooji.
Add 1/4 tsp of grated ginger to enhance the flavor for a different taste and variation.
Nutrition
Calories:
200
kcal
|
Carbohydrates:
6
g
|
Protein:
1
g
|
Fat:
1
g
|
Saturated Fat:
1
g
|
Fiber:
1
g
|
Sugar:
1
g
Want To Watch Video Recipes?
SUBSCRIBE US ON YOUTUBE!