Oats dosa recipe, an instant oats pancake recipe made using instant oats by making a quick and instant dosa batter. This dosa is a very healthy dosa recipe and a great weight loss recipe that is filling and a fat cutter too. Oats is a very healthy cereal and it should be included in our daily diet in various forms such as oats upma, oats chilla etc...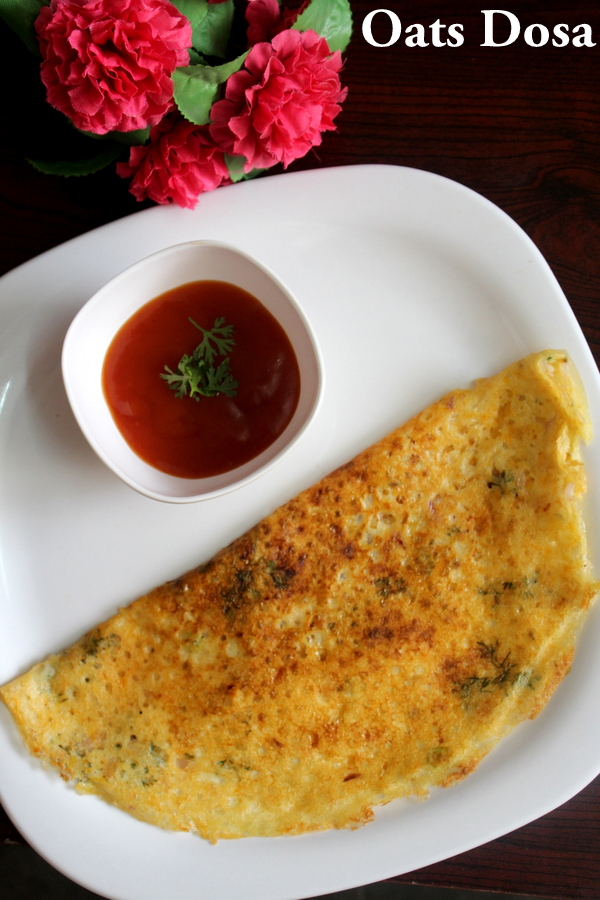 There are many recipes that can be made with oats such as oats idli, oats dosa, oats upma etc... and many more innovative recipes can be created using oats and taken for breakfast.
There are several other dosa recipes on the blog such as egg dosa, wheat dosa etc... and many more are available on the blog. Out of all the dosa recipes this is the healthiest dosa recipe.
There are other pancakes too on the blog like pesarattu which is made of whole green gram and is a good breakfast recipe along with oats pancakes.
Not only as breakfast recipes but can be eaten during lunch and dinners by making oats porridge and adding many fruits into them.
I have already shared quite a few oats related recipes and shall be posting many more oats recipes as I keep updating on this healthy cereal.
There are many kinds of oats available in market one is rolled oats, instant oats, masala oats etc...
Oats do not take longer time to cook and they hardly take few minutes to get cooked perfectly which are a great diet solution when one is rushing to schools or office.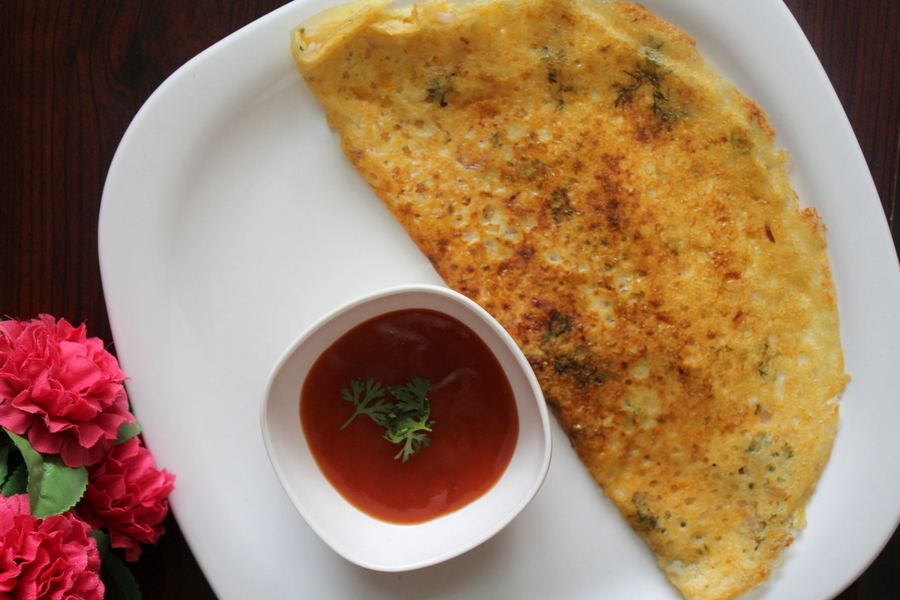 Oats give us various options to prepare instant meals once in a while when a kid is in a hurry and oats should always be eaten when they are hot.
Oats turn harder as they start cooling down and one should always try to have them when they are hot and the quickest way to have oats is by making its porridge.
Oats can be given to babies and toddlers by making a healthy porridge out of it and I shall soon be adding few more varieties of oats recipes in porridge form.
Below are simple steps on how to make oats dosa and one should carefully follow the instructions and not break the dosa while making it.
Video
Recipe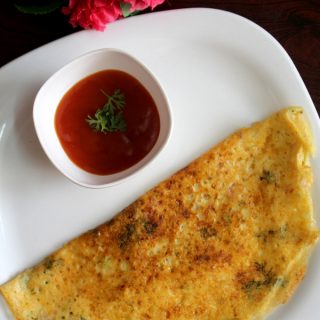 oats dosa recipe
A healthy breakfast recipe made using oats in the form of pancakes called as oats dosa.
Ingredients
1

cup

instant oats

½

cup

sooji/rava

½

cup

rice flour

½

teaspoon

cumin seeds/jeera

½

teaspoon

very finely chopped green chillies

1

tablespoon

grated carrots

2

tablespoon

finely chopped onions

1

tablespoon

finely chopped fresh coriander leaves

1

cup

yogurt

2

cups

water

salt as per taste
Instructions
Powder the oats:
Take a blender, add 1 cup of oats and make them into a fine powder.
Making of oats batter:
In a bowl add powdered oats, add sooji/rava, add rice flour, add cumin seeds, add chopped green chillies.

Also add grated carrots, finely chopped onions, freshly chopped coriander leaves.

Add yogurt and mix the mixture well.

Gradually add water and make a batter of thin consistency and not thick.

The batter should attain a pouring consistency.

Add salt as per requirement and mix the batter well.

Heat the tawa, brush oil on the tawa.

Carefully spread the thin batter all over the tawa and make sure it is dropped as a thin crepe.

Allow the dosa to cook for few minutes and do not flip it until it is cooked well.

It takes few minutes.

Carefully, loosen all the corners of the dosa.

Take the dosa out carefully and place it on a plate.

Continue making oats dosa with the rest of the batter.

Serve hot with chutney.
Notes
1. Do not take the dosa out unless it gets cooked well at the bottom side.
2. If one takes it out quickly then, the dosa might break and it would get difficult to take it out.
3. Try to spread a very thin crepe on the tawa and not a thick one like oats chilla and let it cook for few minutes before taking it out.
4.If the oats dosa batter that is spread on the tawa is thin, try to cook it for a longer time on medium to low flame so that it gets cooked well and comes out easily and with crispy texture.
Nutrition
Nutrition Facts
oats dosa recipe
Amount Per Serving
Calories 170
* Percent Daily Values are based on a 2000 calorie diet.
Have you tried this recipe? Give us opinion and feedback on healthy oats and how do you make use of oats at home...
Follow us on all social media platforms and get the latest updates...