Oats chilla or oats ka chilla is a healthy breakfast recipe with oats made in the form of a pancake and good to eat for morning breakfasts. Oatmeal is a very healthy cereal and it has got lots of health benefits and many have oatmeal as a means to reduce weight and cut out the cholesterol levels in the body.
Other healthy oats recipes that could be tried from my blog which are healthy and very common indian breakfast recipes that can be made in just a couple of minutes are oats dosa, oats upma etc...
Also check out other breakfast recipes such as maggi noodles recipe, bread omelette, bread pizza, masala omelette.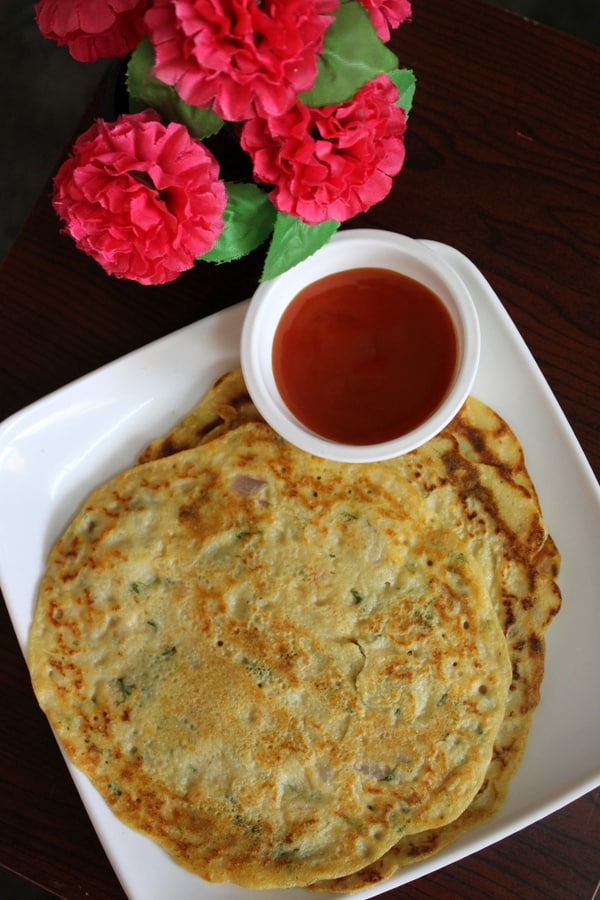 Having oatmeal as a regular diet and making several varieties of recipes with oats is a good breakfast idea and it keeps us in good health as well.
Here, I have made a chilla out of oats which is slightly thick in texture and not as thin as dosa. Oats cheela is made by powdering the oatmeal and mixing certain herbs and spices.
There are many interesting and creative recipes that can be tried out with oats and oats are the one of the healthiest things one could include in a diet.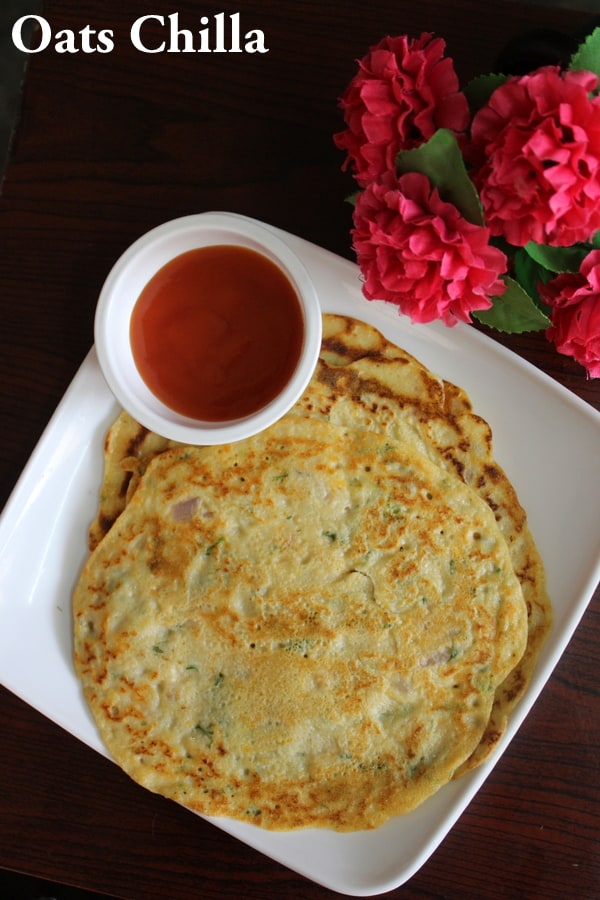 If one is looking for a quick oats recipe then, this chilla is the best thing to have in the morning.
Any kind of chilla is made in a similar way and there are many instant chillas that can be made like besan ka chilla, moong ka chilla etc...
This chilla is good with any sauce or chutney or just have it plain. This can also be served along with ketchup or any dip to get a better taste of the cheela.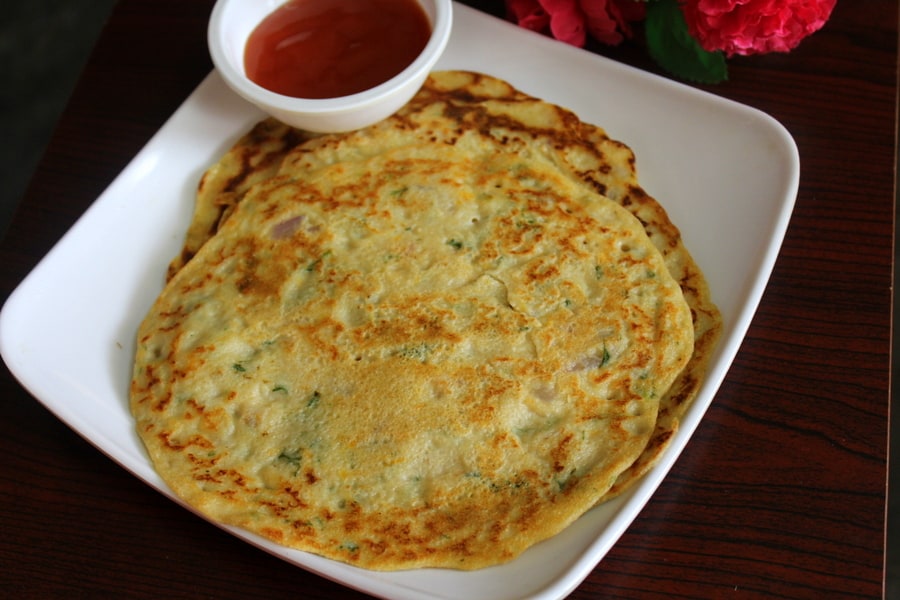 There are many instant breakfasts and when one is in a hurry then, we make several quick breakfasts and this cheela is one among them.
I have decided to post some quick and instant breakfast recipes that could be done in a couple of minutes and rush to work and still not skip the most important meal of the day.
I have shared this cheela with the help of a video and also have mentioned all the steps in detail below.
How to make oats chilla recipe:
Recipe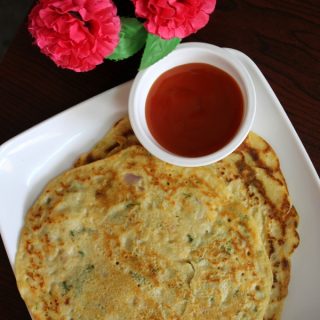 oats chilla recipe, oats cheela | oats ka chilla
A quick and healthy breakfast recipe with oats
Ingredients
1

cup

instant oats

¼

th cup wheat flour/atta

¼

th cup rice flour

salt to taste

½

cup

yogurt/curd

1

tablespoon

freshly chopped coriander leaves

1

tablespoon

grated carrots

2

tablespoon

very finely chopped onions

2

cups

water
Instructions
Powder the oats:
Firstly, take a blending jar, add instant oats into the jar and powder them finely.
Making of the oats chilla batter:
Take a bowl, transfer the powdered oats into the bowl.

Into it, add wheat flour, rice flour, salt to taste.

Add beaten yogurt into it.

Add some freshly chopped coriander leaves, grated carrots, very finely chopped onions and mix all the ingredients well.

Add water gradually and keep mixing the batter until a semi thick batter is obtained.

The batter should not be too thin and should have the consistency of dosa batter.

Place a non stick tawa on the stove and heat it.

Apply some oil all over the tawa with an oil brush.

Take a ladle full of batter and drop it at the centre.

Spread it carefully and thickly in a circular motion and in the form of a small round pan cake.

Smear oil at all the corners of the chilla and also on the chilla.

Cook the bottom side for few minutes on low to medium flame.

Flip the chilla and cook the other side too for few minutes until it is cooked well.

Flip it again and cook for few minutes.

Take it out on a plate.

Repeat the same procedure with the rest of the cheela batter.

Switch off the flame.

Serve hot with sauce or chutney or dip or ketchup.
Notes
1. Here, I have used wheat flour but one can even add chick pea flour or semolina instead of wheat flour to make the cheela batter.
Nutrition
Nutrition Facts
oats chilla recipe, oats cheela | oats ka chilla
Amount Per Serving
Calories 220
* Percent Daily Values are based on a 2000 calorie diet.