Maggi noodles, a simple 5 minute quick to do recipe using vegetables and maggi noodles pack which can be eaten as a snack or a breakfast recipe....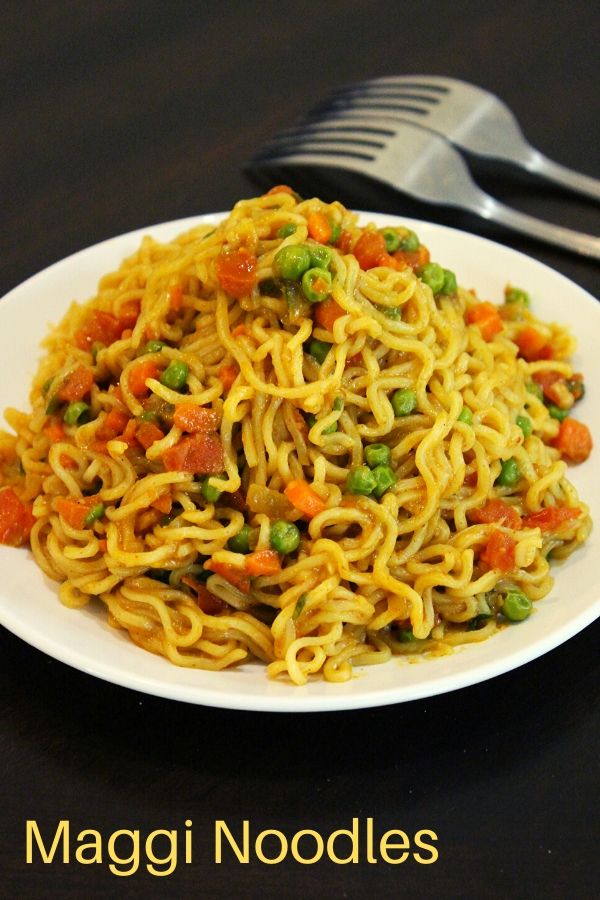 Maggi is not only eaten by kids but it is a favorite recipe among youngsters too...
Also check out other breakfast recipes from the blog which are instant and healthy such as bread omelette, rava upma, oats upma etc...
How to make this maggi noodles:
This is a very simple and yummy breakfast recipe which is made by simply sauteing vegetables and using the maggi powder that is a readily available taste maker given inside the maggi noodles packet, and cooking the given noodles from the packet in water brings out an amazing outcome of the noodles.
How noodles are usually made?
Noodles are usually made by using a dough that could be atta/ wheat flour or maida/all purpose flour simply mixed with water and made into a dough and creating long strips of the dough.
They can be either cooked or fried and made into any dish of our liking.
Making noodles at home could be quite stressful and for all those who are fond of noodles can now head to the supermarkets and find readily available noodles and make recipes in just a couple of minutes.
What makes this recipe so simple?
I can guarantee that this is a life saver recipe in appetite as it is quick and instant.
The simplest part about this recipe is everything is readily available within the packet.
The maggi packet consists of ready made maggi masala powder inside the pack as well as the noodles.
The contents of the pack are cooked together with water for 2-3 minutes.
Any kind of vegetables could be added to make it more delicious.
This particular recipe shows how to make simple maggi recipe into a delicious one.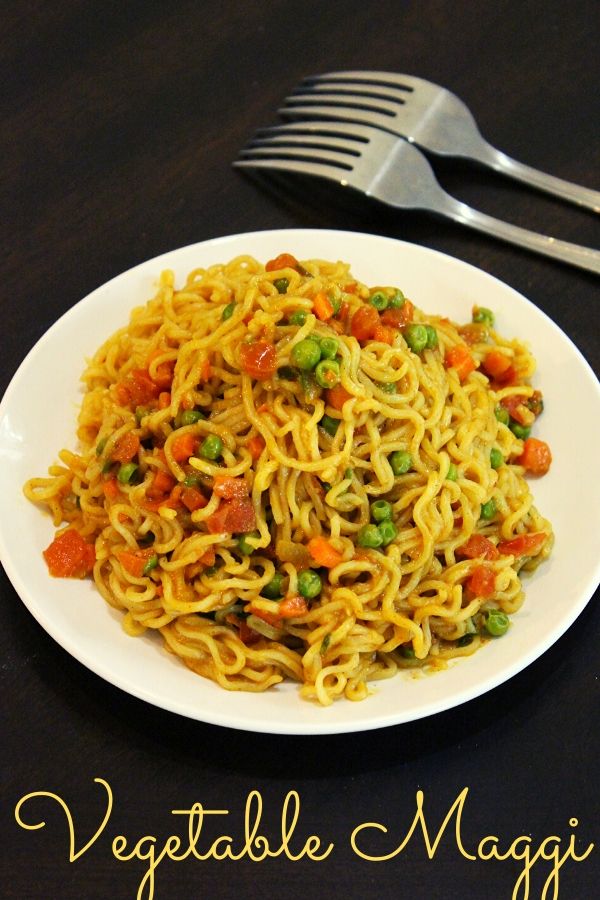 Readily available packets are already available in markets in several brands and look out for those kind of packets which already consist of noodles and the masala powder or the taste maker along with it.
The trick is to just saute some veggies and cook the noodles and the masala/taste maker together in some water without over cooking them.
What vegetables can be added?
Several veggies such as beans, green onions, bell peppers and several other veggies can be used to make these noodles.
Below are the simple step by step details to make this recipe along with a video attached which could help in making it easily.
This recipe can be cooked with many variations and here I have come with the simplest and most common form of making the maggi.
In the upcoming maggi posts I shall be sharing many variations of making maggi noodles which are amazing dishes for kids breakfast or as snacks....
How to make masala maggi noodles recipe or veg maggi: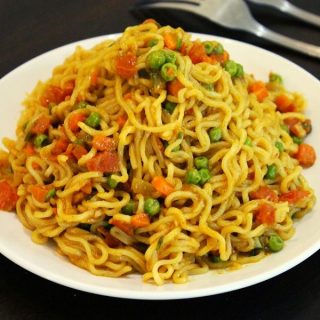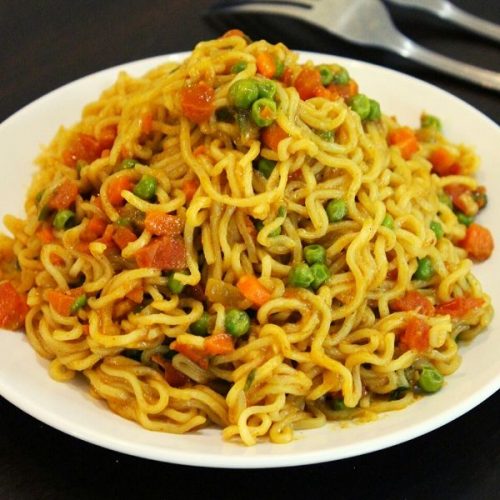 maggi noodles recipe, vegetable maggi recipe
A five minute maggi noodles made with ready made maggi masala powder/ taste maker and veggies...
Ingredients  
1

tbsp

oil

1

tbsp

very finely chopped onions

½

tsp

finely chopped green chillies

1

tbsp

very finely chopped carrots

2

tbsp

very finely chopped tomatoes

1

tbsp

frozen green peas/matar

salt to taste

½

tsp

red chilli powder

¼

tsp

turmeric powder

(haldi powder)

¼

tsp

coriander powder

(dhanya powder)

1.5

cup

water

1

tbsp

freshly chopped coriander leaves
Main ingredients:
2

sachets of maggi masala powder

(taste maker from the maggi packet)

2

packs of maggi noodles
Instructions 
Take a wok or a pan.

Add a table spoon of oil and heat it.

Add the onions, green chillies into it.

Saute for few seconds.

Add the chopped carrots, add the chopped tomatoes.

Saute the tomatoes for a minute.

Add the frozen peas into it.

Mix well.

Add the dry spices such as salt as per taste, red chilli powder, turmeric powder, coriander powder.

Add the maggi masala powder/ taste maker, mix and cook the masala until oil leaves the sides.

Add 1.5 cup of water, add chopped coriander leaves.

Adjust salt if required and skip if not required and bring the water to a boil.

Add the noodles from the maggi packet into the water.

Break them into two halves.

Let them cook for a minute.

Stir delicately.

Cook for another minute.

Switch off the flame.

If there is water remaining just leave it as it gets absorbed and no need to overcook the noodles.

Serve hot.
Video
Notes
Any vegetable can be added into these maggi noodles recipe.
Here, I have used frozen peas ( already boiled and frozen) but if frozen peas is not available, just boil them for 2-3 whistles and use them.
Adding vegetables makes it more tasty healthy and tasty.
Do not add too much of water as the noodles get mushy if too much water is added.
Always maintain a ratio of 1:1 that is if one cup of water to one pack of noodles on a safer side.
Nutrition
Nutrition Facts
maggi noodles recipe, vegetable maggi recipe
Amount Per Serving
Calories 50
* Percent Daily Values are based on a 2000 calorie diet.
WANT TO WATCH VIDEO RECIPES?
SUBSCRIBE US ON YOUTUBE
Leave your comments or any queries below in the comment section and we are always happy to help you....
The above post is not a promotion of the brand and is simply a tried and tested recipe by the blog owner for the blog readers....