Do you want to try overnight oats with water and are tired of using milk to soak them? This post will share a different version of making oats with water and the best choice when running out of other oats-soaking ingredients, such as milk or yogurt.
It is a simple breakfast recipe; one can make overnight oats with many different flavors, and it is a healthy breakfast choice to maintain a healthy weight and a great start to the day without skipping breakfast.
Suggested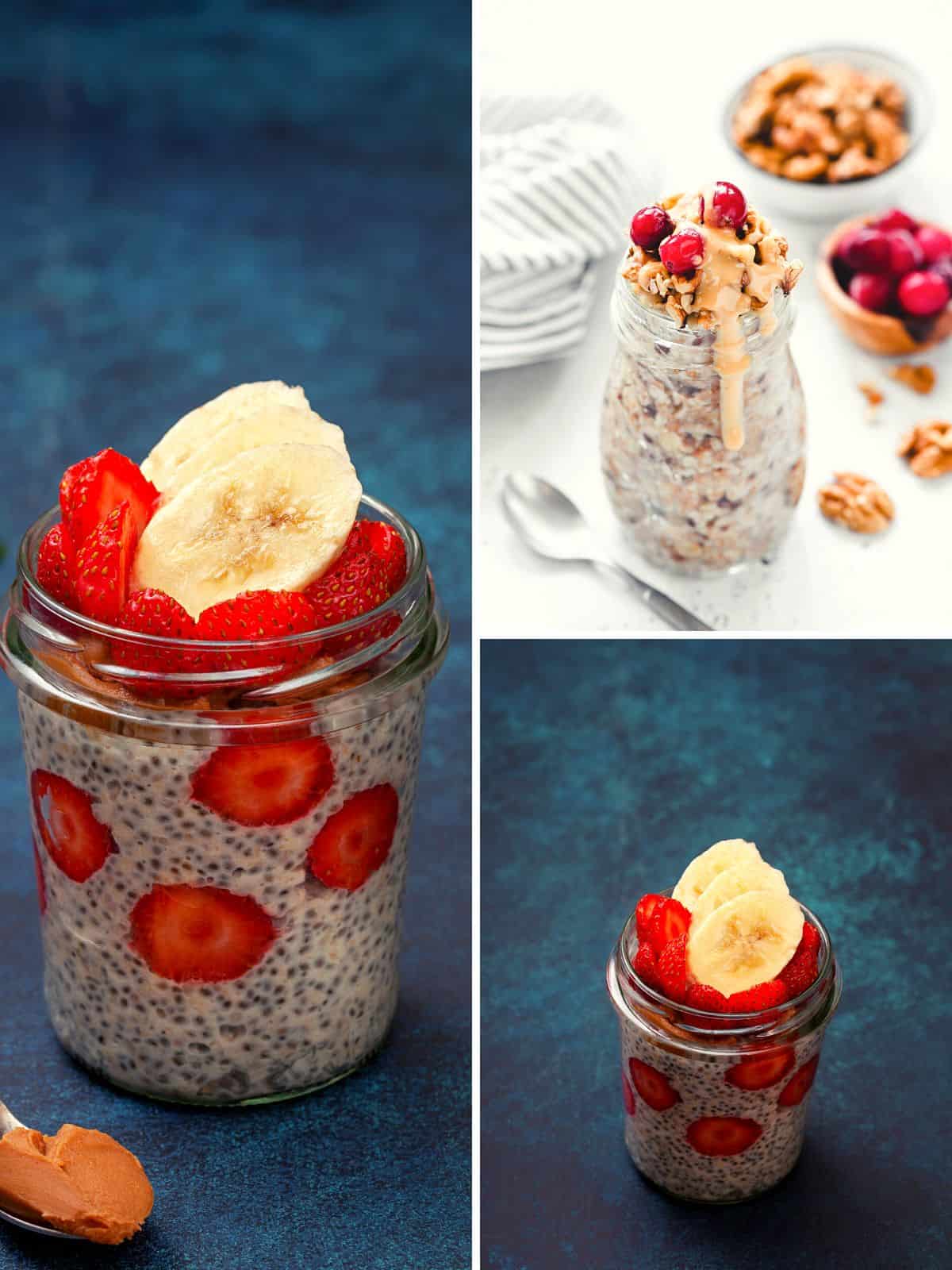 Jump to:
Can we use water to make overnight oats?
Yes, absolutely. Using water can give a plain taste to the soaked oats, but when there is no choice, making oats with water is perfect.
Also, if you are looking forward to having a simple and easy breakfast, using water works fine.
The water-soaked oats may not have all the nutrients we get by using dairy or non-dairy milk, but adding fruits, nuts, and other toppings can make the oats perfect by giving the necessary nutrients.
Other healthy recipes
What is the difference between adding water or milk to oats?
Oats soaked in milk give a creamy texture to the oats and also have a delicious taste.
Generally, oats have a plain taste and to make them delicious, adding various ingredients to them after soaking them overnight is a healthy choice.
Oats taste great with either milk, whether it is dairy or non-dairy, or it can also be yogurt with good fats, low fat, or non-fat dairy.
Milk or dairy adds protein to your diet and is rich in calcium and many other healthy nutrients. Water usage can make you miss out on all these beneficial nutrients.
One may not prefer to add milk or yogurt, but there is a non-dairy option such as almond milk, oats milk, or coconut milk to soak the oats.
On the other hand, water gives a plain, simple and basic taste, which can not be suitable to have it plain.
Therefore, when soaking oats in water, adding additional toppings of various flavors balances the plain taste and makes it edible and easy to consume without any struggle.
The ratio of oats to water
The ratio to use is a common question for those who make overnight oats for the first time.
However, one can become an expert in understanding the ratio of adding liquid to oats by regularly making it and by trial and error methods.
There is no exact answer, as some prefer a thick consistency, and some may like a porridge-like texture.
It also depends on what kind of ingredients you are adding. For example, adding chia seeds to the oats absorbs water; in this case, we may need to add more water.
Therefore, making oats with various ingredients can help you understand how much water ratio to add to them to get them perfect.
Another tip is to add water according to your preference and take it out from the refrigerator only when ready to eat.
If you observe it is too thick, add little water to the consistency desired to the soaked oats and stir well before adding toppings or other ingredients.
The answer to the ratio of oats to water will be approximately 1: 1.5 cups; that is, if you are making 1 cup of overnight oats, add 1.5 cups of water.
There is no fixed rule to follow the above ratio, and adjust the liquid preference by reducing 0.25 cups of water and adding 1.25 cups of water to 1 cup of oats.
If making ¼ cup of oats, adding ½ cup or ¾ water can make it thick than regular overnight oats.
Generally, for ¼ cup oats, going with ¾ cup oats is the best way to make overnight oats, and there is no need to add additional liquid to the oats.
For steel-cut oats of 1 cup, use 3.5 to 3.75 cups of water; it can become too thick if you add less than 3 cups.
Therefore, to be on the safe side, add between 3 to 3.5 cups of water, and if it turns out thick after soaking, add a little more desired water or yogurt to normalize the consistency.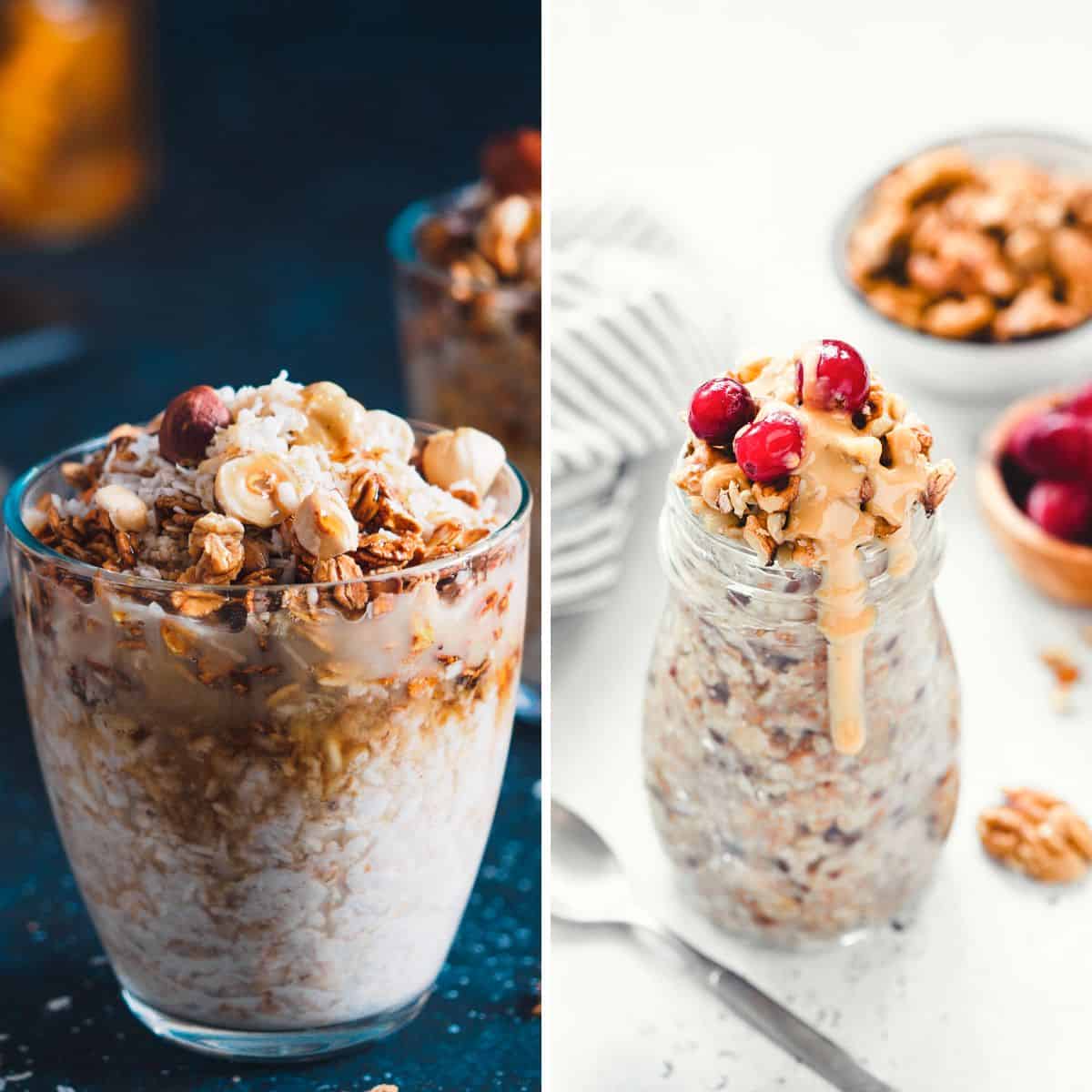 Water and yogurt to soak oats
If you plan to make overnight oats with water and some yogurt, soak the oats with water first, and when you plan to eat, stir some yogurt into the oats.
To make overnight oats with a combination of water and yogurt, adding ½ cup of water to ¼ oats works fine, and do not use ¾ cup of water as later you will be adding yogurt to the mix.
The reason to add less water is that it also uses yogurt, and yogurt mix can make the consistency normal in case the soaked oats turn thick.
Therefore, adding water, depending on the ingredients we add, is something we can achieve by making them regularly.
The simple answer is to keep it ¼ cup oats and ¾ cup water to get it perfect or ¼ cup oats to ½ cup water for a thick consistency.
Water and chia seeds
Soaking oats with chia seeds may need more water as chia seeds tend to absorb more water, and in this case, going with ¼ cup oats and ¾ cup water rather than ½ cup works well.
If you plan to add yogurt in addition to water, in such case, adding ½ cup water too works well, as yogurt is a liquid that can quickly normalize the consistency.
Suggested
Tips
If the soaked oats with the given ratios above turned out thick, add any liquid such as water, yogurt, or any other milk of your choice and stir it well before adding different toppings.
If adding seeds, add more water or liquid, as oats and seeds need more water to absorb.
Always keep oats to water ratio at 1:1 ratio or 1: 1.25 or 1: 1.5 ratio, but do not exceed that as it can give a thin consistency.
If you are not willing to add ¾  up water to ¼ oats, add ½ a cup of water and soak the oats as this ratio works well to soak; after soaking, add a little liquid and stir if the consistency is thick.
Before adding fruits and nuts toppings, stir in all the ingredients, such as seeds, liquids, sweeteners, and blendable ingredients.
If you like to combine water with dairy or non-dairy substances, try to add both liquids (water or dairy liquid )in equal proportions to soak oats.
While soaking oats, add a pinch of salt to get the perfect taste in oats.
What do we require to make overnight oats?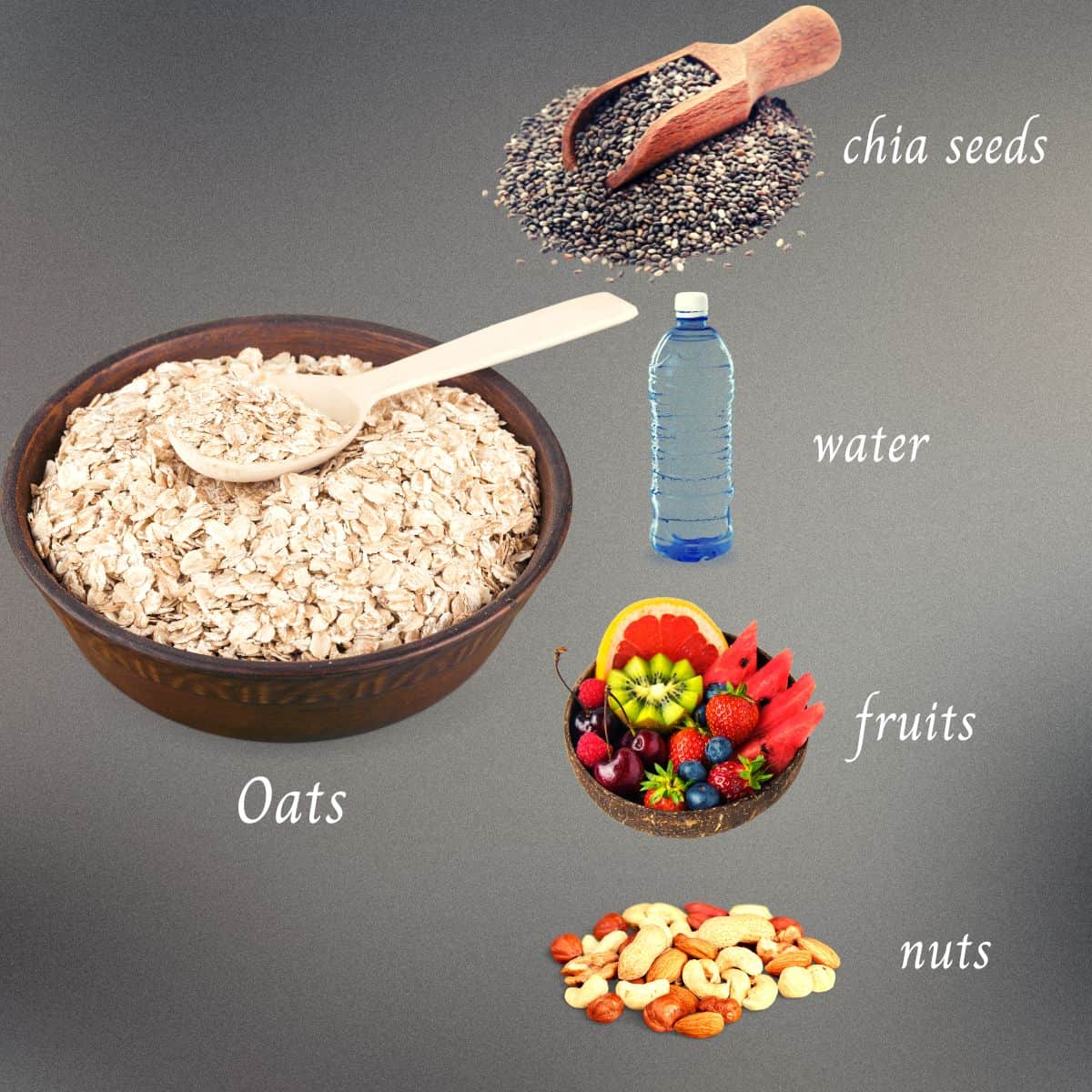 In detail, let us check out the ingredients needed to make simple overnight oats with water below.
The image above shows the minimum requirements to make a quick meal.
Oats: Use any oats, including instant oats, but to get more benefit from the oats, using old-fashioned oats, i.e., rolled oats or any oats, is a perfect choice. 
Water: If making plain oats and wanting to add other liquids or creamy substances later on, such as yogurt or milk, soaking oats in water is a good idea.
Toppings: Use dried fruits, dried nuts or freshly chopped fruits, sliced fruits, and nuts to make it colorful and nutrient-rich.
Layerings: Use almond butter or peanut butter to mix with the oats or make it with other flavors, such as cocoa powder, which makes it delicious.
Making a layer of jam and adding soaked oats looks appealing and colorful to eat.
Sweeteners: Adding maple syrup, honey, or brown sugar makes it sweet and delicious and provides sufficient calories.
Toppings
Generally, one can go from simple toppings to heavy toppings, depending on how you eat.
Fruits: Go for simple toppings such as single fruit, sliced bananas or blueberries or strawberries, mangoes, apples chopped or cut into fine pieces, or any fruit that you love to have.
Mixed fruits: Other toppings are of mixed fruits, such as adding a mix of berries such as blueberries, strawberries, raspberries, etc.
Nuts: Rich toppings are mixed fruits, nuts, and sweeteners to make the dish contain good nutrients.
Nuts can be dried nuts such as chopped walnuts, almonds, pistachios, granola, chopped dates, raisins, pecans, etc.
Jam layerings: Opt for strawberry jam or any jam of your choice and add it as layering to the soaked oats.
Butter: Almond butter or peanut butter can be added and stirred to the soaked oats or flavors, such as chocolate powder, to make different kinds of oats.
Spices and seeds: Ground cinnamon is commonly added while soaking oats, and also different seeds, such as chia seeds, flax seeds, etc., can be added while soaking or as toppings.
Duration to soak
To soak oats, 4 hours is enough but if planning to have them for breakfast, make them ahead at night in 3-4 mason jars.
Soak them overnight to let the oats absorb water well and be ready to eat the next day.
Generally, the earliest you can eat oats after soaking is 3 to 4 hours if you plan to snack on them.
Storage
If making ahead for the entire week to have overnight oats as breakfast, soak these oats in separate air-tight mason jars and refrigerate them.
The refrigerated oats are edible and suitable for up to 4 to 5 days, but ensure they are placed in air-tight containers or jars.
When ready to eat, take them out from the refrigerator, top them with your favorite fruits and nuts and enjoy.
Benefits
Soaked oats are better than instant oats or quick oatmeal as soaked oats contain more amount of fiber, protein, and sufficient calories than quick instant oatmeal.
Overnight oats have more nutrients, contain a good amount of minerals and vitamins, and are easily digestible.
Overall, overnight oats are quick to make, and a single batch preparation in 4 to 5 mason jars is enough to make a grab-n-go morning breakfast or to make for kids or young ones.
The overnight oats preparation is better for making breakfast ahead for the entire week and, at the same time, is a healthy breakfast.
Since oats are rich in fiber, they help slow down digestion and keep you full for a longer time, preventing you from developing hunger pangs and thus avoiding overeating and weight gain issues.
Weight loss
Since this is a high-fiber breakfast oat, it digests slowly and while you do daily activities, burns calories, and prevents you from consuming other unhealthy foods that can lead to weight gain.
Thus fiber and protein-rich cereal help burn fat quickly, helps lower cholesterol levels, and regulate blood sugar levels with regular consumption.
Oats are a healthy dish for those suffering from weight gain, obesity, and heart issues, as these are fiber-rich and have all the properties to work in favor of those suffering from such health issues.
Recipe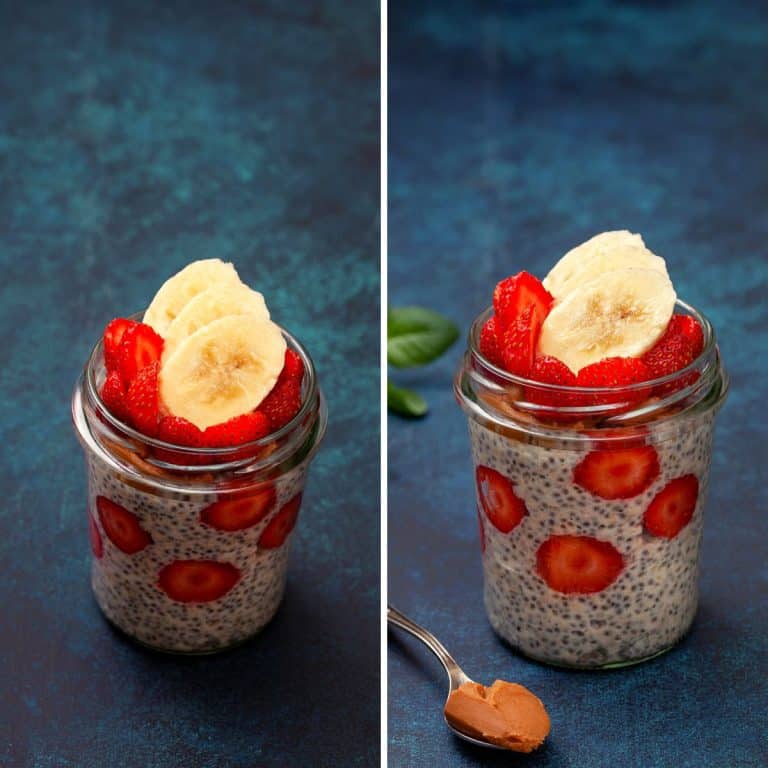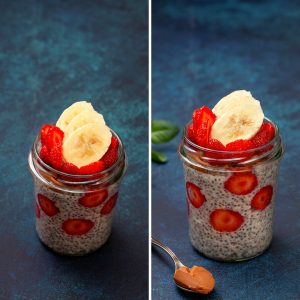 overnight oats with water (without milk)
A quick and easy to make overnight oats using water without any dairy food substance.
Ingredients
To soak:
½

cup

old-fashioned oats

(can use instant oats too)

¾

cup

water

1

tablespoon

chia seeds

pinch

of salt
Toppings:
1

tablespoon

Honey/brown sugar/maple syrup

¼

cup

Freshly chopped fruits or berries

(add generously if you need more)

3

tablespoon

Chopped nuts

(almonds, pistachio, raisins)
Instructions
Soaking:
Firstly, take a mason jar, and add half a cup of oats to the container you like to soak oats.

Add three fourth cups of water.

Add chia seeds and a pinch of salt, and stir well.

Cover the lid of the mason jar.

Allow it to sit in the refrigerator for 4-6 hours, or let it sit overnight in the fridge.

When ready to eat, take the soaked oats out of the fridge, add honey or maple syrup, or brown sugar, and give a good mix.
Toppings:
Add toppings of freshly chopped, whole, or sliced fruits such as bananas, blueberries, strawberries, and more of one's liking.

Also, add chopped dried nuts and make them flavorful with desired toppings.

Have them for breakfast or enjoy them as snacks.

A healthy breakfast is a healthy choice.
Notes
Add other toppings, such as pitted dates and skip sweetener or add any topping of your preference, such as jam, nut butter, etc. and enjoy your meal.
You can add yogurt or any dairy on the top for extra flavors.
Adding chia seeds may need extra water, and ½ cup may not be sufficient; therefore, add ¾ cup of water.
If you add ½ cup of water, there are no issues; make sure to add desired liquid after soaking oats to have a better consistency.
Adding chia seeds is optional and skip it if you do not like its taste.
If you want to cut down a few more calories, skip adding chia seeds and add more fruits.
Nutrition
Nutrition Facts
overnight oats with water (without milk)
Amount Per Serving
Calories 488
Calories from Fat 198
% Daily Value*
Fat 22g34%
Sodium 21mg1%
Potassium 438mg13%
Carbohydrates 66g22%
Protein 13g26%
Vitamin A 190IU4%
Vitamin C 2mg2%
Calcium 127mg13%
Iron 4mg22%
* Percent Daily Values are based on a 2000 calorie diet.
Faq's
Can I replace milk with water?
Yes, one can use water, not add milk, and later add flavorful toppings to help with easy consumption. Adding milk can increase a lot of calories; in that case, use low-fat milk, almond milk, or yogurt.
If using water, one can also make a combination of water and yogurt(optional) to make the oats recipe, and any liquid is acceptable to make overnight oats. The difference is in their taste, nutrients, and each liquid's benefits.
If looking for a creamy taste, add milk, and for a simple, plain flavor, add water.
Does overnight with water work for weight loss?
Yes, as oats making is always a fiber-rich dish with lots of protein, a slow digestion process helps keep weight in check.
Try to follow a healthy lifestyle and diet that can quickly result in weight loss.