Rava dosa is a dosa made apart from regular dosas like onion dosa, masala dosa etc… It is unlike other dosas as it is made instantly and quick and is a very quick recipe.
Other dosa recipes or breakfast recipes on the blog:
Sooji dosa is not made using dosa batter but the main ingredient in making the recipe is the sooji/semolina/rava as they are usually called.
Check out other recipes: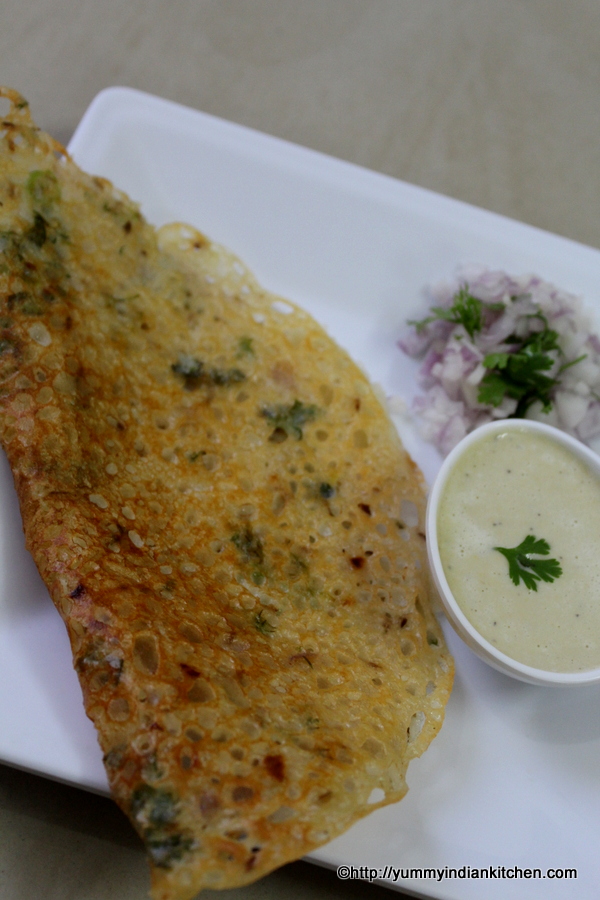 There are plenty of dosas that are usually made and this is one of the various dosas that is made often.
This dosa can be made instantly to serve the kids as an evening snack or for their breakfasts and it can be served with any chutney of our choice like green chilli chutney, tomato pickle, groundnut chutney , onion chutney etc…
To make this sooji ka dosa we need rava/semolina, rice flour to give the crisp texture and maida/all purpose flour along with few spices and herbs like cumin seeds, green chillies, salt, finely chopped onions and then making a pouring consistency batter by adding water and pouring the dosa batter onto the tawa…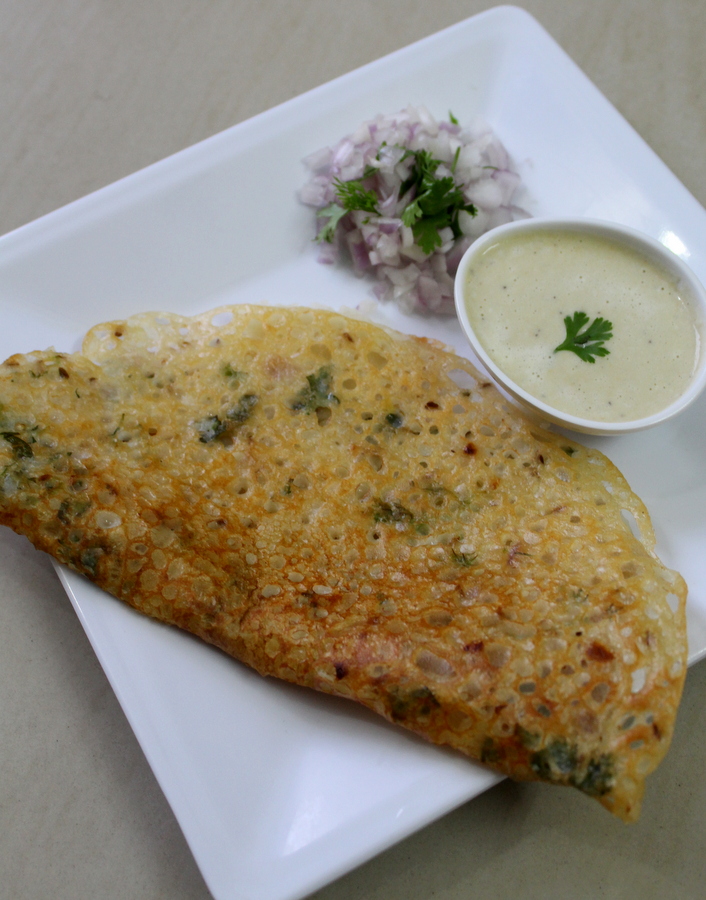 This can be served as a morning breakfast or it can also be served as an evening snack if we are running short of time…
This dosa is also referred to as onion rava dosa or sooji dosa in common terms… This kind of rava dosa can be made in various ways and today here in this post I am sharing one of the various ways of making rava dosa.
When we are making rava dosa batter, we can't prepare it as we make the batter for a regular dosa recipe which requires soaking the dosa batter ingredients, blending them into a paste and then fermenting it for many hours…
It can just be prepared instantly if the main ingredients like rava, rice flour, maida, curd are available at home. This batter need not be soaked as a regular batter and can be easily given to kids as their breakfast recipe or as an instant evening snack recipe.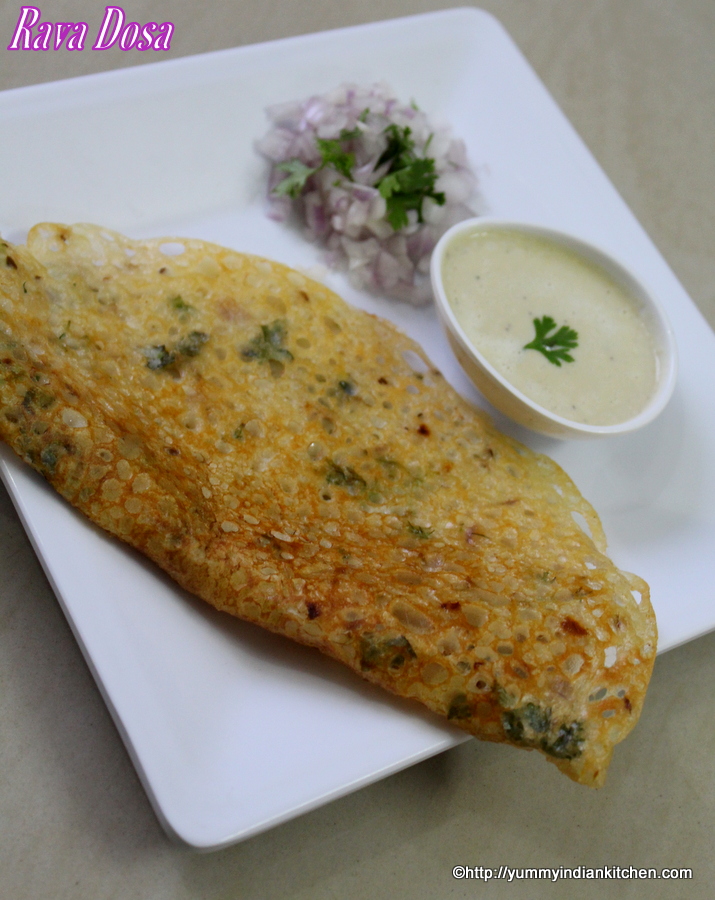 We have to be careful while making the batter since this is a dosa batter and the batter has to be made of thin consistency which can be easily dropped on the tawa. This is not a regular dosa batter which can be easily spread on the tawa in circular motion.
Since this is an instant batter, we make a very thin batter using water and curd and has to be of pouring consistency which can be easily taken in a ladle and dropped on the tawa. This dosa batter can't be spread on the tawa and never attempt to spread it.
Below are the recipe details for onion rava dosa which is healthy, yummy and quick. Also do check out the video procedure for rava dosa which would help my blog readers to understand its making procedure in a better way….
Video recipe of sooji dosa below:
How to make rava dosa instant or sooji dosa or onion rava dosa: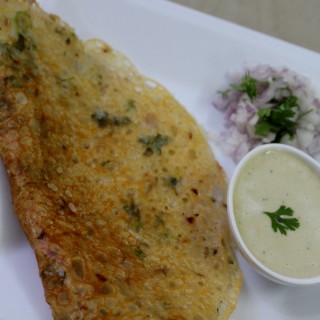 Rava Dosa Recipe South Indian Instant and Crispy, Sooji Dosa | Onion Rava Dosa
Rava dosa is an instant dosa recipe made using semolina and is the best quick dosa to be made which is easy and tasty...
Print
Pin
Rate
Ingredients
6

tbsp

sooji/semolina/rava

2

tbsp

rice flour

4

tbsp

maida/all purpose flour

1

tbsp

finely chopped coriander leaves

1

tsp

cumin seeds/jeera

1

medium size onion very finely chopped

1

tsp

full green chillies very finely chopped

salt - to taste

2

curry leaves very finely chopped

1/2

tsp

very finely crushed ginger

2

tbsp

curd/yogurt

water to mix - 1 medium size bowl

3

tsp

oil
Instructions
Firstly, take a bowl, into it add sooji/rava, add rice flour, all purpose flour/maida.

Add finely chopped coriander leaves, cumin seeds, very finely chopped onion, very finely chopped green chillies.

Add salt according to taste, chopped curry leaves, crushed ginger.

Add yogurt and mix up all the ingredients.

Add water gradually and keep mixing the batter with water until a pouring consistency is obtained.

Heat the griddle/tawa.

Mix the batter well and take a bowl full of batter and pour the thin batter all over the tawa.

Smear oil all over the rava dosa and also at the corners of the dosa.

Cook the bottom side of the dosa well until it turns crisp brown.

Fold the sooji dosa and take it out.

Serve hot with chutney...
Notes
1. Do not try to spread the batter as we do for a regular dosa recipe.
2. Try to drop the batter all over the pan and make sure it is cooked well at the bottom side for few minutes.
3. Do not take the dosa out until it is cooked well at the bottom side.
4. Before taking it out, try to loosen the corners and then carefully take the dosa out.
5. It can be served with any chutney of your choice...
6.Do check out the video in the article and hope it is better understood...
6. The more thin the dosa is, the better it appears visually and also tastewise...
Nutrition
Want To Watch Video Recipes?
SUBSCRIBE US ON YOUTUBE!
If you tried this recipe then, do leave your suggestions below in the comment box and hope my viewers like this instant breakfast cum snack recipe of mine…