Poori also spelled as puri, is a popular breakfast recipe across south india. it is a small disc shaped bread that is deep fried in oil and served any veg curry such as matar paneer or veg kurma.
I have also shared a video procedure to help the understanding process of poori making in a better way.
It is a highly selling breakfast dish in southern parts of india. It is usually made with either wheat flour or maida or using both the flours.
In every hotel or tiffin centre of south india we can find pooris served on the breakfast menu and its such a delicious dish but one can stay away if they are health conscious as these are deep fried in oil.
This is a very simple recipe if proper tips and tricks are followed.
The main ingredients to make breakfast poori are wheat flour, oil, salt and water. Here in this recipe I have added sooji or rava or semolina which helps us in making a perfect puffy poori.
The poori which I made here is absolutely soft and puffy and this can be achieved without any difficulty just by following few steps and not complicating the making procedure.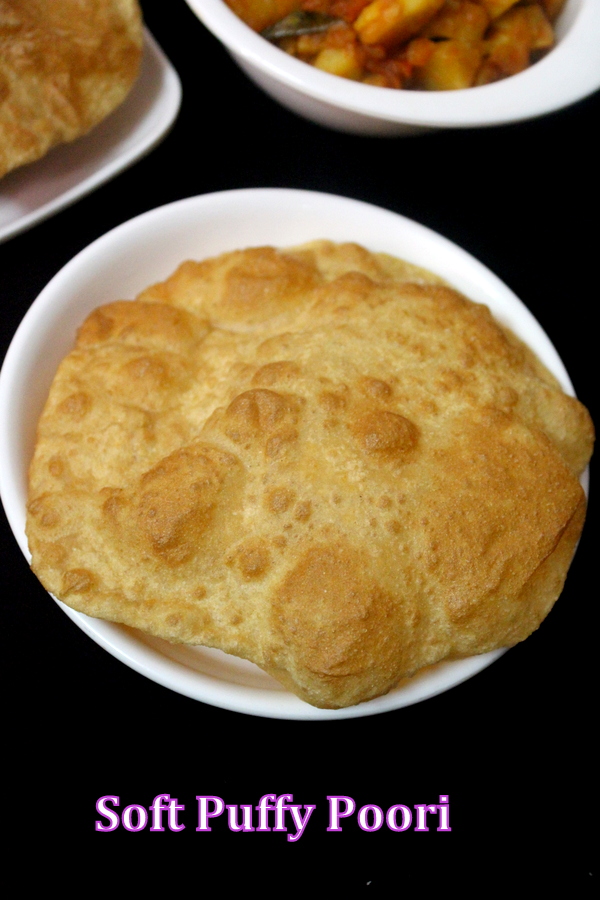 There are slight variations in making poori and those are nothing but some like to knead the dough with milk instead of water and that option too gives us a soft poori.
Here in the recipe I have added water to knead the dough and yet I got very soft pooris which lasted soft for many hours after keeping them covered.
The conclusion is whether we add water or milk for kneading, the final outcome remains the same.
Tips while making pooris:
Another important tip is to add sooji/semolina/rava which improves the taste of the pooris.
Add oil/ghee while kneading is very necessary to give a slight crunch to the soft pooris.
Always make sure that while deep frying pooris, do not fry them in very hot oil as the pooris get the burnt color and lose their perfect flavor.
Just adding the ingredients mentioned in the recipe process gives us a soft and puffy poori.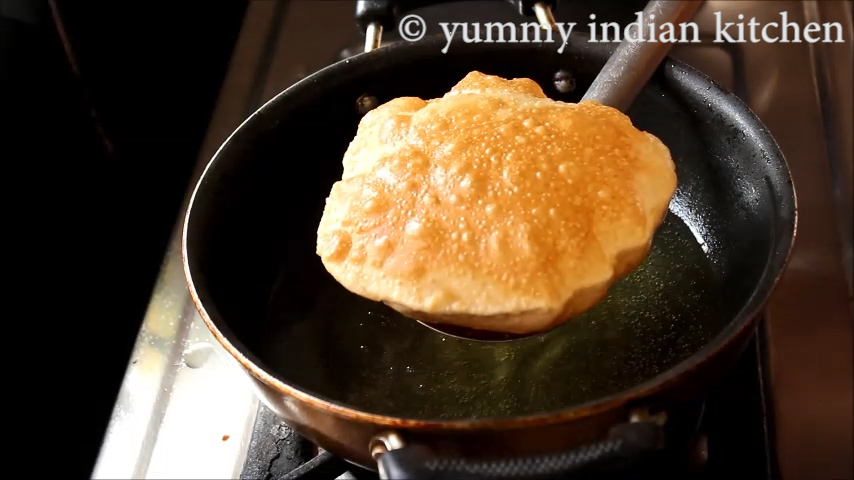 Kneading the dough until soft also helps in making soft pooris. We can even use maida/all purpose flour instead of  wheat flour to make poori.
Poori made with maida also turns out delicious.
Below are the recipe details along with a video procedure on how to make poori with soft and puffy texture.
Video procedure to make soft pooris:
How to make poori soft and puffy: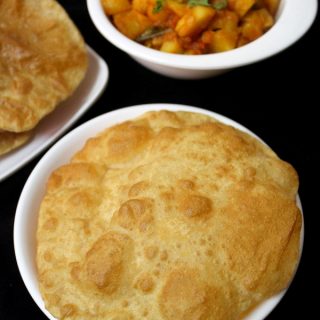 poori recipe | puri recipe | How to make soft puffy poori
A small round shape breakfast poori recipe made using wheat flour and sooji dough.
Ingredients  
For making dough:
1

cup

wheat flour/atta

1

tsp

sooji/rava/semolina

salt - to taste

water - ¾ cup approx...

2-3

tsp

oil for adding into the dough
Instructions 
Firstly, take a large bowl, add wheat flour, add sooji/rava, add salt.

Mix all the dry ingredients well.

Add water little by little and knead until a soft dough is obtained.

Add 2-3 tsp oil and knead the dough again and make it even more softer.

Cover the dough and rest it for 10-15 minutes.

Mix and press the dough again.

Divide the dough into small lemon sized equal portions.

Make round balls of each portion of the dough.

Take each dough ball, dust some flour on the rolling board.

Roll the dough into small circular shaped disc.

The thickness of the poori should be of 1.5 mm to 2 mm approximately.

Similarly make pooris of the remaining dough balls.

Heat oil for deep frying.

Drop one poori into the oil.

Let the poori start rising up slowly.

Once it rises up. slightly touch at the corners with a ladle for it to puff up.

When the poori puffs up, flip and cook the other side for few seconds.

Take the poori out on a tissue paper.

Reduce the flame for the next poori as the next poori may burn if the oil is too hot.

Similarly deep fry rest of the pooris.

Serve them with poori masala, potato curry etc..

Watch the video procedure above.
Notes
Important tips for making poori:
1. Add sooji/rava while making poori.
2.Also add ghee or oil while kneading.
3. If the dough is too hard, beat and punch the dough to make it soft.
4.Do not fry the pooris in very hot oil.
5.One can even replace wheat flour with maida too.
Nutrition
Nutrition Facts
poori recipe | puri recipe | How to make soft puffy poori
Amount Per Serving
Calories 340
* Percent Daily Values are based on a 2000 calorie diet.
WANT TO WATCH VIDEO RECIPES?
SUBSCRIBE US ON YOUTUBE