Parotta recipe, a south indian flat bread made using all purpose flour which is made as a chapathi and roasted on tawa.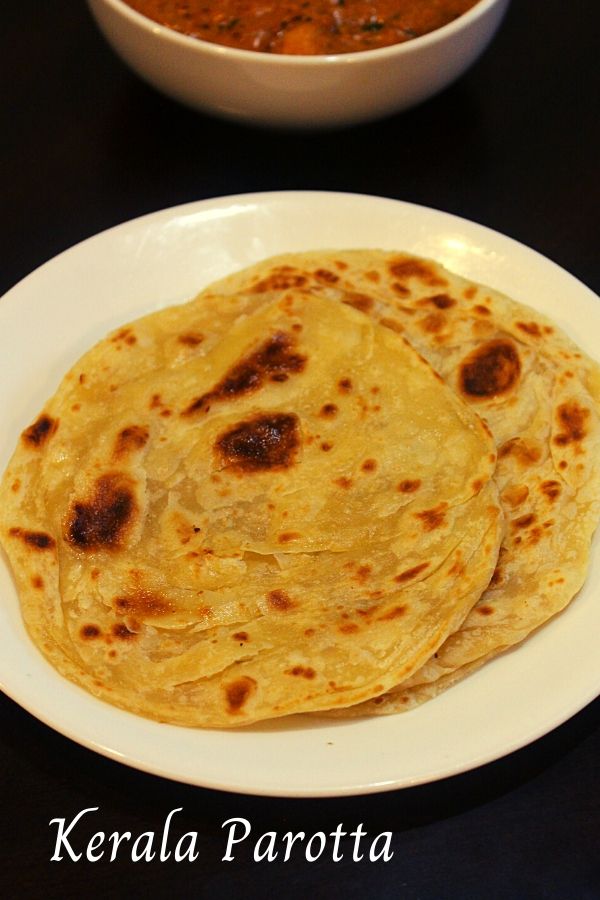 What exactly it looks like?
It is basically a round layered flat bread in the form of a paratha but made using maida.
The parotta has got many layers to it while flattening and it takes a lot of perfection to get the perfect results.
The procedure is extremely easy if followed step by step. It is almost similar to the flat breads which we make in India like phulka and chapathi.
It is a special layered kerala paratha kind of a recipe that is commonly served during breakfasts in Kerala region which is a south indian state of India and also in Tamil Nadu and other states of Southern India and overall it makes a popular south indian food.
How to make the Malabar Paratha:
The Malabar Paratha should first use all purpose flour that is maida which is then mixed with salt, egg, milk, kneaded well with water and oil until it forms a smooth dough.
The dough is then rested for a while until it puffs up well and then kneaded again and made into a round balls to which a lot of brushing of oil is required in order to get good layers to the parotta.
The parotta balls are then flattened thin using a rolling pin and then the whole paratha is gathered together and folded back again into a round ball in order to get many layers which is then flattened well with the help of a hand or rolling pin.
This method gives a lot a layers to the paratha and it also has a soft texture to it which makes it a perfect breakfast or lunch recipe if served with side dishes or any kulambu variety such as mutton kulambu, egg kulambu.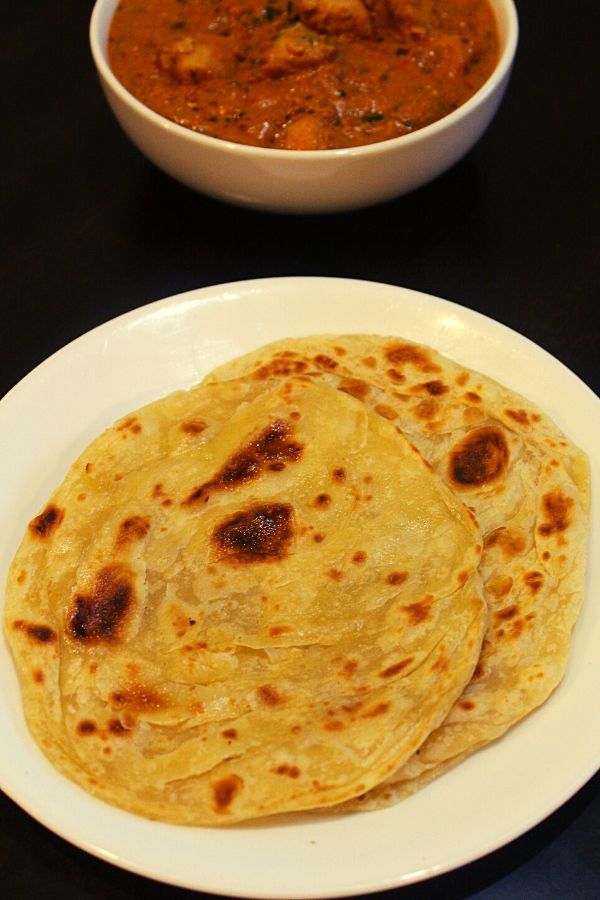 Tips to make a perfect paratha or parotta recipe:
The flour to make this paratha should be maida in order to get the right taste.
To make the paratha soft and chewy, slight amount of milk and eggs should to be added which gives the best soft flavor and texture to it.
If small amount of dough is prepared then be careful of the quantity of egg is added.
Just add 1 to 2 tsp of beaten egg to the flour if small amount of dough is prepared.
Salt should be added in the initial stage and mixed with flour well before adding the rest of the ingredients.
The dough has to be rested well before starting to make parathas.
The use of oil or butter or ghee is important to get good layers to the paratha.
Important Note:
As maida is less healthy compared to other flours I suggest to make use of wheat flour if one considers a more healthy way of making this malabar paratha but the traditional method is to use maida atta.
It should also be noted that since this parotta uses all purpose flour, the cooked paratha tastes best if consumed fresh and should not be kept for a long time to eat as the maida in it becomes rubbery and hard to chew if eaten after a long time.
I would be updating a video soon to make this recipe which can be highly helpful and useful before beginning to make this recipe.
2 Different methods of making the kerala parotta:
The first method is already shared, that is to roll the paratha flat and as thin as possible and then gathering all the layers together and folding it into a layered ball and then making small parathas of each layered ball.
Method 2 is to first flatten the paratha as thin as possible, cut the paratha into thin strips, gathering all the cut strips together and fold the dough ball into round ball which clearly shows separate layers .This layered ball is then flattened and made into paratha.
The difference between both the methods is first one does not require cutting to make layers and the second one is cut into long strips to make the layers appear.
Both the methods give the same result and therefore, it is better to opt for the first one as it is done quickly.
Check out the recipe card below on how to make the kerala paratha or parotta and also check out the video procedure that has been updated below...
Video procedure to make Malabar Parotta:
How to make parotta recipe kerala style: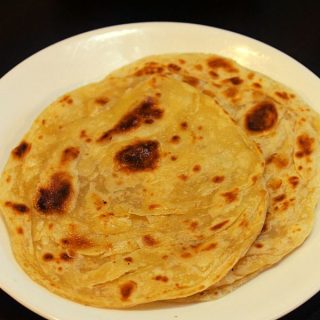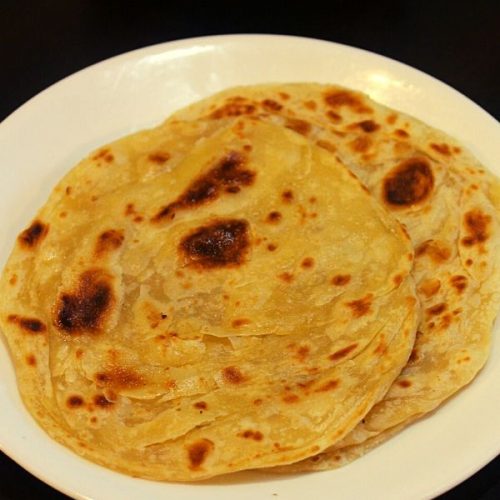 Parotta Recipe Kerala Style, Malabar Paratha
A paratha popular in kerala made using maida, egg, milk, oil and water.
Ingredients  
1.5

cup

all purpose flour

(maida)

salt - to taste

¼

cup

milk

2

tbsp

oil

2

tbsp

beaten egg

enough water to knead the dough

(less than one fourth cup)
Instructions 
Kneading the dough:
Take a mixing bowl, add maida or all purpose flour into it.

Add salt as per taste and mix it with the flour.

Add milk into it, add oil, and 2 teaspoon of beaten egg into the flour.

Knead it well by adding water gradually.

Since milk is already added, it requires very less water to knead the dough.

Knead it well to make a soft and pliable dough.

Cover the dough tightly and allow it to rest for at least 1 to 2 hours.
Making the paratha:
After it is rested well, take the dough apply a bit of oil to the dough and knead well.

Make round balls of the dough, brush oil to each ball on all sides.

Make sure the surface where the parotta is flattened is greasy or apply oil to the surface to make it greasy.

Flatten the ball to a large thin size with the help of a rolling pin.

Once it is flattened gather the paratha from two opposite corners.

Make a round ball again which clearly shows the layers.

Apply or brush oil again to the rolled ball.

Take the layered rolled dough ball.

Flatten it with the help of a hand or rolling pin.

Make sure the surface is greasy enough.

Take a gridle or a tawa and heat it.

Place the flattened parotta on the hot tawa.

Roast it for few seconds.

Flip it and apply oil all over and roast the other side too.

Apply oil on both sides and make sure both the sides of the paratha are cooked well like a chapati.

Similarly, roll all the layered parathas in the same way and roast them well on both sides.

Serve hot with any vegetable side dish or non veg curry.
Notes
Important points while making parotta:
Without the proper application of oil or butter while roasting, this paratha turns out dry.
Always make sure to roast well by applying oil/ghee/butter which makes it edible, chewy and soft.
Even while flattening the layered ball do not dust flour on the surface, always make it greasy by applying oil.
Following the right techniques gives the best and the exact way of making paratha as it is done on the streets.
Nutrition
Nutrition Facts
Parotta Recipe Kerala Style, Malabar Paratha
Amount Per Serving
Calories 322
Calories from Fat 99
% Daily Value*
Fat 11g17%
Cholesterol 2mg1%
Sodium 10mg0%
Potassium 94mg3%
Carbohydrates 49g16%
Protein 7g14%
Vitamin A 33IU1%
Calcium 32mg3%
Iron 3mg17%
* Percent Daily Values are based on a 2000 calorie diet.
WANT TO WATCH VIDEO RECIPES?
SUBSCRIBE US ON YOUTUBE