Egg kulambu, a south Indian style of making egg-based gravy and this particular egg curry go well with any main course dish such as roti, rice etc. Kulambu or Kuzhambu is simple Tamil terminology for gravy based dishes and when we say egg curry it is commonly known as muttai kulambu or muttai kuzhambu in the south Indian regions of Tamil Nadu.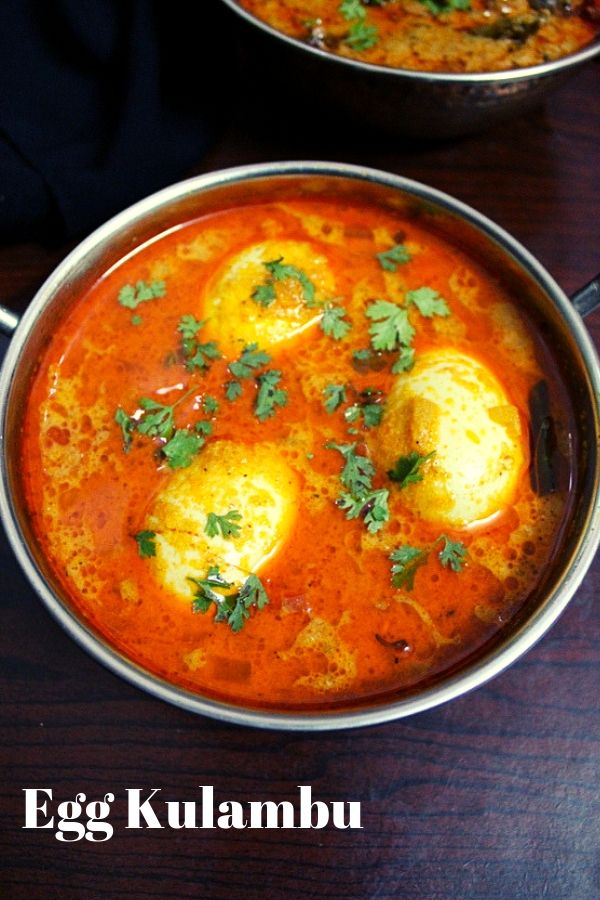 Other south indian recipes or egg recipes to be tried are egg fry, egg dosa , bread toast, anda bhurji
Do check out other egg recipes on my blog from other regions as well and hope to continue sharing more and more egg related stuff on the blog.
Egg recipes are usually preferred when we are tired of eating regular chicken or mutton recipes. I have shared few egg based gravies on my blog and would love to share many more egg curries which are suitable to be eaten with rice, roti or paratha.
Different regions make different style of egg curries. Hyderabadi style of making egg recipes is totally different from south indian style of egg curries.
Benefits
Egg is a major source of protein and including it in our daily diet helps us in building body and strengthening it. Having eggs regularly mainly during winters and rains keeps the body warm and is a good remedy for people suffering from cold and cough.
Eggs should also be given to kids during early morning breakfast with a glass of milk that helps them in having a wonderful day.
Eggs are a good source of calcium as well and including eggs often in our diet by boiling or in any form makes our bones strong and healthy.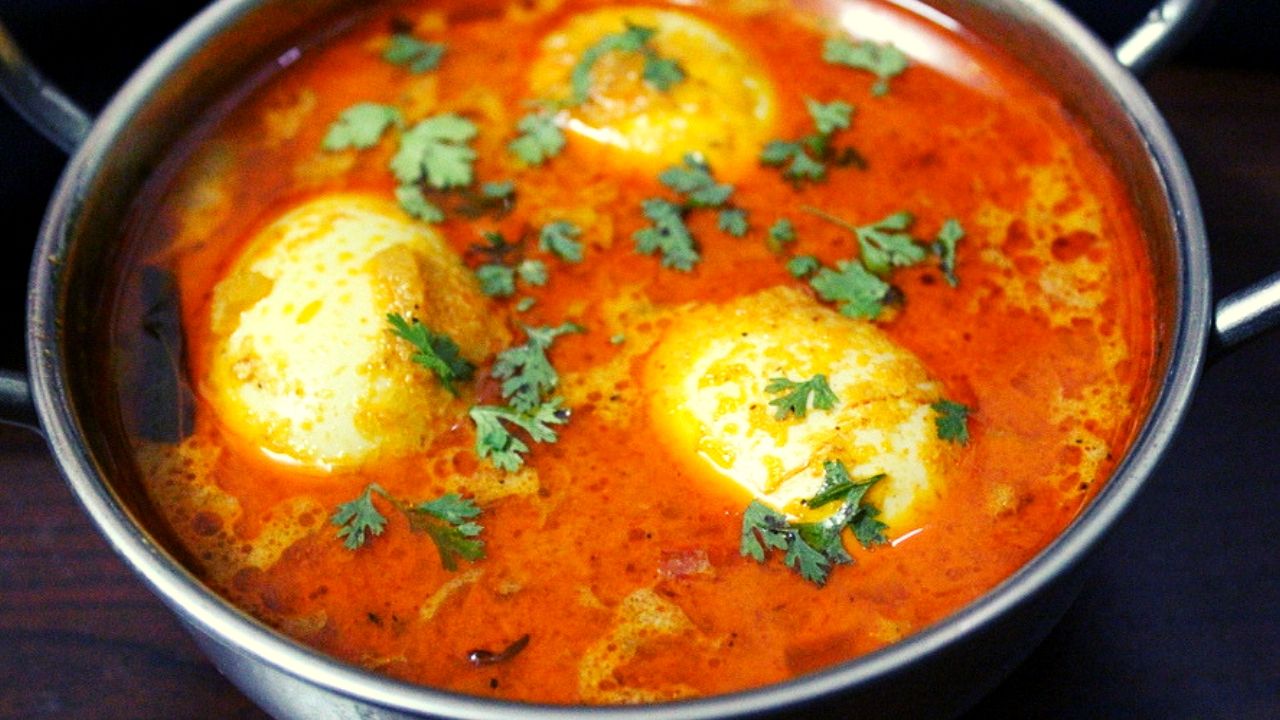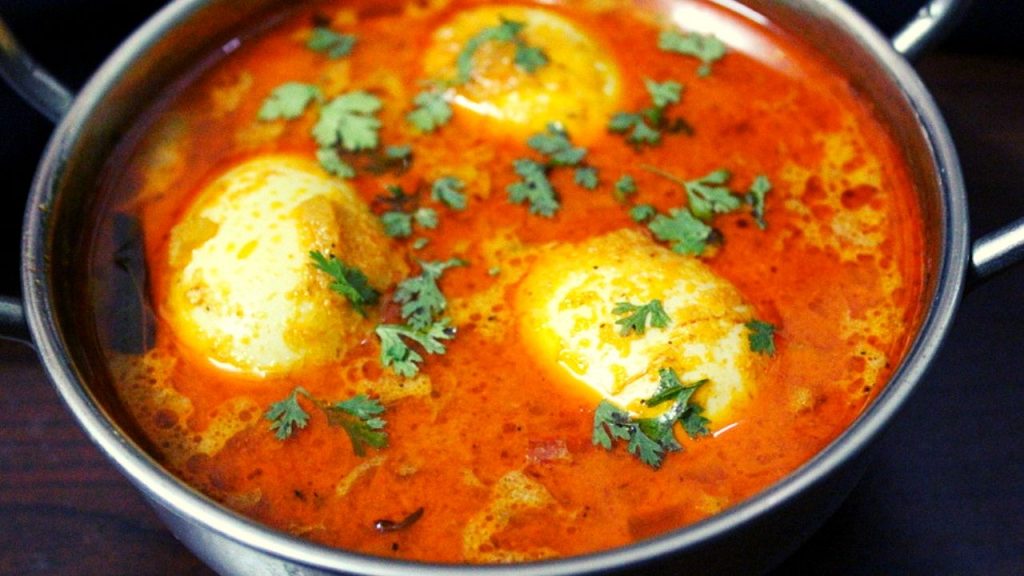 Egg curries are basically made in different varieties and there are several ways in which egg curries can be made such as one method is using onions and tomatoes. In another method we basically use coconut paste to make a gravy base and it tastes as good as non veg dishes like chicken curries or mutton curries.
Making of the recipe
Here I have used onions, tomatoes to make the base of the gravy and to make it more interesting and yummy I have tried to use fresh coconut and khus khus/ poppy seeds paste to give a delicious base to the egg gravy.
Giving a slight tempering in the beginning and adding this blended paste to the gravy along with some sour taste which can be brought by adding tamarind pulp and cooking boiled eggs for few minutes with this curry gives a good flavor to the egg curry.
There are other kulambu recipes or gravy recipes made using other non veg ingredients such as chicken or mutton and one such kulambu recipe is chettinad chicken which is a gravy based recipe for chicken.
Below is the recipe card for making egg kulambu which is a very popular egg curry down south that goes well with pulao recipes and can be made for several occasions.
Recipe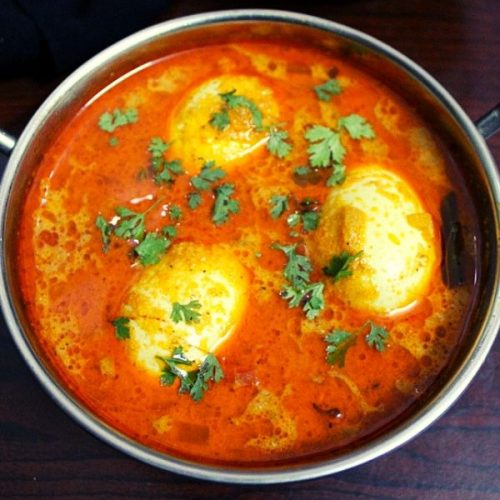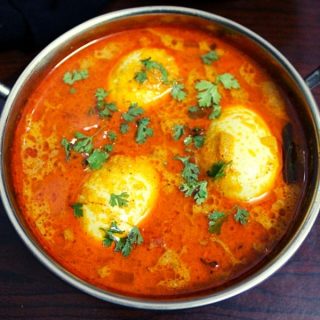 egg kulambu, muttai kulambu | muttai kuzhambu
A gravy based egg curry made using a masala paste of coconuts and poppy seeds perfect to be eaten with pulao or rice.
Ingredients
5-6

boiled eggs

3

tablespoon

oil

1

bay leaf

1

cinnamon stick

4

onions

(finely chopped)

2

slit green chillies

6-7

fresh curry leaves

salt - to taste

1

teaspoon

ginger garlic paste

¼

teaspoon

turmeric powder/haldi

½

tsp

red chilli powder

2

tomatoes

(chopped finely)

½

freshly grated coconut

1

tablespoon

poppy seeds/ khus khus

1

teaspoon

roasted coriander seeds powder

½

teaspoon

black pepper corn powder

(kali mirch powder)

½

cup

extracted tamarind pulp

(1 lemon size tamarind)

2

cups

water

1

tablespoon

freshly chopped coriander leaves
Instructions
Step 1(Boiling of eggs):
Boil eggs for few minutes, remove their shells and keep them aside.
Step 2 (Making of masala paste):
Boil a table spoon of poppy seeds for few minutes in very little water.

Take a small blending jar, add freshly grated coconut, add the boiled poppy seeds.

Blend them well for few minutes until we get a smooth fine paste.
Step 3 (Making of the curry):
Take a cooking pot, add oil and heat it.

Add a bay leaf, 1 cinnamon stick, add chopped onions and saute well.

Add slit green chillies, add curry leaves, add salt to taste and cook until onions turn soft.

Add ginger garlic paste, red chilli powder, turmeric powder, mix and cook the masala until oil starts appearing at the sides.

Add 2 chopped tomatoes and cook until tomatoes turn soft.

Add the smooth paste of fresh coconut and poppy seeds.

Add roasted coriander seeds powder and black pepper powder.

Give a good mix and cook the masala for 10-15 minutes until it gets cooked well.

Add ½ cup of tamarind extracted juice into the curry.

Add 2 cups of water.

Give a good mix and stir well.

Check for salt and add more if required.

Add the boiled eggs and cook the curry for 10-15 minutes.

Finally garnish with freshly chopped coriander leaves.

Serve hot with rice.
Notes
Finding fresh coconuts is sometimes not possible in several places therefore, one can even use desiccated coconut in place of fresh coconut.
Poppy seeds too can be skipped if not available and the kulambu can be made just by using onions, tomatoes and coconut.
Here, in this recipe I have not roasted the coconut and poppy seeds and made a paste directly without roasting. The masala ingredients(coconut and poppy seeds) can be roasted and made into a paste if required.
Nutrition
Nutrition Facts
egg kulambu, muttai kulambu | muttai kuzhambu
Amount Per Serving
Calories 200
* Percent Daily Values are based on a 2000 calorie diet.
Do leave us your feedback on this version of kulambu recipe and there are many more kulambu gravies in both vegetarian and non vegetarian sides which are amazing south indian curries. Hope to receive a positive reply which would help me in making and writing many more south indian recipes.