Egg dosa is a dosa variety, which is a unique dosa variety and it is commonly found in Indian street corners. It is a plain dosa variety, spread over it is egg and a mixture of chopped onions, chopped tomatoes, coriander leaves, green chillies chopped mix. I have shared the video of this dosa below in this post.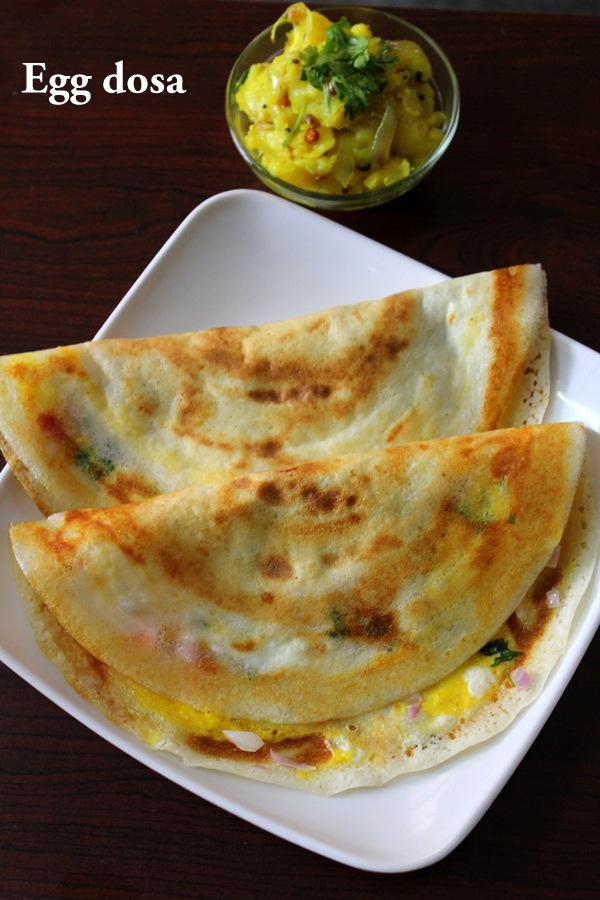 There are many more egg-related recipes on the blog like egg roast,  egg fry with pepper, egg biryani etc...
Egg dosa is one of the various varieties of dosa, and there are many more dosa varieties which are usually made in India mainly in south india and several other parts across India.
Dosa is quite a popular breakfast recipe in Southern India and it is liked my most of the Indians be it kids and young and no one refuses to eat dosa.
Among different dosa varieties, plain dosa, masala dosa, oats dosa, ragi dosa etc... are quite popular dosa varieties and I would keep writing down many more dosa varieties which are liked by most of the people across India.
If we move around different streets in south india, we find several dosa stalls where several varieties of dosas are being served with different varieties of chutney.
Dosa is the most common breakfast recipe apart from idli, vada etc...
Making dosa is quite an easy method and the only thing we need to know is making of dosa batter which is very easy and if one knows how to make dosa batter then, making various dosa varities and uttapam is very simple.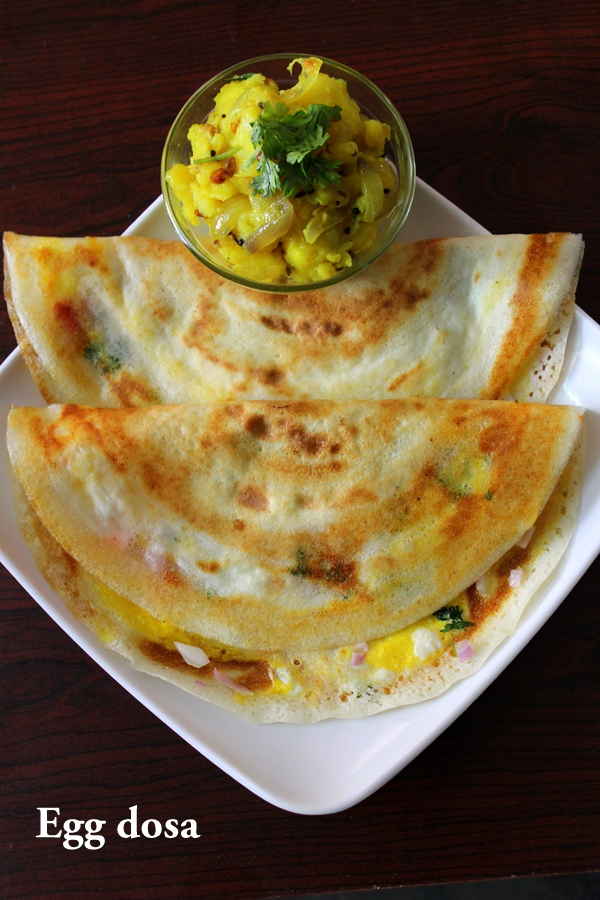 Dosa batter recipe is already shared on my blog and it is the first step to make egg dosa. Once we make dosa batter, then, it is easy to make this dosa recipe or any other recipe like uttapam, punugulu or we can also make paniyarams too with the left over dosa better...
In south india there are many breakfast recipes that are usually made and among them idli, dosa, vada, uttapam etc are commonly made and these are not found usually in northern india.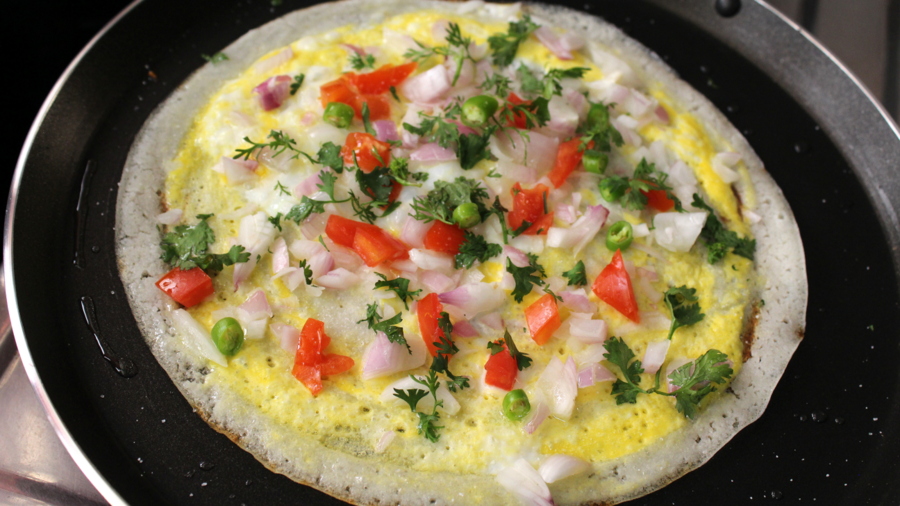 South indian breakfast recipes are popular through out india and these recipes are very delicious and one can't resist making these recipes and one can learn to make these recipes just by making them 2 or 3 times.
Below are the recipe details on how to make egg dosa which is a very simple dosa recipe which can be served with various chutneys.
Video
Recipe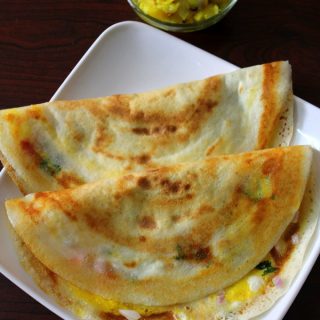 egg dosa recipe, mutta dosa
A simple dosa variety made by making a plain dosa and spreading egg all over it and cooking.
Ingredients
Making of dosa batter:
½

cup

urad dal

1

cup

rice

¼

teaspoon

methi seeds/fenugreek seeds

½

teaspoon

chana dal/bengal gram

2

tablespoon

cooked rice
To make egg dosa:
dosa batter

2-3

eggs beaten

2-3

tablespoon

very finely chopped onions

2-3

tablespoon

very finely chopped tomatoes

1

tablespoon

green chillies very finely chopped

skip if making egg dosa for kids

2-3

tablespoon

very finely chopped coriander leaves

salt to taste

oil to spread over dosa
Instructions
To make egg dosa batter:
Take ½ cup urad dal, wash it and soak ot for 6-7 hours.

Take 1 cup rice wash it and soak it for 6-7 hours.

Soak methi seeds, chana dal for few hours.

Make sure all the ingredients are soaked well for 6-7 hours.

Take a jar, add all the soaked ingredients together, add 2 tablespoon cooked rice and blend them into a fine thick smooth batter, if required one can add little water and blend well into smooth batter.

Transfer the blended batter into a vessel, ferment it for 7 to 8 hours or ferment it over night.
Making of egg dosa:
Take the fermented dosa batter.

Add salt as per requirement into the batter, mix well.

Heat the dosa tawa, wipe the tawa with an onion slice, take a ladle full of dosa batter, spread the dosa batter on the tawa in circular motion.

Beat egg on the dosa, spread the egg mixture all over the dosa.

Spread some chopped onions all over the dosa, spread some chopped tomatoes over the dosa, spread some coriander leaves all over the dosa.

Add some chopped green chillies as an optional ingredient.

Sprinkle salt all over the dosa.

Smear oil all over the dosa corners and on the dosa.

Cook the bottom side well and also the egg on the top too should be cooked well on medium flame to low flame.

Once done, fold the dosa and take the dosa out of the plate.

Serve hot with any dosa chutney.
Nutrition
Nutrition Facts
egg dosa recipe, mutta dosa
Amount Per Serving
Calories 320
* Percent Daily Values are based on a 2000 calorie diet.