soft chapati recipe | roti recipe | how to make roti  here is shared with a detailed video procedure below is a very common breakfast recipe in India served with any side dish be it a vegetable side dish or non veg side dish.
Other roti recipes or paratha recipes to be tried are parotta, aloo paratha.
In India, if there is any recipe that is eaten mostly then it is a roti which is also called as phulka commonly.
I have tried to share two methods of making this recipe, one is a roti recipe made by applying oil on tawa/griddle itself and the other is a roti recipe without oil that is in the form of phulka and then applying oil if required.
Tips to make soft chapathi:
Chapati dough while kneading should be kneaded using lukewarm water or lukewarm milk. Using either of them gives us soft chapatis that remain soft for a longer time.
The roti dough after should be pounded well with both the hands and made as soft as possible.
The dough if rested for 20-30 minutes by covering with a muslin cloth also makes the dough soft and pliable. Once the dough is rested, mix the dough well with hands and we get soft chapatis.
While roasting the roti never flip the roti from one side to other many times. That makes the roti hard and crispy. Just flip it twice and make sure both sides are cooked well.
The rotis inorder to remain soft for more than two days can be kept airtight by wrapping them in a food wrap or using an aluminium foil and then putting them in a ziplock bag and storing in refrigerator. When required they can be taken out, fry them on the tawa and serve hot when required.
If stored in a casserole, the rotis remain fresh for at least 24 hours if covered in a muslin cloth and lid closed tightly.
Different curries or sabji recipes that can be served with roti, phulka, naan or chapathi:
These sabji recipes not only taste good with roti recipe or phulka but also they taste yum with other indian vegetarian recipes such as paneer butter masala , paneer tikka masala , bhindi ki sabji etc...Roti making needs few techniques to get a very soft chapati. Here in my video I have shared both the methods to make the roti on the tawa.
Not only these different sabzi but bhaji made for pav bhaji too can be tried with roti.
I have shown how to make soft chapati on tawa and also without using the tawa.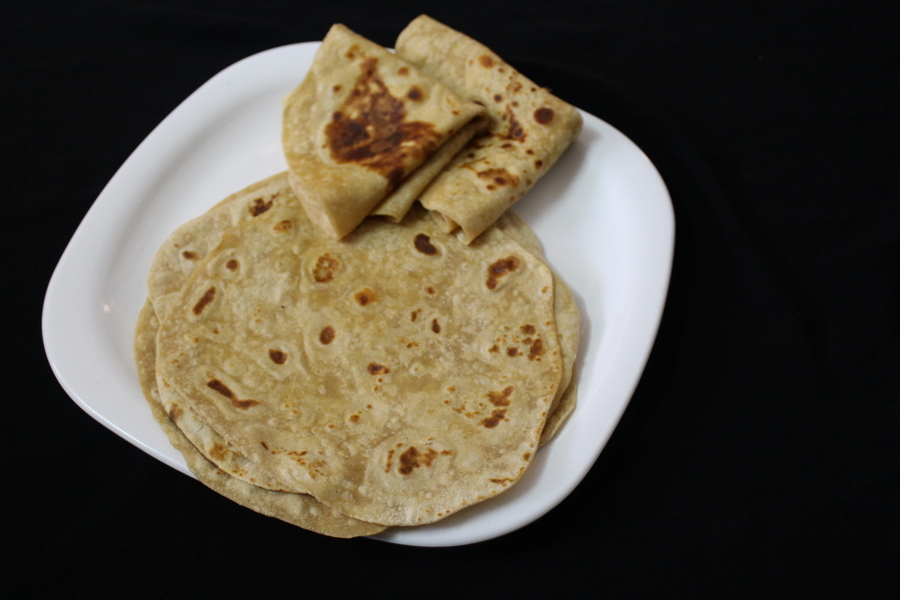 There are few more important points to be remembered while making chapathi which are mentioned below.
1.The dough needs to be kneaded until soft and pliable.
2.Adding oil while kneading the dough is very important for soft chapathi.
3.We get soft rotis by using cold water but if we wish to get more soft chapathis then kneading the dough with lukewarm water is highly recommended.
4.Once the dough is needed covering the dough and resting it for a while is highly recommended for soft and puffy chapatis.
5.Pressing the dough, kneading it properly, making it soft until pliable is very important in making perfect rotis.
6.Selection of right wheat flour gives very soft and puffy chaptis.
Below are the recipe details into making soft chapathis with ease and also along with a video procedure to understand it even more better.
Rotis are quite common in every state of India and they come out well if made with whole wheat flour.
The selection of wheat flour is also very important to get perfect soft rotis.
Below are the recipe details to make chapati recipe which is soft and puffy along with a video procedure to understand it in a better way.
How to make chapati or roti video below:
How to make soft chapati recipe below: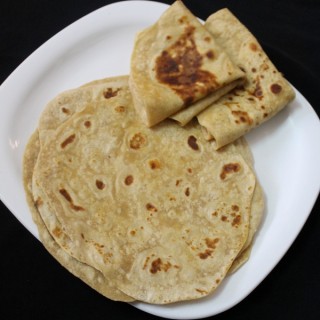 soft chapati recipe | roti recipe | how to make roti
A breakfast roti recipe commonly eaten all across India, made using whole wheat flour, in the form of round circular shapes and served with any veg curry or side dish.
Ingredients  
2

cups

whole wheat flour/atta

salt - to taste

1

cup

water approx...

2

tbsp

oil for mixing with dough

3

tbsp

oil/butter to apply all over the chapatis
Instructions 
In a flat bottom vessel, add wheat flour, add salt and mix well.

Add little by little water and knead the dough.

Knead into a soft dough.

At this stage add oil, mix and knead into a very soft dough.

Cover and rest the dough for 20 min.

After it is rested well, press and knead the dough again.

Beat the dough well with a rolling pin to make it even more softer.

Once the dough appears soft, divide the dough into medium ball shaped sizes.

Dust some floor on the rolling board.

Take each dough ball, put it on the board and flatten the dough into a round circular disc shaped chapati.

Similarly, make chapatis of the remaining balls.
Method 1 for roasting the chapathi:
Place the chapati on the tawa.

Cook the bottom side for few seconds.

Flip and cook the other side for few seconds.

Flip again and press at the corners and the roti begins to puff up.

Flip and press the corners of the other side too and it puffs up.

Apply oil all over the roti on both the sides.

Take it out and serve hot with any veg or non veg side dish.
Method 2 for making the chapathi:
Here we are making the phulka first and then apply oil.

Firstly, place the chapati on the tawa.

Cook the bottom side for few seconds.

Flip and cook the bottom side completely.

Take the chapathi out and place the chapathi with half cooked part over the flame.

The side which was half cooked gets cooked completely by puffing up.

Take it out and serve hot.

If required apply oil or butter on both sides of the roti.

Serve hot with veg curries or non veg curries as side dishes.

Watch the video procedure above.
Notes
1.In this recipe I have shown two methods of making chapatis, one method is directly placing the roti on the tawa and cooking completely on the tawa itself.
2.Other method is cooking it as phulka, taking it out and then applying oil if required.
Nutrition
Nutrition Facts
soft chapati recipe | roti recipe | how to make roti
Amount Per Serving
Calories 190
* Percent Daily Values are based on a 2000 calorie diet.
WANT TO WATCH VIDEO RECIPES?
SUBSCRIBE US ON YOUTUBE