Pav bhaji recipe, a very popular street food mainly in Mumbai region and all over Maharashtra. This particular pav with bhaji is the most famous Indian street food and there is a huge demand for pav bhaji after pani puri among various Indian street foods.
Other popular recipes are methi bhaji, aloo bhaji .
This pao bhaji was earlier famous in only Maharashtra but now it can find its presence in almost every state of India and people crave to eat this recipe as it is a very delicious street food as well as a very filling recipe.
It is mostly preferable to have it during the monsoon season or during rains with hot bhaji and pav. It is mostly sold like hot cakes during winters and rains in every Indian street corner.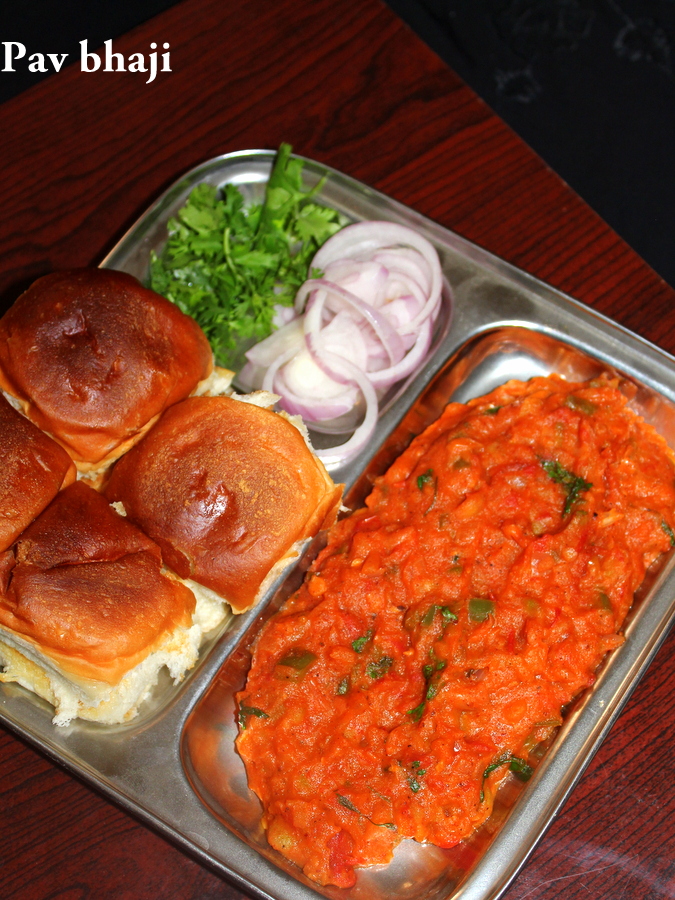 Pav bhaji is very easy to make recipe at home and many of us who are not from Maharashtra and crave for pav bhaji can easily make this pav bhaji following simple steps shared in this recipe post.
I have tried this recipe several times and this bhaji has turned out to be my most favorite indian street food after trying it out as it has turned out exactly the same way as we expect in street food and in fact it tasted better than indian street food style.
Pav bhaji recipe can be made if we have pav bhaji masala at home and the main ingredient to make pav bhaji is vegetables, butter and pav bhaji masala.
It is easy to get pav bhaji masala if we live in India and many brands sell pav bhaji in Indian grocery stores as well as the masala is easily available in every super market or hyper markets.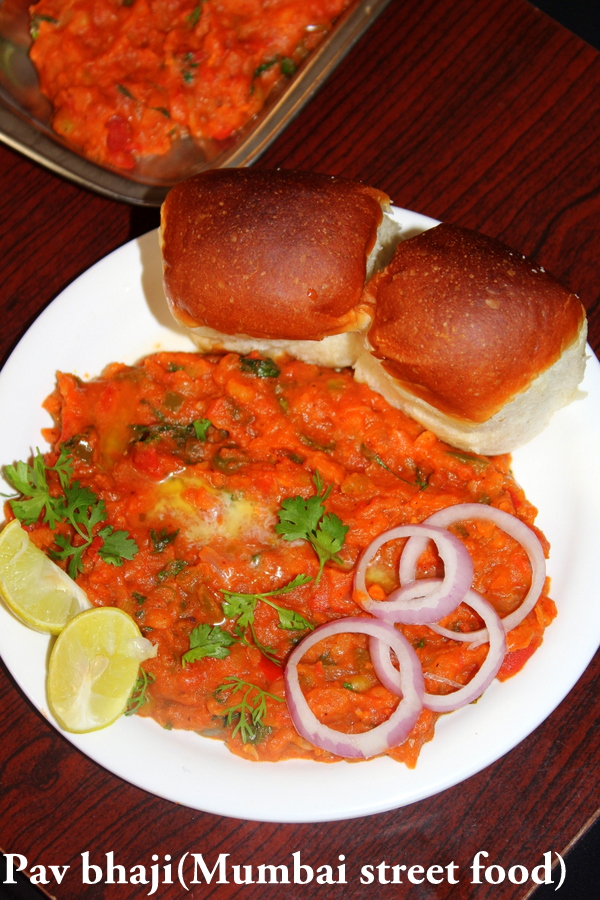 If one lives out of India, it is better to find pav bhaji masala in Indian grocery stores and I am sure it would easily be available in Indian stores abroad.
We can make the bhaji with basic veggies that are anyways available all the time in our kitchen pantry like tomatoes, onions, peas, potatoes etc...
We can also make use of other veggies like cauliflower, cabbage, green capsicum to make the bhaji for pav bhaji.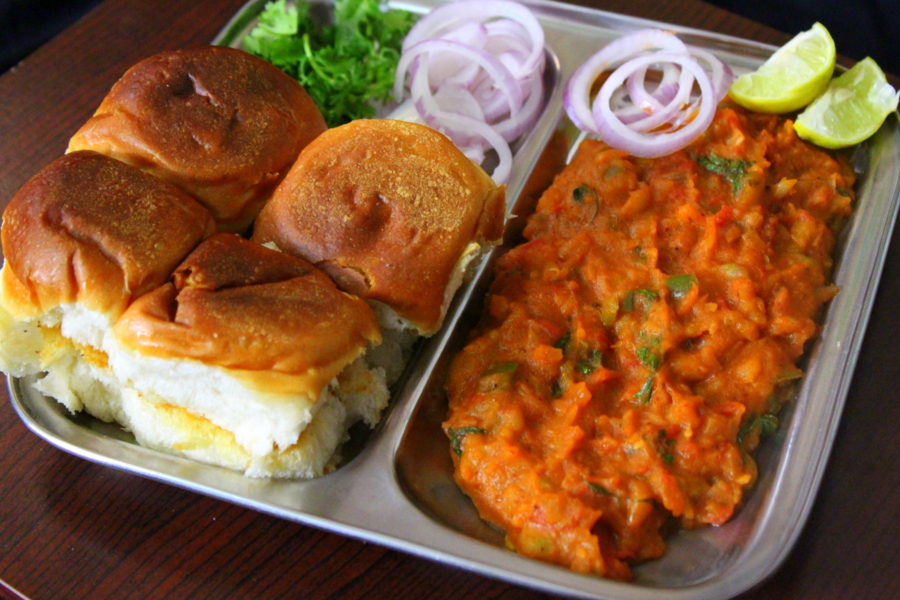 If one finds it hard to find the pav bhaji masala in markets then one can also make the masala at home easily by following online tutorials regarding on how to make the pav bhaji masala.
However, one need not waste time and energy in making the masala at home, since it is available in plenty in all the super markets and also it is a common masala that is sold in every grocery store...
Pav bhaji video procedure:
I have shared a video procedure above to make us understand better about how can we make pav bhaji and this is the best pav bhaji recipe that we can ever find anywhere on the internet and it is an extact replica of street food mumbai style pav bhaji.
Check out the details and directions below on making pav bhaji
How to make pav bhaji recipe:
Recipe
pav bhaji recipe, how to make pav bhaji
Pav bhaji recipe eaten with pav and bhaji made with mashed veggies and pav bhaji masala...
Ingredients
To make the pav bhaji:
2

teaspoon

butter

2

teaspoon

oil

2

onions

very finely chopped

1

teaspoon

ginger garlic paste

1

green capsicum

very finely chopped

3 to

matoes

very finely chopped

salt - to taste

1

teaspoon

red chilli powder

2

teaspoon

pav bhaji masala

1

cup

matar/green peas

boiled

6-7

potatoes

boiled and peeled

½

cup

water

1

teaspoon

butter

¼

teaspoon

red food color mixed with little water

2

tablespoon

chopped coriander leaves

½

teaspoon

crushed kasoori methi

1-2

tablespoon

lemon extract

freshly chopped coriander leaves
To toast the pav:
1

teaspoon

butter

fresh pav
For garnishing the bhaji:
onion rings

lemon wedges

coriander leaves
Instructions
To make the pav bhaji:
Take a pan, add butter, oil and heat it.

Add very finely chopped onions, saute for few minutes until the onions turn soft.

Add ginger garlic paste and saute for few minutes to get rid of raw smell.

Add green capsicum and saute them until they turn soft.

Add very finely chopped tomatoes and cook them until they turn soft.

Add salt as per taste, red chilli powder, pav bhaji masala, mix well and cook the gravy until oil starts leaving the sides.

Add boiled matar/green peas, boiled and peeled potatoes, mash the veggies with a masher.

Add some water, butter, red food color, chopped coriander leaves, mash again until all the ingredients are mashed well.

Add some salt if required and mash it again.

Cook the gravy for few minutes on low flame and add little more water if the gravy is too thick.

Add crushed kasoori methi, mix well.

Cook for 2-3 minutes.

Add some lemon extract, add some freshly chopped coriander leaves.

Mix well.

Switch off the flame.
Toasting the pav:
Take a pav and slit the pav in between.

Take a tawa/gridle, add butter and heat it.

Toast the pav well with butter.

Serve the pav with bhaji.

Garnish with onion rings, lemon wedges and chopped coriander leaves.

Serve hot.
Notes
1. Pav bhaji is all about using butter generously and if one is health conscious and not fond of street food then I suggest to reduce the quantity of butter while making pav bhaji.
2. Adding food color is optional and if does not have food color handy then skipping the ingredient does not change the taste of the dish and only the color of the dish does not appear red.
3. If one wants to achieve street food color then adding good amount of red food color gives us the street style pav bhaji color.
4. I have however added less amount of butter and if one wants to get the shiny texture in pav bhaji then, it can be obtained by using more amount of butter while cooking the bhaji.
5. I have used a masher to mash the veggies evenly. If one does not have it handy then mash the matar separately using a spatula or hands and also similarly mash the boiled potatoes using a spatula or make use of hands before adding into the curry.
Nutrition
Nutrition Facts
pav bhaji recipe, how to make pav bhaji
Amount Per Serving
Calories 340
* Percent Daily Values are based on a 2000 calorie diet.
If you like this version of pav bhaji recipe, do leave us your feedback below in the comment box and also do share your feedback on how this recipe turned out and also do not forget to follow us on our social media handles to know about the lastest recipe updates...