Palak paneer recipe is a paneer delicacy made using palak puree and paneer cubes. This is a very popular north Indian and Punjabi recipe and often made in those regions. This is a very healthy dish as we make use of healthy ingredients like palak and paneer in the recipe. Paneer/cottage cheese is full of proteins and palak is rich in iron and both the veggies are packed with full of nutrition.
There are many punjabi recipes on the blog such as rajma masala, rajma chawal, punjabi chole, paneer pulao etc...
It is a very nutritious dish and is in the form of a gravy curry with a creamy touch. I have added cream to enhance the gravy and made it creamy in texture.
Palak is basically combined with veggies such as potatoes to make sabji recipes, but palak is also combined with some of the non veg ingredients such as mutton and chicken and made as palak chicken, palak mutton etc...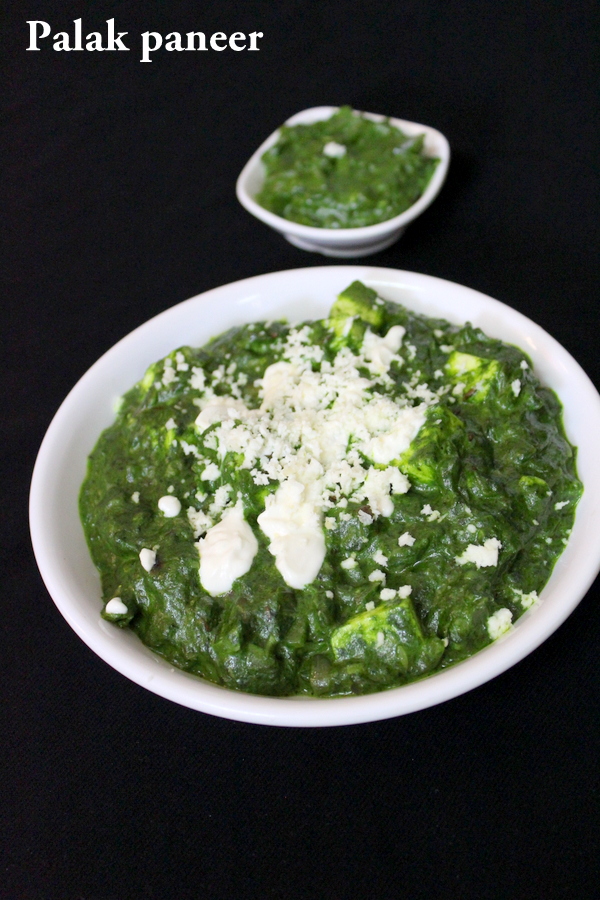 Palak paneer is one of the popular paneer recipes apart from paneer butter masala, paneer tikka masala, matar paneer etc...
I have few paneer recipes on the blog and would surely increase them to many more as I keep adding paneer recipes in future.
Paneer is mostly preferred by vegetarians and is also made during several occasions.
Palak paneer is a very simple and easy recipe and it does not require lots of time to make it. It can also be made in various variations here and there but I decided to stick to the traditional method of making palak paneer.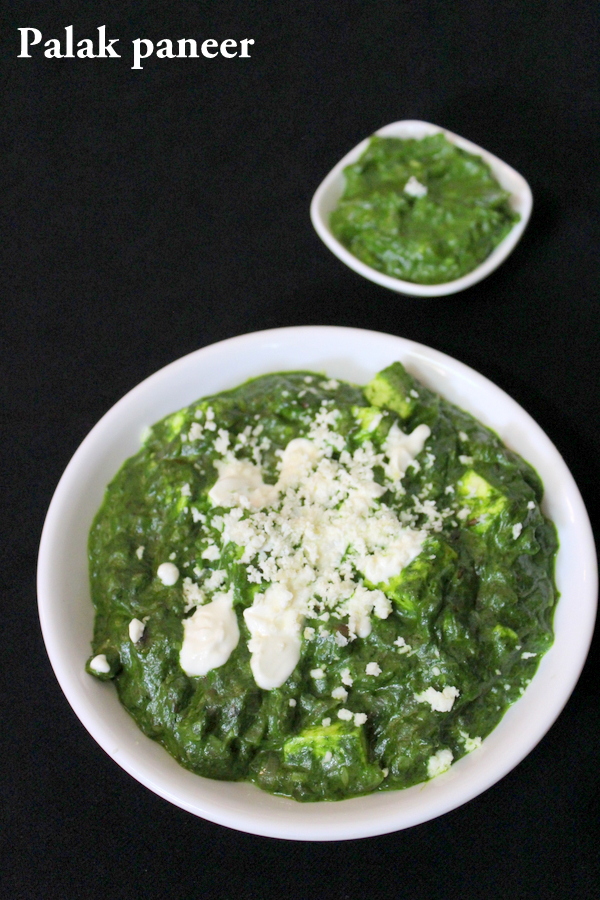 Here, I have not made use of any tomatoes and have just used plain spinach and cottage cheese to make this traditional and popular paneer recipe.
If one is looking for a substitute for proteins other than chicken and eggs then, I suggest paneer to be included in diet as it gives us lots of protein to our body.
Paneer is made out of curdled milk and if paneer is not available in markets then, it can be made in household too.
Home made paneer is the best way to make use of paneer which is fresh and tastes good too. However there are many brands that sell paneer readily and paneer is easily available in supermarkets.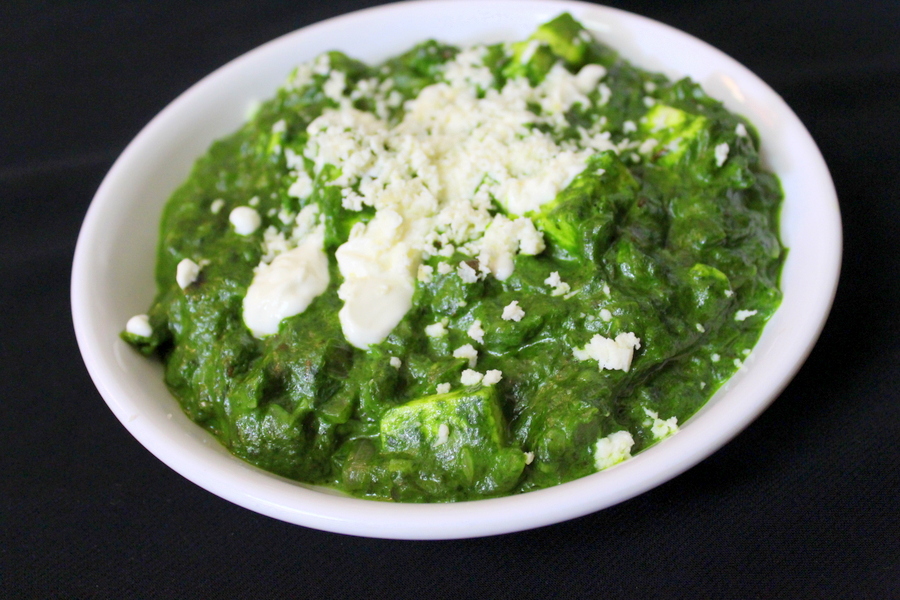 If paneer is available as a large block then, cut the block into cubes as per desired size that is small or large.
Palak is widely available in India and it is a healthy green leafy vegetable with full of iron which is a must for our body.
This combined gravy of palak paneer recipe is green in color and it is best when served with chapati, phulka or paratha.
Spinach can be combined with other veggies too aloo which I have already shared on the blog that is aloo palak, spinach can be used plain too like palak ki sabji, in the form of pakoda like palak pakoda, in the form of dal such as palak dal etc...
Video
Recipe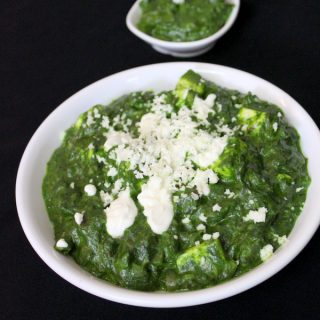 palak paneer recipe, how to make palak paneer
A popular punjabi dish made using the combination of palak and paneer
Ingredients
To blanch or boil palak leaves:
3

bunches of spinach/palak leaves

2-3

cups

of water
To make palak paneer:
2

tablespoon

oil

½

teaspoon

cumin seeds

½

teaspoon

crushed garlic

½

teaspoon

crushed ginger

2

slit green chillies

2

medium size onions

very finely chopped

salt as per taste

½

teaspoon

cumin seeds powder

2

tablespoon

fresh cream/malai

100

gms paneer cubes/cottage cheese

½

teaspoon

crushed kasoori methi
Instructions
Blanching and making puree of the palak leaves:
Take a pan, into it add water and bring it to a boil.

Add the palak leaves in it, blanch it for 2-3 minutes on low flame.

Take the leaves out and transfer them in a bowl of chilled water.

Allow the leaves to cool down for a minute or two.

Take a blending jar, take the palak leaves out and put them in a jar, blend them into a fine puree.

Place the puree aside.
Making of palak paneer:
Take a pan, add oil and heat it.

Add cumin seeds and let them pop up.

Add crushed garlic and crushed ginger, slit green chillies.

Saute for few minutes on low flame.

Add very finely chopped onions, saute and cook them until onions turn golden color.

Add salt as per requirement, add cumin seeds powder, mix and saute for few seconds.

Add the blended palak puree into it, mix well.

Cook the palak gravy for 2-3 minutes on low flame.

Add cream/malai, give a mix.

Add the paneer cubes into the palak gravy.

Add salt if required, else skip adding it.

Add crushed kasoori methi, give a mix.

Cook for a minute on low flame.

Switch off the flame.

Serve hot with roti or parathas.

Watch the video procedure above.
Notes
1. I have added the paneer cubes directly and if one wants more out of paneer, then I would suggest to slightly saute them in butter or deep fry the paneer cubes and add into the palak gravy.
2. If one is looking for healthier side then, it is better to add paneer cubes directly as paneer itself is high in fats and frying them adds more of fat content.
Nutrition
Nutrition Facts
palak paneer recipe, how to make palak paneer
Amount Per Serving
Calories 400
* Percent Daily Values are based on a 2000 calorie diet.