Dal tadka recipe, a punjabi style of making the dal by pressure cooking the dal and adding the dal to the onion tomato tadka.
I have made many dals so far and this is another interesting dal but this time I have attempted to make a punjabi dal and I must say it turned out amazing.
I regularly make many dals but this is slightly different and it has butter as well in it. In Hyderabad, dals are made differently like khatti dal, methi dal, mango dal, tomato pappu, masoor dal, palak dal, pappu charu etc…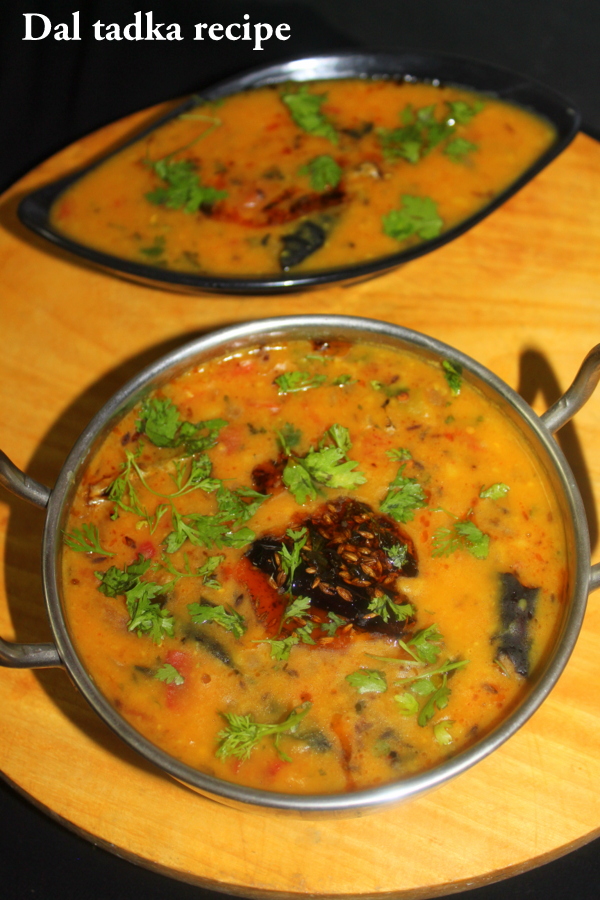 Dal is a lentil and legume which is widely used in India and different pulses are used to make various dal recipes and soups.
Every region has different types of dals and they are made differently in south india and north india.
In South india, dal is commonly termed as pappu and the various pappu recipes are sorakaya pappu, dosakaya pappu, beerakaya pappu etc…
Usually in South india, vegetables are mixed with the lentils and are pressure cooked which gives us a slightly thick consistency to the dal and are given tempering which enhances the flavors of the pappu.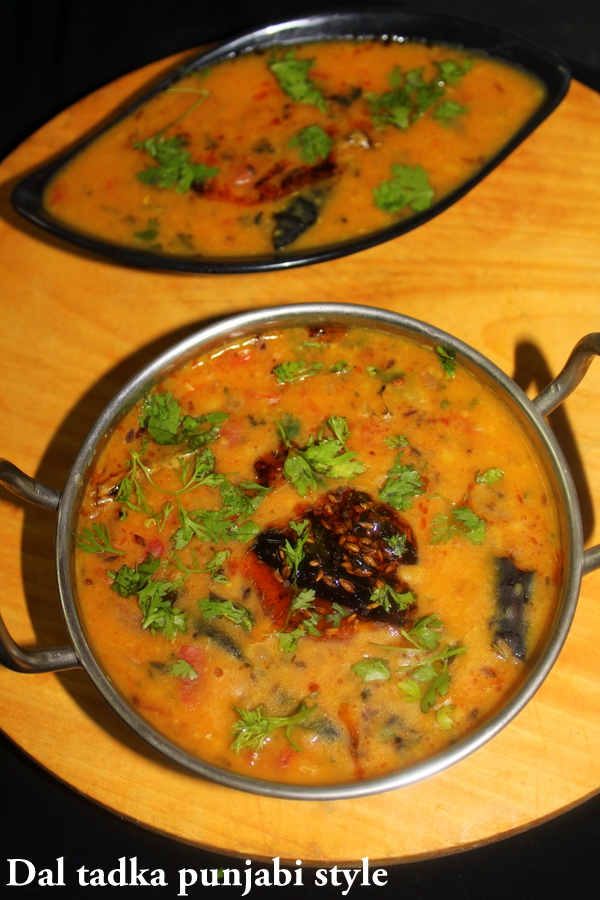 In north india too dals are made with thick consistency and thin consistency but the tempering is done in a different manner compared to north and south.
In south indian dal recipes, tempering is given using mustard, cumin, lentils, curry leaves and dried chillies basically.
In north india tempering is given bu using mild flavors like cumin seeds and onion tomato base is added to the dal.
Dal fry and dal tadka are almost the same with a slight variation here and there.
Dal tadka here is made using toor dal but the same procedure can be followed by using other dals like moong ki dal, masoor dal etc…
This dal tadka recipe is a 3 step recipe made by pressure cooking the dal, then giving a first tadka of onion tomato base and adding the dal and boiling it, and then giving a second tadka to the boiling dal with some mild flavors.
Below are the recipe instructions on how to make the dal tadka recipe which is a dhaba style method and can be served with rice or roti.
Dhaba style dal recipes or curry recipes are basically made using butter and I would personally suggest to replace the butter with any healthy oil.
Video procedure for dal tadka:
Dal tadka recipe:
dal tadka recipe, punjabi dal tadka
A toor dal recipe made by cooking the dal separately and giving tadka to the cooked and mashed dal.
Ingredients
Cooking the dal:
1 cup toor dal /yellow lentils washed well
2-3 cups water
½ tsp haldi /turmeric powder
Giving the tadka:
1 tsp butter
1 tsp ghee /clarified butter
1 tsp cumin seeds/jeera
4-5 slit green chillies
1 tsp ginger garlic paste
2 medium size onions, very finely chopped
3 tomatoes, very finely chopped
salt to taste
1 tsp red chilli powder
¼ tsp turmeric powder
½ tsp roasted coriander seeds powder
2 tbsp chopped coriander leaves
½ tsp crushed kasoori methi
giving the tadka 2:
2 tbsp oil
1 tsp cumin seeds/jeera
3-4 dried red chillies
2-3 slit green chillies
½ tsp red chilli powder
1 tbsp chopped coriander leaves
Instructions
Pressure cooking the dal(Step 1):
Take a pressure cooker, add the toor dal, add sufficient water, add turmeric powder, stir well.
Cover the lid of the pressure cooker and pressure cook the dal until it gets tenderized.
-4 whistles are enough for the dal to get tenderized well.
Switch off the flame.
Reduce the steam.
Open the lid, if the consistency of the dal is good, mash it directly without adding water and if it is slightly thick, add little water and mash the dal without lumps.
The dal is now ready for tadka and the tadka is mentioned below.
Giving the tadka 1 (Step 2):
Take a pan, add butter, ghee and heat it.
Add cumin seeds, give a stir.
Add 4-5 green chillies, ginger garlic paste, saute for few minutes to get rid of raw smell.
Add the very finely chopped onions and saute until the onions turn slight brown in color.
Add the very finely chopped tomatoes, saute well.
Add salt as per taste, red chilli powder, turmeric powder, coriander powder, mix well.
Cook the gravy until the tomatoes turn soft.
Add the mashed dal, give a mix.
Add 1 cup water and mix well.
Add some salt if required.
Mix the dal well.
Add chopped coriander leaves, crushed kasoori methi, mix well.
Bring the dal to a boil on low flame.
Give the tadka second time to the boiled dal (Step 2):
Take a tadka pan.
Add oil and heat it.
Add cumin seeds, let it crackle.
Add dried red chillies, slit green chillies, stir well.
Add half a teaspoon red chilli powder and mix.
Add some chopped coriander leaves.
Add this tadka to the boiling dal.
Switch off the flame.
Punjabi style dal tadka is ready to be served with rice or roti.
Notes
1. In this dal recipe, I have used butter but if making dal more healthier then I would suggest to use a healthy oil and it is a better option to replace butter with oil.
2. If one wants to make the dal in purely punjabi method then, in that case adding butter is a better option.
3. If toor dal is not available, then different dals like masoor, moong too can be added.
If you like this version of punjabi style dal tadka, do try the recipe and send us your feedback below in the comments section and also do not forget to like or follow us on all social media handles to keep updated with every recipe I post or upload on youtube.
Enter email address, Subscribe and get the latest recipes in your inbox