Karela Fry is a side dish stir fried recipe.. Karela fry can be eaten along with dal rice and it is quite popular all across north india, in south india as kakarakaya fry and it is also called as bitter gourd fry...
other fry recipes which go very well with dal recipes are listed below:
The toughest part using this vegetable is removing the bitter taste of the bitter gourd and different people follow different procedures to remove the bitter taste.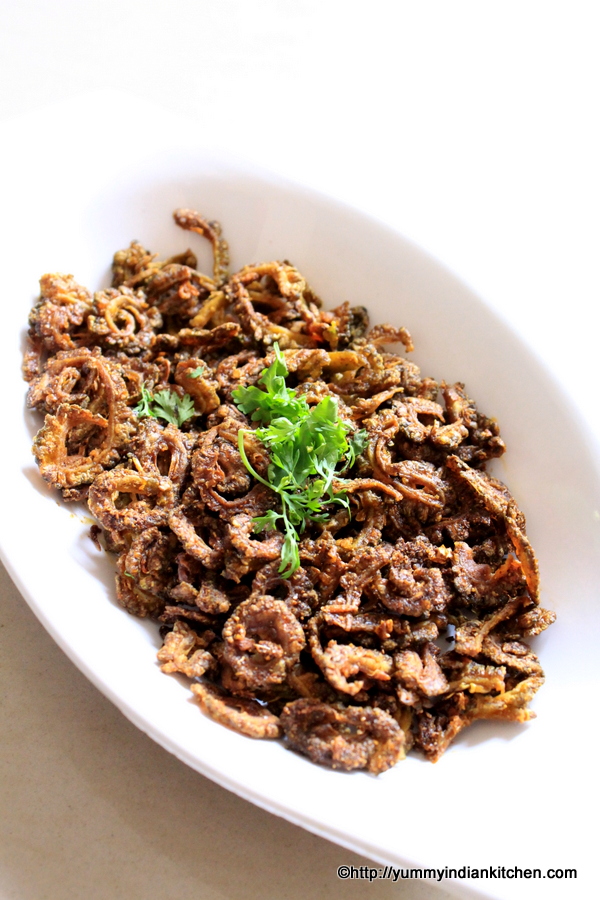 In this recipe I have also shown the video procedure and also written detailed steps in removing the bitterness and also stir frying it.
Bitter gourd is often disliked due to its bitter taste, but, spending a little extra time in removing the bitterness can make this veggie a favorite amongst everyone...
This vegetable has got lots of nutrients and karela has got lots of health benefits.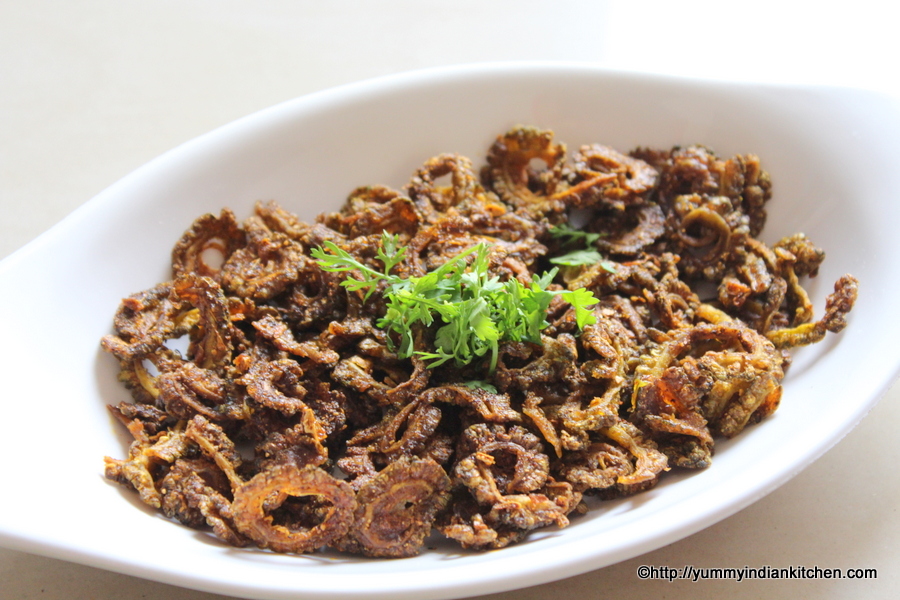 Bitter gourd is very good for skin and helps to keep our skin fresh and glowing if eaten frequently, it also makes our immune system stronger, it helps for people suffering from constipation and many more..
This version of karela is so yum that it can be eaten as stir fried chips with dal and curries and also can be eaten plain as chips.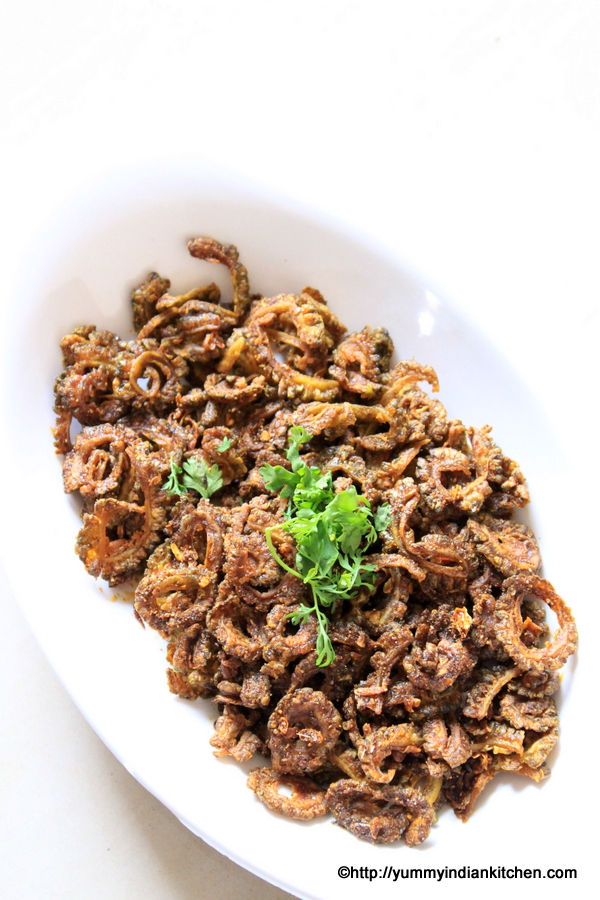 It is commonly called as kakarakaya in south india and stir frying is done in many different ways...I would like to post the simplest version of karela fry using very few ingredients...
How to remove the bitterness from bittergourd:
Firstly, roughly peel the bittergourd.
Cut them into rings.
Add salt and turmeric powder, press and squeeze well as much as possible to release the juices out. The juice takes away all the bitterness.
Strain the pieces.
Wash the pieces well with water again and strain the pieces out.
Now we have the perfect no bitter tasting bittergourd.
Use this not bitter version of karela for sabzi making or stir frying etc...
How to make karela fry or bitter gourd fry:
Recipe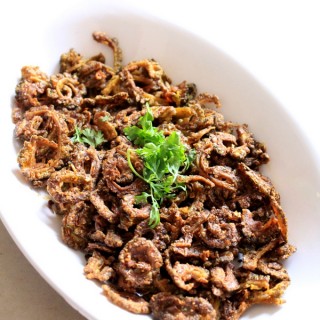 Karela Fry Recipe, Bitter Gourd Fry | Kakarakaya Fry
A side dish stir fried using karela/bitter gourd...It is sauteed in oil and stir fried until crisp with spices...
Ingredients
3

bitter gourd/karela roughly peeled and cut into rings

salt - to taste

½

teaspoon

turmeric powder

2

tablespoon

oil

¾

teaspoon

red chilli powder

¾

teaspoon

roasted coriander leaves

chopped coriander leaves for garnishing
Instructions
Washing of karela/bitter gourd:
Peel the bitter gourd very roughly and cut into rings without deseeding.

Take the cut pieces into a bowl, add salt and turmeric powder into it.

Use hands and mix the pieces by pressing, squeezing and mixing.

Pressing, squeezing and mixing removes the bitter content from the karela.

Doing this releases the bitter juice out from the karela.

Add water into the karela pieces, wash them well and remove the pieces out.
Stir frying the karela:
In a wok, add oil and heat it.

Into it, add karela pieces and saute for five minutes.

Stir and saute until slight brown color is obtained.

Add salt as per taste and mix well.

Cook, stir and saute until it gets brownish color.

Add red chilli powder and roasted coriander seeds powder.

Mix and saute until it gets crispy.

Garnish with chopped coriander leaves.

Karela fry is ready!!!
Notes
1.Always make stir fried recipes in a non stick pan or non stick woks..
2.If non stick pans are not used then the stir fried dish burns at the base and we never get a perfect outcome...
Nutrition
Nutrition Facts
Karela Fry Recipe, Bitter Gourd Fry | Kakarakaya Fry
Amount Per Serving
Calories 290
* Percent Daily Values are based on a 2000 calorie diet.
Watch the video procedure of karela fry or bitter gourd fry: