Pesarattu recipe is a traditional south Indian breakfast recipe...It is a very healthy breakfast recipe usually accompanied by chutneys such as pudina chutney etc. To try out healthy recipes, one must use less oil and also use healthy ingredients and I assure you this is one of the healthy pancakes among all other dosa recipes.
Pesarattu Dosa is in the form of a pancake which is made by using moong dal and rice...Here in order to make this recipe whole green moong dal and rice is soaked overnight and blended into a batter.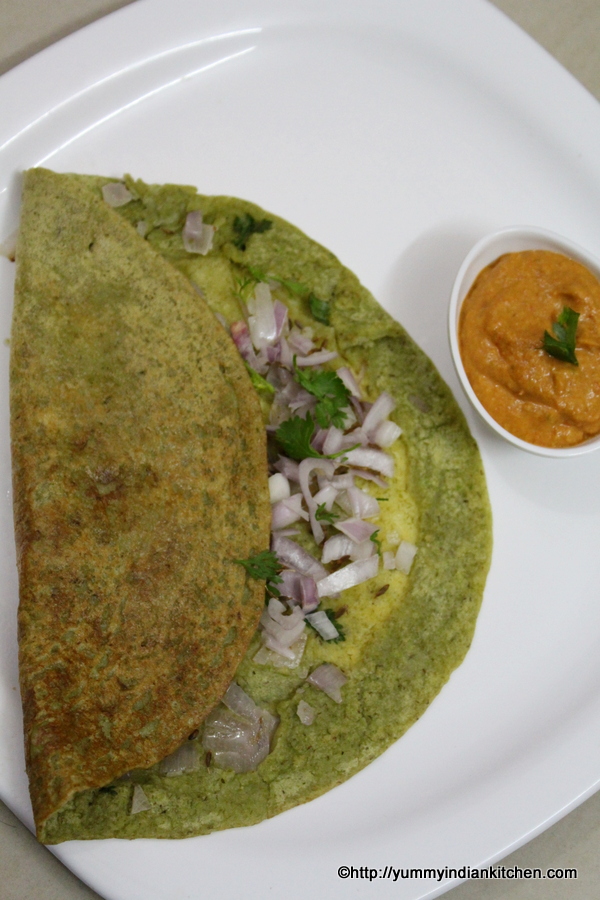 This is sometimes called as pesarattu dosa or green gram dosa. This is a very healthy option for breakfast. Green gram dosa is usually eaten with any kind of chutney.
Andhra special dosa can also be served to kids as evening snack or as a breakfast dish.
It is a simple and few ingredients recipe into which some pieces of ginger and green chillies are added to give a tasty touch and finely chopped onions are topped all over the dosa and served with chutneys.
The dosa is a soft crepe in the form of a pancake and appears green in color.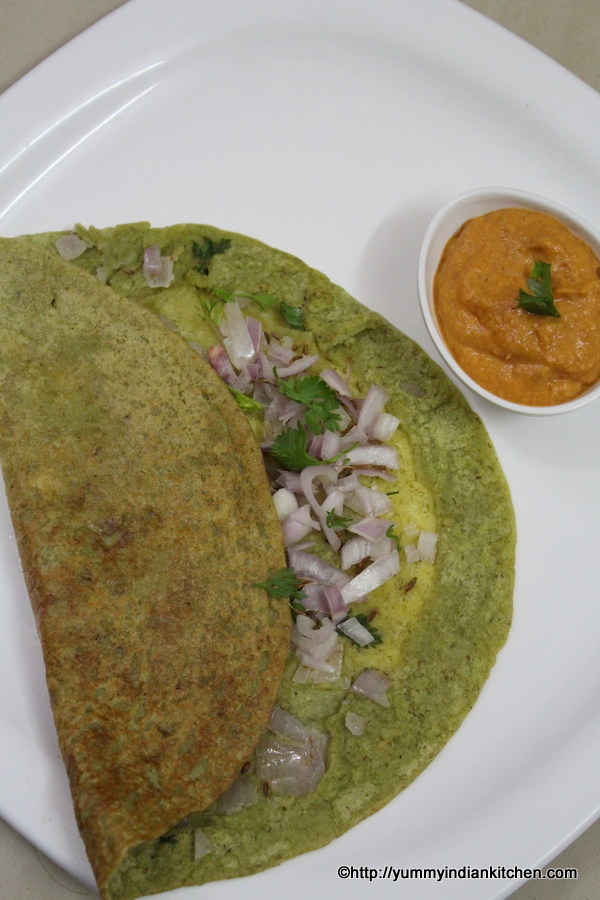 Green gram has lots of health benefits and making different green gram recipes is very good for health.
Moong dal is obtained in two forms one is yellow moong dal and the other is whole green moong dal that is green gram and both the lentils are good for health and should be included in our diet frequently...
This dosa does not need any fermentation and all we need is to soak the dal for few hours and let it turn soft to easily blend. Once the batter blends just making a batter by mixing spices and herbs and then making the dosa is a very easy process.
Below are the recipe details of making pesarattu and I hope this traditional south indian healthy breakfast is preferred by everyone...
Video
Recipe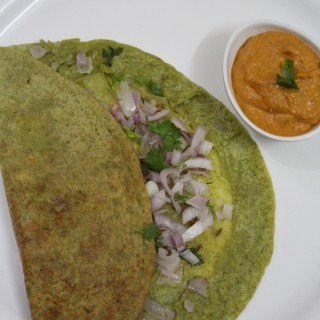 Pesarattu Recipe Andhra, Pesarattu dosa | Green Gram Dosa
Pesarattu is a pancake or dosa kind made using the batter of soaked green moong dal and rice...
Ingredients
For the pesarattu batter:
1

cup

whole green moong dal

2

tablespoon

rice

salt - to taste

2

small pieces of ginger

2

green chiliies chopped
For the dosa topping:
2

medium size onions

very finely chopped

½

teaspoon

cumin seeds

1

tablespoon

chopped coriander leaves

pinch

of salt

Mix all these topping ingredients in a small bowl
Other ingredients:
2-3

tablespoon

oil for making the dosa
Instructions
Firstly, in separate bowls add green gram/green moong dal and rice, add water into the bowls and soak them overnight.

Add the soaked green moong dal along with soaked water and also add soaked rice in a blender.

Also add green chillies, ginger pieces and salt into the blender.

Blend all the combined ingredients into a fine batter.

The batter should neither be thick nor thin.

Heat the tawa/gridle.

Wipe the tawa with an onion slice.

Take a ladle full of batter and drop at the centre of the tawa and spread the batter in circular motion.

Spread mixture of finely chopped onions, cumin seeds, coriander leaves, salt all over the dosa.

Smear oil all over the dosa and around the corners.

Cook the bottom side of the dosa for few minutes.

Flip the dosa and cook again for few more minutes.

Flip again and fold and serve with chutney.
Nutrition
Nutrition Facts
Pesarattu Recipe Andhra, Pesarattu dosa | Green Gram Dosa
Amount Per Serving
Calories 290
* Percent Daily Values are based on a 2000 calorie diet.