bottle gourd recipe is a simple lauki curry made using green colour lauki as a simple sabji using onions, simple herbs and spices. This is a quick and easy green vegetable curry which can be cooked in a simple and easiest manner without using many ingredients.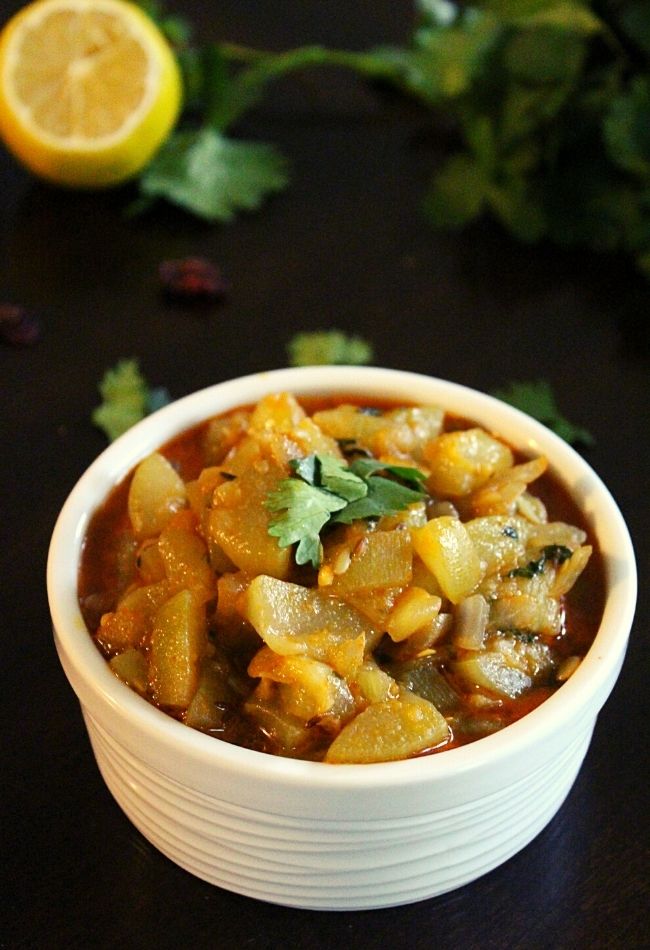 There are many veg recipes on the blog that are good to go with many flat breads or pav such as arbi recipe, paneer tikka masala, green moong dal, punjabi chole etc...
How does this vegetable look like?
It is a long round shape light green color vegetable commonly called as lauki in some of the Indian languages.
It is usually used to make sabji recipes such as lauki ki sabji as well as in Hyderabad it is used to make many other recipes with lauki and lauki is also called as kaddu in hyderabad, India.
The recipes made using kaddu are kaddu ki kheer, lauki ka juice and would be updating many other lauki recipes such as kofta too...
Difference between kaddu and lauki
Kaddu is a common term for pumpkin in north indian regions and bottle gourd is a common term for lauki in northern india.
In south india bottle gourd is usually termed as 'sorakaya' and all these names point to the same family of vegetable such as pumpkin or bottle gourd.
Which vegetable is used to make the recipe?
I have used a medium size lauki which is slightly light green in color, tender one, not very long in size.
Just use smaller laukis which are very fresh and not hard inside.
The vegetable should be peeled and then cut into small pieces.
The seeds should be removed only if there are big and hard seeds inside the veggie otherwise the lauki can be cut without removing the seeds.
The light green colored lauki is simple to cut. Just peeling the bottle gourd and then cutting into small pieces as desired.
Cut it fresh before cooking.
How to store bottle gourd?
The bottle gourd can be stored fresh in the refrigerator section for about 2 weeks if sealed airtight in a bag or zip lock sealed bags.
If the bottle gourd is cut and the rest of it has to be stored then cover the cut part with a cling wrap or foil paper and then store in fridge section. This can last for 5-6 days without getting rotten.
It is a vegetable that spoils quickly if stored directly in refrigerator without covering it up well.
Always try to cook it first and then use it as a side dish and avoid eating raw bottle gourd as it is known to be harmful for health.
While cutting the bottle gourd, the lauki should not be bitter in taste and if it is bitter in flavor then discard the vegetable immediately and do not use it in making any recipe as bitter lauki is harmful for health.
To pressure cook or slow cook?
I have slow cooked the curry as the bottle gourd cooks quickly if it is a fresh one and does not take more than 20 minutes to get tender or as required.
If is too hard then pressure cook the curry for just 1 whistle as it turns out soggy if given more than 1 whistle for the curry.
Therefore, slow cooking is a better option for a good taste and to let all the flavors get infused into the lauki curry.
How to cook this recipe?
I have slightly tempered the curry by adding oil, cumin seeds, green chillies and then cooking the onions slightly and then adding dry spices and ginger garlic paste.
All the mentioned ingredients should be cooked well on low heat and then the cut lauki is added and cooked well by adding little water until done.
The curry flavors can be enhanced by adding coriander leaves and there are several ways the lauki can be done such as I have already shared the lauki chana dal which is made in a slightly different manner and is a popular lauki dish across northern indian regions.
Below are the recipe details on how to make this simple sabzi without adding any tomatoes and is best to be eaten with parotta or bagara rice etc...
Recipe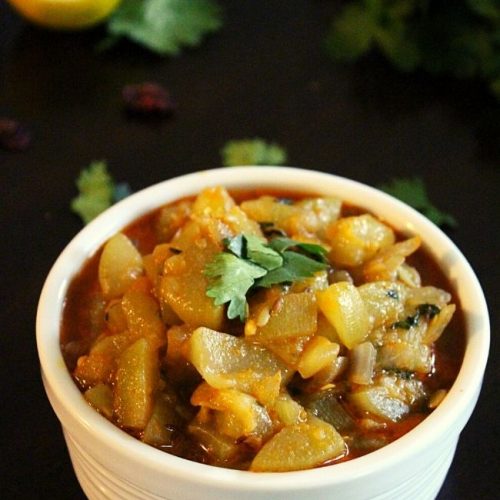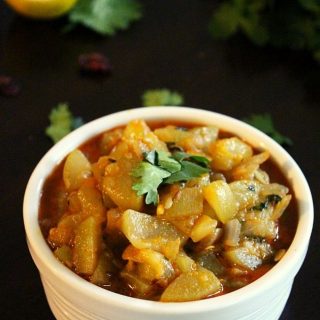 bottle gourd recipe, sorakaya curry or lauki curry
A quick and easy lauki curry made by just onions and spices.
Ingredients
1

medium size bottle gourd

2

tablespoon

oil

½

tsp

cumin seeds/jeera

3

slit green chilies

2

medium size onions, finely sliced

salt as per taste

½

teaspoon

ginger garlic paste

½

teaspoon

red chili powder

¼

tsp

turmeric powder/haldi

1

cup

water

2

tablespoon

chopped coriander leaves
Instructions
Firstly, peel the bottle gourd and cut them into small desired pieces.

Wash them well and strain the lauki to remove excess water content.

Take a cooking pot, add oil and heat it.

Add the cumin seeds and green chillies.

Add sliced onions, salt to taste and cook them until translucent.

Add ginger garlic paste, red chilli powder, turmeric powder and mix well.

Cook the masala on low heat until oil releases from the sides.

Add the washed lauki pieces.

Cook the lauki for 4-5 minutes.

Add coriander leaves and give a mix.

Cook the lauki until it turns soft.

Do not overcook as it turns soggy if overcooked.

Serve hot with roti or chapati.
Notes
I have added only onions as the gravy base but chopped tomatoes too can be added to make the base of the gravy.
Additional spices such as garam masala powder, curry powders, coriander powder can be added as different variations to the curry.
Nutrition
Nutrition Facts
bottle gourd recipe, sorakaya curry or lauki curry
Amount Per Serving
Calories 127
Calories from Fat 126
% Daily Value*
Fat 14g22%
Sodium 17mg1%
Carbohydrates 1g0%
Protein 1g2%
Vitamin A 200IU4%
Iron 1mg6%
* Percent Daily Values are based on a 2000 calorie diet.