Baingan masala is a delicious masala gravy using some masala ingredients such as coconut, peanuts, sesame seeds that have been cooked in stir-fried brinjals. This is a super special masala gravy that is mouth-watering with a good base of gravy cooked with brinjals and this infuses all the flavours into the eggplant with a yummy taste.
Other similar veg recipes to be tried are gutti vankaya, arbi recipe , aloo methi etc...
This is one of the best brinjal curry recipes I have mentioned on the blog so far and this particular brinjal recipe can be served with pulao, bagara rice or just plain rice.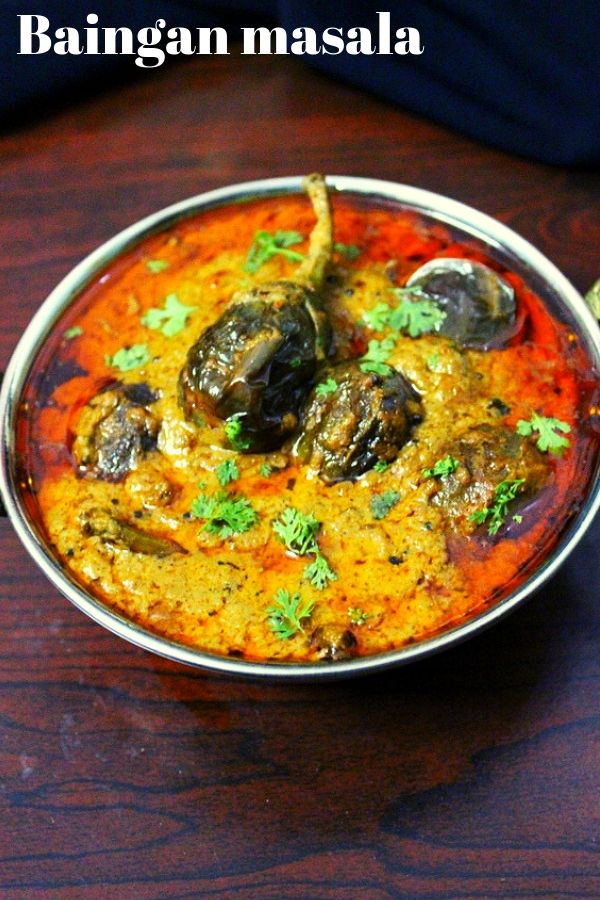 Jump to:
About the masala and brinjal
This curry can also be called "masala baingan", "vankaya masala" and different regions mention the same recipe with different terms and is also made with some slight variations.
Brinjal is always called as the "king of vegetables" and it is one of the tasty vegetables among all the vegetables.
Types of aubergines available
To simplify the different varieties of brinjals, there are 2 different colors of brinjals available.
There is a green color aubergine and a violet color aubergine. Brinjals also vary in size, shape and length.
There are small brinjals, round brinjals, long brinjals, large brinjals and every country has a different variety of brinjal.
Brinjal in India is referred to as "baingan" in hindi lingo and in telugu it is referred to as "vankaya" and it is referred with different names in different states of India. These are also named as "Eggplant".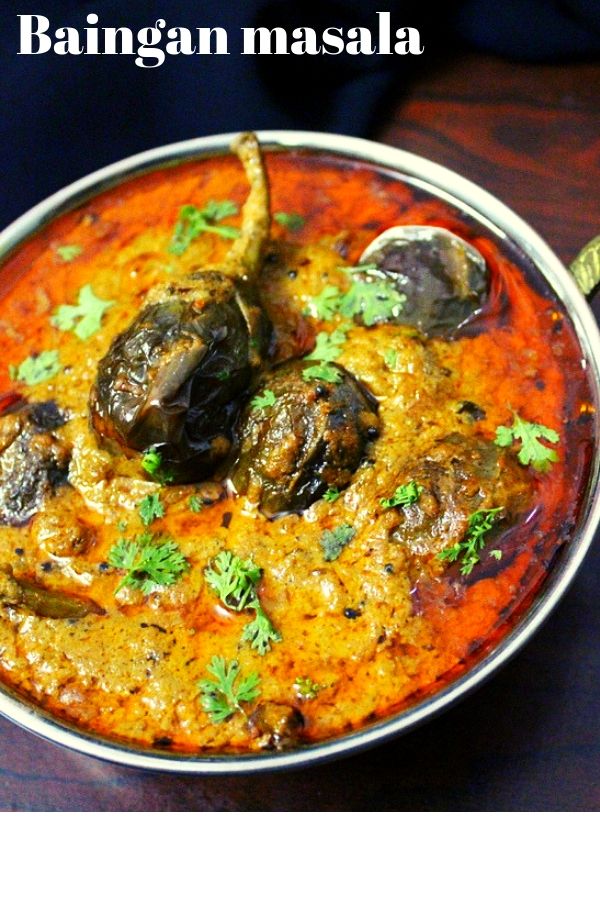 How can this vegetable be used?
This wonderful vegetable is used in various ways such as gravy recipes, curry recipes, bath recipes, sambar recipes, pakoda recipes, baingan fry recipes etc...
How this recipe is made?
To make this recipe, we first need to make the masala paste by blending them well.
The brinjals need to be sauteed well or roasted well in oil and then should be cooked well in this masala paste and tamarind pulp.
The spices and the tamarind give a very yummy taste to the whole curry and lifts up the flavors of the brinjals as well.
I have used coconuts, peanuts and sesame seeds and this masala is a very good base for korma recipes or fish curry recipes. The main ingredients that give a pleasant aroma to the gravy dish are coriander powder and cumin powder which act as the main flavorful ingredients to the whole baingan masala.
All the ingredients are individually roasted and the main aroma that comes out in the dish is because of the combination of all the spices cooked together and every tamarind based eggplant gravy tastes best with coriander powder and cumin seeds powder.
Benefits of baingan or brinjal or Eggplant
These are best source of food for diabetic patients.
They can control blood sugar levels and also blood pressure levels.
They are rich in fibre and great anti oxidants.
They can help in preventing cancer.
They also reduce the risk of heart diseases.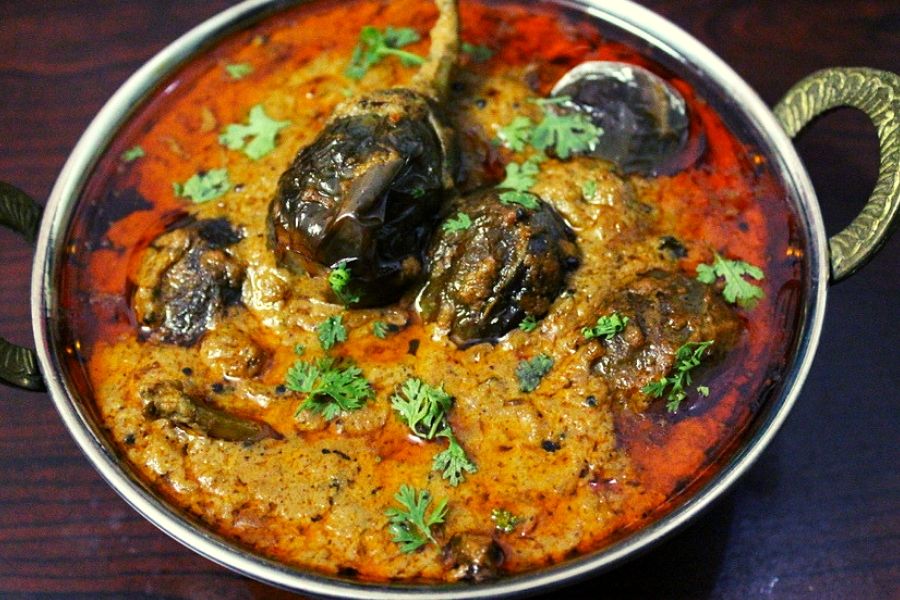 I have always used eggplants to make various recipes and in Hyderabad we usually make "bagara baingan" using brinjals which is a good side dish for biryani or pulao recipes.
I also use it as combination to other veggies such as potatoes and also stir fry them. Sometimes we make a chutney of this veggie and tastes amazing and we call the chutney as brinjal chutney or vankaya pachadi.
Below I shall be sharing step by step details on how to make this yummy masala baingan with a mouth watering gravy as the base to the eggplants.
Check out the recipe details below...
Recipe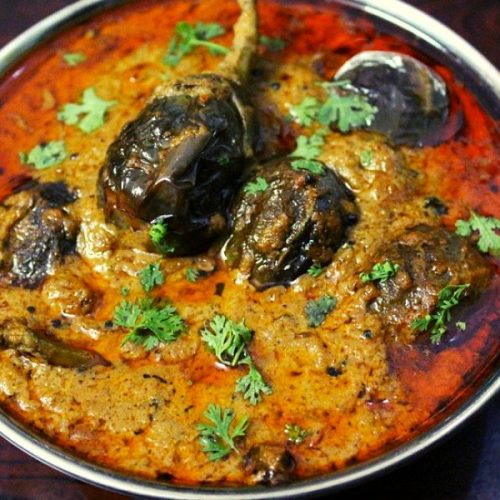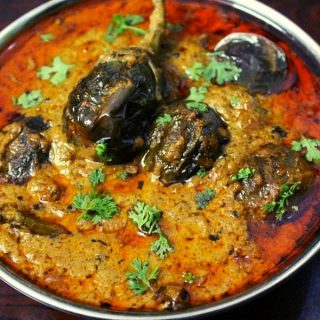 baingan masala recipe, brinjal masala
A brinjal masala gravy recipe made using masala ingredients using coconut, peanuts, sesame seeds etc...
Ingredients
To make masala paste:
2

tablespoon

desiccated coconut

(dry coconut grated/small pieces)

2

tablespoon

groundnuts/peanuts/phalli

1

teaspoon

sesame seeds/ til

1

tablespoon

coriander seeds

1

tablespoon

cumin seeds

8-10

dried red chillies

1

medium size cinnamon stick

3-4

cloves

5-6

black peppercorns
To make the brinjal masala:
3

tablespoon

oil

½

teaspoon

mustard seeds

6-7

fresh curry leaves

3

medium size onions

(finely sliced)

1

teaspoon

ginger garlic paste

salt to taste

¼

teaspoon

turmeric powder

2

tablespoon

coriander leaves
Other ingredients:
500

gms brinjal/baingan

1

big lemon size tamarind extracted pulp
Instructions
Cleaning and cutting of brinjals:
Firstly, take a utensil, add water, add enough salt into the water, stir well.

Wash the brinjals, take a knife and slit them into + form.

Drop those cut brinjals into the salt water.
Making of masala paste:
Take a pan or tawa, heat it.

Add desiccated coconut, dry roast them for few minutes and take them out

Add groundnuts into it and dry roast them separately for few minutes by stirring them continuously, take them out, cool them down and remove the skin of the peanuts.

Add sesame seeds, sprinkle few drops to roast well, saute for few seconds and take them out immediately.

Add coriander seeds, cumin seeds, dry roast for few seconds and take them out.

Into the same pan, add cinnamon stick, cloves, black pepper corns, add dried red chillies, saute for few seconds and take them out.

Make sure the ingredients are not hot.

Take a blender, add all the roasted ingredients into the blender(dried coconut, groundnuts, sesame seeds, coriander seeds, cumin seeds, dried red chillies, cinnamon stick, cloves, black pepper corns).

Make a fine powder by adding some salt.

Add water and make a fine paste by blending well.
Making of the brinjal masala:
Take a cooking pot, add oil and heat it.

Add mustard seeds and let them pop up.

Add fresh curry leaves into the oil and let them crackle.

Add finely sliced onions and saute them until they turn soft.

Add ginger garlic paste and saute for few minutes to get rid of raw smell.

Add the cut brinjals, saute and cook for 5-10 minutes until the color of the brinjals changes.

Add the ground masala paste, add salt to taste, turmeric powder, mix well.

Cook the masala on low flame until oil leaves the sides.

Tastes good if masala cooks for at least 10-15 minutes while stirring in between.

Add the tamarind extracted pulp.

Give a mix.

Cook the curry until brinjals turn soft and tender.

Adjust salt and add if required.

The cooking time for brinjals to tenderize well is 25 to 30 minutes.

Lastly add chopped coriander leaves into the curry.

Switch off the flame.

Serve hot in a bowl.
Notes
Here I have cut the brinjals into + form like how they are done to make bharwa baingan and added into the curry but another method to use brinjals into the masala baingan is to remove the stalk of the brinjal, cut the brinjal into two halves and then stir fry after adding them into the oil.
If this curry is being made in a hurry then this masala baingan can be pressure cooked for 2 whistles on medium flame after adding all the ingredients. This helps in speeding up the cooking process of the curry.
Nutrition
Nutrition Facts
baingan masala recipe, brinjal masala
Amount Per Serving
Calories 150
Calories from Fat 135
% Daily Value*
Fat 15g23%
Sodium 6mg0%
Potassium 103mg3%
Carbohydrates 3g1%
Protein 2g4%
Vitamin A 34IU1%
Vitamin C 1mg1%
Calcium 31mg3%
Iron 2mg11%
* Percent Daily Values are based on a 2000 calorie diet.