Hyderabadi Chicken Dum Biryani is an authentic Hyderabadi special rice dish which is a popular Dum Biryani recipe of Chicken from Hyderabad served with kheera raita or cucumber raita or pyaz ka raita or onion raita and Hyderabad is famous for Biryani all across India.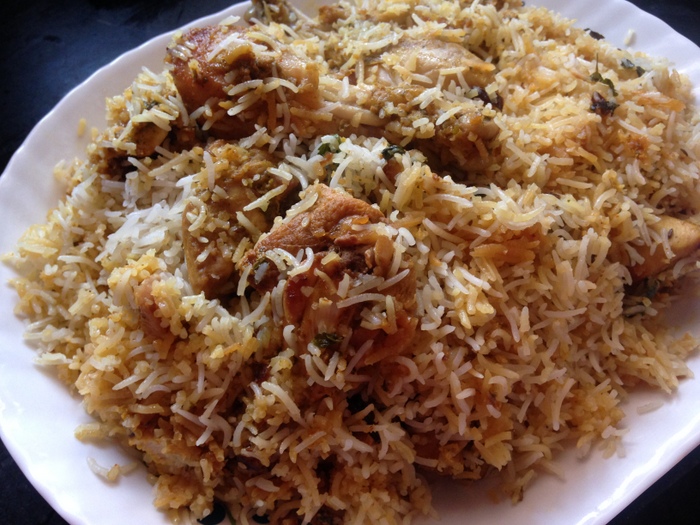 My post for today which is murgh biryani recipe would be dedicated to my home town Hyderabad where I have been born and spent so many years. Being a Hyderabadi I just love Biryani recipes and Biryani recipes are every Hyderabadi delight.
     I am sharing the traditional and authentic way of making Hyderabadi Chicken Dum Biryani straight from my kitchen without missing even a single step with every minute detail.
Related Biryani Recipes: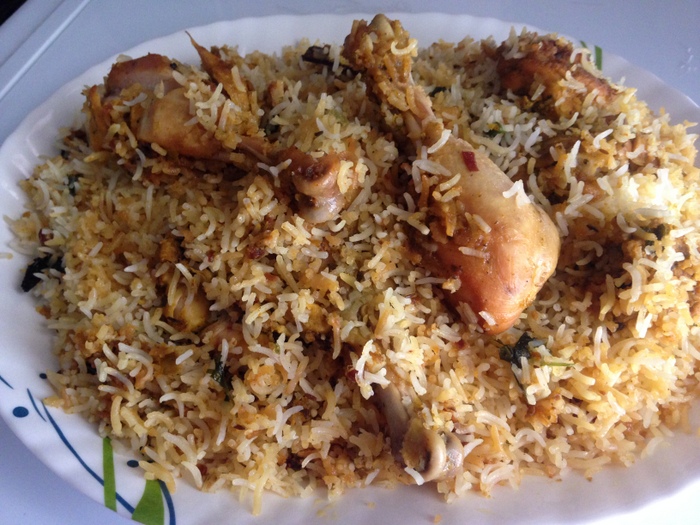 Biryani is very special to me and very close to my heart and  this recipe is something which is often made in every Muslim Household.
The Chicken Dum Biryani which I am sharing today is a very delicious recipe and the steps are so easy to follow.
About biryani making process:
Hyderabadi Chicken Dum Biryani is a very lengthy process but at the same time is the easiest. Once you understand it then you can master the art of making biryani of any kind be it a chicken biryani or mutton biryani or a veg biryani.
   Chicken Dum Biryani is a slow cooking process and this process is very essential to bring the perfect flavors out of the dum biryani.
It is a Dum method and it is called so as the chicken marinade and the rice is placed inside the cooking pot and is tightly sealed with a chapathi dough and cooked by not letting the steam come out. By doing so the biryani gets cooked well and also keeps the flavors intact and therefore, its called as 'dum cooking'.
It is very necessary to use fresh herbs and freshly pound garam masala to bring out perfect flavors to the biryani recipe.
                The biryani requires many ingredients but if added in sequence then one can never go wrong in making the biryani.
We  always make Hyderabadi Chicken Dum Biryani during gatherings and also during every occasion and is served with or Hyderabadi Mirchi Ka Salan Recipe or Bagara Baingan hyderabadi special.
                   Biryani is a must dish in every muslim wedding  food platter in Hyderabad and I would love to share this lengthy but an easy process with my readers to learn and relish this traditional hyderabadi dum biryani.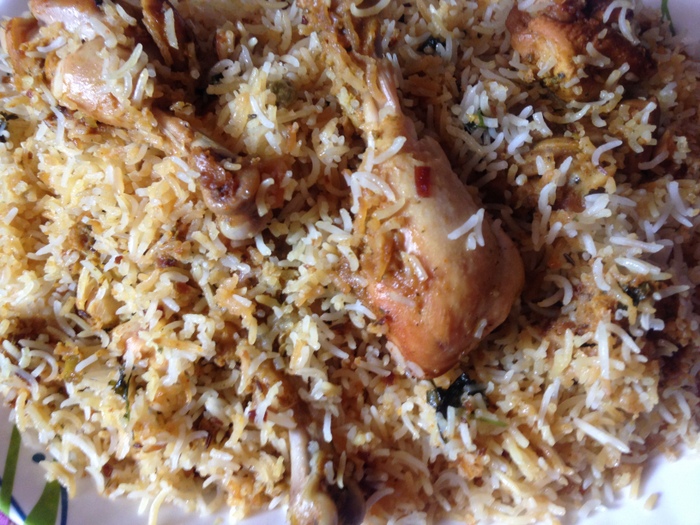 If you would like to make the recipe then plan out before especially if you are trying it out for the first time. Gather all the ingredients which are required to make this chicken dum biryani.
What other ways it is called as?
  It is also called as a 'kachi yakhni biryani' as the chicken is not cooked and instead is placed for the dum cooking therefore, it can be called as kachi yakhi biryani or dum ki biryani.
                 The biryani which I am posting here in not too spicy and I have added very few whole spices and if you are looking forward to a spicy biryani then stay tuned and watch this space as I update with lots of biryani recipes with chicken, mutton and vegetarian.
Ingredients to make the biryani:
Oil: It is used to deep fry the onions as well as required while giving the dum and also while marinating.
Chicken: Chicken with bones and also tastes good with chicken legs and medium size chicken pieces with bones. Always clean the chicken with salt, turmeric water and lemon to remove any chicken smell from the flesh.
Whole spices: I usually add basic whole spices but additional garam masala such as bay leaf, star anise can be preferred but since this is Hyderabadi style I tried to keep it as authentic as possible.
Yogurt: It is one of the main ingredients used while marinating chicken and this gives the right texture and balanced sour flavor to the rice.
Fried onions: This is also called as birista, an essential ingredient to make biryani. Biryani making is incomplete without deep fried onions. I have shared the recipe of fried onions on the blog which can be checked if having any doubt while frying the onions.
Hara masala: This is a combination of green chilies, cilantro/coriander leaves and mint leaves.
Dry spices: These are required while marinating the chicken and make a difference to the biryani if not added. These dry spices are salt, chili powder, turmeric, black pepper etc...
Rice: Any rice can be preferred to make this biryani and both taste equally good.
Using them while making dum biryani gives a wonderful flavor to the biryani and my suggestion is to not skip adding them If any of the ingredients should be skipped then try not to add mint leaves if it is not available.
These are the main ingredients and the rest of the ingredients are mentioned in detail below...
             Below I would be sharing the detailed recipes of traditional hyderabadi chicken dum biryani recipe which has been a special dish of the Nawabs in Hyderabad and has been passing down from generations to generations and takes the first place in hyderabadi cuisine.
                Also check out another video of making hyderabadi chicken biryani below... This is the pakki yakhni style of making chicken biryani....
Video procedure for the biryani?
 Recipe For Hyderabadi Chicken Dum Biryani Below:
Hyderabadi Chicken Dum Biryani Recipe
A delicious rice delicacy from Hyderabad- Hyderabadi Chicken Dum Biryani Recipe
Ingredients  
For Chicken Marination:
11/2

kg

chicken cut into large pieces

2

tbsp

ginger garlic paste

2

tbsp

red chilli powder

1

tsp

turmeric powder

salt as per taste

1

bunch coriander leaves

1

bunch mint leaves

7 - 8

green chillies

1

tsp

caraway seeds

shahi zeera

3 - 4

cloves

loung

2

cinnamon sticks

dalchini

3 - 4

cardamoms

elaichi

3 - 4

black pepper corns

kali mirch

2

cups

fried golden brown onions

2

cups

yogurt

1

tbsp

oil

1

tbsp

lemon juice

tsp

garam masala powder
For the Rice:
Water for boiling

1

kg

basmati rice

2-3

cloves

loung

1

cinnamon stick

dalchini

2-3

cardamoms

elaichi

1

tsp

caraway seeds

shahi zeera

2 - 3

black pepper corns

kali mirch

1

tbsp

lemon juice

salt - to taste
For Dum Seasoning:
2

tbsp

oil

2

tbsp

coriander leaves

2

tbsp

mint leaves

2

tbsp

fried onions

1

tbsp

lemon juice

1

cup

saffron flavored milk

1

tbsp

ghee

1

cup

water
Instructions 
For The Chicken Marination:
Wash the chicken pieces well with lemon juice and water and strain the chicken completely.

Add ginger garlic paste into it.

Add red chilli powder, turmeric powder, salt and mix well.

In a blender add a bunch of coriander leaves, a bunch of mint leaves, green chillies, add a pinch of salt and make the paste called as green paste or hara masala paste.

Add the green paste to the chicken marinade.

Add whole garam masala that is cardamom, cinnamon, cloves, black pepper corns, caraway seeds.

Mix the whole mixture well.

Crush the onions and add into the marinade.

Add beaten yogurt and mix well.

Add oil over the marinade and mix well.

Add garam masala powder and lemon juice and mix well.

Check the taste of salt and add if required.

Rest this marinade inside the refrigerator for about 45 minutes to 1 hour.
Procedure To Cook The Rice:
Firstly, wash the basmati rice and soak it for about 35 minutes.

Take a cooking pot, add water generously into it.

Into the water, add salt as per taste, cinnamon stick, cloves, shahi zeera, black pepper corns, cardamoms.

Bring the water to a boil.

When the water starts boiling, add the soaked rice into it.

Cook the rice for about 6 - 7 minutes until it is three fourth done.

Strain the rice completely and rest the strained rice aside.
Procedure To Give The Dum:
In a cooking pot, to the base add oil and spill it all over the base.

Add the chicken marinade into it and spread it evenly.

Add the rice which has been cooked into it.

Spread the rice evenly all over the marinade.

Season the rice with coriander leaves, mint leaves, fried onions.

Add lemon juice all over the rice.

Add saffron flavored milk(2 saffron strands added into the ¼th cup of milk to get orange red color).

Add ghee into it.

Add little water all over the rice(optional).

Make a chapathi dough and seal the lid and the cooking pot tightly with the dough.

Switch on the flame, put the cooking pot onto the flame.

Dum the biryani on sim flame for about 45 minutes.
Procedure to take the biryani out:
Take the biryani out with a spatula from one corner side and when taken out, the spoon has to go deep down and should come out with the rice and chicken.

Serve the lip smacking biryani on a serving plate.

Garnish the hyderabadi chicken dum biryani with fried onions.

Also it can be garnished with coriander and mint leaves.

And also serve it with lemon slices and raw onion rings.
Notes
Using basmati rice while making biryani makes the biryani very delicious.
Always soak the rice when the period of chicken marination is about to complete.
Start boiling rice for water when rice has been soaked for about ten minutes.
Do not cook the rice for a long time as the rice becomes soggy while giving dum.
The longer the time of marination, the more tastier the chicken would turn out.
If one is looking for more spicy flavor then the spices can be added more in quantity or can be reduced if less spicy flavor is required.
Using fresh herbs gives wonderful fragrance to the biryani.
Always check the salt taste while cooking rice, else the biryani would not get the required taste.
Another way of giving dum is, the cooking pot should be placed on a high flame and then simmer the flame and place a tawa/griddle below the cooking pot and dum for about 35 minutes.
Placing a tawa below the cooking vessel prevents the base of the cooking vessel from burning.
Nutrition
Nutrition Facts
Hyderabadi Chicken Dum Biryani Recipe
Amount Per Serving
Calories 804
Calories from Fat 126
% Daily Value*
Fat 14g22%
Cholesterol 17mg6%
Sodium 436mg19%
Potassium 400mg11%
Carbohydrates 150g50%
Protein 15g30%
Vitamin A 170IU3%
Vitamin C 18mg22%
Calcium 188mg19%
Iron 2mg11%
* Percent Daily Values are based on a 2000 calorie diet.
WANT TO WATCH VIDEO RECIPES?
SUBSCRIBE US ON YOUTUBE