Mutton Dum Biryani Recipe is again a different variation of mutton biryani where the mutton is dum cooked and is almost similar to Hyderabadi Biryani and it is also a hyderabadi mutton dum biryani recipe.
Related Dum Biryani Recipes:
            This mutton dum biryani recipe is cooked with the help of the steam itself but here long marination is not required and placed on dum with tightly sealed and more spices have been included.
                     Here I have used raw papaya paste to tenderize the mutton and did not marinate the mutton for a long time. The recipe requires less time as meat tenderizers help in cooking the biryani fast and selection of fresh red meat is very important for perfect biryani and fresh biryani.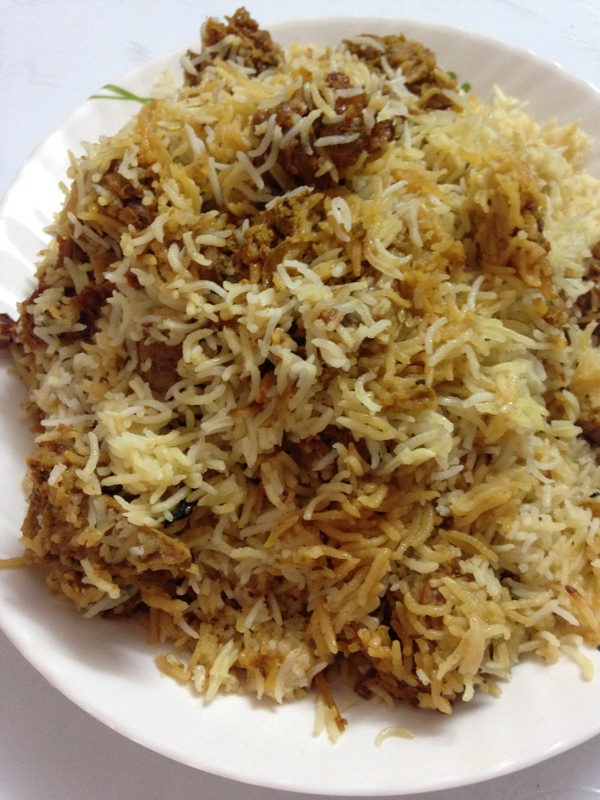 In my hyderabadi mutton biryani recipe  earlier I have not used the tenderizer and marinated for a longer time but not everybody can wait for such a long time to cook.
So here is the mutton dum biryani recipe which does not require patience and can be cooked quite easily just with the help of a tenderizer. Every biryani recipe requires fried onions and here is the recipe on how to fry onions for biryani recipe.
 If tenderizer is not added and directly placed the biryani for dum then the mutton inside the biryani would remain harder. So while making mutton biryani in dum method there are certain points that should be kept in mind.
If tenderizer is not added then it is better to follow my hyderabadi mutton biryani recipe procedure. If meat tenderizer is added then follow the details mentioned in this recipe.
Biryani recipes be it chicken or mutton can be made in various ways and in hyderabad for dum method we say as kachhi yakhni biryani or kachhe gosht ki biryani and if the mutton is cooked before to make biryani then it is called as pakki yakhni biryani.
This biryani can be served with bagara baingan, mirchi ka salan, onion raita, cucumber raita, baingan masala etc…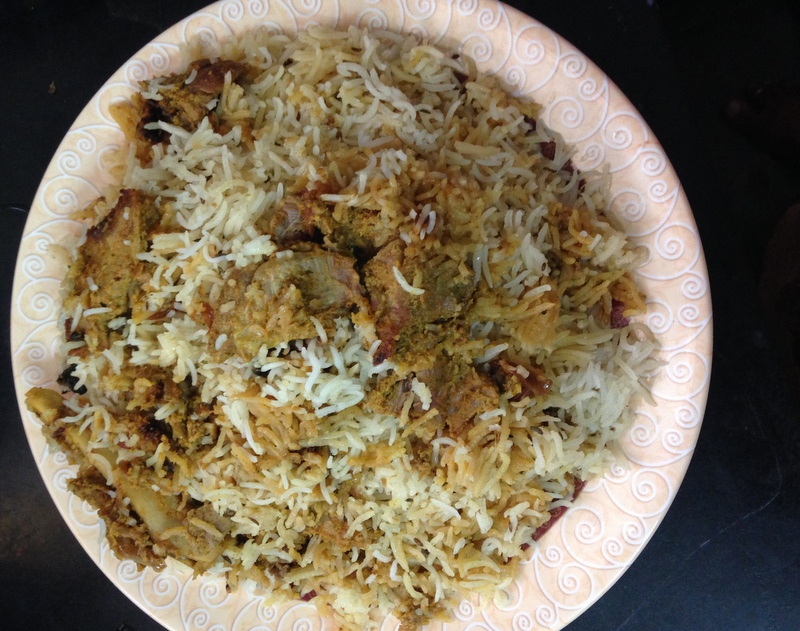 Yakhni is the mutton marinade or the masala gravy in the biryani.
Biryani is all about spices and flavor and a mix of many ingredients. Biryani making appears to be a long process but I feel making biryani is the easiest and simple once we get hold of the technique in making it.
                              The meat tenderizer makes the mutton so soft that the mutton piece just melts in your mouth and this is way the dum biryani is made in restaurants and you can buy meat tenderizers from market if raw papaya is not available.
Check out other recipe collections below:
 Lets take a look at how to make mutton dum biryani recipe hyderabadi with detailed instructions: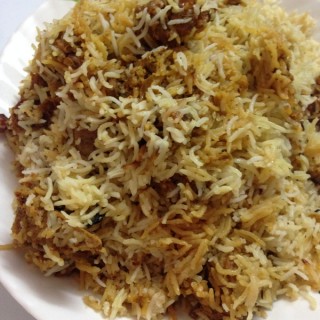 Mutton Dum Biryani Recipe Hyderabadi
Mutton Dum Biryani Recipe - a special rice delicacy made with mutton and rice...
Print
Pin
Rate
Ingredients
For The Marination:
1

kg

mutton cleaned and washed well

salt - to taste

1

tbsp

red chilli powder

1/2

tsp

turmeric powder

2

tbsp

ginger garlic paste

1

cinnamon stick

3-4

green cardamoms

4-5

black pepper corns

2-3

cloves

1/2

tsp

jaiphal powder

nutmeg

1/2

tsp

javitri powder

mace

2

tbsp

green chillies paste

paste made by adding a pinch of salt

1

bunch of freshly chopped coriander leaves

1

bunch of freshly chopped mint leaves

1

tsp

raw papaya paste

1

tsp

garam masala powder

1

cup

of deep fried onions

2

cups

of yogurt

1

tbsp

lemon extracted juice

2

tbsp

oil
For The Rice:
5

cups

of rice

600-700 gms approx...

1

cinnamon stick

2

tsp

caraway seeds

3-4

black pepper corns

1-2

cloves

salt - to taste

1

tsp

oil

1

tsp

lemon juice

water for boiling rice
Other ingredients(Seasoning the Dum):
1

tbsp

desi ghee

1

tbsp

oil

1/4

cup

saffron flavored milk

saffron mixed with the milk

1

tbsp

chopped coriander leaves for garnishing

1

tbsp

chopped mint leaves for garnishing

1-2

tbsp

of deep fried onions for garnishing
Instructions
Firstly, in a large vessel, add washed mutton pieces, salt, red chilli powder, turmeric powder, ginger garlic paste.

Into the marinade add cinnamon stick, cardamoms, cloves, black pepper corns, nutmeg powder, mace powder and mix well.

Add green chilli paste, mint leaves, coriander leaves, crush the deep fried onions and add into it.

Mix the whole mixture well.

Add raw papaya paste, add oil and mix it well.

Rest this marinade aside for about 1 hour.

After marination add beaten yogurt into the marinade, add garam masala powder, add lemon juice and mix well.
For The Rice:
Wash basmati rice and soak the rice in water for about 40 minutes.

In a cooking pot, add water generously for about 10-12 cups or more than that.

Add salt into it.

Add whole spices that are cinnamon, cardamoms, caraway seeds, cloves and black pepper corns.

Add oil and lemon juice into it.

Mix it well.

Bring the water a boil.

Add the soaked rice into the boiling water.

Cook the rice until it is 60-70% done.

Strain the rice completely and put it aside.
For The Dum Procedure:
Take a cooking pot in which Biryani is cooked.

Coat the base of the pot with oil.

Add the mutton marinade into it and spread it evenly.

Add the rice over the marinade and spread it evenly.

Over the rice season it with saffron flavored milk, mint leaves, corinader leaves.

Add lemon juice all over.

Add crushed onions all over the rice.

Top it with some desi ghee.

Smear oil all over.

Cover the lid and seal it tightly with a dough or put heavy weight on the lid.

Switch on the flame.

Place a skillet/tawa on the flame.

Place the cooking pot on the tawa.

Dum the biryani for about 15 minutes on high flame.

Reduce the flame to sim and dum the biryani for about 35 minutes on sim flame.

Switch off the flame.

Dig the biryani from one side of the corner.

The biryani should be taken out with a spatula from the bottom to the top.

Serve the mutton dum biryani with raita!!!
Notes
1.Adding raw papaya paste works as a meat tenderizer and is usually added to mutton dum biryani.
2.If raw papaya paste is not available then meat tenderizers are easily available in super markets.
3. If the tenderizer is not added to mutton then the mutton does not become soft while giving dum.
4.If tenderizer is not used then mutton has to be marinated for about 4-5 hours.
5.Spices such as mutmeg and mace are totally optional.
6.Placing a tawa below the dum pot prevents the biryani from burning at the bottom.
7.Adding oil in steps does not make the biryani dry.
8.Desi ghee gives the fragrance to the biryani.
9.Spices added can be increased or reduced according to one's taste.
Nutrition
Want To Watch Video Recipes?
SUBSCRIBE US ON YOUTUBE!