Mutton Dum Biryani Recipe is again a different variation of mutton biryani where the mutton is dum cooked and is almost similar to Hyderabadi Biryani. The dum biryani here is kachhi yakhni style of making biryani which does not require a long time to marinate. It can be quickly made with a short marination time using meat tenderizer such as raw papaya paste.
Related Dum Biryani Recipes:
What is mutton dum biryani?
The recipe follows a method of adding marinated mutton at the base of a cookpot and over the mutton, a layer of half cooked rice is added and the whole set up is placed for dum that is cooked inside steam.
This process takes about 50 minutes to 1 hour for the mutton to cook well inside steam.
The dum is slow cooking process where the rice and the mutton are cooked slowly inside steam which release aromatic flavors into the rice and mutton during the process of cooking.
About the recipe
This biryani recipe is cooked with the help of the dum or steam but here long marination is not required and placed on dum with the pot tightly sealed.
Here I have used raw papaya paste to tenderize the mutton and did not marinate the mutton for a long time. The recipe requires less time as meat tenderizers help in cooking the biryani fast and selection of fresh red meat is very important for perfect biryani and fresh biryani.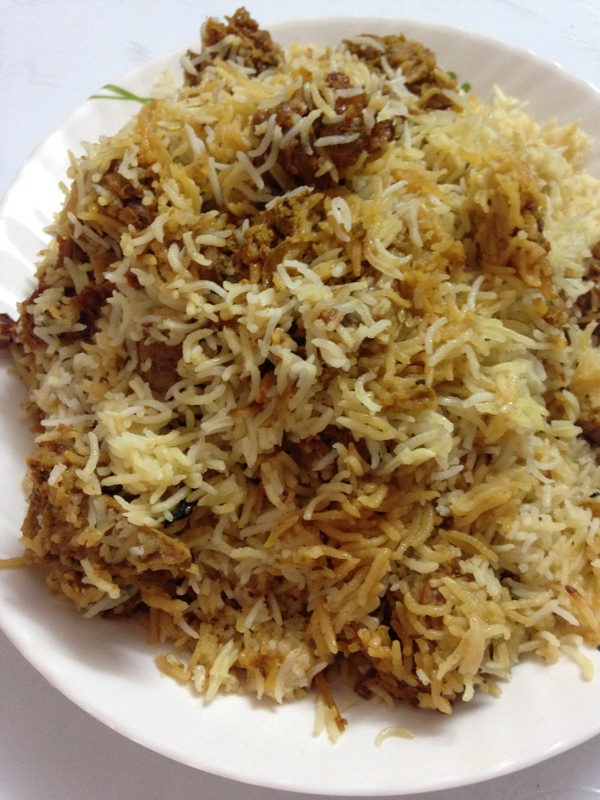 In my hyderabadi mutton biryani , I have not used the tenderizer and marinated meat for a longer time but not everybody can wait for such a long time to cook.
So here is the quick recipe that just requires a tenderizer and the biryani is done without any difficulty .
Biryani recipes be it chicken or mutton can be made in various ways and in hyderabad for dum method we say as kachhi yakhni biryani or kachhe gosht ki biryani and if the mutton is cooked before to make biryani then it is called as pakki yakhni biryani.
Yakhni is the mutton marinade or the masala gravy in the biryani.
Biryani is all about spices and flavor and a mix of many ingredients. Biryani making appears to be a long process but I feel making biryani is the easiest and simple once we get hold of the technique in making it.
Important tips to be noted:
This dum biryani recipe which does not require patience and can be cooked quite easily just with the help of a tenderizer that is raw papaya paste.
If tenderizer is not added and directly placing the biryani for dum makes us struggle to tenderize the meat. So while making mutton biryani in dum method there are certain points that should be kept in mind.
If tenderizer is not added then it is better to follow my hyderabadi mutton biryani recipe procedure which requires longer marination time. If meat tenderizer is added then follow the details mentioned in this dum biryani recipe.
Follow these tips for long grain and flavorful rice:
Always strain the mutton after washing in order to remove water content in the mutton.
Straining the mutton well helps in absorption of the masalas well and are well infused with the mutton and give a juicy taste to the mutton pieces during cooking.
Since meat tenderizer is used marinating it just for 30 minutes is enough.
Soaking basmati rice is mandatory and soak it for at least 35 to 40 minutes to get long grains while boiling.
Do not boil the rice for more than 8 to 10 minutes and starin the rice immediately.
FAQ'S FOR THE RECIPE:
How to make papaya paste?
These are available in markets very easily or raw papaya can be peeled, grated and added to the mutton while marinating.
The meat tenderizer makes the mutton so soft that the mutton pieces just melts in your mouth and this is the most similar way of making dum biryani in restaurants and you can buy meat tenderizers from market if raw papaya is not available.
Which meat is best for biryani?
Preferably it is better to go for goat meat with bones such as shoulder meat or leg section with meat and bones. Using boneless is not highly preferred as mutton that has little bones give juicy flavors.
Is meat healthy or unhealthy?
Eating meat in a balanced way and including other kinds or food in balanced diet is essential. Over eating of meat regularly may cause harm to a human body.
Recipe card to make mutton dum biryani:
Recipe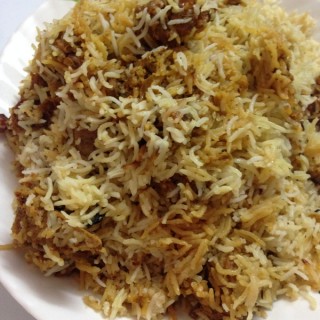 Mutton Dum Biryani Recipe Hyderabadi Style
Mutton Dum Biryani is a special rice delicacy made with mutton and rice...
Ingredients
For The Marination:
750

gms

mutton cleaned and washed well

salt - to taste

1

teaspoon

red chilli powder

½

teaspoon

turmeric powder

2

teaspoon

ginger garlic paste

2-3

cloves

(loung)

1

large cinnamon stick

(dalchini)

¼

teaspoon

shahi zeera

(caraway seeds)

¼

teaspoon

black pepper powder

½

teaspoon

garam masala powder

¼

tsp

cardamom powder

½

teaspoon

raw papaya paste

3

tablespoon

freshly chopped coriander leaves

(hara dhaniya)

7-8

mint leaves

(pudina)

4-5

teaspoon

green chilli paste

(paste made by adding 4 green chillies, a pinch of salt and little water)

2

large onions, thinly sliced and deep fried

2

cups

yogurt

(6 tablespoon of yogurt)

2

tablespoon

oil

1

tablespoon

lemon extracted juice
For The Rice:
6

cups

basmati rice

(750 gms )

water for boiling rice

salt - to taste

½

teaspoon

shahi zeera/ caraway seeds

2

cardamoms/ elaichi

2

cloves

1

medium size cinnamon stick

(dalchini)

1

teaspoon

oil

1

teaspoon

lemon extract
Other ingredients (Seasoning the Dum):
a pinch of yellow and orange food color

(mixed with some milk)

2

tablespoon

deep fried onions for garnishing

1

tablespoon

chopped coriander leaves for garnishing

2

tablespoon

saffron flavored water

(4-5 strands of saffron soaked in little water)

1

tablespoon

lemon extracted juice

1

tablespoon

fried onion oil

1

tablespoon

desi ghee
Instructions
Mutton marination :
Wash the mutton pieces and strain them well to remove water completely from the pieces.

Take a mixing bowl, add mutton pieces, salt, red chili powder, turmeric powder, ginger garlic paste.

Into the marinade add cloves, cinnamon stick, shahi zeera.

Add black pepper powder, garam masala powder, cardamom powder.

Add coriander leaves, mint leaves.

Add green chilli paste into the marination.

Add crushed deep fried onions into it.

Add thick yogurt into the marinade.

Mix the whole mixture well with hands so that the mutton absorbs the masala well.

Check for salt and add if required.

Cover and rest this marinade in refrigerator for about 30 minutes.
For The Rice:
Wash basmati rice and soak the rice in water for about 40 minutes.

In a cooking pot, add generous amount of water to boil the rice.

Add salt into it.

Add whole spices such as caraway seeds, cardamoms, cloves, cinnamon stick.

Add oil into the water and add lemon extract as well.

Bring the water a boil.

Add the soaked basmati rice into the boiling water.

Cook the rice until it is 60-70% done.

Strain the rice completely and place it aside.
For The Dum Procedure:
Take a cooking pot with a heavy flat bottom.

Coat the base of the pot with little oil.

Add the mutton marinade into it and spread it evenly.

Add the rice over the marinade and spread it evenly.

Over the rice season it with food color mixed with milk, add some fried onions.

Add Saffron soaked water.

Season with coriander/cilantro leaves.

Add lemon juice all over.

Smear oil all over.

Top it with some desi ghee.

Cover the lid and seal it tightly with aluminium foil.

Switch on the flame.

Place a skillet/tawa on the flame.

Place the cooking pot on the tawa.

Dum the biryani for about 10 minutes on high flame.

Reduce the flame to sim and dum the biryani for about 40 to 45 minutes on low heat.

Switch off the flame.

Dig the biryani from one side of the corner.

The biryani should be taken out with a spatula from the bottom to the top.

Serve the mutton dum biryani with raita!!!
Notes
Adding raw papaya paste works as a meat tenderizer and is usually added to mutton dum biryani.
If raw papaya paste is not available then meat tenderizers are easily available in super markets.
 If the tenderizer is not added to mutton then the mutton does not become soft while giving dum or another trick is to marinate the mutton for at least 4 hours if papaya paste is not used.
Spices such as nutmeg powder too can be added to the marinade to modify the flavors.
While boiling rice additional spices such as black pepper corns can be added.
Placing a tawa below the dum pot prevents the biryani from burning at the bottom.
Adding oil in every step does not make the biryani dry.
Desi ghee gives the fragrance to the biryani but is totatly optional.
Spices added can be increased or reduced according to one's taste.
Nutrition
Nutrition Facts
Mutton Dum Biryani Recipe Hyderabadi Style
Amount Per Serving
Calories 1197
Calories from Fat 153
% Daily Value*
Fat 17g26%
Cholesterol 16mg5%
Sodium 72mg3%
Potassium 540mg15%
Carbohydrates 229g76%
Protein 24g48%
Vitamin A 196IU4%
Vitamin C 1mg1%
Calcium 236mg24%
Iron 3mg17%
* Percent Daily Values are based on a 2000 calorie diet.