Hyderabadi veg dum biryani recipe is another authentic veg biryani recipe totally in dum style from Hyderabadi cuisine cooking in our traditional dum method. Vegetable biryani can be made in various versions and here I have made with an almost Hyderabadi way of making
The hyderabadi vegetable biryani goes perfectly along with mirchi ka salan hyderabadi style, hyderabadi bagara baingan
             This hyderabadi veg biryani or hyderabadi vegetable biryani recipe is a slowly cooking method where the preferred vegetables are stir fried and mixed with all the spices to make a sabzi masala, mixed with half cooked rice and placed on dum and this biryani is usually referred as tarkari ki biryani or sabzi biryani.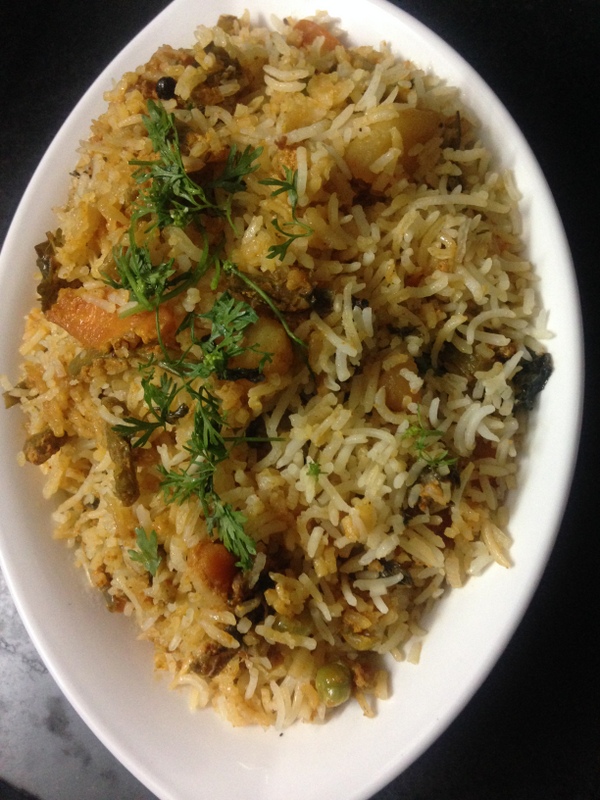 The vegetables to be used in hyderabadi biryani recipe are aloo (potatoes), carrots(gajar), peas(matar) mainly and apart from that other preferred veggies are cauliflower(phool gobi), and indian broad beans(seim ki phalli). All these vegetables have to be stir fried well in oil until the raw smell disappears.
Vegetable biryani can be made in various versions and here I have made with an almost hyderabadi way of making, that is adding the veg masala mixture at the bottom and adding the cooked rice at the top with seasoning and placing for dum.
The  biryani recipes can also be made by layering the rice along with cooked veggies too but here made without cooking the vegetable mixture.
I have made a similar kind of recipe by layering the biryani using mutton on the blog and that particular mutton biryani is made the similar way as this one.
 This veg biryani goes well with onion raita or hyderabadi mirchi ka salan or hyderabadi bagara baingan masala. These are the perfect side dishes for hyderabadi biryani recipes.
Hyderabadi biryani recipes are the tastiest and easiest in preparation. Once we understand the technique then every kind of biryani can be made with ease and I hope my biryani recipes are clearly understood and liked by my viewers.
                           This veg rice biryani recipe too follows a method where beaten yogurt and crushed onions are added into the veg masala and hyderabadi biryani recipes are incomplete without these two ingredients.
There are however 4 to 5 ways in which we can make biryani using vegetables so stayed tuned as I bring in many more ways to make these kind of recipes such as veg biryani in cooker which is a quick to do one pot pressure cooking method to make the biryani mixed with veggies.
                          Do follow the instructions in making Hyderabadi vegetable  biryani recipe step by step...
Hyderabadi Veg Dum Biryani Recipe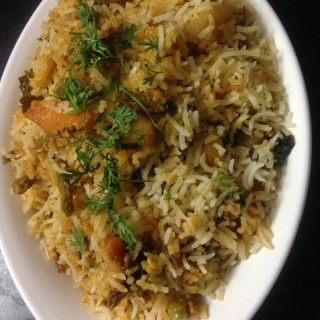 Hyderabadi Veg Dum Biryani Recipe
Dum style Hyderabadi veg biryani recipe made with rice and veg masala...
Ingredients  
For the veg biryani masala mixture:
250

gms beans cut onto long pieces

250

gms sliced carrots

250

gms diced potatoes

2-3

tbsp

matar

2

tbsp

green chilli paste

paste made by adding a pinch of salt

salt - to taste

1

tsp

red chilli powder

½

tsp

turmeric powder

2

tbsp

ginger garlic paste

1

bay leaf

5-6

black pepper corns

3-5

cloves

2-3

small cinnamon sticks

3-4

cardamoms

3-4

kabab chini/chinese cubeb

optional

1

bunch fresh coriander leaves

1

bunch fresh mint leaves

1

cup

deep fried crushed onions

2

cups

beaten yogurt

1

tsp

garam masala powder

1

tbsp

lemon extracted juice

2

tbsp

oil
For the rice
1

kg

basmati rice

6 - 7 cups of rice

water for boiling

1

small cinnamon stick

2

cardamoms

2

tsp

caraway seeds

shahi zeera

2-3

cloves

1

tbsp

coriander leaves

1

tbsp

mint leaves

salt to taste

1

tbsp

oil

1

tbsp

lemon juice
For seasoning the dum biryani:
1

tbsp

chopped coriander leaves

1

tbsp

mint leaves

2

tbsp

deep fried crushed onions

¼

th cup saffron flavored milk

saffron strands mixed with ¼th milk

2

tbsp

lemon extracted juice

3

tbsp

oil

1

tbsp

ghee

1

cup

water
Instructions 
Firstly chop all the veggies that one would like to add into the biryani.

Soak the basmati rice in water for about 30-35 minutes and start preparing the veg mixture.
For the veg biryani masala mixture:
Firstly, in a flat bottom vessel, add some oil and heat it.

Into it, add beans and saute till they are stir fried well and color is changed and transfer them onto a plate.

Into the same vessel, add sliced carrots and saute well in oil for few minutes to get rid of the raw smell and take the carrots out on a plate.

Into the same vessel, add the diced potatoes and stir fry well in oil and take them out on a plate.

Into the same vessel, add peas(matar), stir fry for few minutes and take it out.

Into the same vessel, add all the stir fried veggies, add green chilli paste, add salt as per taste, add red chilli powder, add turmeric powder, add ginger garlic paste.

Add whole spices such as bay leaf, cloves, cardamoms, cinnamon sticks, black pepper corns and kabab chini into it.

Add deep fried crushed onions into it.

Add beaten yogurt into it.

Add coriander and mint leaves into it.

Mix the whole mixture well.

Add garam masala powder into it and mix.

Add lemon juice and oil if required into the mixture(optional) and mix.
For the rice:
When the veg mixture is getting ready and rice is soaking, take a cooking vessel, add water generously into it, add salt into it, add whole spices such as cinnamon, cardamoms, caraway seeds, cloves.

Also add coriander leaves and mint leaves into the water if required.

Bring the water to a boil and add saoked basmati rice into it.

Cook the rice until it is ¾th done and strain the rice completely.
Steps to give dum and season the biryani:
Take a cooking vessel, coat the base with oil.

Add the whole veg masala mixture into the vessel.

Add some coriander and mint leaves into it.

Add the whole rice that has been cooked over the veg mixture.

Season the biryani to be cooked with coriander and mint leaves, deep fried onions, saffron flavored milk, lemon extracted juice, desi ghee, add little water all over, add some oil all over the rice.

Cover the lid of the vessel.

Switch on the flame.

Place a tawa on the flame.

Place the cooking vessel on the tawa.

Seal the lid and vessel with chapati dough or place a weight over the lid.

Dum the biryani on high flame for about 15 minutes and on low flame for about 15 minutes.

Vegetable Biryani is ready to be served with raita or any side dish!!!
Notes
1.Add other preferred vegetables of one's choice such as phool gobi/cauliflower, soya chunks, paneer etc...
2.Adding oil in certain steps is very important and not doimg so makes the biryani very dry.
3.Soaking the basmati rice helps the grains to become longer in length while cooking.
4.Preparing the veg mixture without stir frying the vegetables gives a raw taste and it definitely does not give out a good taste to the biryani . If one is looking for a good taste then do stir fry the vegetables in oil.
Nutrition
Nutrition Facts
Hyderabadi Veg Dum Biryani Recipe
Amount Per Serving
Calories 550
* Percent Daily Values are based on a 2000 calorie diet.
WANT TO WATCH VIDEO RECIPES?
SUBSCRIBE US ON YOUTUBE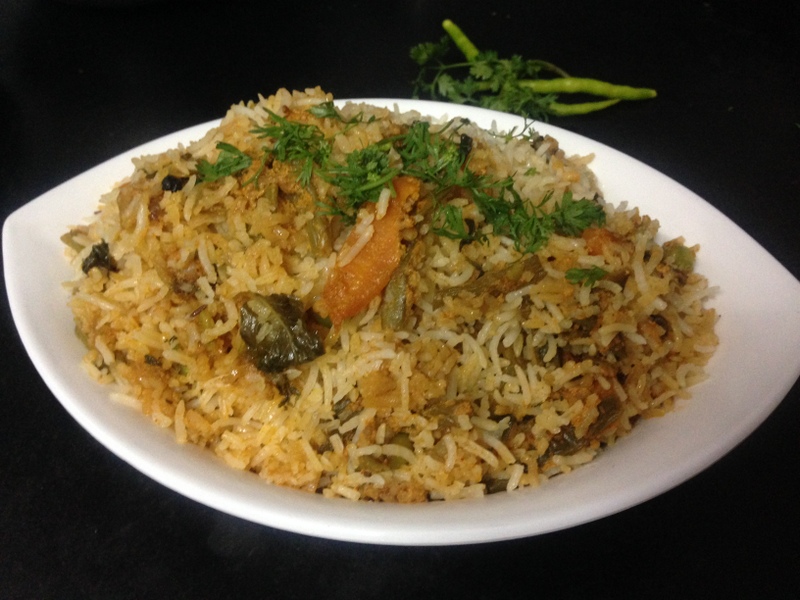 Watch the video procedure to make Hyderabadi veg biryani recipe dum style: