Gutti vankaya curry is a masala curry made using brinjals or vankaya in peanut, sesame masala.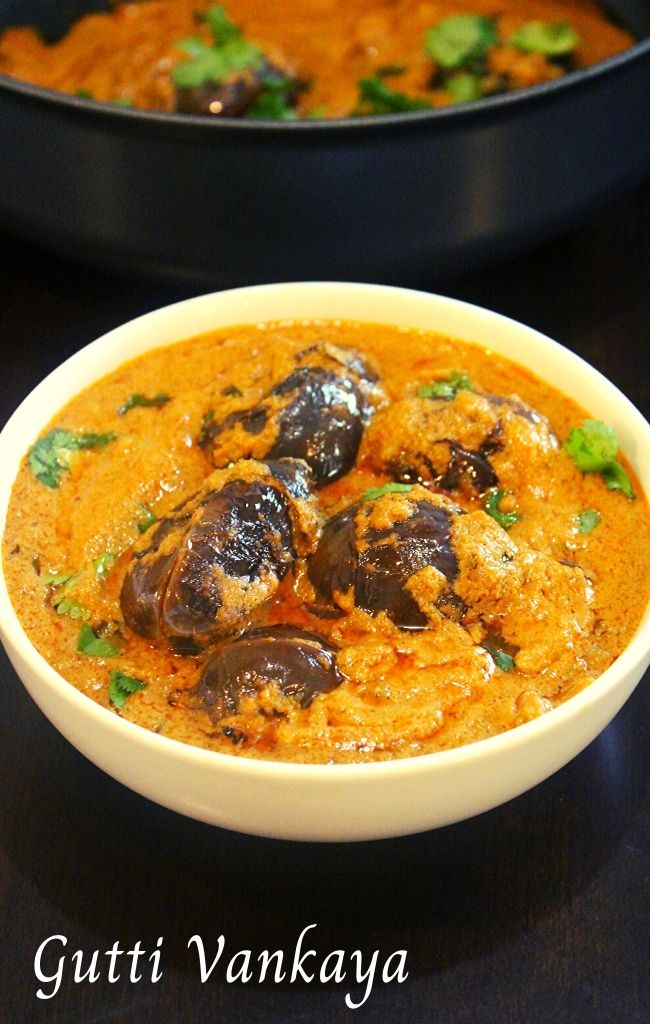 What is Gutti Vankaya koora?
It is an andhra style of making brinjal recipe by stuffing peanut, sesame and coconut masala inside brinjal and cooking them.
Here, I have made a curry form of vankaya but it can be made by frying them as well which would be updated in other versions of this recipe.
The curry here has a gravy texture as well as gives a very balanced tangy touch to it which is perfect to be eaten with several recipes such as rice or roti.
Different ways of making the vankaya curry:
I have used brinjal in making other kind of simple recipes too on the blog such as baingan masala, brinjal curry, vankaya pachadi, bagara baingan, baigan ki sabji .
It can be used to make plenty of recipes and we all are aware that it is the king of vegetables and it has got best taste by cooking them in masala gravies.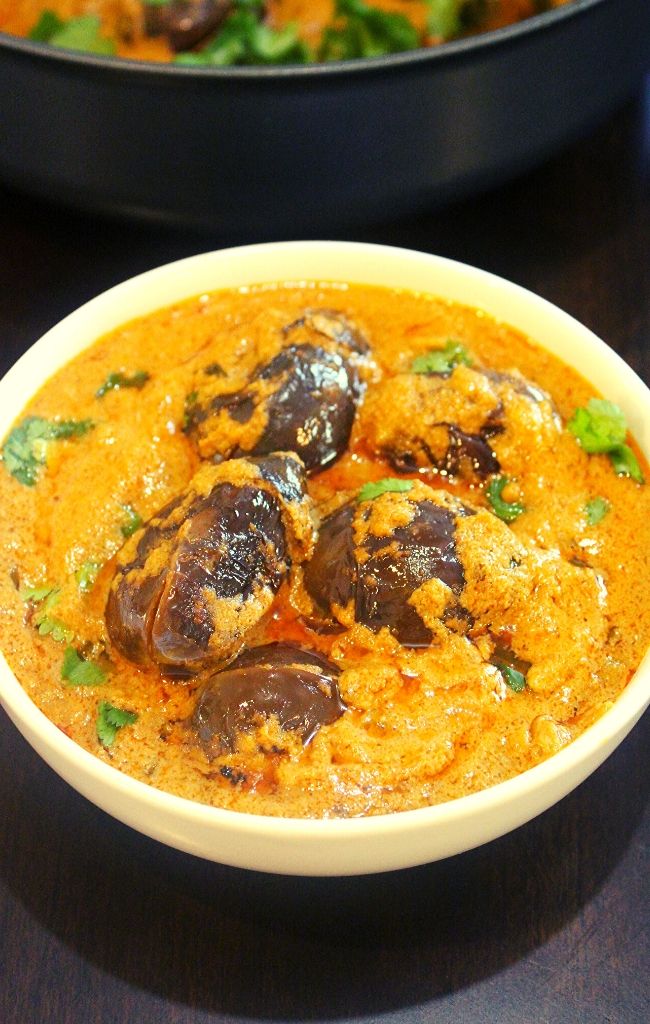 What are the different kinds of brinjals available?
They are available in different colors and size. They are small, large in size and have got colors in green, violet etc…
Any kind of brinjal is edible and the taste too is almost similar irrespective of the color and size.
They can always be used to make curry recipes or fry recipes or sometimes used in sambar recipes as well.
There are several rice recipes too that can be made using this veggie.
How to make the special gutti vankaya?
The gutti vankaya is nothing but vankaya or brinjal or aubergine or baigan is stuffed with a masala gravy and cooked well.
The masala that is used is peanuts, coconut, sesame, coriander and cumin which are all finely roasted and made into a fine thick paste.
This paste is then stuffed inside the vankaya, which is slit into four halves and then filled with the stuffing.
To make this curry tempering is given first and tempering is called as 'popu' in telugu and then these brinjals are stir fried for few minutes and then cooked with the masala.
To make this recipe one can also use green color brinjals and it is better to use medium size vankaya rather than using large one's which do not taste good.
What other masala recipes can be made?
There are several recipes on the blog that have gravy masala in it and some of the veg recipes are paneer butter masala recipe, matar paneer masala recipe, paneer tikka masala recipe , mirchi ka salan, aloo baigan etc…
Other non veg masala recipes from the blog are egg masala, chicken masala recipe and butter chicken masala that should definitely be checked out…
How important are choosing brinjals?
The quality of brinjals can spoil the dish completely and the reason for this could be what kind of vankaya is used.
If fresh brinjals are used then this stuffed brinjal curry turns out the best. If brinjals are not fresh and using them after a long time after plucking them fresh could spoil the dish.
The flesh inside the brinjals turn sour and could change the taste of the gravy. It is always better to use brinjals when fresh to make any brinjal recipe.
Tips to use the vankaya or brinjal:
Firstly, when we use eggplant/ brinjal, it should be plucked fresh or bought fresh from the stores.
It should be used within few days after buying as using it after a long time may change the taste of the curry completely.
The brinjals or vankaya should always be put in a bowl of salt water once they are cut or slit.
They should not be kept exposed to air as they turn black very quickly.
It is necessary that they are put in salt water after cutting until they are used for cooking.
Always use medium size eggplants and any color can be preferred.
Do not go for large size brinjals as they may take long time to tender.
Below is the recipe of making gutti vankaya curry or stuffed brinjal curry which is best with any flavored rice recipe such as biryani recipe or any pulao recipe such as vegetable pulao or egg pulao etc…
Step by step method to make gutti vankaya curry: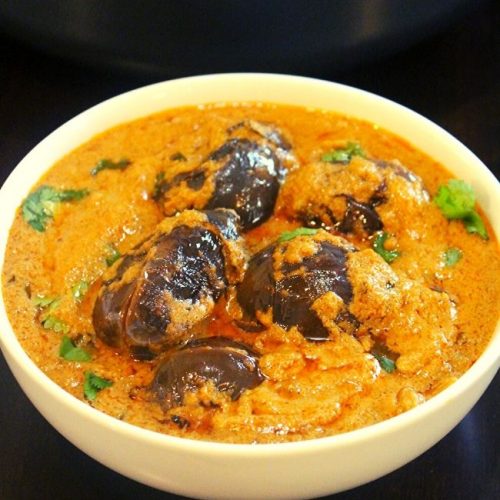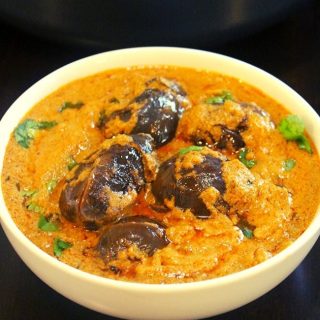 gutti vankaya curry or koora, stuffed brinjal recipe
A stuffed brinjal curry made by filling masala gravy into the slit eggplants/ vankaya.
Print
Pin
Rate
Ingredients
To make masala paste:
4

tbsp

peanut/ groundnut

2

tsp

sesame seeds/ til

(nuvvulu on telugu)

3-4

slices of coconut

2

tbsp

coriander seeds

(dhanya)

2

tbsp

cumin seeds

(jeera)

salt

to taste

1

tbsp

red chilli powder

1/4

tsp

turmeric powder

(haldi)

1/2

cup

water
Other ingredients:
4

tbsp

edible oil

1

cinnamon stick

(dalchini)

3

cloves

(loung)

10-12

curry leaves

(karyapak)

2

medium size onions, finely sliced

1

tsp

ginger garlic paste

8-10

brinjals

1

lemon size tamarind extracted pulp

(1.5 cup of taramrind extract)

salt

as per taste
Instructions
Step 1 (To make the masala):
Take a pan, roast peanuts for few minutes and let them cool.

Remove the skin of groundnuts/ peanuts.

Roast sesame seeds for few seconds and remove them.

Roast dry coconut slices for few minutes, then add coriander seeds and cumin seeds and roast them as well.

Allow all the roasted ingredients to cool down well.

Add all the ingredients into a blending jar, add salt as per taste, red chilli powder, turmeric powder and powder them.

Add water and blend them into a fine thick paste.
Step 2 (Slit brinjals and stuff the blended masala paste):
Take 8-10 brinjals/ vankaya and slit each of them into 4 halves from the top without removing the stalk.

Put them into a bowl of salt water as soon as they are slit.

Take some of the masala paste with fingers and take each brinjal and stuff inside with the masala paste.

Do it for all the brinjals and keep them aside.

The remaining masala paste should be used in the curry later.
Step 3 (Making the gutti vankaya koora):
Take a cooking pot or deep pan, into it add oil and heat it.

Add cloves, cinnamon stick into it.

Add curry leaves into it and let them crackle.

Add the sliced onions, saute until they become translucent.

Add ginger garlic paste and saute for few minutes.

Add the stuffed brinjals, stir well.

Stir fry and cook them for 8-10 minutes until the color of the brinjal changes.

Keep stirring in between.

Add the remaining blended masala paste and give a mix.

Cook the masala until oil leaves the sides.

Add the tamarind extract and stir well.

Check for salt and add more if required.

Cook the curry or gravy until the brinjals get tender and soft.

It takes about 25-30 minutes for it to achieve the perfect shine and texture in the gravy.

Cook the curry on low heat and cooking on high heat burns the masala.

Once the brinjals turn tender as well as the masala is cooked well, switch off the flame.

The curry is done and serve hot in a bowl.

Garnish with chopped coriander leaves.

Serve hot with pulao rice or roti.
Notes
I have separately roasted coriander seeds and cumin seeds but if those ingredients are not handy they can be replaced with coriander powder and cumin powder while blending the paste.
Always check for salt and spice flavors after adding the tamarind extract and adjust the spices accordingly.
Nutrition
Calories:
172
kcal
|
Carbohydrates:
28
g
|
Protein:
5
g
|
Fat:
7
g
|
Saturated Fat:
1
g
|
Cholesterol:
1
mg
|
Sodium:
98
mg
|
Potassium:
341
mg
|
Fiber:
8
g
|
Sugar:
8
g
|
Vitamin A:
530
IU
|
Vitamin C:
203
mg
|
Calcium:
287
mg
|
Iron:
10
mg
Want To Watch Video Recipes?
SUBSCRIBE US ON YOUTUBE!