Chicken shami kabab recipe, a simple and instant kabab or cutlet style of making chicken as a starter recipe. This particular method of making is similar to shami kabab with mutton but here in this post these are exclusively made using chicken in a similar style but with a slight difference.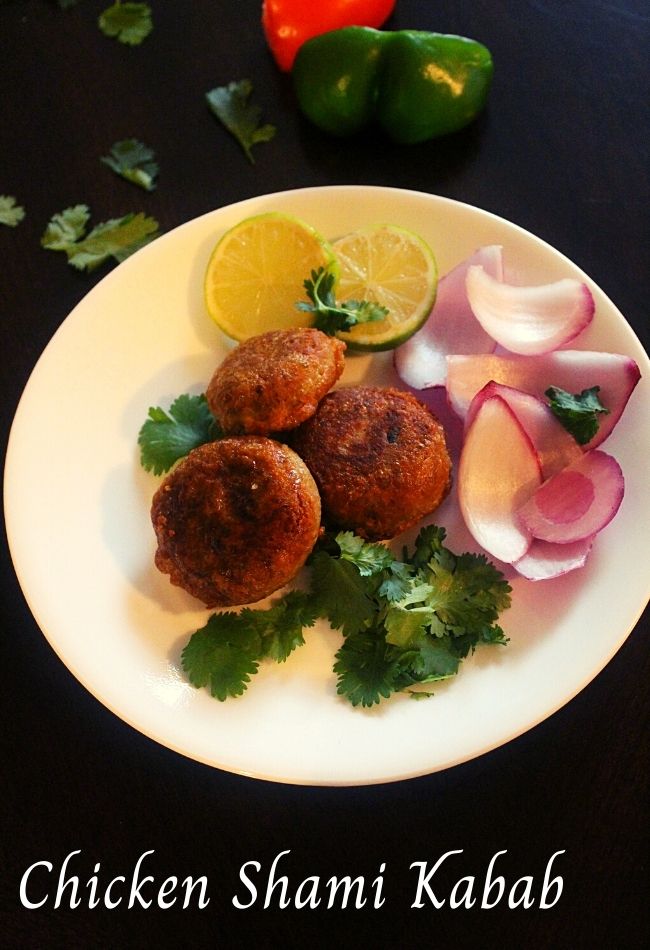 I have already shared many chicken starters such as chicken malai tikka, chicken seekh kabab, chicken cutlet which can be eaten as a snack or as a starter recipe.
Procedure to make chicken shami kebab:
The chicken that is used has to be boneless.
Do not use chicken with bones to make chicken shami.
The chicken has to be pressure cooked with dry spices, garam masala and herbs.
The chicken needs to be cooked with a spoonful of chana dal/ bengal gram to make help in binding.
Once the chicken is cooked well, it is then allowed to cool down and then blending into a paste of the cooked chicken.
The chicken paste is then mixed with egg white in order to help the process of binding well.
The paste is then taken in small portions and made as small round tikki shape to shallow fry them in oil.
The tikki should be shallow fried well in oil for some time on both sides.
The shami chicken is ready once shallow fried.
Two ways to make the chicken shami kebabs:
One way is to directly mix the egg with the chicken paste and making tikkis and shallow fry the kebabs or cutlets in oil.
Other way is to first making the round tikki then coating the round tikki with the beaten egg mixture and then placing the coated tikki in oil and shallow frying.
Both these ways help in better outcome and help in binding properly and do not let the chicken kebab break open in oil.
These kababs are highly popular is some countries but compared to chicken the taste of the mutton shami kabab is more flavorful.
These chicken tikkis can be used as a simple snack or can be placed as a chicken tikki between the buns of a burger.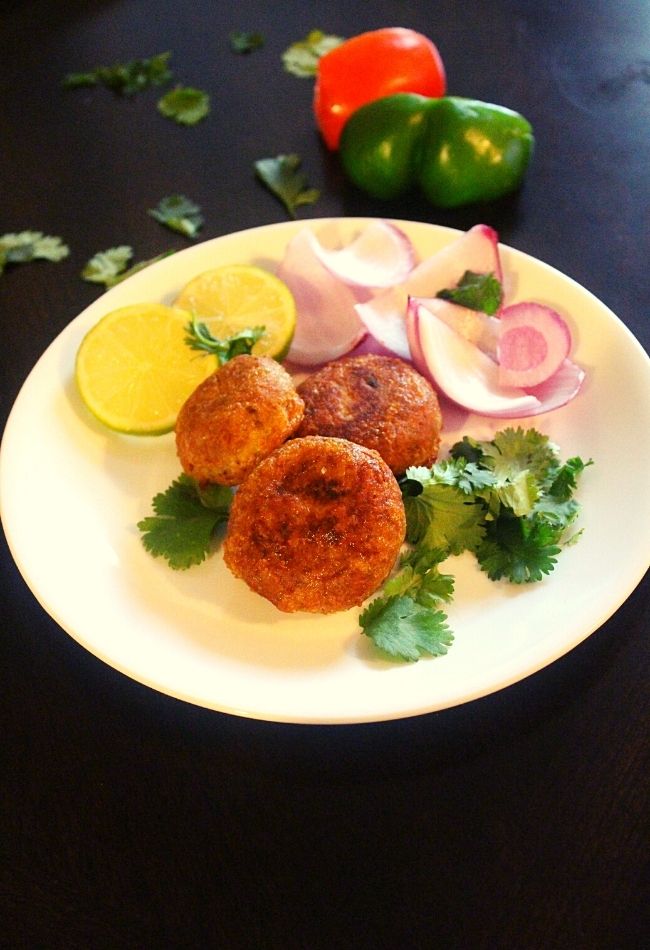 The cooking time for chicken is slightly lesser than mutton as chicken takes less time to cook.
Ingredients required to make chicken shami kabab:
Chicken: It is the first and most important ingredient to make the kabab and it has to be boneless to make perfect tikkis.
Chana dal/ bengal gram: The dal is used to give taste to the cutlets as well as help in giving proper shape to the kababs without breaking.
Dry spices: Common spices such as salt, red chili powder, turmeric powder, garam masala powder, black pepper powder, ginger garlic paste are used while cooking the chicken.
Herbs: Coriander leaves and mint leaves are used to add for unique flavors and they give out pleasant aroma as well as adding of green chilies is also essential to make the kababs more interesting.
Egg: After making the paste, beaten egg or only egg white can be added to let the shami not break while shallow frying.
If egg is not added then due to the dryness in the paste of boneless chicken, the kababs tend to open up completely while shallow frying them. Therefore, add a little bit of egg mix or white part of the egg to help the kebab bind well without breakage.
Oil: It is required to shallow fry the chicken shami kabab.
It can be used in rolls or can be served with any dip or sauce and eaten plain.
This recipe is a good choice to make as an iftar recipe during the month of Ramadan but care should be taken while making the chicken shami kababs as it is difficult to make because the paste made is too dry and they can break open completely while frying if not blended well with egg while making the shami paste.
Below are the recipe details to make the chicken shami kabab:
How to make chicken shami kabab recipe:
Recipe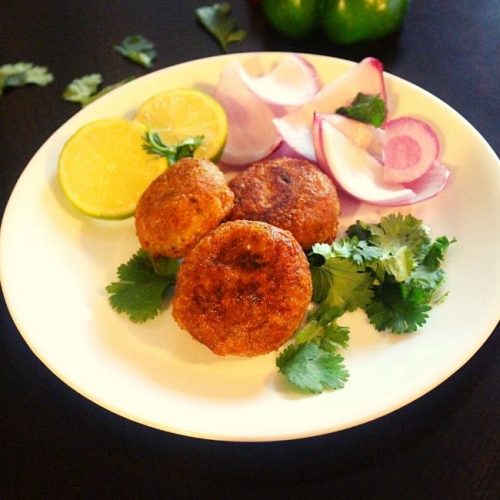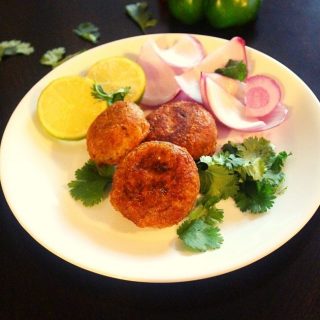 chicken shami kabab recipe
A chicken tikki shallow fried in oil using boneless chicken.
Ingredients
To tenderize the chicken:
500

gms

boneless chicken

2

tbsp

chana dal/ bengal gram

salt to taste

¾

teaspoon

red chili powder

¼

teaspoon

turmeric powder/haldi

¾

teaspoon

ginger garlic paste

½

teaspoon

garam masala powder

¼

teaspoon

black pepper powder

(kali mirch powder)

3

medium size green chilies

1

tbsp

coriander leaves

3

mint leaves

1

teaspoon

oil

¼

cup

water
Other ingredients:
2

tablespoon

egg white

oil to shallow fry
Instructions
To cook the chicken:
In a pressure cooker, add boneless chicken pieces.

Add the chana dal or bengal gram into the chicken.

Add dry spices such as salt, red chili powder, turmeric powder, ginger garlic paste.

Add garam masala powder and kali mirch powder to the chicken.

Add coriander leaves and mint leaves to it.

Add green chilies to the chicken as well.

Add a teaspoon of oil into the chicken.

Mix all the ingredients well.

Add very little water, mix and pressure cook for 5-6 whistles.

If there is water remaining, cook until all the water gets absorbed.

If no water remains then allow the chicken to cool down.
Blending the chicken:
Grind the chicken and make a paste of the chicken.

Transfer the paste into a bowl.

Add two teaspoon to three of egg white or beaten egg (with yellow and white) to the paste and mix well.

Allow the chicken paste to rest in refrigerator for at least an hour before frying as it helps to bind the tikkis well.

Take a small portion of the chicken paste.

Make biscuit shape like round tikkis.

Make tikkis similarly of rest of the paste.

Heat a pan by adding oil for shallow frying.

Drop the round kababs carefully into the oil.

Flip only after one side is shallow fried well.

Shallow fry each side until they are nicely done on low to medium flame.

Take them out and place them on an absorbent paper.

Serve hot with sauce or chutney dip.
Notes
Adding egg white or mix of yellow and white part of egg is extremely important as the chicken paste is dry and adding egg to the paste and mixing helps in binding the paste well and results in better outcome without breaking the kababs.
Nutrition
Nutrition Facts
chicken shami kabab recipe
Amount Per Serving
Calories 450
Calories from Fat 54
% Daily Value*
Fat 6g9%
Cholesterol 107mg36%
Sodium 222mg10%
Potassium 646mg18%
Carbohydrates 1g0%
Protein 37g74%
Vitamin A 293IU6%
Vitamin C 2mg2%
Calcium 8mg1%
Iron 1mg6%
* Percent Daily Values are based on a 2000 calorie diet.