Matar pulao is a peas flavored special rice recipe made aromatic by cooking rice in whole spices and peas.
This is a simple North Indian style or Punjabi style of making vegetable rice recipe where the main ingredient is green peas and basmati rice.
Usually in India, rice is flavored with may veggies such as carrots, aloo, matar, beans and many more.
Today I would be sharing this easy and quick matar pulao which can be quickly made and served with raita or can be packed as lunch box recipe.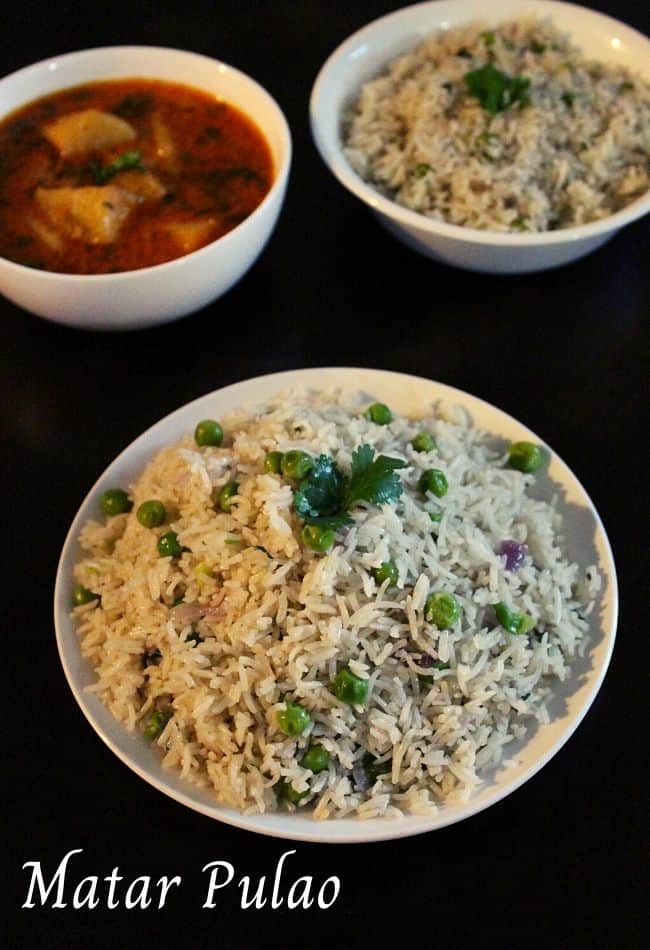 I have shared some of the pulao recipes on the blog using vegetables as well as non vegetarian ingredients such as paneer pulao, vegetable pulao , chicken pulao etc..
About peas pulao:
It is a basmati rice and peas mixed pulao given some aromatic spice flavoring.
The recipe is first tempered with oil, spices, onions and peas. Water is added and boiled and then in the end rice is added and cooked until the rice is perfectly done.
The rice here is slow cooked but can also be pressure cooked to make it even more quickly.
I will be sharing the details below on how to slow cook as well as pressure cook the rice.
Ingredients used to make this popular pulao recipe:
Oil: Here, I am using ordinary oil but for healthy options one can choose to add either olive oil or any healthy oil. We can use vegetable oil, sunflower oil or any edible oil to give the tempering.
Whole spices: We use in this recipe cinnamon/ dalchini, cloves/ loung, cardamoms/ elaichi. I have also used shahi zeera that is caraway seeds.
If shahi zeera is not available then just adding cumin seeds is enough. I have used both the seeds but adding one is enough such as only cumin is enough if shahi zeera is not handy.
Cumin is small and thick in size and light in color whereas shahi zeera is thinner in appearance and darker in color. Adding bay leaf too gives a perfect pulao fragrance to the rice.
Onions and chilies : Onions always add flavor to the rice and adding them makes the rice special and delicious. I have used green chillies to add some spice touch and the flavor goes pale without chillies in it.
Matar/ Green Peas: I am using frozen peas since it is already slightly cooked and I am using slow cook method to make the rice. We can also use normal peas and boil it for few minutes separately to use it in the rice.
We can even boil the matar or peas in spiced water until the matar is cooked and then add the rice without separately boiling the peas.
If pressure cooking the rice then fresh peas can be added directly without boiling as peas will cook when pressure cooked.
Basmati rice: I have used basmati but normal rice too can be used but soaking the rice is essential to make the rice long and also to speed up the cooking process.
It is recommended to use basmati rice to make it during special occasions and use ordinary rice for daily cooking as both kind of rice gives a good taste.
How to pressure cook the matar pulao with step by step details:
Here, I will be sharing the method to pressure cook but in the recipe card I will be showing how to slow cook the pulao and also share a video and step by step procedure to make in slow cook method.
Pressure cooking technique:
Soak basmati rice for at least 30 minutes and keep it aside.
Take a pressure cooker, add oil and heat.
Add whole spices such as loung, elaichi, dalchini, cumin, bay leaf as well as other whole spices as per one's choice of flavor.
Add sliced onions, saute or cook them until they turn slight pink in color.
Add green chilies by giving an incision or slit to the chilies.
Add ginger garlic paste and saute the masala for a minute.
Add matar/peas to the cooker, saute and stir fry for a minute(Add fresh matar as it will be cooked during pressure cooking the rice).
Add water as per the ratio of rice.
add 4 cups of water (for 2 cups of rice used).
Add salt as per taste and chopped coriander leaves.
Give a stir and do not boil the water.
Add soaked basmati rice, stir and pressure cook on high flame for 1 whistle.
Turn off the heat and natural release the pressure.
Open the lid after 5 minutes.
Serve hot.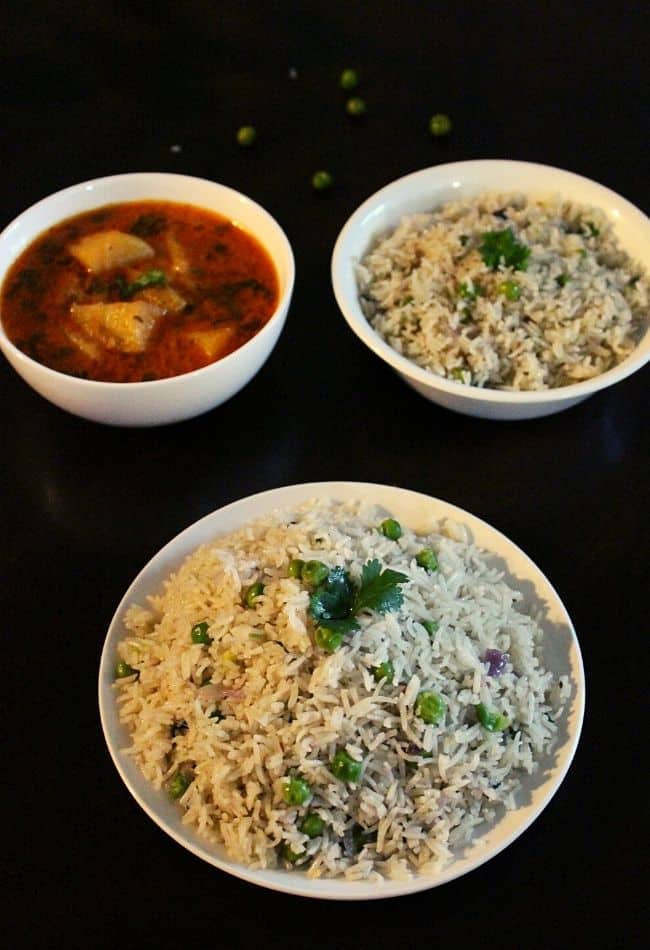 FAQ'S for the recipe:
Can I use frozen peas and where do I get it?
Yes, during slow cooking the pulao, using frozen peas or boiled peas can be added so that the peas do not remain hard while munching them with rice.
It is easily available in stores or super markets.
Can I add other ingredients to the pulao?
Yes, other ingredients such as mint leaves and veggies such as tomatoes, aloo and make it as aloo matar pulao or we can add other veggies too apart from this to make the matar chawal such as paneer, beans etc…
When adding veggies, we can make it more colorful by adding chili powder, turmeric powder as well as garam masala powder and curd as well to make it even more special and delicious. Just cooking the rice in this masala mix gives amazing flavor to the matar rice recipe.
How to store green peas?
The matar can be washed well and stored in a zip lock bag and kept in deep freezer for upto 3 months and can be used for cooking purposes whenever required.
If stored in refrigerator they just remain fresh for few days and spoil after few days by turning extremely yellow. Since it is commonly used and highly used in many recipes storing it in freezer is better to have it handy when required.
Can we use fresh peas extracted from the vegetable?
Yes, using and obtaining fresh peas is highly suggested as they are fresh and not processed with any artificial green colors. They are seasonal and can be stored in freezer when available and used when in need of the ingredient.
Recipe card to make matar pulao or peas pulao below: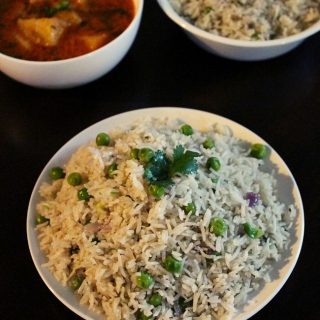 matar pulao recipe, green peas pulao
A simple rice recipe made by cooking rice and matar together.
Ingredients
2

tbsp

oil

(any edible oil)

1

small cinnamon stick

(dalchini)

2

cloves

(loung)

2

cardamoms

(elaichi)

1

bay leaf

(tej patta)

1/4

tsp

shahi zeera

(caraway seeds)

1/4

tsp

cumin seeds

(jeera)

1

medium size onion, finely sliced

5

slit green chillies

1/2

tsp

ginger garlic paste

3/4

cup

green peas/ matar

(can use frozen peas as well)

4

cups

water

salt to taste

2

tbsp

chopped coriander leaves

(hara dhaniya)

2

cups

basmati rice

(soaked for 30 minutes in water)
Instructions
Add oil and heat it well.

Add cinnamon stick, cloves, cardamoms, bay leaf.

Add shahi zeera (optional), cumin seeds.

Add sliced onions and saute until they turn soft and translucent.

Saute the onions until they turn slight golden in color.

Add ginger garlic paste and saute well to get rid of raw smell.

Add frozen peas/matar or use fresh green matar.

Saute the masala for a minute or two.

Add water into the tempering.

Add chopped cilantro/coriander leaves, stir well.

Bring the water to a boil.

Boil until the peas turns soft for fresh peas.

Add soaked basmati rice into the water, give a stir.

Cook the rice until all the water gets absorbed.

Stir to make the grains fluffy.

Cover and cook on low heat until the rice is completely done.

It takes about 5 minutes for the grains to cook well at this stage.

Give a mix to make the rice fluffy and serve hot.
Notes
Other veggies such as peeled and chopped potatoes, carrots, paneer etc… can be added and cooked along with the rice.
If the veggies are too hard then add them in water, boil the water until the veggies turn soft and then add the rice.
For pressure cooking I have shared the procedure inside this post with step by step details.
Other whole spices such as star anise too can be added but I prefer to keep basic whole spices as they actually give the best taste.
Nutrition
Nutrition Facts
matar pulao recipe, green peas pulao
Amount Per Serving
Calories 808
Calories from Fat 135
% Daily Value*
Fat 15g23%
Sodium 35mg2%
Potassium 242mg7%
Carbohydrates 150g50%
Protein 13g26%
Vitamin A 7IU0%
Vitamin C 1mg1%
Calcium 78mg8%
Iron 2mg11%
* Percent Daily Values are based on a 2000 calorie diet.
WANT TO WATCH VIDEO RECIPES?
SUBSCRIBE US ON YOUTUBE