Chicken samosa recipe is a snack recipe made by stuffing chicken filling in a cone shaped samosa. This recipe is made by showing a simple way of making the samosa recipe…
If you are looking forward to make the samosa using spring rolls wrapper then do out my spring roll wrappers recipe , chicken spring rolls recipe, onion samosa …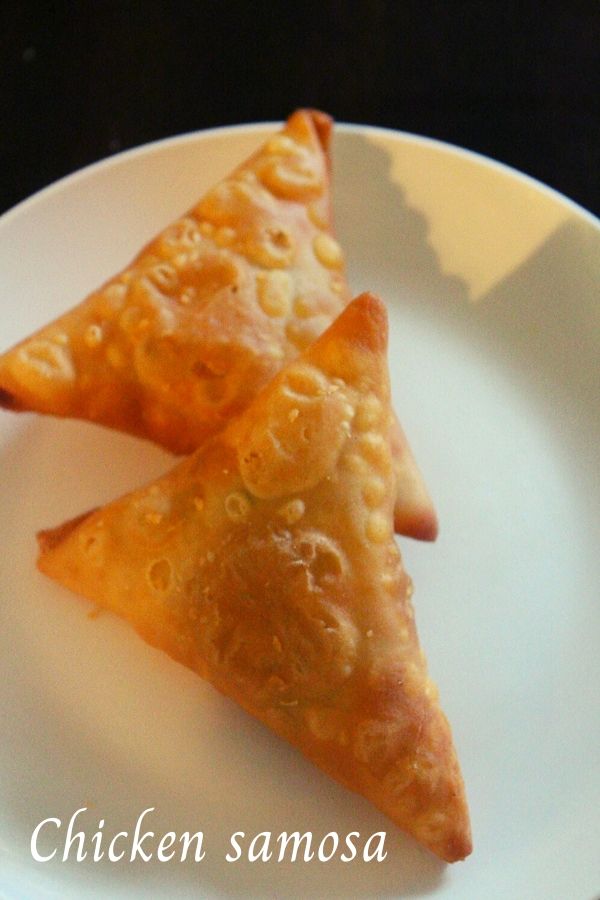 What is a samosa?
Samosa in an Indian terminology and any stuffing made and stuffed inside a pastry or a sheet can be called as a samosa which are basically deep fried.
Samosa is usually a stuffed cone shaped deep fried snack and it consists mainly of various fillings such as onion and I have already posted a recipe on onion samosa, then we have punjabi samosa, which is an aloo based samosa.
Today, in this post I would like to share a special snack recipe which is commonly eaten as an iftar snack during the month of Ramadan as well as it can be had as an evening snack recipe which tastes amazing during winters and monsoon time.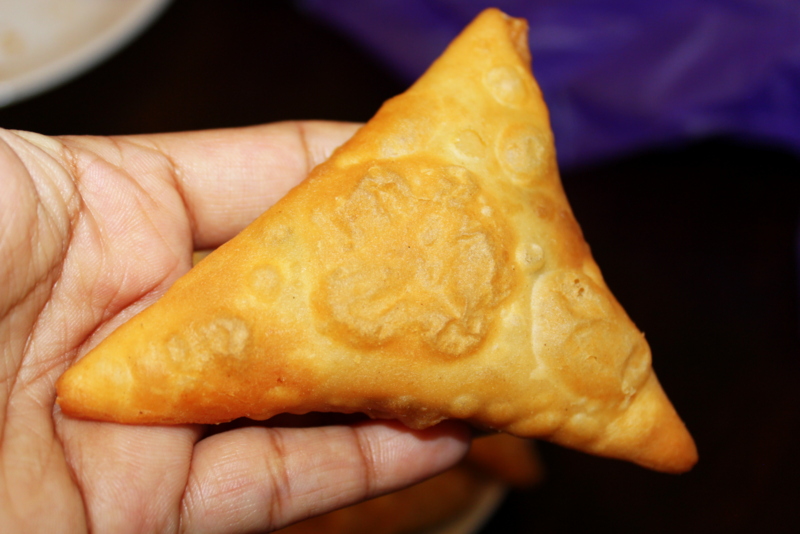 How hard is it to make a samosa?
Samosa here is a deep fried snack but can be baked too… Chicken samosa here is fried in oil and is made by using maida dough and chicken filling.
There are quite a few steps in making the samosa recipe. The steps are many but if followed well can give an amazing outcome.
The main and important part in making the chicken samosa is the making of the shape and this post has a video which eases the method of making the samosa.
The maida dough is made into round chapatis and then the stuffing is filled, given a cone shape and fried in oil.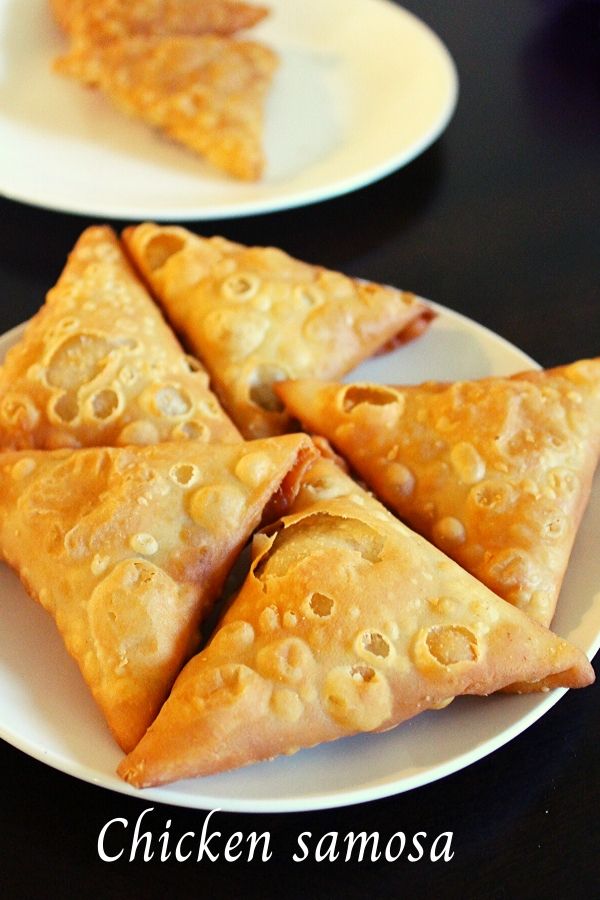 Steps involved in making this samosa:
Below are few simple steps that can guide you to making this special evening snack.
First is to make a maida dough and rest it for a while keeping it covered.
Second is to make the chicken filling or the chicken stuffing.
Third is to take small lemon size portion of the dough and making a poori size chapati that is we need to roll the dough into a small circle shape which is of a poori size.
Roast the small pooris for 20 seconds on both sides and doing so makes our samosa pastry long lasting if stored air tight.
Next step is to give a cone shape to the chapati which is clearly shown in the video on how to give a cone shape and it is pretty easy.
Do check out the video below for the folding technique and stuff the filling of the chicken and seal the samosa with maida paste(maida and some water mixed).
Deep frying the samosa.
These steps are simple to follow and one needs to watch the video to get the exact understanding of making it.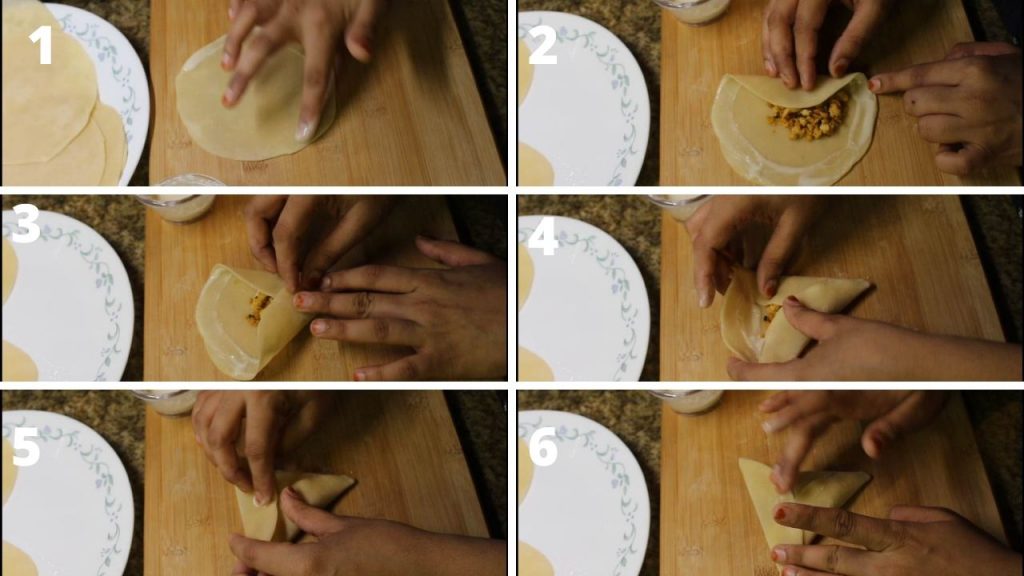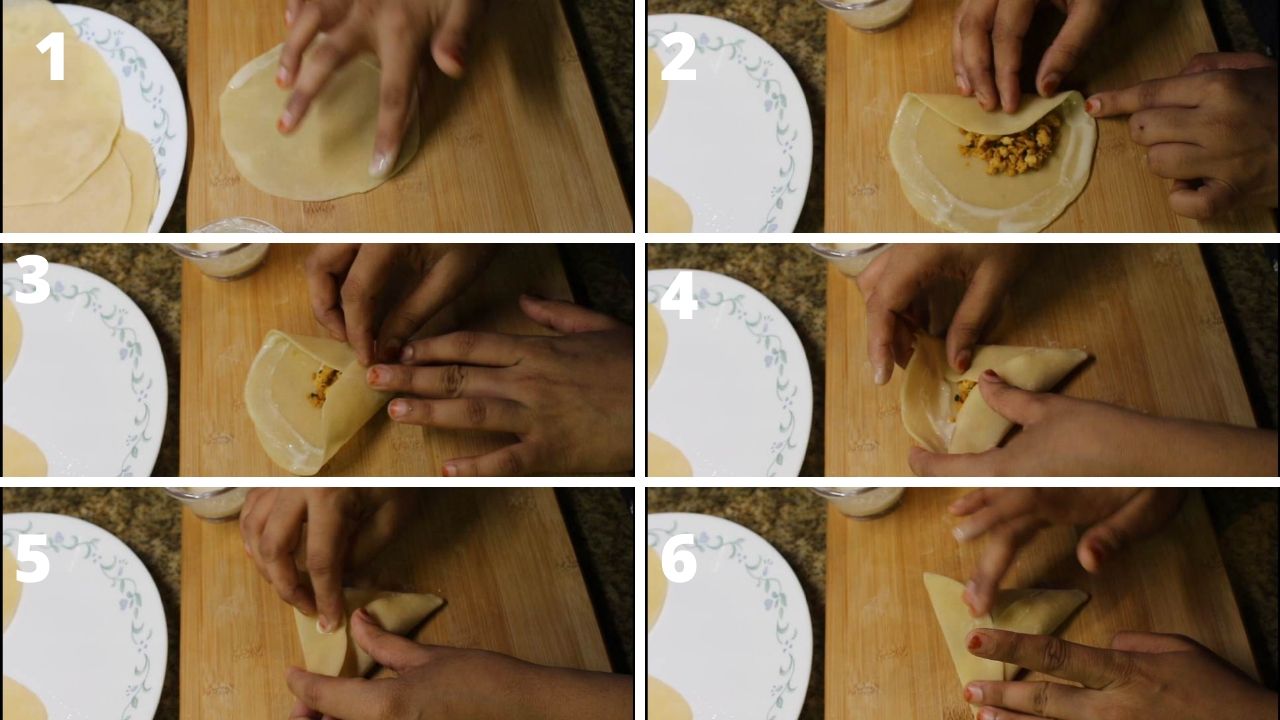 How to store?
This method of my recipe shows the patties are slightly roasted.
Doing so takes away the moisture and helps in storing the patties air tight in freezer for up to 3 weeks.
The patties can be used anytime once stored.
The stuffing should be freshly made, filled, sealed and fried.
This technique is mainly helpful during the month of Ramadan.
The patties which are directly stuffed without roasting them for few seconds cannot be stored and have to be used instantly.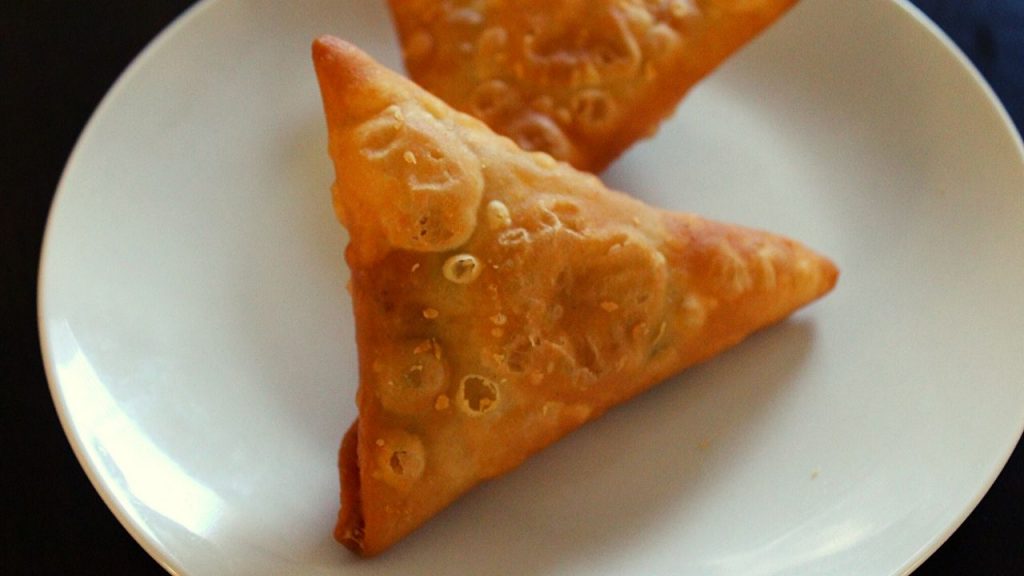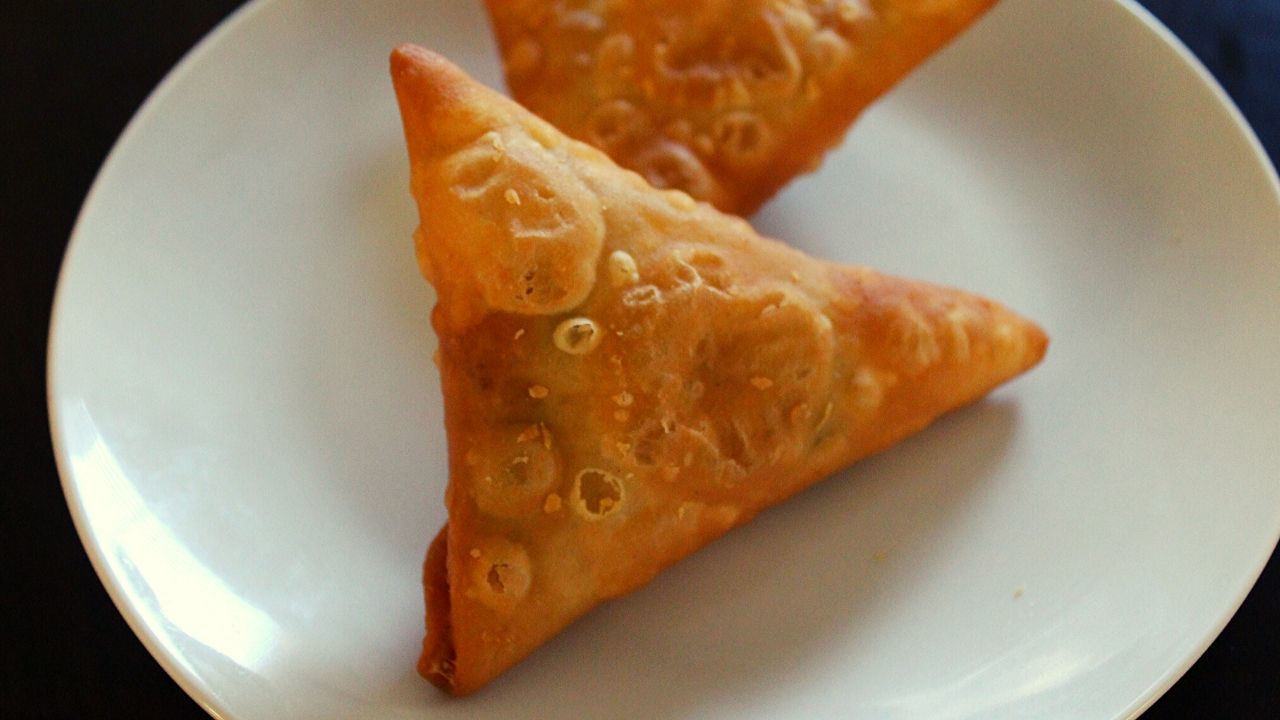 Below are the recipe details in making the chicken samosa which can be used instantly or can be freezed and stored airtight for 2-3 weeks and be used when required.
Here I have used home made spices such as jeera powder, coriander powder and ginger garlic paste which have been made home made.
How to make chicken samosa step by step: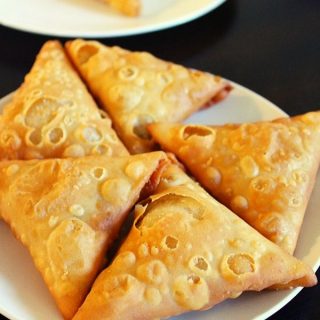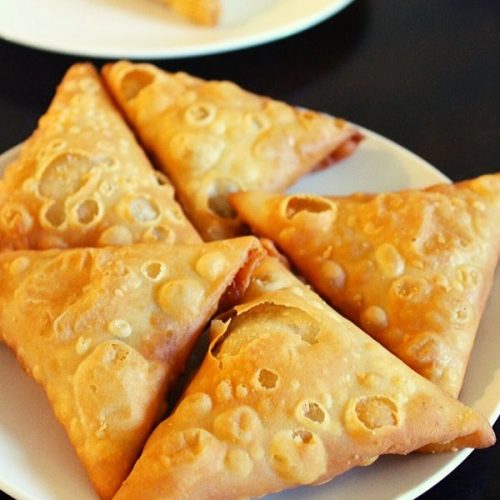 Chicken samosa
A cone shaped samosa made using chicken filling.
Print
Pin
Rate
Ingredients
Maida dough:
1.5

cup

maida/ all purpose flour

1/4

tsp

salt/ to taste

3

tsp

oil

(heat it for few minutes)

0.5

cup

water
Chicken stuffing:
3

tbsp

edible oil

1½

tsp

cumin seeds/ jeera

1/2

tsp

finely chopped green chillies

2

tbsp

finely chopped onions

1/2

tsp

ginger garlic paste

250

gms

minced chicken/ ground chicken/ chicken keema

(washed well)

salt to taste

1/2

tsp

red chilli powder

1/4

tsp

turmeric powder/ haldi powder

1/4

tsp

coriander powder/ dhaniya powder

1/4

tsp

cumin powder/ jeera powder

1/4

tsp

garam masala powder

2

tbsp

freshly chopped coriander leaves

1

tbsp

lemon extracted juice
Other ingredients:
3

tbsp

maida flour paste for sealing the samosa

oil for deep frying
Instructions
Step 1(Making the chicken stuffing):
Firstly, take a pan, into it add oil and heat it.

Add the cumin seeds and allow them to splutter.

Add the chopped green chillies, chopped onions and saute for 2 minutes.

Add the ginger garlic paste and saute to get rid of the raw smell.

Add the minced chicken, mix and roast until color of the chicken changes.

Add dry spices such as salt as per taste, red chilli powder, turmeric powder, coriander powder, cumin powder, mix everything well and cook for few minutes.

Add garam masala powder, chopped coriander leaves, mix well and cook until the chicken is done while stirring in between.

Switch off the flame when the chicken gets cooked.

Add lemon extract all over the chicken and give a mix.

Rest the filling aside for later use.
Step 2 (Making the dough for chicken samosa):
Add the maida flour and add salt as per taste.

Add hot oil or warm oil into the flour and crumble the mixture well.

Add water gradually and knead the dough into a soft pliable dough.

Cover the dough and rest it for 20 minutes.
Step 3(Rolling dough and roasting):
Take the dough and divide the dough into small portions of lemon size.

Take each dough portion, coat it with flour before rolling.

Roll the dough portion into a small circular shape of poori size sheet.

Roll all the portions into small chapati size sheets and keep aside.

Heat a tawa/griddle, add the round sheets on the tawa.

Roast each side for 20 seconds and not more than that.
Step 4 (Stuffing and folding):
Take each roasted pastry, apply maida paste all around the corners of the round sheet.

Add the stuffing and give a cone shape as shown in the picture or follow the video till the end and seal the cone properly with maida paste.

Make the samosa shapes of the remaining sheets.
Step 5(Deep frying):
Add oil in a wok for deep frying and heat it.

Carefully, add the chicken samosas into the oil.

Deep fry them on low to medium flame until they turn golden color.

Do not fry on high flame.

Take them out once they are done.

Spread them on a tissue paper to remove excess oil.

Serve hot with chutney or ketchup.
Video
Notes
The samosa sheets if roasted can be frezzed and stored airtight for 2-3 weeks and used when needed.
The sheets if not roasted should be used directly and cannot be stored without roasting them.
The stuffing if made fresh and stuffed into the patties tastes best when deep fried.
Nutrition
Calories:
200
kcal
|
Fat:
3
g
|
Saturated Fat:
1
g
|
Sodium:
1
mg
Want To Watch Video Recipes?
SUBSCRIBE US ON YOUTUBE!