Chicken spring rolls recipe, an Indo Chinese snack recipe in which chicken stuffing is filled inside a spring roll sheet, rolled and deep-fried. Chicken spring roll here is made keeping in mind the month of Ramadan where we need many snacks recipes and ideas to make during the month of Ramadan.
Watch the video of spring rolls below... if you are looking for making wrappers for spring rolls then do check out exclusive blog post of spring roll wrappers recipe, onion samosa and also check out chicken samosa which all can be used to make using these rolls.
There are already many chicken recipes on my blog such as chilli chicken, , chicken keema etc...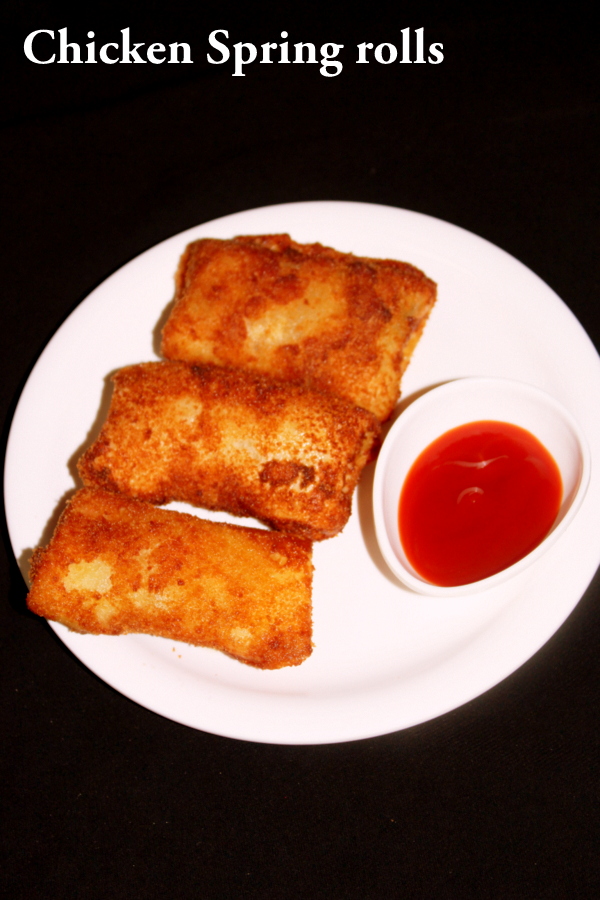 It is a very auspicious month and I would like my viewers to go through this recipe for special iftar snacks recipes as it is one of the best recipes that can be made for ramadan.
To make spring rolls we need vegetable stuffing and chicken added into it. I have shared the procedure of stuffing as well as the procedure to make chicken spring rolls sheets.
If one is looking forward to make curries using non veg rather than snacks then do try mutton curry, hyderabadi chicken curry...
Important points to make chicken spring rolls:
Here, in this recipe I have made home made spring rolls sheets, these can be made at home quite easily but I would also suggest that these sheets are readily available in markets and need not spend lots of time in making spring roll sheets at home.
In this recipe, the spring rolls are dipped in beaten egg and coated with bread crumbs but this step is completely optional if one buys ready made sheets to make chicken spring rolls.
The sheets that are made at home have to be made very carefully and there are chances of the sheet breaking while stuffing and sealing.
If one is making them in Ramadan, I would suggest to buy the sheets from grocery stores and then just make chicken stuffing or vegetable stuffing at home, add the stuffing into the sheets, fold and seal them and they are ready to be deep fried.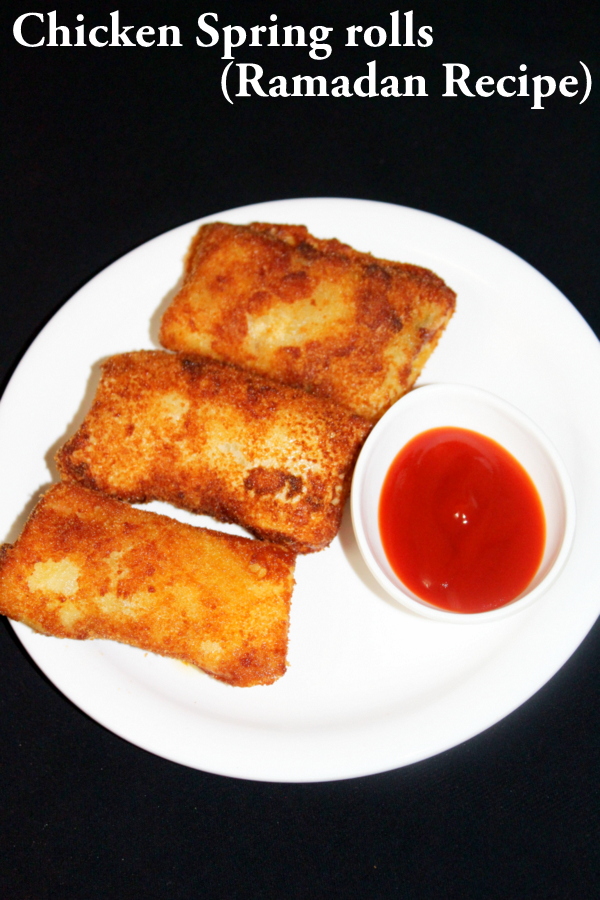 Chicken spring rolls is a wonderful snack delicacy and one should learn the art of folding and sealing the spring roll sheet and if this art is learnt, it is easy to make spring rolls be it veg or non veg.
I have made spring rolls for the very first time and they turned out very well and shall soon be uploading other spring rolls like veg spring rolls as well.
This is an Indo chinese snack recipe where I have made some variations to the recipe such as dipping in egg and coating the roll with bread crumbs.
This is a deep fried snack recipe where it takes in lots of oil and one should strain the rolls out before eating as the rolls will have absorbed lots of oil.
It is better to use an absorbent paper such as tissue paper and place the rolls on the sheets for a while until all the oil from the spring roll is absorbed. Doing so helps in removing excess oil from the rolls completely.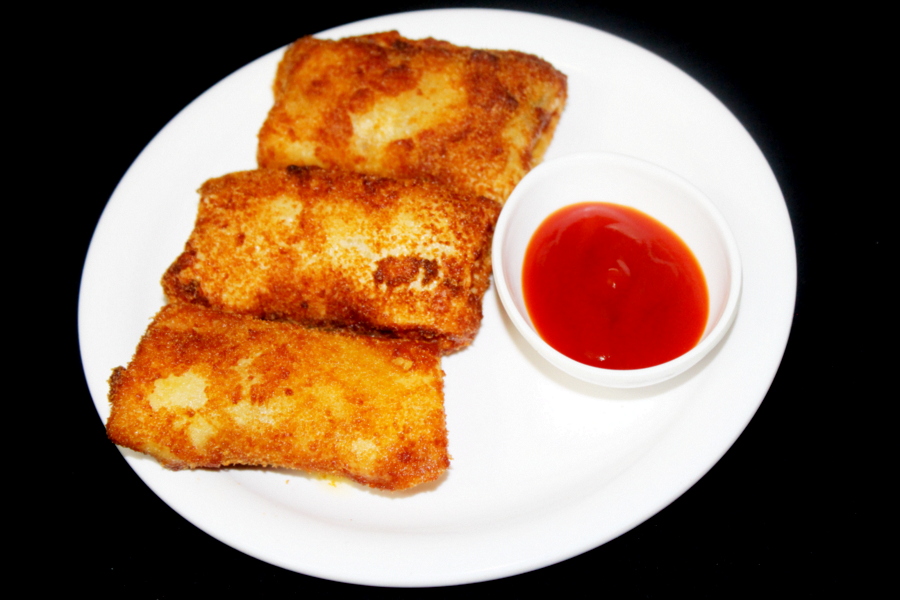 Here, the chicken is first boiled with water, chicken and turmeric water. The chicken is then shredded and used in the stuffing by making use of some shredded veggies, cooking them along with chicken and sauces.
The stuffing should be focussed well as the rolls are totally tasted delicious only if the cooked stuffing is yummy.
Below are the recipe details on how to make chicken spring roll recipe with chicken stuffing and home made sheets with detail steps and also a video procedure for a better understanding.
I would suggest my viewers to please watch the video as the recipe goes in 2 to 3 steps and every step has to be watched carefully to get proper spring rolls.
Do check out the video and do leave us your feedback on this recipe and do leave your comments below in the comment section if there are any queries...
Check out the video procedure for chicken spring roll below:
How to make chicken spring rolls:
Recipe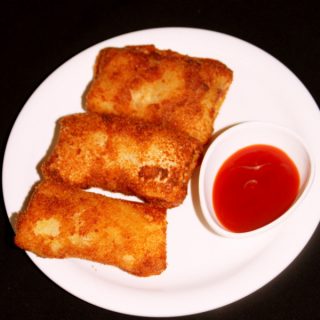 chicken spring rolls recipe, Iftar snacks recipes
A Ramzan iftar snack made using boneless chicken, veggies as the filling and the sheets are made using maida and corn flour batter.
Ingredients
Chicken spring roll filling:
1

tablespoon

oil

1

onion

finely shredded

½

cup

shredded cabbage

½

cup

shredded carrots

1

green capsicum

finely shredded

salt to taste

250

gms boneless chicken

½

teaspoon

black pepper powder

1

teaspoon

soy sauce

1

teaspoon

tomato ketchup
Chicken spring rolls batter:
1

cup

maida/ all purpose flour

2

teaspoon

corn flour

salt to taste

1

cup

water
Other ingredients:
oil for deep frying

1

egg both white and yellow mixed well

bread crumbs for coating
Instructions
Step 1(Boiling the chicken):
Take 250 gms boneless chicken, clean and wash the chicken well.

Take a pressure cooker, into it add the boneless chicken, salt, tumeric powder, some water.

Pressure cook the chicken for 3 whistles on medium flame.

Reduce the steam.

Remove the cooker lid.

Allow the boiled chicken to cool

Take the chicken out and make small pieces of chicken.

Keep them aside for later use.
Step 2(Chicken spring rolls filling):
Firstly, take a pan, add oil and heat it.

Into it, add shredded onion, shredded cabbage, shredded carrots, shredded green capsicum.

Saute these veggies for 3-4 minutes on medium flame.

Add salt as per taste and saute well.

Add the boiled chicken pieces, mix well.

Stir fry the chicken pieces for few minutes.

Add black pepper corn powder, soy sauce, tomato ketchup, mix well.

Cook for a minute or two on low flame by stirring in between.

Switch off the flame.

Keep the filling aside for later use.
Step 3(Chicken spring roll batter):
Take a mixing bowl, add 1 cup maida/all purpose flour.

Add corn flour, salt to taste, mix the ingredients well.

Add water gradually and make a batter.

Add more water if required and mix the batter.

The batter should not be too thin.

Mix the batter without any lumps.

Take a gridle/tawa, heat the tawa.

Take a ladle full of batter, pour it on the tawa at the centre, spread it as a pancake.

Cook the sheet for few seconds and take the sheet out(no need to flip).

Similarly, continue making sheets with the rest of the batter.
Step 4(Making of chicken spring rolls by deep frying):
Take each spring roll sheet.

Pour the chicken stuffing/filling just below the centre of the sheet.

Give a fold.

Bring the other two ends over the fold.

Give a fold again and seal it with left over spring roll batter.

Similarly, make chicken spring rolls with the rest of the spring roll sheets.

Now take each chicken spring roll, dip the spring roll in beaten egg, then coat the chicken spring roll with bread crumbs.

Similarly, dip all the chicken spring rolls in beaten egg and coat them with bread crumbs.

Heat oil for deep frying in a wok.

Drop the chicken spring rolls in oil.

Deep fry them on low flame until they turn golden color on all sides.

Take them out and place them on an absorbent paper.

Serve hot with tomato ketchup!!!
Notes
1. There are also ready made sheets available quite easily in the market and one can make use of those sheets and yet make delicious spring rolls.
2. Always make sure the tissue paper absorbs all the oil as the spring rolls take in lots of oil and it is necessary to remove the excess oil.
Nutrition
Nutrition Facts
chicken spring rolls recipe, Iftar snacks recipes
Amount Per Serving
Calories 320
* Percent Daily Values are based on a 2000 calorie diet.