Spring Roll Wrappers recipe is a sheet of pastry that is often used to make spring rolls, samosa or rolls with vegetables or egg or chicken or various snack items. Other roll recipes on the blog are chicken spring rolls and other recipes made with these sheets are onion samosa, these rolls can also be used to make chicken samosa too...
We usually get spring roll sheets from market to make quick snack items which can be deep fried and served during gatherings or mini parties.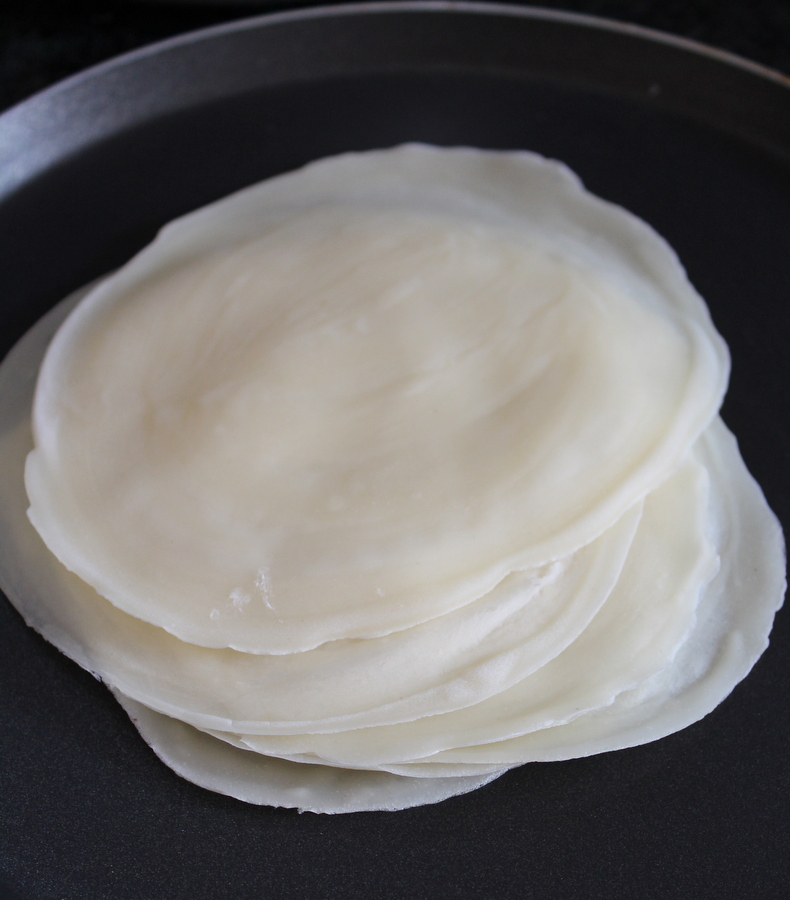 The snacks that are usually made with spring roll wrappers are a huge hit with the kids and they love to have those rolls with ketchup or sauce as a spread over those rolls or have a stuffing of vegetables or chicken or egg inside them.
The rolls or spring roll pastry can be made using egg or eggless and here I have made eggless spring roll wrappers.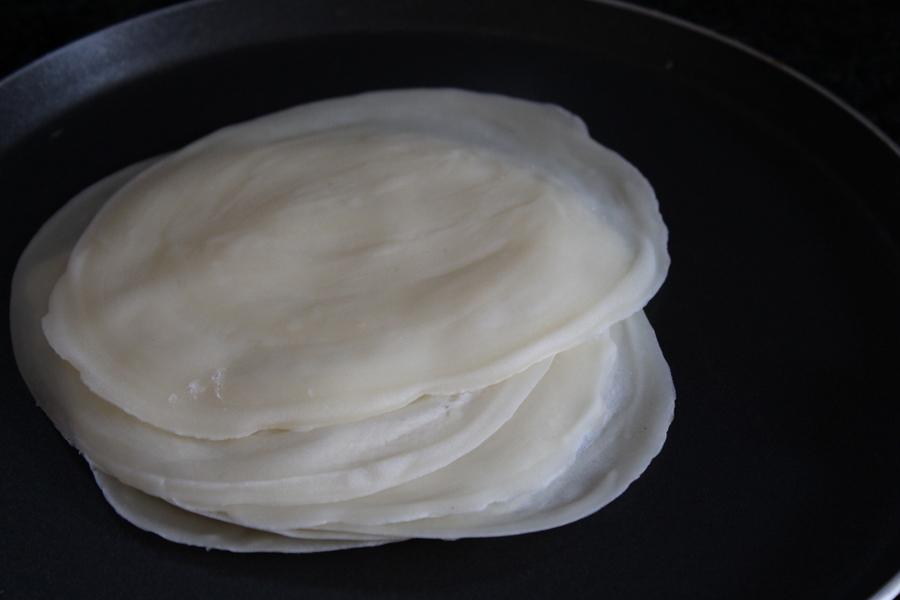 Its really difficult to get the perfect wrappers but, here I have made the crepes at home and thought to share with my readers who look out for homemade spring rolls which could taste as best as the store bought one's and which are hygienic too.
The sheets can be made very quickly with just few ingredients that are usually available at home and the rolls can be stored air tight and can be used whenever we wish to make any kind of rolls.
I have tested making the rolls using plain maida flour but, they do not taste as good as the store one's. The best ingredients to be used to make perfect spring roll wrappers are all purpose flour(maida) and along with that we also need to use corn flour to get the preferred taste.
               Making procedure of spring roll pastry is quite easy and can be done in couple of minutes and I am glad to share the method on how to make perfect spring roll wrappers which can be used for mini birthday parties or to make rolls during iftar to make quick snacks at home.
How to make spring roll wrappers:
Recipe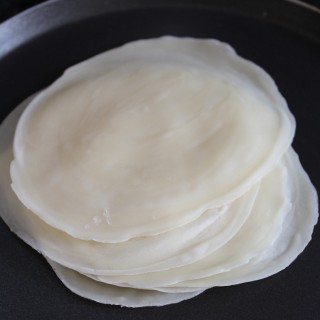 Spring Roll Wrappers Recipe or Spring Roll Pastry
Spring roll pastry made with liquid batter which is commonly used to roll different stufings and deep fry in oil.
Ingredients
1

cup

all purpose flour

maida

½

cup

corn starch/corn flour

salt - to taste

water to make the batter
Instructions
Firstly, in a bowl, add all purpose flour(maida), corn flour, salt and give a mix of all the ingredients.

Gradually add water and start mixing the flour.

Keep adding water and keep mixing until there are no lumps into it.

The batter obtained should be a smooth and thin liquid without any lumps.

Heat the gridle, take a ladle full of batter, drop it at the centre and carefully spread immediately in circular shape.

Try to spread as a thin crepe very carefully.

Cook for few seconds or for about 5-10 seconds on medium flame and remove the crepe with a spatula.

Similarly make crepes with the rest of the batter.

Wrap them using a plastic wrap or a cling wrap and store them in refrigerator.
Notes
1.Always use all purpose flour and corn flour in 2:1 ratio.
2.The rolls can be cut in desired shape like a rectangle or a semi circle and stored.
3.The crepes should never be flipped while cooking them. Just spread the batter and remove the crepes or wrappers in seconds.
4.The crepes on the tawa should be spread immediately and carefully and it is always good to use a non stick tawa.
Nutrition
Nutrition Facts
Spring Roll Wrappers Recipe or Spring Roll Pastry
Amount Per Serving
Calories 310
* Percent Daily Values are based on a 2000 calorie diet.
Note: The wraps tend to lose moisture within minutes and it is very important to keep them moist and as soon as the crepe is cool wrap it with a cling wrap and store it in refrigerator.