Chicken 65 is one of the most popular snacks and starter recipes all across India… It is made using boneless chicken pieces marinated with some spices and deep fried. Other chicken starters on the blog to try are chicken tikka and tandoori chicken.
related indian chicken recipes:
I love making various chicken dishes and this is one of the best chicken recipes to be tried. It is indeed a mouth watering chicken recipe and also check out more chicken recipes such as kadai chicken.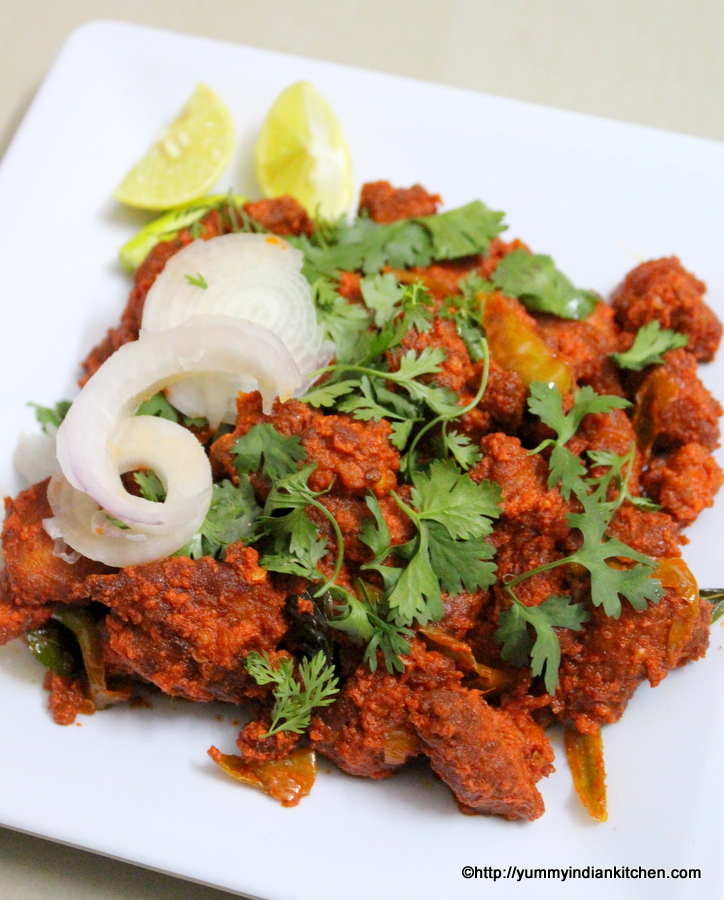 Chicken 65 here is made in a traditional hyderabadi version and it can be made with other variations too…
The name 'chicken 65' is said to be named after various reasons…
Some feel that this particular starter snack is said to be placed as the 65th item in the menu list in southern India and some say that this is a dish that belongs to chennai but, whatever the reason for the name is, it is definitely a mouth watering snack delicacy.
It is also said that earlier they used 65 ingredients to make this chicken dish.
The appearance and the look of the dish has got nothing to do with the name of this most popular dish.
This indo chinese recipe has been altered completely according to Indian cooks and given a new form and technique on how it is made.
Chicken should be included in our daily diet in some form or the other mainly as soups or chicken breast recipes which benefit the body muscles in the long run.
Benefits of eating chicken:
Chicken is a low fat protein which helps in building the muscles of the body and thus maintaining the body weight without getting obese.
Eating chicken in a healthy way than trying to make spicy dishes can be harmful to certain extent. It is always a good and wise idea to include chicken the healthy way such as steaming the chicken, grilling, making a soup and eating chicken breast which helps in giving a lean body.
It has good amount of zinc, iron and also vitamins like Vitamin B.
It is said to strengthen immune levels in the body as well as aids in preventing heart related problems such as heart attack etc…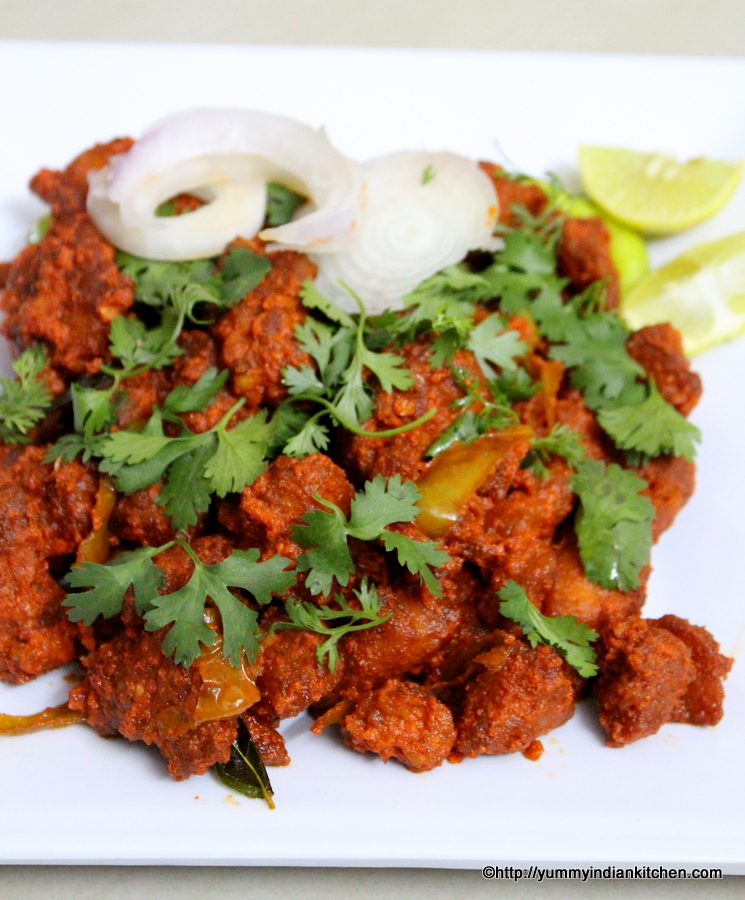 The recipe here is written in the recipe card format as well as shown with the help of a video procedure…
Chicken is such a wonderful non veg delicacy that it can be tried in various forms and every chicken dish is a delight to our taste buds and my blog is flooded with so many chicken recipes and shall be included with more chicken delicacies as days to come…
How to make this recipe?:
This recipe is marinated with dry spices, egg, corn flour, all purpose flour which is marinated for about half an hour and deep fried and it is then sauteed in curd and spices…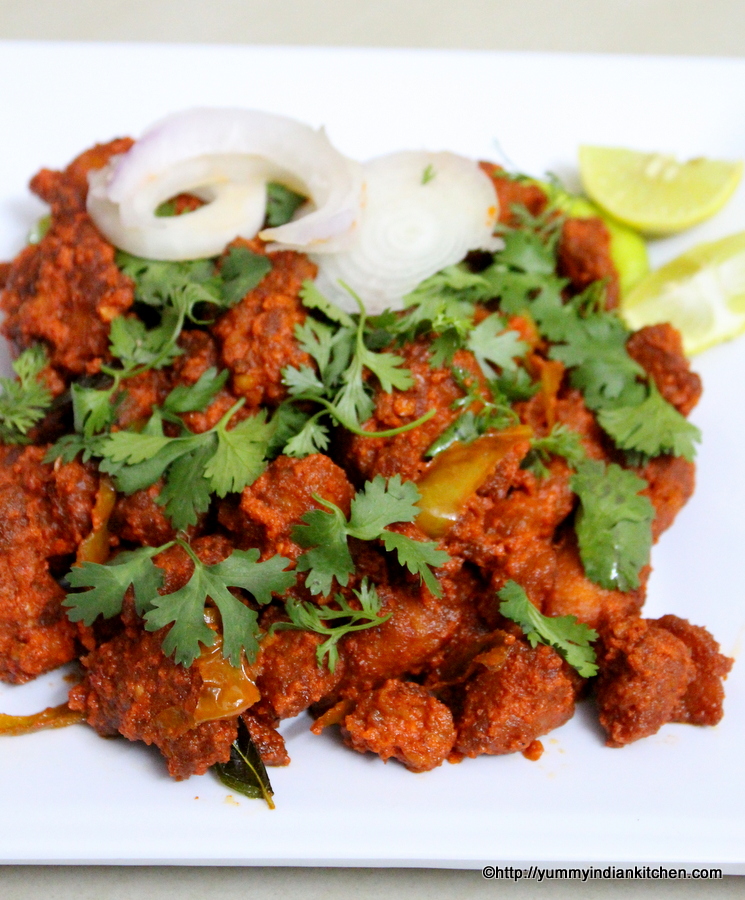 It gives an amazing taste if eaten by sprinkling lemon all over the chicken and also served with onions…
Curry leaves do play an important role in giving the perfect aroma to the chicken…
Chicken 65 can be made in the form of dry and gravy. Dry version is just the deep fried version of the marinated chicken…
This recipe can be used as an iftar snack during the month of ramadan and it can be included as an iftar meal…
Dry chicken 65:
Marinate the chicken with salt, red chilli powder, turmeric powder, ginger garlic paste, garam masala powder, egg beaten, corn flour, maida and mix all the ingredients well. Marinate the chicken for half an hour and deep fry in oil… This gives the chicken 65 dry recipe version.
Other chicken starter similar to this recipe is chicken kebab…do check it out…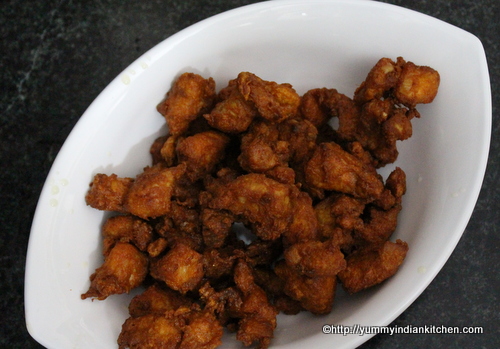 We all are familiar with this wonderful chicken 65 recipe and without much ado I would like to share this tasty and yummy starter recipe for my blog readers and recipe viewers….
This side dish can be accompanied with main course recipes such as fried rice or veg pulao or egg biryani or anda biryani.
other recipe collections:
How to make chicken 65 recipe gravy below: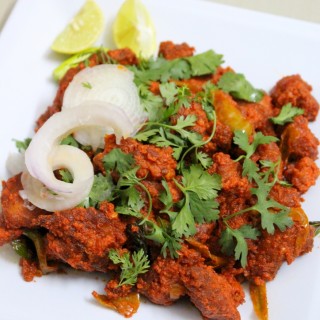 Chicken 65 Recipe Hyderabadi Gravy Dry Restaurant Style
A hyderabadi gravy version of making chicken 65 which can be eaten as a starter and is a deep fried snack item sauteed in gravy made with boneless chicken.
Print
Pin
Rate
Ingredients
1

kg

boneless chicken washed well

salt - as per taste

1 1/2

tbsp

red chilli powder

1/2

tsp

turmeric powder

1

tsp

full ginger garlic paste

1

tsp

garam masala powder

2

tbsp

all purpose flour/maida

2

tbsp

corn flour

1

beaten egg
To make the gravy:
2-3

tbsp

oil

1/2

tsp

very finely chopped/crushed ginger

1/2

tsp

very finely chopped or crushed garlic

6-7

green chillies vertically slit

10-12

curry leaves

1

cup

yogurt

200 ml

salt - to taste

1

tsp

red chilli powder

1/2

tsp

red food color
For garnishing:
coriander leaves for garnishing

lemon wedges

onion rings
Instructions
For the chicken marination and deep frying:
Firstly, in a mixing bowl, add boneless chicken pieces, salt, red chilli powder, turmeric powder, ginger garlic paste, garam masala powder.

Into it add one egg, also add all purpose flour/maida, add corn flour into it.

Mix up all the ingredients.

Rest the marinade in the refrigerator for about 15-20 minutes.

Heat oil in a wok for deep frying.

Into it, add the chicken pieces and deep fry them on all sides until they turn golden brown on all sides for about 10-15 minutes on medium flame.

Take the chicken pieces out and transfer the pieces into a bowl and set aside.

Prepare the gravy as shown below.
For the chicken gravy:
Take a wok, into it add oil and heat it.

Add finely crushed ginger and garlic into it.

Add green chillies into it and saute well.

Add fresh curry leaves and saute.

Add beaten yogurt into it.

Add some salt as per taste, add red chilli powder, red food color.

Mix all the ingredients and stir well.

Add the deep fried chicken pieces into the gravy and cook for five to ten minutes by stirring.

Take the chicken 65 out on a serving plate.

Garnish with fresh coriander leaves.

Add lemon extract all over.

Serve with onion rings and lemon wedges.

Watch the video procedure below.
Nutrition
Want To Watch Video Recipes?
SUBSCRIBE US ON YOUTUBE!
How to make chicken 65 with video procedure:
If you like this recipe and the video then do leave us your queries and we will get back with the solution to your queries and also do send us your version of making chicken 65 if you have any…
Follow us on all our social media handles and stay updated.