Do you like to make a healthy spinach smoothie for a weight loss diet? Do not worry; we bring you a quick smoothie recipe using spinach to help you reach your health goals with healthy drinks.
There are many other healthy smoothies on the blog for breakfast, lunch, or snacks.
Check out various recipes to be made easily using a simple blender and easily make a good meal replacement smoothie at home.
Suggested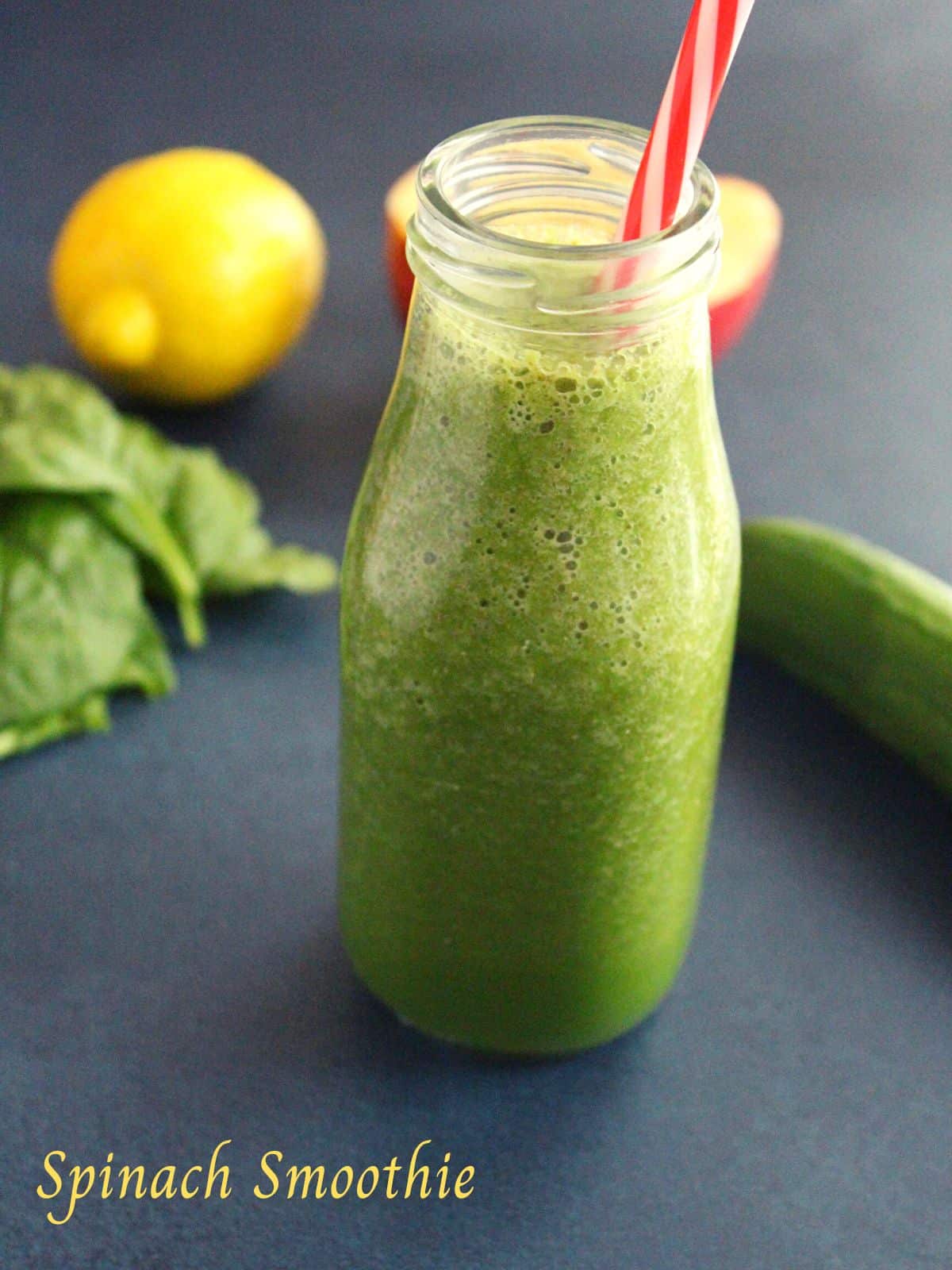 About the recipe
A spinach weight loss smoothie needs low-calorie ingredients to make a smoothie suitable for weight loss or maintaining weight without gaining much.
This smoothie has low calories and uses fiber-rich minimum ingredients, and it also can give a filling smoothie to prevent increasing appetite until the next meal time.
It consists of simple ingredients like spinach leaves, almond milk, and apple as the main ingredients.
The rests are chia seeds and cucumber, another set of healthy ingredients to add to this smoothie and blend well like a puree without lumps.
Suggested
Ingredients
Spinach: Use baby spinach leaves or matured spinach leaves; they both have the same nutrients, and it's up to you to decide which spinach you prefer.
Apple: Use a red apple or a green apple; both make a perfect choice to add to smoothies and have a filling meal smoothie.
Chia seeds: These seeds add fiber to any recipe, and always try to add a teaspoon or tablespoons of chia to every smoothie for a filling drink.
Cucumber: This hydrating veggie makes a healthy combination with spinach, and large or baby cucumber can be used according to one's preferences.
Almond milk: Use unsweetened almond milk as it has fewer calories than almond milk made with added sugars.
Water: To make the consistency of a smoothie to be neither too thin nor thick, water is a good choice if you like to add other liquids other than milk.
Benefits
Spinach
These green leaves can do a lot to your body in terms of keeping it healthy, supplying the body with necessary fiber, and keeping the calories low.
Spinach has plenty of fiber, which is a perfect choice to add to weight loss recipes, and has other benefits like preventing constipation and curbing appetite without developing it.
The spinach added to the smoothie makes a filling smoothie to help you feel full for a long time, and other ingredients support in aiding all the benefits mentioned above.
Suggested
Cucumber
This low-calorie veggie is widely known to curb weight and reduce belly fat and is a detoxifying ingredient a body needs.
The high water content with soluble fiber in the cucumber and its fewer calories make it an absolute better choice to add to weight loss drinks, detox drinks, and healthy smoothies or juice.
Almond milk
Every smoothie needs some fiber and protein to make the right smoothie which supplies the body with essential nutrients, and this liquid gives the protein one needs in a single meal.
This almond milk is better than cow's milk as almond has fewer calories than cow's milk and makes a suitable replacement for healthy smoothies.
Chia seeds
To add fiber to smoothies and to make a complete filling smoothie, adding seeds such as chia seeds or flax seeds do wonders and provides enormous benefits.
Use chia seeds in moderation, as mentioned in the recipes, as too many chia seeds can increase a lot of calories.
Apple
Apples are another healthy fruit that gives an excellent taste to smoothies and improves human health in many ways.
The apples are rich in antioxidants, contain a good amount of fiber, and are a low-calorie food making it to the list of healthy smoothie ingredients.
Its good fiber and water content can promote better health, and it is a perfect fruit to add to healthy diets without thinking twice.
Can you lose weight drinking spinach smoothies or green smoothies?
It does help in cutting down the fat, but there are better plans than relying on just a smoothie.
Having only smoothies three times a day is okay, but there are better ways to maintain good health.
The smoothies, if made in the wrong way and included in your daily diet, can cause harmful effects on your health, such as turning anemic.
Make the smoothie using the right ingredients that are low in calories, good in fiber and protein, provide other essential nutrients, and substitute the smoothies for one or two meals.
The third or other small meal can include another healthy recipe other than a smoothie with a balanced diet.
Green smoothies or spinach smoothies, of course, are a healthy option and help us a lot in the weight loss journey, but having only smoothies every day is not a healthy option as a body looks for other nutrients for its proper functioning.
If you want to quickly lose weight using only green smoothies, make them correctly by adding good fiber, protein, and healthy fruits and veggies and replace them with meals regularly.
Having meal-replacement green smoothies or spinach smoothies can reduce or burn fat, but not a good idea to be on a green smoothie diet every day without including other essential nutrients.
Variations and substitutions
Kale: Instead of spinach, another green leafy veggie that makes a better replacement in smoothies is kale, and kale is a suitable replacement if spinach is not handy.
Liquid: Add other healthy liquids in place of almond milk. The liquids are greek yogurt, water, or other non-dairy milk that keep calories low and give the same benefits as almond milk.
Fruit: Other good choices include an apple and replacing apples with other fruits such as bananas, mango, or pineapple.
Also, use a cup of strawberries and apple or banana to increase calories and not build appetite quickly.
Seeds: Other seeds, such as flax seeds or hemp hearts, in place of chia seeds, make the suitable choice to add while making a spinach smoothie for weight loss.
Tips
If you have fresh spinach leaves, you can use frozen spinach, too, in case you run out of fresh leaves.
At home, freeze the spinach puree in ice trays to use in any recipe you like to make using spinach.
If using other fruits such as a banana, a mango, or a pineapple, you can use them fresh or frozen as their frozen packs are readily available in stores.
When to drink?
If you prefer to make a spinach smoothie for weight loss only to lose weight, use it as a breakfast morning smoothie by replacing breakfast with a smoothie.
Having this smoothie for lunch or during snack time also is an excellent idea to keep yourself full and not look at high-calorie foods or drinks, and curbing unhealthy cravings can lead to better health and aid in weight loss goals.
Also, maintaining a healthy diet helps achieve weight loss goals rather than just relying on a single green smoothie.
Have the smoothie any time of the day, but also make sure to follow other meals healthily and not have high-calorie, high-fat meals, which can make the body worse by gaining more weight.
Alternate spinach smoothie recipes
Kale spinach weight loss smoothie: Along with spinach, add a handful of chopped kale leaves and use a banana with greek yogurt to blend the smoothie without any lumps.
Using only one green leafy veggie if you want to, such as spinach, and blending it with greek yogurt and banana makes a healthy smoothie.
Strawberry spinach smoothie for weight loss: Another alternate way of making the same smoothie is to blend spinach leaves with strawberry and greek yogurt with banana; it makes a delicious smoothie meal suitable for breakfast or any meal.
Avocado spinach smoothie: Avocado is a better option to blend with spinach and milk or yogurt to give a delicious smoothie.
Recipe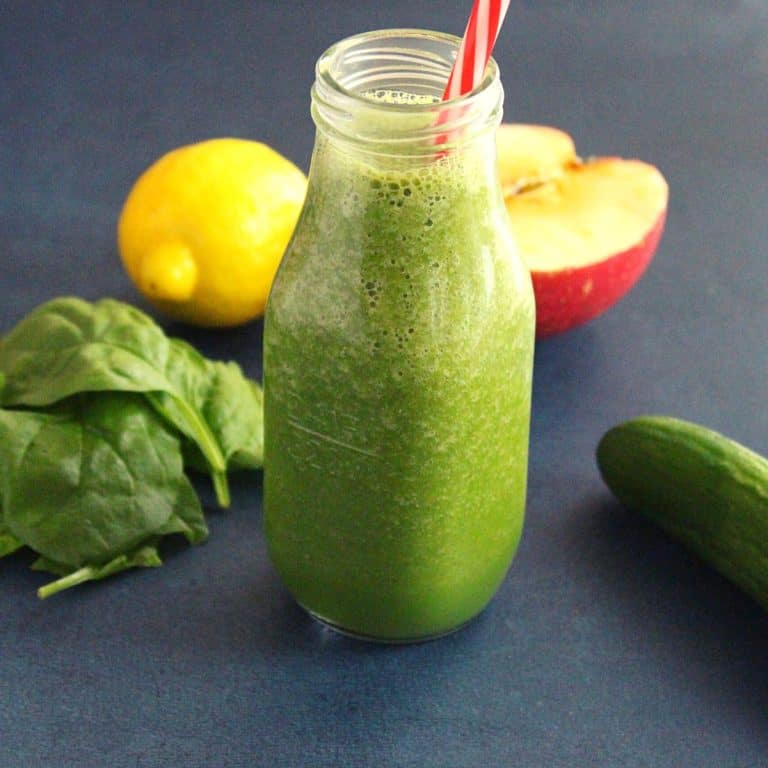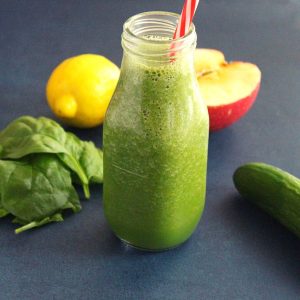 Spinach smoothie for weight loss
A quick weight loss smoothie using spinach and a fruit.
Ingredients
½

apple pieces/ 1 ripe banana

(green or red apple peeled and chopped or use a banana)

⅓

cup

cucumber slices

1

tablespoon

chia seeds

a

handful of

spinach leaves

(fresh or frozen)

¾

cup

almond milk

(unsweetened)

¼

cup

water
Instructions
Add apple pieces or a peeled banana to the blending jar.

Add some cucumber slices and chia seeds to the jar.

Add spinach leaves and almond milk.

Add water or crushed ice according to the consistency preferred.

Blend all the ingredients until a fine puree is obtained.
Notes
Use baby spinach or regular spinach to make the smoothie.
Spinach used can be fresh or frozen to blend the smoothie.
Add a cup of another fruit, such as strawberries or blueberries, to increase calories.
Nutrition
Nutrition Facts
Spinach smoothie for weight loss
Amount Per Serving
Calories 137
Calories from Fat 54
% Daily Value*
Fat 6g9%
Sodium 250mg11%
Potassium 207mg6%
Carbohydrates 19g6%
Protein 3g6%
Vitamin A 88IU2%
Vitamin C 6mg7%
Calcium 314mg31%
Iron 1mg6%
* Percent Daily Values are based on a 2000 calorie diet.