Do you like to try a mixed berry smoothie with yogurt with different healthy ingredients? Try this delicious breakfast smoothie with a healthy touch of the most beneficial fruits in a smoothie, along with other fruits, to make a filling meal.
Check out many other smoothie recipes on the blog, and most of the smoothies shared are low-calorie and contain healthy ingredients. 
Suggested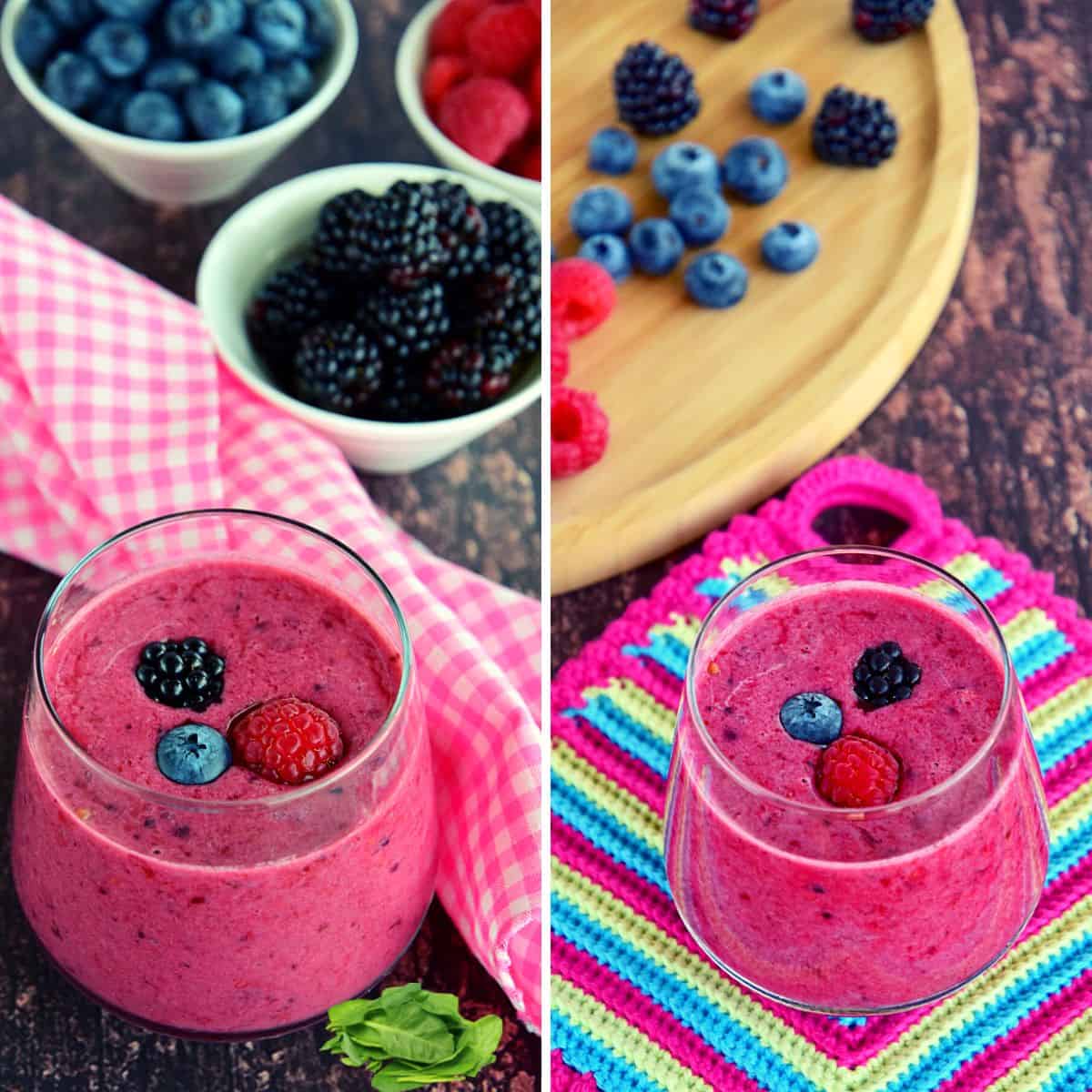 About the recipe
This smoothie recipe mixes different kinds of berries blended with a high-protein liquid, greek yogurt.
The combination of berries and yogurt gives a fantastic taste, making it even more delicious with the help of another fruit, such as a banana or pineapple.
The primary ingredient is yogurt, but another liquid, such as almond milk or water, can be replaced to thin out the smoothie's consistency.
A banana is a natural sweetener, and you can skip the banana if you do not like to add a banana.
Still, the tangy taste of the berries can be balanced with other fruits, such as pineapple, mango, or any other fruit.
There is no need for additional sweeteners if you use a banana or other naturally sweet fruit.
What benefits the smoothie provides?
Berries
We all know how beneficial berries are to keep the heart healthy, and also they contain a good amount of fiber and are low-calorie foods.
Low-calorie foods with health benefits are the key ingredients for a healthy smoothie.
The berries keep the heart issues such as cholesterol issues away and help reduce bad cholesterol use berries in any form to reap their benefits.
Any berry consumption helps lower blood pressure and sugar levels, which are the primary health issues.
The berries are high in fiber, and high-fiber foods promote weight loss and help prevent a body from gaining weight.
Banana
Though bananas are good in calories, using them in a smoothie helps in giving you the fullness that occurs after having a meal.
Bananas also give the same fullness as a meal because of their high fiber content, which avoids overeating and reduces appetite.
Bananas might be high in calories but using them once in a while to make smoothies is a great option to have a filling smoothies.
Spinach
This green leaf is a low-calorie, high-fiber, green leafy vegetable with excellent weight loss and health benefits that cannot be ignored.
Always make sure to add a handful of greens to a smoothie that can make it a complete smoothie suitable to cut down fat as well as helps in maintaining better weight without gaining.
Spinach does not build up the appetite quickly, so adding it to the smoothies avoids hunger and lets us not include other high-calorie foods in the diet, which can lead to weight gain.
Greek yogurt
A smoothie is incomplete without protein; adding a natural protein is better than protein powders.
Greek yogurt is fat-free, contains no cholesterol and fats, and has fewer calories, making it the best protein choice to blend with smoothies other than almond milk.
Greek yogurt can be used plain while snacking, dipping, or added to drinks. It tastes delicious, and its fat-free content makes it a better option for making a low-calorie smoothie.
Almond milk
A non-dairy option for vegans is unsweetened almond milk, and this milk is better than regular milk as it contains protein and has more benefits in losing weight than regular milk.
Use almond milk in unsweetened form as it has fewer calories than regular almond milk with added sugars.
Using almond milk is optional, but one can always use it to make a non-dairy smoothie by completely replacing greek yogurt with only almond milk.
Ingredients
Blueberries: Make use of fresh blueberries or frozen, but if using frozen, thaw the berries for a few minutes before blending the smoothie.
Blackberries: Use solo blackberries available in frozen packs or use them from a mixed berry pack. Any way of using a berry works fine.
Strawberries: The strawberries are always available in frozen form all seasons, and use them any time to make any berry smoothie.
Raspberries: Use them with other berries, also readily available in frozen or fresh form sold solo in stores, or use them from mixed berry packs.
Banana: A ripe fresh banana always looks and tastes good with a creamy texture but when a fresh banana is not handy, use frozen banana slices.
Spinach: Use fresh baby spinach leaves to make it fiber-rich and also to make it a filling smoothie.
Greek yogurt: Use this kind of yogurt than regular yogurt as this is healthier than other yogurts or flavored yogurts.
Almond milk/water: Other liquids, such as almond milk or water, can make a thin, consistent smoothie according to your requirements.
Ice: Add ice cubes in the crushed form to give a chilled smoothie and make a smooth pouring-like consistency.
Variations and substitutions
Berries: Using solo berries available in packs is not mandatory. One can use a mixed berry pack or mix and match any berries of your taste and choice, and only sometimes use all the berries.
Any two berries from the recipe or three kinds of berries can be mixed to make the berry smoothie with yogurt.
Mixed berry packs in the frozen form are always available every season, making it easy to have any smoothie anytime without worrying about their availability.
Fruit: Using only bananas is optional, but any different fruit, such as mangoes, and pineapple, to add sweetness and to make it delicious is a suitable substitution.
Yogurt: Other yogurts are not so healthy options, but if making it without any healthy diet in mind and making a smoothie on regular days without thinking of the calories, using flavored yogurt or regular yogurts works fine.
Use greek yogurt if you are trying to make a low-calorie smoothie and also if adding it to a healthy diet.
Spinach: This is optional if you want to make only a fruit smoothie without adding any veggies. It tastes good but adding more ingredients benefits us in more ways.
Use baby spinach or matured spinach leaves to make the smoothie, and both varieties work the same in the smoothie.
Milk/water: Almond milk can be replaced with water or used as yogurt. This is an optional ingredient only if you like to make it with greek yogurt.
Sweetener: If the smoothie's taste is tangy, add any sweetener such as honey or maple syrup and skip adding banana if you dislike a banana in this berry smoothie with yogurt.
When to have the berry smoothie with yogurt?
Have this meal replacement smoothie during breakfast or a perfect option to replace unhealthy snacks or make it whenever you want a smoothie.
Store the leftover smoothie in an air-tight container or mason jar and consume it within two days to have a fresh taste and benefit from its nutrients.
Recipe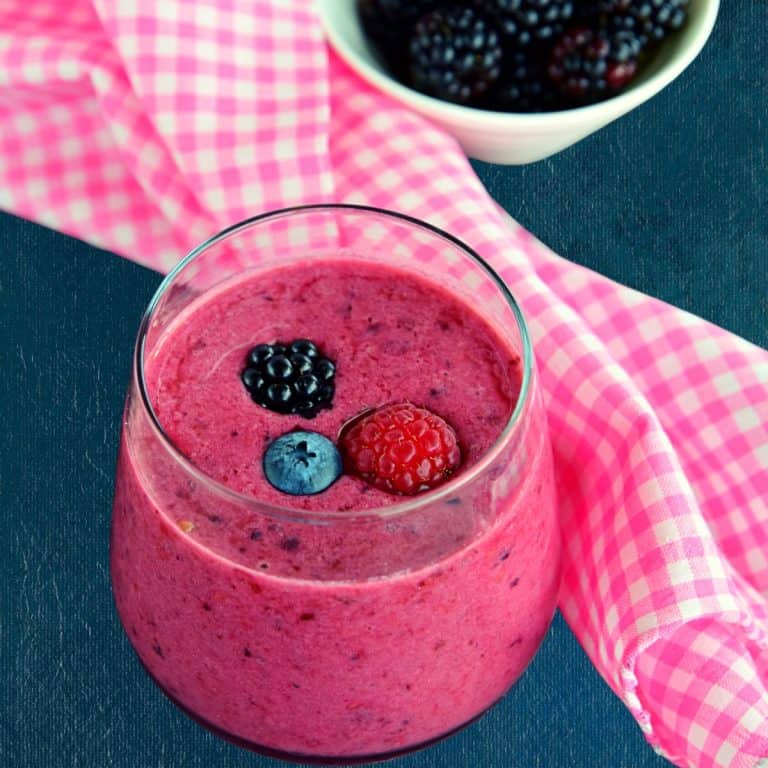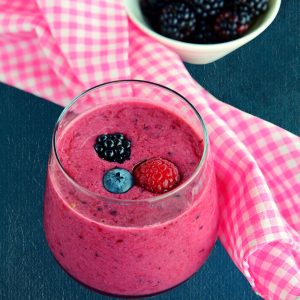 Berry smoothie with yogurt
Mixed berry smoothie with greek yogurt and almond milk to have a filling breakfast.
Ingredients
¼

cup

blueberries

(fresh or frozen)

¼

cup

strawberries

(fresh or frozen)

¼

cup

raspberries

(fresh or frozen0

¼

cup

blackberries

1

frozen banana/ ¼ cup frozen pineapple

(optional)

A handful of spinach

(optional)

1

cup

greek yogurt

¼

cup

almond milk/ water

Ice cubes
Instructions
Add all the berries in fresh or frozen form to the blender.

Add a frozen banana or frozen pineapple chunks to the above ingredients.

Add some spinach to add some greens to the fruits.

Add liquid such as greek yogurt.

Add almond milk or water to make a thin consistency.

Blend all the ingredients at high speed for a minute or two.

Blend until a fine puree is observed.

Pour and serve chilled.
Nutrition
Nutrition Facts
Berry smoothie with yogurt
Amount Per Serving
Calories 299
Calories from Fat 18
% Daily Value*
Fat 2g3%
Cholesterol 10mg3%
Sodium 156mg7%
Potassium 892mg25%
Carbohydrates 50g17%
Protein 24g48%
Vitamin A 195IU4%
Vitamin C 50mg61%
Calcium 329mg33%
Iron 1mg6%
* Percent Daily Values are based on a 2000 calorie diet.