Try this yummy dairy-based strawberry banana smoothie with yogurt, a creamy and mouth-watering drink to consume any time of the day. Made with few ingredients, this is quick to make an easy blend smoothie perfect for breakfast or as an evening snack.
Check out several smoothies from the blog, and I hope to update many more with easy and quick smoothie recipes.
Suggested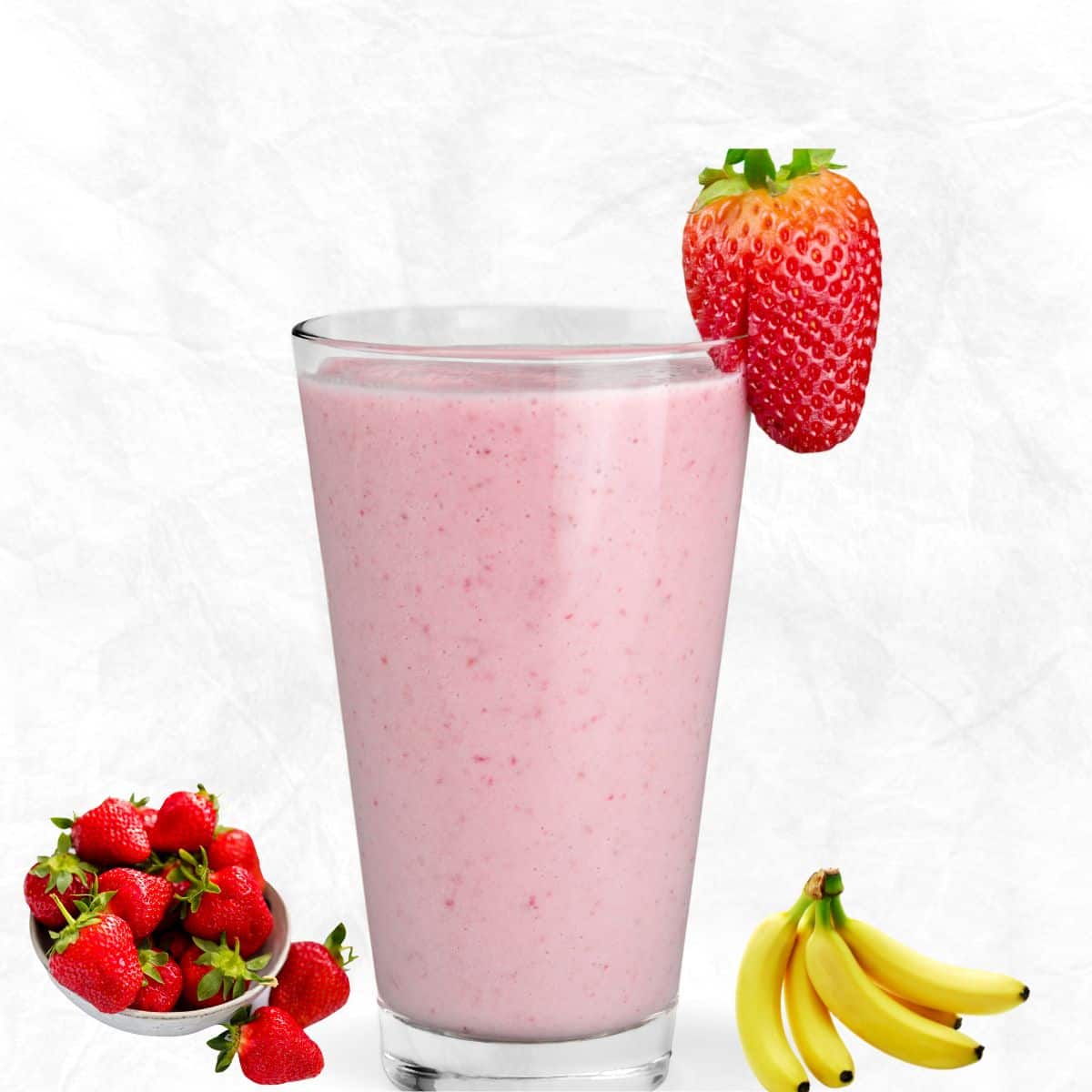 Jump to:
About the recipe
This strawberry banana yogurt smoothie combines frozen or fresh strawberries with bananas, making it naturally sweet.
To help blend the smoothie well, use a dairy-based liquid that is greek yogurt which is healthy and has various health benefits than regular yogurt.
The smoothie uses only a few ingredients, and in addition to that, add a sweetener if you like, such as honey or dates, but they are optional and can be skipped to reduce the calories.
In short, the recipe is fiber-rich and has good protein with low calories, making it a healthy breakfast, lunch, or snack option.
Ingredients
Strawberries: Use frozen or fresh strawberries; both give the same taste. Also, frozen strawberries can be kept handy always.
Banana: Use frozen or fresh banana slices; a medium-size banana is enough to yield 1.
Greek yogurt: Opt for non-fat yogurt as it has many benefits without increasing calories and healthily makes a smoothie.
Ice: A smoothie is incomplete without ice if you want to have it in summer or hot days or want a chilled smoothie.
Honey: Adding any sweetener is optional, but to add healthy sweeteners, go for natural sweeteners such as honey or maple syrup.
Suggested
Can I add frozen fruits to the smoothie?
Frozen fruits or fresh fruits are up to each individual, but fresh ones may only sometimes be handy at home and tend to spoil quickly.
Having frozen fruits helps make the smoothie anytime with all ingredients handy, but one can always use fresh fruits to make the smoothie fresh and tasty.
Related
Can I add yogurt to the smoothie?
Adding other yogurts besides greek yogurt can make the smoothie tangy and hard to consume.
If you like to add other yogurt or flavored yogurt, you can add strawberry yogurt or vanilla-flavored yogurt.
Flavored yogurts are not a healthy option but add them for good taste.
A healthy choice is always to add greek yogurt, non-dairy milk, and low-fat milk(2% milk).
Adding greek yogurt is a healthy way of making a smoothie which makes it creamy and slightly thick.
Other than yogurt, going for non-dairy-based milk such as almond, soy, or coconut milk is a great option.
Suggested
Benefits
Strawberries
If you like to add fruits that are good for the heart and protect it all the time, go for strawberries, as they prevent you from raising your cholesterol and blood pressure levels.
This is one good fruit that is fat-free and contains zero sodium; it has no cholesterol, and if you like to eat low-calorie fruits during snacking, use strawberries as your best choice.
Therefore, low calories fruits rich in fiber keep you full without gaining weight.
Related
Banana
Although banana has good calories, it has high fiber content, making them a perfect naturally sweet fruit to include during snacking or add to breakfast diets to help you feel full.
They can be added to smoothies and other drinks in moderation to provide fiber, and when bananas are sensibly added to the diet, they can prove beneficial.
Strawberries combined with banana can increase the fiber content of the drink and makes it enough to replace a meal with a low-calorie and high-fiber smoothie.
Greek yogurt
This yogurt has so many benefits we all might be aware of. Adding non-fat, sodium-free, and cholesterol-free yogurt to healthy meals prevents heart issues.
This yogurt improves your gut health and is calcium-rich food, and calcium is essential along with other vitamins and minerals.
The yogurt has fewer calories that can help lose weight, and greek yogurt provides a high amount of protein, which every healthy smoothie requires.
A healthy smoothie is incomplete without protein; adding that protein makes it possible with greek yogurt usage, a heart-healthy ingredient.
Honey
Honey is known to have many medicinal benefits, including weight loss and boosting memory power.
Adding honey in small quantities can make any recipe sweet in its natural way but add in fewer quantities as honey has a good amount of calories in just a tablespoon.
Add half a tablespoon or one tablespoon to give a smoothie a slightly sweet flavor, or skip if you like to keep the calories to a minimum.
Variations and substitutions
Since this is a strawberry banana smoothie with yogurt, use these three ingredients to combine each other well, but there are many modifications or substitutions one can go for if they like.
First variation: Use frozen mixed berries along with bananas and replace strawberries.
Second variation: Use not only berries, but banana can be combined with other fruits such as pineapple or mango.
Sweetener: Any sweetener such as dates, honey, or maple syrup works well, but all the ingredients increase their calories if added more.
Add one date or a teaspoon of honey or maple syrup to keep the sweetness to a minimum.
Optional ingredients: Sweeteners are optional, and skip if you have diabetes, as natural sugars can also spike blood sugar levels quickly.
Ice: If you are using frozen ingredients, skip adding ice, as the drink will naturally be icy cold due to frozen ingredients.
Scaling
This strawberry banana smoothie with yogurt recipe yields one serving generously; double the ingredients to make two servings, and have a refreshing drink anytime.
Storage
The smoothie remains in the fridge for a day or two and tastes well if stored in an airtight container but make the smoothie fresh as it takes a few minutes to prepare.
If there is any leftover, store it airtight in a jar or a container and consume it within a day to enjoy its benefits.
Recipe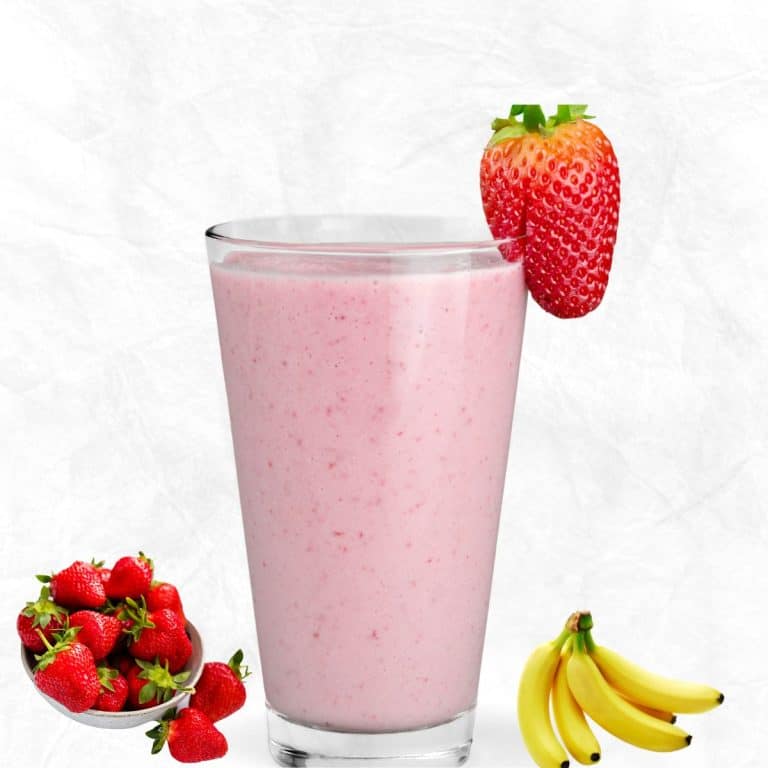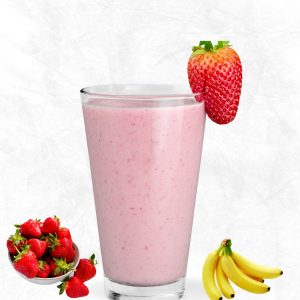 Strawberry banana smoothie with yogurt 
A quick and easy smoothie using strawberries, bananas, and yogurt.
Ingredients
1

banana, peeled

(frozen or fresh)

1

cup

frozen strawberries

(or fresh)

½

cup

greek yogurt

½

cup

crushed ice

1

teaspoon

honey

(optional)
Instructions
Add a peeled banana or use frozen banana slices and add them to the blending jar.

Add frozen or fresh strawberries to the jar.

Add greek yogurt and ice to the above ingredients.

Add honey as an optional ingredient.

Blend well for a minute or more to get a smoothie without lumps.

Pour and serve when done.
Notes
If the smoothie is thick, add some ice, water, or milk to make the consistency thin.
Nutrition
Nutrition Facts
Strawberry banana smoothie with yogurt 
Amount Per Serving
Calories 233
Calories from Fat 9
% Daily Value*
Fat 1g2%
Cholesterol 5mg2%
Sodium 45mg2%
Potassium 787mg22%
Carbohydrates 47g16%
Protein 13g26%
Vitamin A 97IU2%
Vitamin C 95mg115%
Calcium 144mg14%
Iron 1mg6%
* Percent Daily Values are based on a 2000 calorie diet.