Have you ever made a frozen berry smoothie? It is a simple and quick smoothie using all the berries available in the freezer and making a puree to get a healthy meal replacement.
Also, keep reading the blog as I will update various smoothie recipes to make with frozen fruits such as bananas, spinach, mango, and many more.
Suggested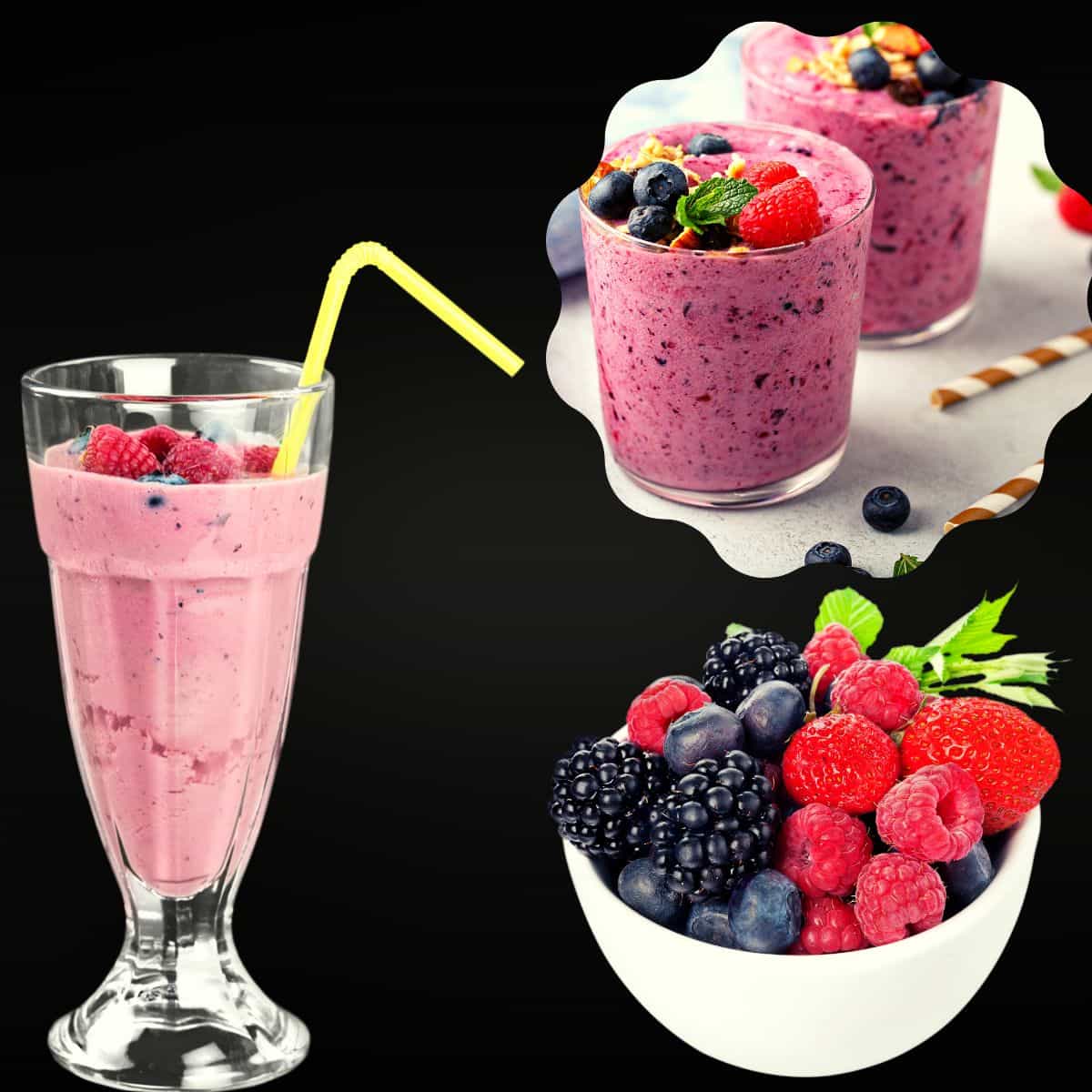 Jump to:
About the recipe
The recipe is simple, and I am using different kinds of frozen berries to ease our work and make a healthy beverage.
Puree the berries with milk or water or any liquid you prefer, and here I like to use almond milk to puree the smoothie.
This smoothie is healthy, works well when replaced with meals, and is also a filling recipe.
Simple ingredients such as berries and liquid make a meal in a minute and do not keep you starving until your next meal.
Suggested
Why this smoothie?
Fresh berries are not always possible as they can spoil quickly, making it challenging to make a meal in 5 minutes.
A meal can take at least 10 to 15 minutes, but a smoothie can be much quicker.
In such cases making a smoothie with frozen berries is a healthy choice and lets you not have an empty stomach but fill it with good nutrients and minerals.
Here, you do not need to add ice to make an ice-cold smoothie, as the berries are icy and frozen.
Ingredients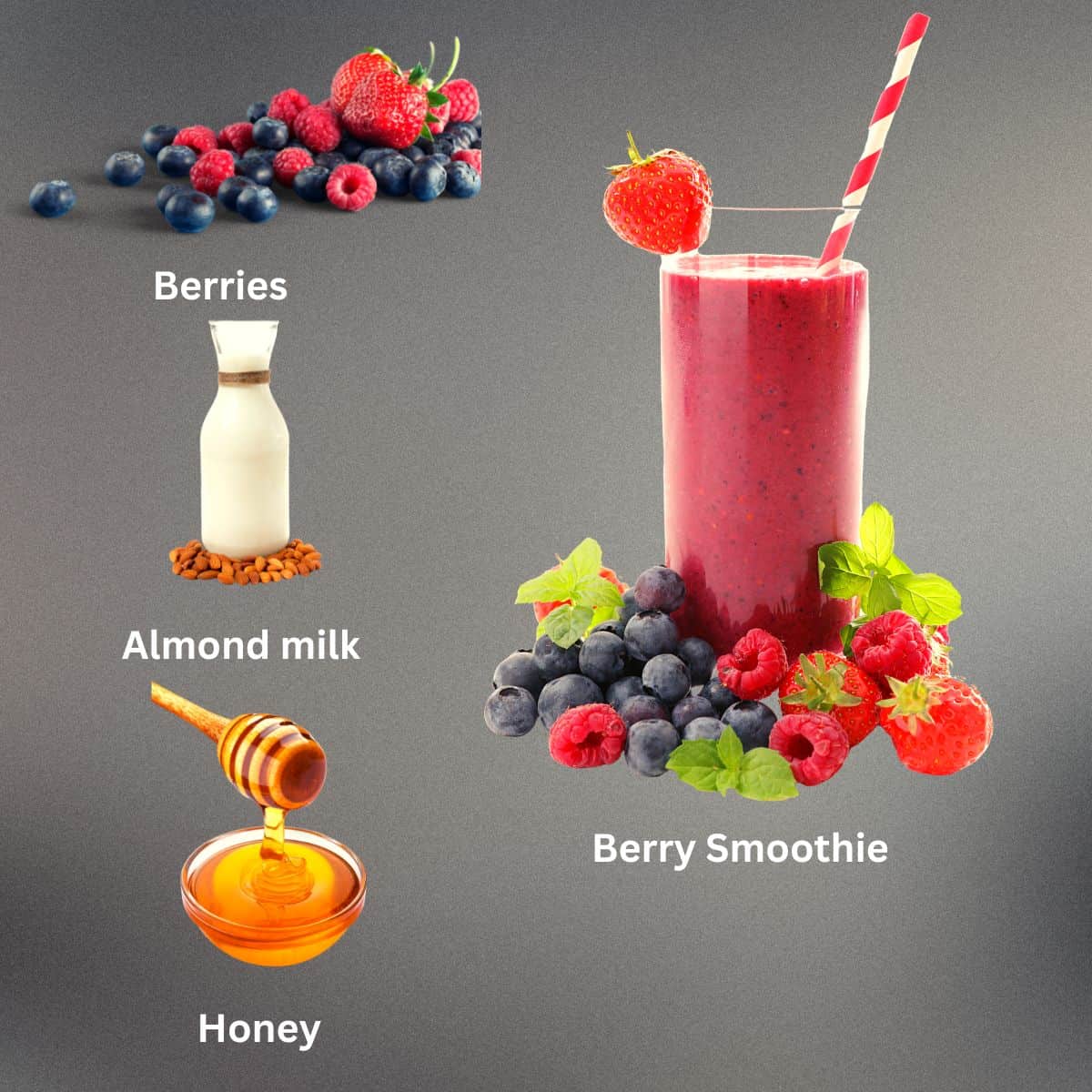 Blueberries: Use a cup of frozen blueberries, but if you have fresh blueberries, go for it or have frozen blueberries stored.
Strawberries: Use a cup of frozen strawberries to add deliciousness and make it a filling drink.
Red Raspberries: Use a cup of frozen red raspberries and make a healthy drink, but this can be optional as we already have two berries.
Almond milk: It is always a healthy option to use unsweetened almond milk, and you can use plain milk if you do not have almond milk.
Honey: Honey is a natural sweetener and has good medicinal properties. Add honey to get a sweet taste, or skip it if not required.
Tips
One can use a combination of berries that is readily available in stores.
We can easily find frozen mixed berries, and using all the berries in place of one or two works completely fine.
If using solo frozen berries, use a combination of any two berries, such as blueberries and strawberries or blueberries and raspberries or strawberries and raspberries, etc.
Any two-berry combination of your choice can make a berry smoothie.
Use any milk or yogurt, or make it non-dairy using other milk such as coconut milk or soy, or oat milk. Using ordinary milk is perfect and gives a creamy taste.
Add any liquid little by little to get the desired consistency.
If the smoothie is thick, add more liquid, such as water, orange juice, milk, or yogurt, until you reach your desired thickness or consistency.
Benefits
The smoothie is power-packed with lots of fiber, and we all know the benefits the berries give humans.
The berries are packed with high fiber, making their way to the list of weight loss diets.
The berries reduce cholesterol levels, are suitable for your heart, and prevent heart issues as they are fat- and sodium-free.
Strawberries and blueberries are rich in antioxidants that work in preventing cancer.
If you are looking for a healthy weight loss diet, add this frozen berry smoothie to your meals as a meal replacement and have it by replacing meals.
Have it for breakfast or lunch, replace any meal with a berry smoothie, and enjoy the benefits.
The smoothie keeps you full because of its fiber content and does not increase or build up an appetite which is why using berries is highly advisable.
The list does not end here as berries are one of the best fruits to munch on as they are heart healthy, aid in weight loss, keep you full, prevent obesity, and many more.
Equipment used
Use any high-speed blender to blend the frozen berry smoothie or when using frozen fruits.
Using a low-speed blender with no good power does not make the puree fine and smooth.
Any blender to make a smoothie with good speed helps make a finely pureed smoothie.
A good blender is essential as the smoothie can become lumpy and not puree well with a low-speed blender.
Adding any liquid to make it without lumps helps a lot, along with good equipment, to get that smooth texture.
Storage
You can make a fresh smoothie instantly using frozen fruits, and they take a minute or two to puree them.
If there is any leftover, store them in an airtight container or airtight jar, and it is better to use them within a day to keep their nutrients intact and benefit us.
Can I use fresh berries?
Yes, you can use berries such as strawberries or blueberries or buy fresh berries that are available in solo or a combination.
Using fresh berries does not last long and tends to spoil quickly if not stored well.
In that case, you can run out of fresh berries when you want a berry smoothie.
Therefore, in such cases, having frozen berries to make a frozen berry smoothie is always a good idea.
Frozen berries don't spoil quickly and can be used for months until they expire.
Can I replace almond milk with other liquids?
Use almond milk to make a low-calorie drink and a healthy beverage, but add low-fat milk or plain yogurt instead of almond milk to increase the calories.
To make it a complete non-dairy smoothie, go for coconut, oat, soy, or plain water or coconut water.
Adding water or non-dairy can reduce calories; therefore, add almond milk, greek yogurt, or non-dairy yogurt to make it healthy.
The ingredients mentioned above also add protein and fiber to the meal smoothie.
Variations
Add a banana to make the smoothie more fiber-rich and creamy, and add some deliciousness.
Adding a banana to the berries helps us in consuming the smoothie quickly.
Add a fresh banana or frozen banana and blend the frozen berry smoothie well.
One banana can give you enough calories and keep you complete with berries, but adding this ingredient is optional.
Increase the number of berries as per your preference. Add fewer strawberries and more blueberries, or all the berries in equal proportion are entirely your preference.
You can add the number of frozen berries according to your liking, which is possible if you use solo frozen packs.
If using a mixed berry pack, add 2 cups of frozen mixed berries and blend it well using almond milk or yogurt.
Different variations give different colors to the smoothie, and every smoothie procedure is healthy when there are no added sugars or whole-fat milk.
An alternate way of making a berry smoothie
Add a cup of mixed berries, a frozen banana, and one and a half cups of almond milk to the blender, and blend the smoothie.
The smoothie that turns out can generously serve and yield for 1, and leftovers can be stored airtightly in the fridge.
Adding a banana can make the smoothie close to 300 calories, making a healthy breakfast smoothie to replace meals.
Check out below another way of making a smoothie with frozen berries.
Recipe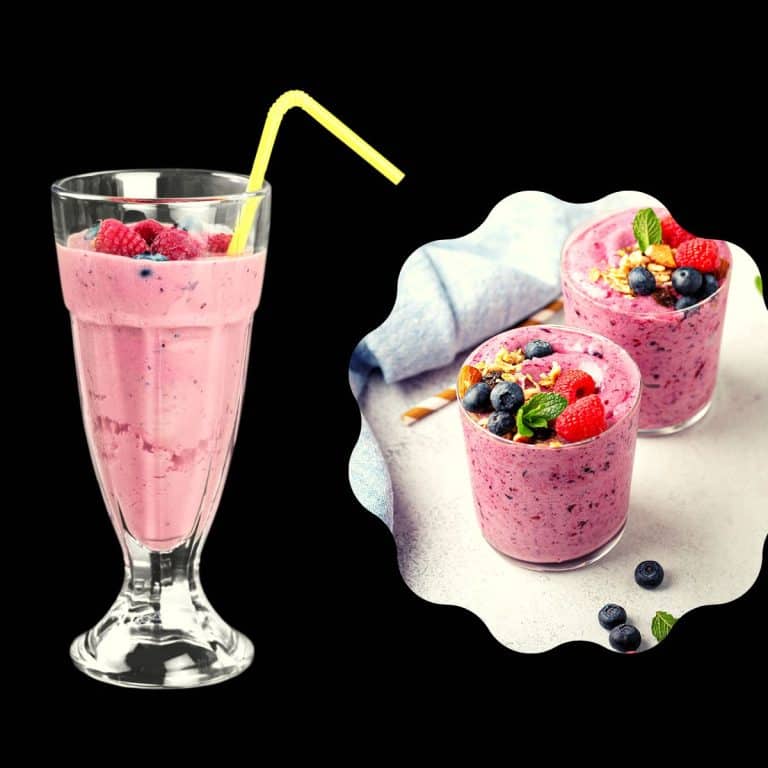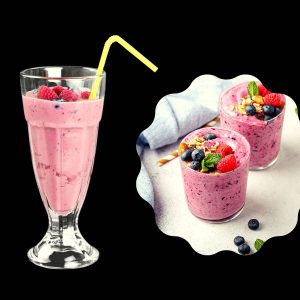 Frozen Berry Smoothie Recipe
A simple and quick smoothie recipe with frozen berries.
Ingredients
1

cup

strawberries

(fresh or frozen)

½

cup

blueberries

(fresh or frozen)

¼

cup

raspberries

(fresh or frozen)

1

cup

unsweetened almond milk

(can use any non dairy milk or greek yogurt)

1

tablespoon

honey
Instructions
Add half a cup of strawberries to the high-speed blender.

Add half a cup of blueberries and one-fourth cup of raspberries to the blender.

Add a cup of unsweetened almond milk and honey.

Blend all the ingredients on high speed for a minute or two until the smoothie reaches a fine consistency.

Blend well to avoid lumps.

Serve in place of breakfast, replace meals, or as an evening drink.
Notes
Generously serves 1, but if trying to consume in small quantities, store the leftover in an airtight jar in the refrigerator and consume in a day.
If you like to add more fruits, add some frozen banana slices to make it creamy and add more calories.
You can add several berries of any kind according to one's liking and mix and match the berries as all berries are good for health.
Nutrition
Nutrition Facts
Frozen Berry Smoothie Recipe
Amount Per Serving
Calories 218
Calories from Fat 36
% Daily Value*
Fat 4g6%
Sodium 329mg14%
Potassium 379mg11%
Carbohydrates 47g16%
Protein 4g8%
Vitamin A 77IU2%
Vitamin C 108mg131%
Calcium 344mg34%
Iron 1mg6%
* Percent Daily Values are based on a 2000 calorie diet.
Faq's
Are frozen berries healthy in smoothies?
Yes, you can use frozen berries but try to get fresh berries. If not handy using frozen berries is a safe choice, but always keep the frozen berries freezer and use them within the expiration date.
Can I add yogurt to the smoothie?
Yes, add yogurt or any milk or non-dairy milk and blend the smoothie until you reach the desired consistency.
Can you put frozen berries straight into the blender?
If you have time, thaw them for a few minutes at room temperature, especially if the blender is low speed. Generally, adding a liquid in good quantity helps the frozen fruits puree well, even without thawing.