Do you like to have a different kind of frozen banana smoothie for any meal? Try our banana smoothie to help you eat a healthy breakfast, lunch, or dinner. The smoothie shared here is simple and easy to make in a minute.
Also, check out many other frozen smoothies shared on the blog, such as frozen berry smoothie, frozen spinach smoothie, and easy oats recipes such as overnight oats with water and overnight oats with instant oatmeal.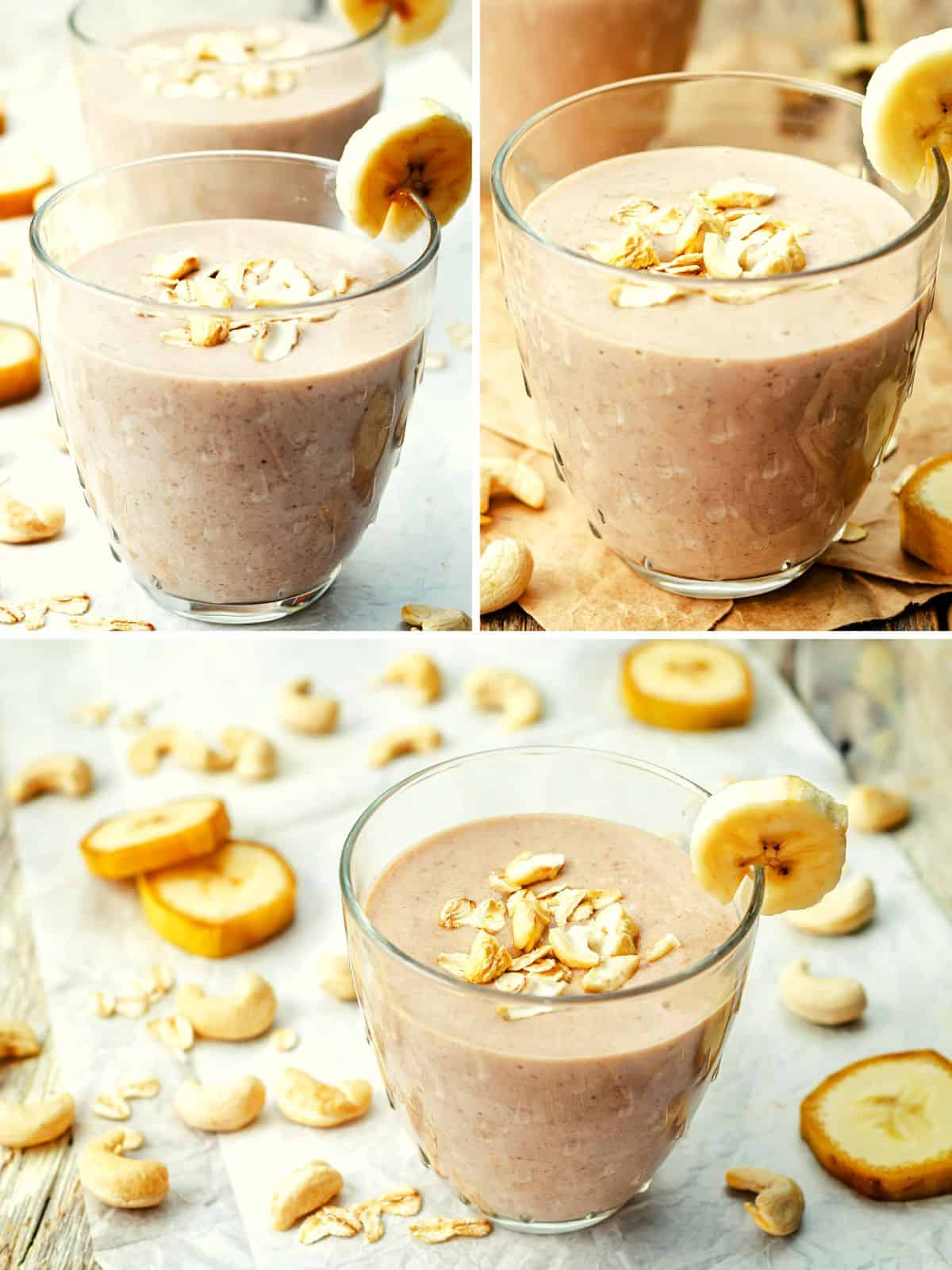 About the recipe
Today I have a simple and quick smoothie to share to help you healthily start your day and achieve your weight loss goals.
The smoothie is made with frozen banana; other ingredients used to blend the banana are almond milk and greek yogurt.
A healthy meal needs additional ingredients to keep you active all day, and here we add instant oats to supply the body with fiber and prevent building up an appetite.
Therefore, using a fresh ripe banana or frozen banana, make this healthy smoothie that is low in calories and supplies the body with the required nutrients.
Suggested
banana smoothie for weight loss
breakfast smoothie for weight loss
Ingredients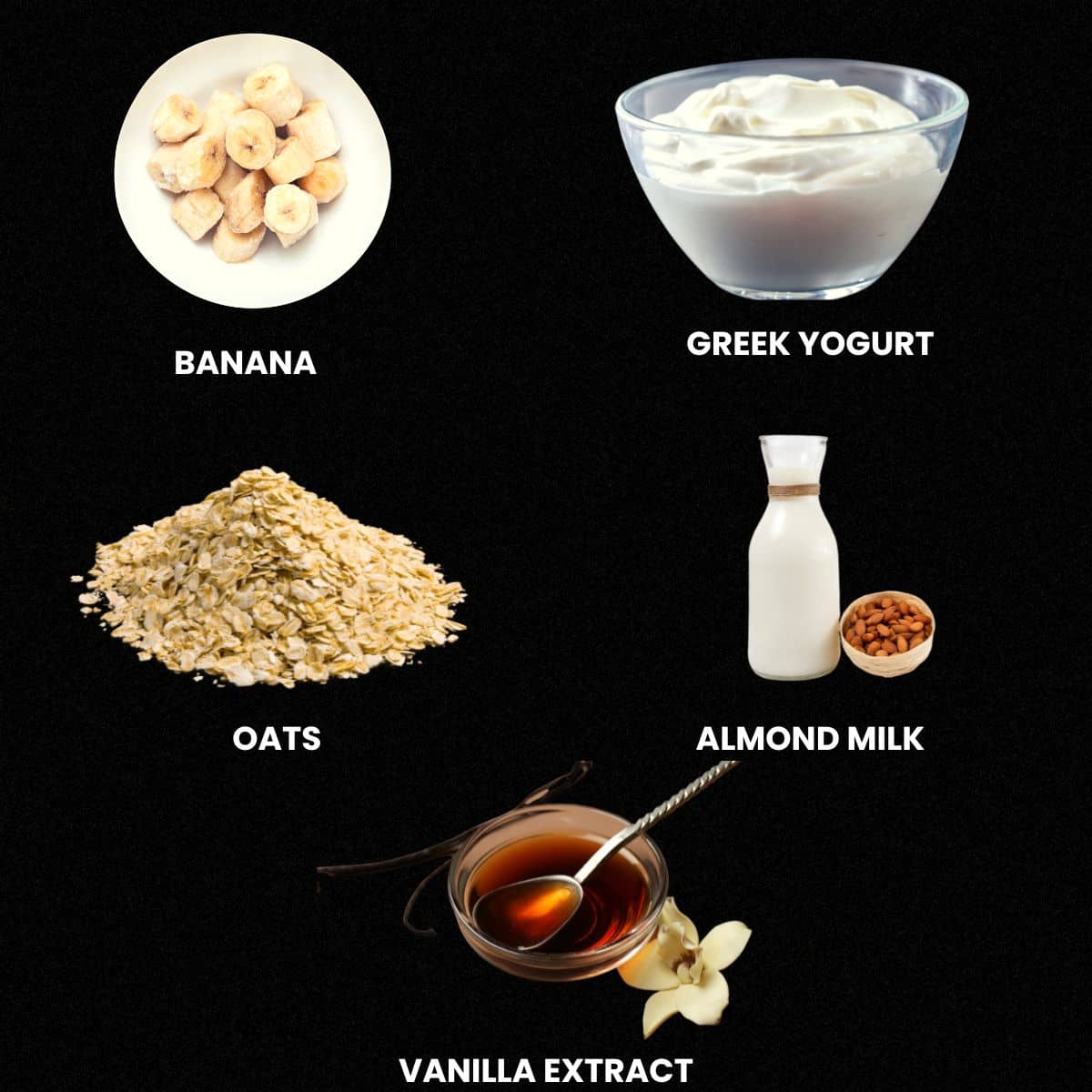 Frozen banana: If you have stored banana slices in the freezer, use them to make a healthy smoothie.
Almond milk: Use healthy non-dairy milk that is good in proteins as it is an essential macronutrient to help build the body.
Greek yogurt: Greek yogurt is an essential ingredient to promote better gut health and is high in proteins and low-calorie food.
Instant oats: The oats are filled with high fiber and are low in cholesterol to promote slow digestion. It is a healthy way to start the day.
Vanilla extract: Adding this to a banana smoothie makes it flavorful and easy to consume.
Benefits of the smoothie
Banana
A single banana has approximately 105 calories and is a good source of fiber. When you like to have healthy weight management, eating fiber foods is the perfect way to manage weight and prevent weight gain.
Fiber foods avoid frequent eating as they keep you full and do not make you feel hungry.
If you stop eating frequently, you can avoid adding calories and can quickly burn existing calories and promote losing weight.
Therefore, bananas are a good source of fiber and can help you avoid binging on other unhealthy foods as they can keep you full and help with slow digestion.
Almond milk
Adding almond milk is the healthiest option to make it a low-calorie, fiber-rich, and protein-rich smoothie.
It is non-dairy and has plenty of benefits that, include burning fat. If you opt for regular almond milk, it has approximately 90 to 100 calories in a cup.
If you use almond milk in unsweetened form, it has just 39 to 40 calories which is a much better option to add to a weight loss smoothie or a healthy smoothie.
Almond milk does not contain cholesterol and has good fiber, protein, calcium, and fewer calories.
Dairy-based milk contains high calories and high-fat content, which is not ideal for a healthy diet.
Suggested
Greek yogurt
It is a must if you plan to lose weight as greek yogurt is quite effective in promoting weight loss and has a good amount of protein, which is essential to stop overeating.
Greek yogurt does not contain fats; it is low in calories and carbs and has no sugar, making it an excellent source to include in daily diets and smoothies.
The protein in greek yogurt prevents cravings, and this prevention can stop us from eating unhealthy food and thus can help increase calories in the body.
Instant oats
Quick oats or instant oats are a fat-free, cholesterol-free food source and a whole grain food that has immense benefits if added to healthy diets.
The oats can help you reduce blood pressure levels, reduce cholesterol levels, promote weight loss, and are good to include in a diabetic diet, and the list is endless.
Oats are a rich source of fiber, and the goal of making a healthy smoothie is to have a good amount of fiber, protein, and fewer calories.
This smoothie has everything a nutritional smoothie needs.
Suggested
Vanilla extract
Vanilla not only adds flavor but is a beautiful substitute for sugar, and vanilla gives that required sweet flavor and fragrance and is a healthy sugar substitute.
Instead of adding any sweetener, such as sugar, honey, or maple syrup, add vanilla extract and blend the smoothie.
Suggested
Iced vanilla latte Starbucks style
Variations and Substitutions
Here, I like to combine frozen bananas with instant oats to give a filling smoothie and make a perfect meal replacement for breakfast or any other meal, such as lunch or dinner.
Alternatively, you can skip instant oats and combine bananas with blueberry or other fruits such as frozen mango or pineapple.
Strawberries make a perfect combination with banana and, at the same time, makes a low-calorie drink without increasing calories.
Some may not like the taste of veggies with bananas and have a banana smoothie without adding any veggies.
If you like to add any vegetable, add spinach, avocado, or kale to make it healthier and a weight-loss smoothie.
I like combining almond milk and greek yogurt, but you can add more almond milk and skip the yogurt.
If you like to make it a high-calorie smoothie, add whole milk if you want to give this smoothie to kids, or have it if you are not following a healthy diet.
You can add more protein to the smoothie by adding a teaspoon or tablespoon of peanut butter.
The calories keep increasing with additional ingredients and can make the smoothie high-calorie.
Watch out for the calories if you are having them during your healthy diet, or make a diet plan to lose weight.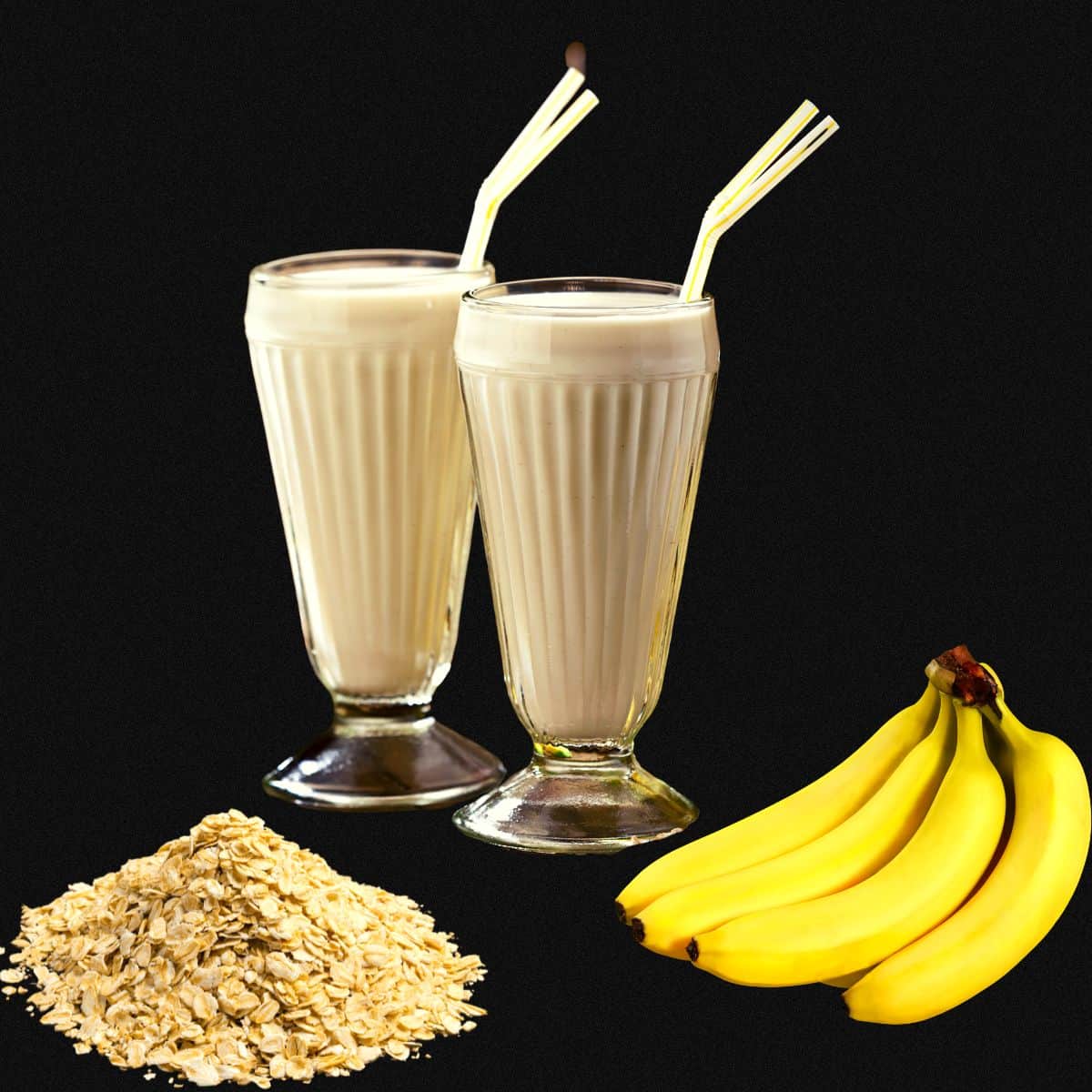 Tips
Thaw the bananas for a few minutes at room temperature to help blend the smoothie quickly.
Also, add ice if you prefer a highly cold or chilled smoothie.
Add a natural sweetener such as honey and skip vanilla extract if you like to play around with sweeteners.
Add a little bit of honey, as a teaspoon of sweetness can make a lot of difference in calories, or avoid adding it.
Blend the smoothie on high speed to avoid lumps and help puree the smoothie well.
If the smoothie is thick, add almond or low-fat milk and blend to balance the thickness.
When to drink?
Have it for breakfast, add whole milk or yogurt, and serve it to kids. Replace meals with this frozen banana smoothie, which makes a suitable meal replacement.
Have it for lunch, or replace unhealthy beverages with this healthy smoothie.
How to freeze bananas?
Peel the ripe bananas, slice them, place them on parchment paper, and freeze them for a few hours.
Once they stop sticking to each other and are frozen, transfer them to a ziplock or airtight container and freeze them.
Frozen bananas last longer, do not ripe in the freezer, and remain frozen without ripening further.
Fresh bananas can spoil quickly, but frozen bananas come into use for different recipes once we slice and store them in the freezer.
Recipe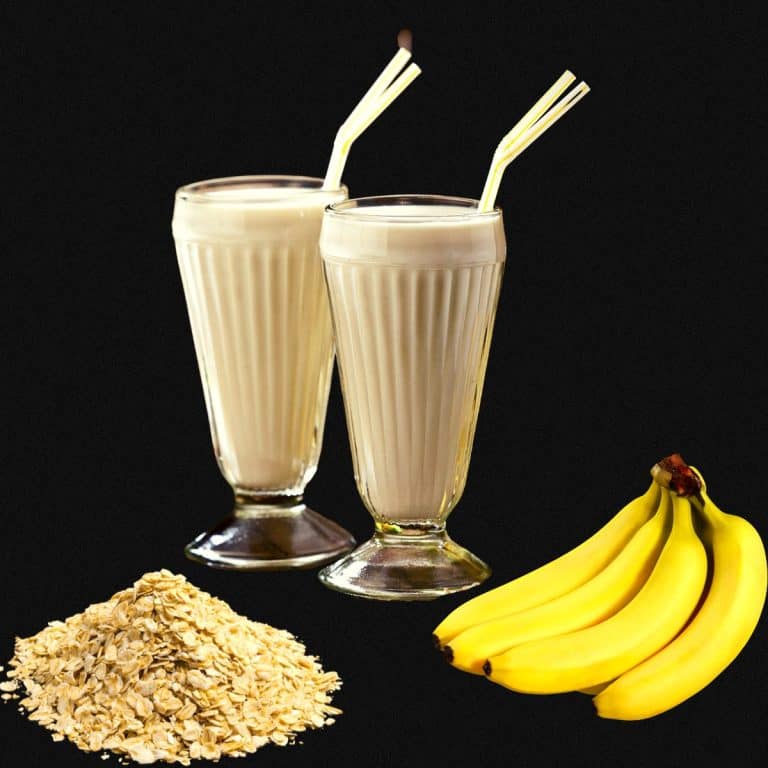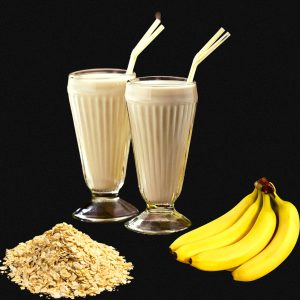 Frozen banana smoothie
A healthy low calorie banana smoothie using frozen bananas.
Ingredients
1

large

frozen banana

(frozen peeled banana slices)

1

cup

almond milk

(unsweetened milk to reduce calories or only greek yogurt can be used)

2

tablespoon

greek yogurt

¼

cup

instant oats

¼

teaspoon

vanilla extract

(or use pitted dates or honey as optional)
Instructions
Add frozen banana to a high-speed blender.

Add almond milk to the frozen banana.

Add some greek yogurt to the above ingredients.

Add oats and vanilla extract.

Blend all the ingredients on high speed to avoid lumps and blend until you reach desired consistency.
Notes
Add ice cubes if you like to have a chilled smoothie, but they are not required if using frozen bananas.
If using fresh fruits, add ice cubes if required.
Add pitted dates for sweetness and skip vanilla extract if you do not prefer vanilla flavors.
Nutrition
Nutrition Facts
Frozen banana smoothie
Amount Per Serving
Calories 251
Calories from Fat 45
% Daily Value*
Fat 5g8%
Cholesterol 2mg1%
Sodium 338mg15%
Potassium 602mg17%
Carbohydrates 47g16%
Protein 9g18%
Vitamin A 88IU2%
Vitamin C 12mg15%
Calcium 350mg35%
Iron 1mg6%
* Percent Daily Values are based on a 2000 calorie diet.
Faq's
Are frozen bananas healthy?
Yes, they do contain all the essential nutrients a fresh banana contains. It is challenging to keep a banana fresh at room temperature, and it tends to spoil in 3 to 4 days. It is always a good idea to have frozen bananas handy as their nutritional value is similar to that of fresh bananas.
Are frozen bananas good in smoothies?
They taste like fresh bananas, but we may only have them sometimes. We like to have a smoothie using fresh bananas, but they spoil quickly. Therefore, freeze the bananas by making their slices and use them in smoothies whenever required.