This fruit smoothie recipe with yogurt is healthy and full of fruits without added vegetables. This smoothie is a healthy drink suitable for all ages and has berries that make it more beneficial to lead to better health.
There are many recipes on the blog that are drinks, smoothies, or detox recipes, and check out various recipes to try and have them by replacing meals.
Suggested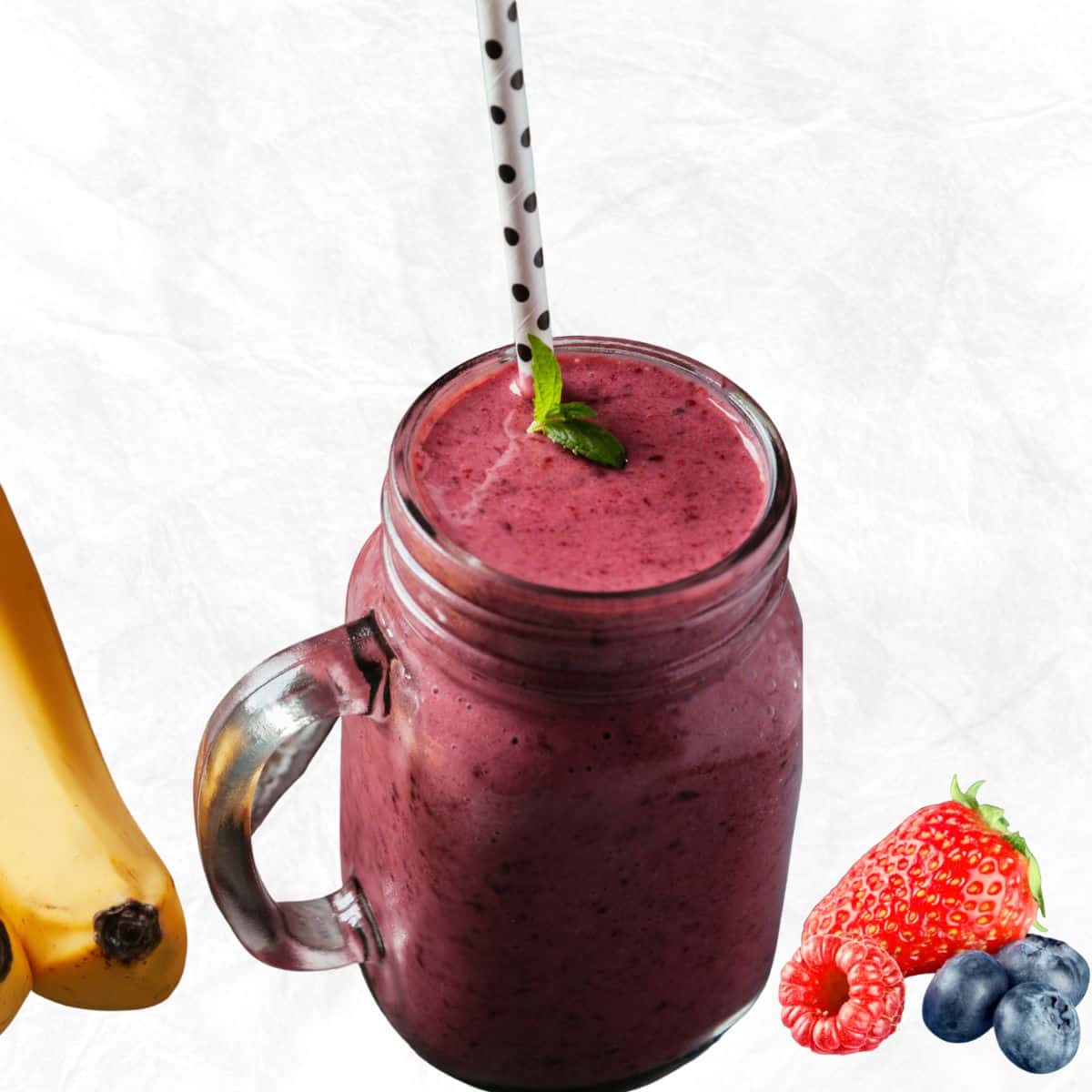 Jump to:
About the recipe
The recipe uses different berries, such as strawberries and blueberries, that can be used either fresh or frozen.
The berries are then blended with other fruits, such as pineapple and banana, to add more fiber and make it nutritious.
The smoothie then uses greek yogurt to make it like a puree and adds protein and fiber to the healthy fruit smoothie.
Suggested
Ingredients
Blueberries: Use these berries in a frozen form which are readily available in solo packs, or you can use them fresh.
Strawberries: These berries can also be used frozen or fresh and are available in solo packs in stores.
Banana: Using a fresh banana is suggested, but if not available, go ahead and add frozen banana slices and always have one frozen banana handy.
Pineapple: Use frozen or fresh pineapple chunks, and the smoothie taste will remain delicious.
Greek yogurt: Use yogurt instead of milk; it is a healthy ingredient and gives the smoothies a thick and creamy texture.
Benefits
The best fruits include berries that are strawberries and blueberries in the diet to improve heart health and prevent blood pressure or any heart issues.
The strawberries and blueberries help lower cholesterol levels as they contain zero fats and help improve healthy cholesterol in the body.
To add fiber to the diet and keep you complete, the above berries and a banana work towards that function.
Greek yogurt usage is highly suggested as it adds protein to the diet and has a good amount of protein in a cup of greek yogurt.
The greek yogurt makes the smoothie yummy and gives immense health benefits that can help reduce weight and prevent weight gain.
It is the best food ingredient to add to weight loss diets and to make a fruit smoothie recipe with yogurt.
Variations and substitutions
Mixed berries: Blueberries and strawberries can be replaced with frozen mixed berries.
Fruits: Other fruits, such as mangoes and raspberries, can be added, and bananas can be skipped to make a complete fruit smoothie.
Non-dairy liquid: Here, the recipe uses greek yogurt, but non-dairy liquid such as soy milk, almond milk, or coconut milk is an excellent choice if greek yogurt is not preferable.
Ice: If using frozen fruits, ice is optional; add crushed ice only if using fresh fruits.
Sweetener: Other sweeteners, such as maple syrup, can be added as its calories are slightly lower than honey or can be skipped entirely.
Suggested
pineapple smoothie with yogurt
When to drink the smoothie?
Since the smoothie contains all fruits, have it during breakfast by replacing other breakfast meals or serve it during snack time.
The recipe is perfect for drinking during any meal or replacing any meal with a smoothie to have a healthy meal.
The smoothie is a great choice to serve kids and adults; any age group can consume the smoothie any time of the day.
Watch out if you have any health issues, such as people with diabetes, as natural sugars in high amounts spike the sugar levels in the body.
Can I add flavored yogurt or milk to the smoothie?
Yes, yogurt and milk can be combined with the fruit smoothie with yogurt, or you can add a solo liquid, yogurt, or milk.
If you like to keep the smoothie simple, you can skip some fruits and blend the smoothie with water.
The smoothie blended with water can keep you hydrated, but more is needed to supply your body's nutrition.
Other perfect options are to go with non-dairy milk, such as almond milk, to give the necessary protein, or add greek yogurt.
Flavored yogurt is not a healthy option if you make a smoothie to lose weight or add it to a healthy weight-loss diet.
Use low-fat yogurt, greek yogurt, or other non-dairy milk, and watch out for the benefits it shows on your body in the long run.
Tips
Thaw all fruits in frozen form to help blend the smoothie easily and quickly without making it lumpy.
You can add a vegetable such as spinach to the mentioned fruits in the recipe to make it a healthier, fiber-rich low, calorie smoothie.
Recipe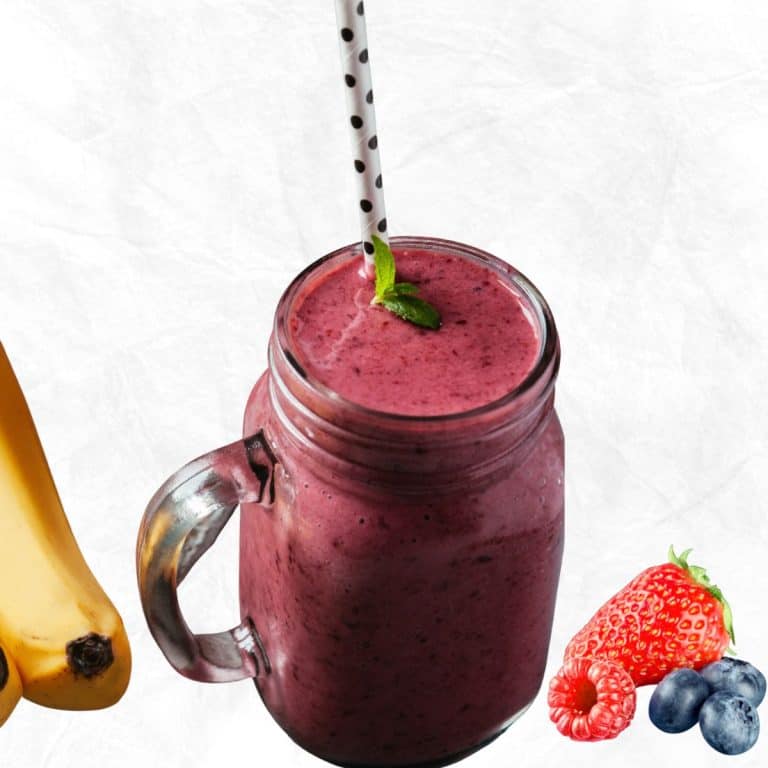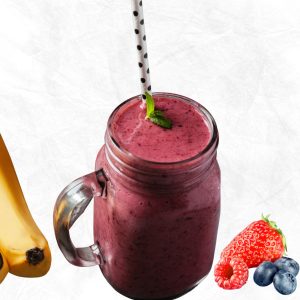 Fruit smoothie recipe with yogurt
A quick fruit smoothie recipe using greek yogurt.
Ingredients
¼

cup

frozen blueberries

¼

cup

frozen strawberries

1

medium size banana

(peeled, fresh, or frozen)

½

cup

frozen pineapple chunks

1

cup

greek yogurt

Ice

( optional)

1

teaspoon

honey
Instructions
Add frozen or fresh blueberries to the blending jar.

Add frozen or fresh strawberries to the jar.

Add fresh peeled banana slices, or use frozen peeled bananas.

Add frozen pineapple chunks, or use fresh pineapple.

Add greek yogurt to the above ingredients.

Add ice as an optional ingredient if using frozen fruits and if adding fresh fruits, add ice to make a chilled smoothie.

Add honey to add some sweetness.
Nutrition
Nutrition Facts
Fruit smoothie recipe with yogurt
Amount Per Serving
Calories 322
Calories from Fat 9
% Daily Value*
Fat 1g2%
Cholesterol 10mg3%
Sodium 75mg3%
Potassium 882mg25%
Carbohydrates 59g20%
Protein 23g46%
Vitamin A 156IU3%
Vitamin C 75mg91%
Calcium 247mg25%
Iron 1mg6%
* Percent Daily Values are based on a 2000 calorie diet.
Recommended