This mixed berries smoothie with almond milk, a non-dairy smoothie, is a must-try for a quick or healthy breakfast with good calories and nutrients enough to keep you full as a meal.
Check out different smoothie recipes on the blog and try them using milk or almond milk and hope you will love their taste.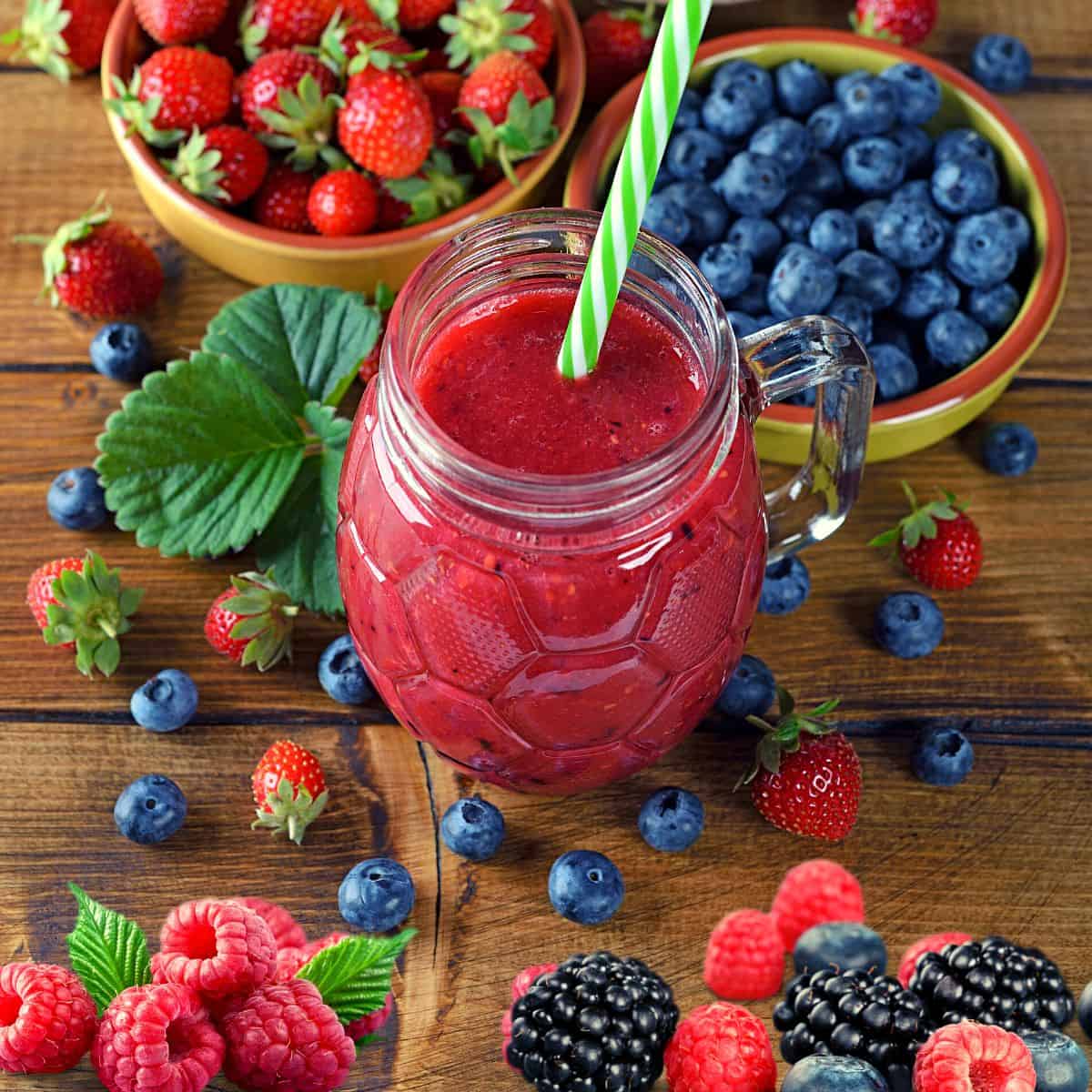 Jump to:
About the recipe
Berries are a nutrient-dense food, and adding them to your morning breakfast, such as a smoothie, helps you to add these fruits to your daily diet.
These fruits should be consumed daily; the best way is to add them to drinks; one must ensure the smoothie is low-calorie and healthy.
My choice of making smoothies is healthy, and blending them with non-dairy such as almond milk is an excellent way to keep the smoothie healthy and low-calorie but filling.
I am using mixed berries, but you can use only a single or mixed berry and blend the smoothie.
This simple berries smoothie with almond milk with minimal ingredients is nutritious and perfect for any meal, such as breakfast or snacking.
Ingredients
Strawberries: Use fresh or frozen strawberries but remove the green stalk before using it in a smoothie.
Blueberries: Blueberries, if not handy, can be used frozen, but they are always available in stores, and a smoothie tastes best with freshly bought berries.
Blackberries: Use them as these two are available in fresh form in grocery stores, and also we get them in combination with other berries.
Raspberries: These berries, too, are available in frozen form, but if you like to use fresh raspberries, use them and enjoy their benefits.
Almond milk: Use unsweetened almond milk to make it sugar-free and low in calories, and try to use pure almond milk extract.
Chia seeds/flax seeds: Adding a teaspoon of chia seeds or powder boosts the smoothie's fiber content.
Banana: Adding banana combined with berries gives the smoothie its natural sweetness. Check out the recipe for banana smoothie with milk on the blog.
Sweetener: Adding dates is a healthy option, but adding honey is another sweetener, and a safe and zero-calorie sweetener is the monk fruit extract.
Variations and substitutions
Fruits: Fruits to add to berries to make it yummier other than bananas are pineapple or mango, which add taste and natural sweetness to the smoothie.
Veggies: Another healthy option to substitute fruits is to add a handful of spinach to the smoothie to make it perfect for a weight loss smoothie.
Yogurt: You can replace almond milk with yogurt or greek yogurt to blend the smoothie, and check out my berry smoothie with yogurt or pineapple smoothie with yogurt if you like to try it out.
Check out the strawberry banana smoothie with yogurt if you like to try it with strawberries.
Sweeteners: If you add sweet fruits such as a banana, mango, or pineapple, add just one date or skip it.
You can skip adding dates and honey and use a zero-calorie sweetener to keep the smoothie healthier.
To make it healthy and delicious, adding a date works well, but not suitable to add dates if you have diabetes as dates have high natural sugars.
Benefits
Did you know that berries are the best and healthiest fruits with miraculous benefits? Yes, they are powerful fruits and can benefit significant health issues.
The berries are the best fruits to consume to avoid heat-related issues and to reduce cholesterol levels,
If you are suffering from diabetes, eating berries can help regulate your blood sugar levels.
Strawberries and blueberries can prevent weight gain issues with regular consumption and protect you from becoming obese.
It helps you lose weight, and adding these mixed berries to cereals or smoothies makes it delicious and can benefit you in the long run.
They also help boost memory power and help with a better learning process, and power-packed berries are good for losing weight.
These benefits are enough to get you started and use these delicious fruits in various recipes, not just smoothies.
Why should we add almond milk?
Adding almond milk is preferable, especially if you are looking for a healthier version of smoothies, as almond milk has low calories and a good amount of fiber and protein to make you feel full for longer and not build up your appetite.
It mainly helps your appetite stay controlled and lets you control your cravings for other foods.
On the other hand, whole milk has more calories and fats, whereas almond milk has healthy fats, which the body needs.
If you prefer cow's milk, add low-fat milk but do not use whole milk as its fat content increases and may not help maintain a healthy weight.
Therefore, almond milk is good when we use an unsweetened form of almond milk and also check its purity.
While buying the milk, it is best to purchase pure almond milk extract, or we can make almond milk at home.
Almond milk, too, has a good amount of calcium, helps to strengthen bones, and is entirely dairy free, which can be a healthy option if you are allergic to milk.
Almond milk reduces the risks associated with heart and also diabetes.
Consuming almond milk combined with berries and making berries smoothies with almond milk is a healthy way of consuming superfoods that help you stay healthy but also help in staying fit.
Storage
You can freeze the berries smoothie with almond milk smoothie packs in a ziplock bag or airtight containers and store them in the freezer.
When ready, take the bag out, add milk or almond milk, blend quickly, and consume immediately.
Leftover smoothie remains good and nutritious if consumed during the day keeping its taste intact.
Making smoothie packs is the best way to add all the ingredients and keep them ready to use whenever required.
The smoothie packs can be stored in the freezer for at least 2 to 3 months and used when needed.
Can I skip adding chia seeds to the smoothie?
Chia seeds make the smoothie more filling, and you can also replace them with flax seeds or powder, which boosts digestion and makes it fiber rich.
Chia seeds are a healthy and rich source of fiber and healthy carbs, and adding a teaspoon or two to drinks such as smoothies is the best way to consume these superfoods.
However, it is optional and can skip if you like, but adding them makes it a healthier and more filling smoothie.
Chia seeds help ease constipation and help curb the appetite, making it ideal to use them in a smoothie meal to avoid overeating other foods.
Suggested
Recipe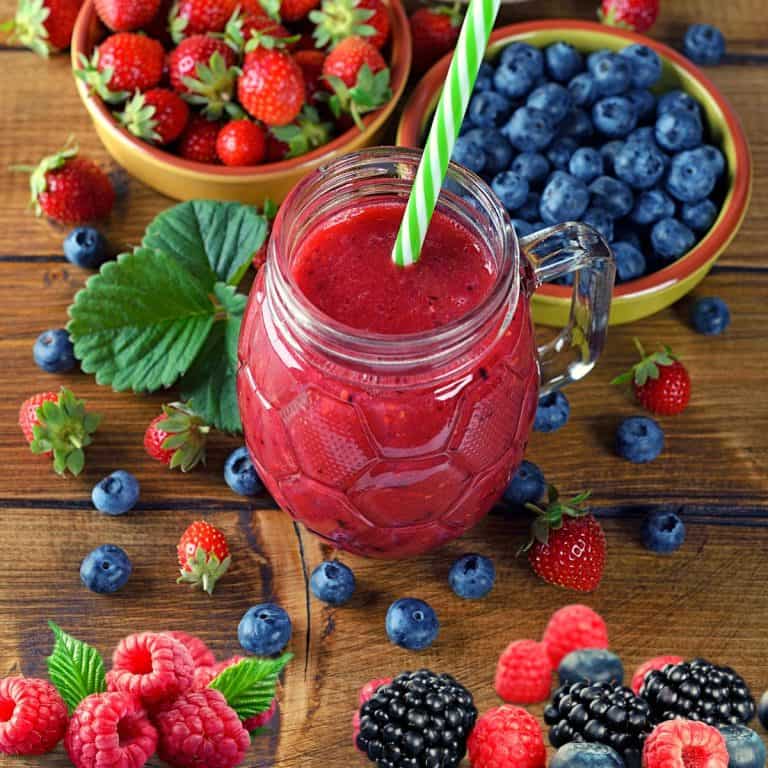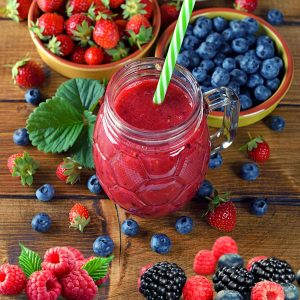 berries smoothie with almond milk
A quick berry blend with almond milk.
Ingredients
½

cup

blueberries

½

cup

strawberries

½

cup

blackberries

½

cup

raspberries

1 ½

cup

almond milk

(unsweetened)

½

banana

(ripe)

1

date

1

teaspoon

chia seeds
Instructions
Add all the berries mentioned in the ingredients.

Add almond milk, and use the unsweetened form to reduce calories.

Peel and add the banana.

Add a Medjool date as an optional ingredient for sweetness which is also a good source of fiber.

Add chia seeds to the ingredients.

Blend everything until a smooth texture is observed.

Pour the smoothie into a glass.

Serve chilled.
Notes
Add chia seeds during blending or add them as a topping after blending the smoothie.
Nutrition
Nutrition Facts
berries smoothie with almond milk
Amount Per Serving
Calories 272
Calories from Fat 63
% Daily Value*
Fat 7g11%
Sodium 492mg21%
Potassium 648mg19%
Carbohydrates 52g17%
Protein 6g12%
Vitamin A 263IU5%
Vitamin C 86mg104%
Calcium 533mg53%
Iron 2mg11%
* Percent Daily Values are based on a 2000 calorie diet.