Like to include lemon chia seed water as a detox water and a weight loss drink in your healthy diet? Try this quick, easy-to-make detox using lemon and chia seeds, and help your body detoxify.
There are many ways a detox can be made, and here I am going to share a detox drink using a few ingredients such as lemon water and chia seeds and hope this drink will benefit many readers looking for a great detox.
Suggested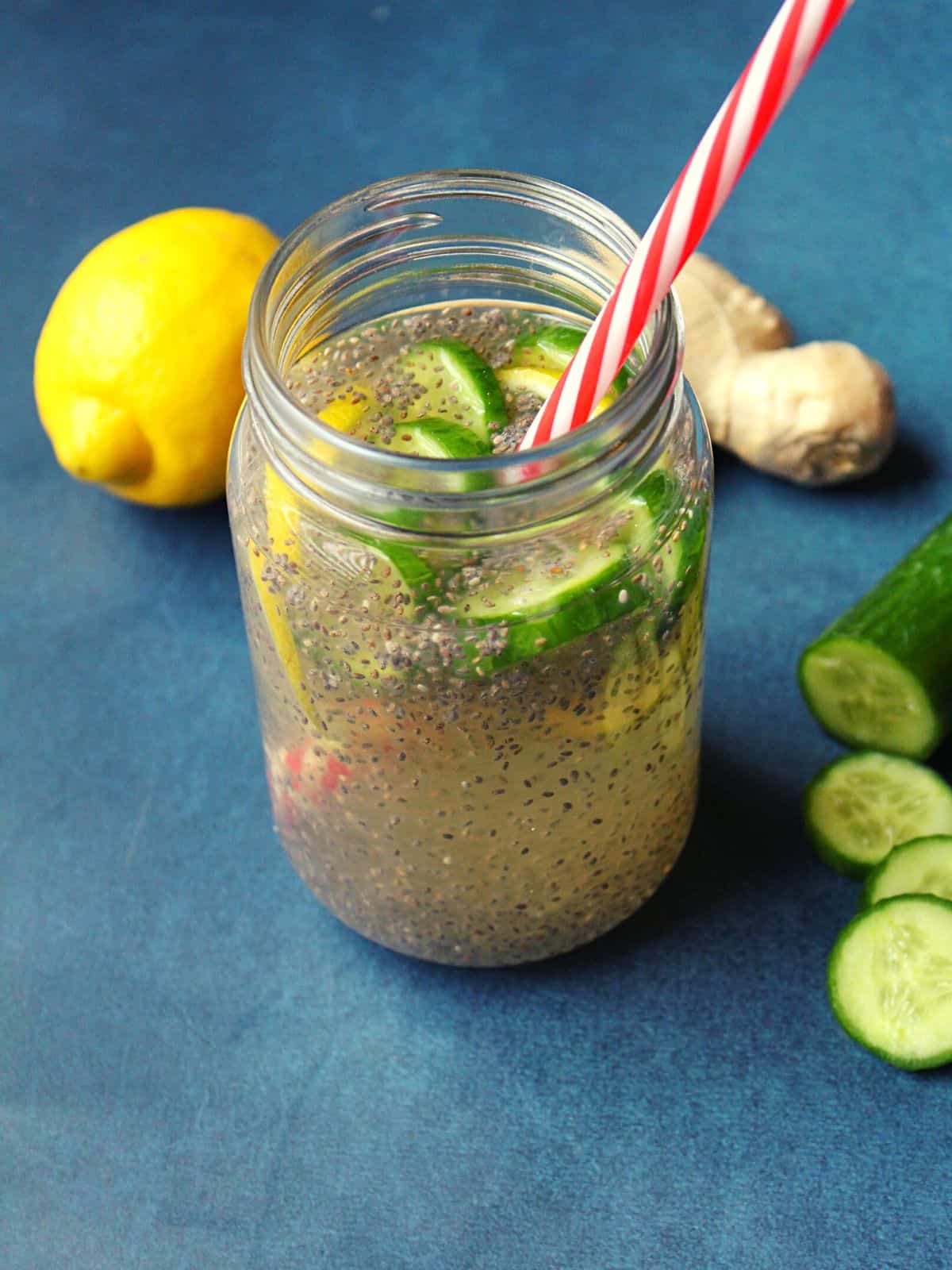 Jump to:
About this recipe
This recipe uses some of the powerful ingredients from the kitchen that can help with natural detox and remove toxins from the body.
When it works properly, the detox drink makes it easy to reach your desired weight, and including any detox drink is the best and most healthy way to start your day.
Infusing all the natural detox ingredients such as lemon, cucumber, mint, and fiber-rich chia seeds is a perfect detox to drink in the morning.
Ingredients
Water: This natural liquid is a necessity to make any healthy drink, and use water that is at room temperature or can use cold water.
Lemon: This is an essential ingredient to add to any detox, and this recipe of lemon and chia seed water uses lemon to make use of its immense benefits.
Chia seeds: These seeds are loaded with fiber and help you provide with necessary healthy calories when added to drinks.
Mint leaves: Adding mint leaves makes a refreshing drink and gives a soothing effect when added to detox drinks.
Cucumber: This green veggie has natural diuretic properties and acts as a natural detox to the body, and adding it to this recipe makes it more beneficial in detoxifying.
Sweetener: Using honey or stevia as a sweetener is optional, but if using honey, use it in small quantities to give a slight flavor to help you consume the drink.
Benefits
Lemon
Lemon aids in boosting digestion, and using it is a healthy way to naturally detox your body as it is a natural diuretic that aids in flushing away the toxins from the body.
Lemons are vitamin C rich and high in antioxidants which help in promoting weight loss, boosting metabolism, and boosting immunity.
According to a study, lemon detox has proven to reduce body weight and insulin resistance, making it an effective ingredient to add to detox diets.
Chia seeds
The chia seeds are packed with protein and rich fiber, making the drink a fulling drink by providing the necessary calories.
The seeds added in a teaspoon or a tablespoon can give you enough calories, and its fiber content helps you stay full, improves digestion, and eases constipation.
These seeds are linked to weight loss promotion because of their fiber and protein value, and this nutrition helps regulate sugar levels and prevent cardiovascular issues.
Mint
Mint acts as a refresher to this chia seeds lemon and water detox drink, and mint is always known for its ability to boost digestion.
It keeps foul odors away and helps in easing irregular bowel movements.
Cucumber
This green veggie natural water content helps you keep hydrated, and adding cucumbers to your healthy diet is essential.
They are not only hydrating but help meet most of the fluid demands of the body if you do not drink enough water.
Water is essential to help with proper body functioning, but cucumber can provide most of the fluid requirement and keeps you hydrated.
Try to add cucumbers as it is a low-calorie food that may help in regulating or controlling diabetes, and also adding it to several recipes helps with proper weight management.
Cucumbers are naturally diuretic, and adding them to this lemon chia seed water makes it a powerful detox to help flush the toxins.
What does lemon and chia seed water do?
This hydrating drink helps naturally detox the body and remove or flush out toxins.
The drink has ingredients that help with better digestion, ease bowel movements and ease constipation.
This lemon water and chia seeds water helps you make a filling drink as chia seeds are fiber and protein-rich, giving a feeling of fullness when consumed during the day between meals.
Having this diet regularly can keep you away from increased sugar levels and helps in improving immunity.
Each ingredient has benefits that work in detoxifying, reducing bloating and gas, aiding weight loss, supplying enough nutrients, boosting metabolism, and making it a refreshing and energizing drink.
Proper hydration leads to proper body functioning and results in appropriate detoxification.
In brief, this water helps with maintaining a healthy weight, glowing skin, and avoiding illness or health issues related to the heart.
Is it ok to mix lemon and chia seeds?
Yes, it makes a healthy drink to have on an empty stomach or detox water. Both lemon and chia seeds help with better digestion and have properties to help in losing weight.
Making a quick drink by adding a teaspoon of lemon extract and some chia seeds to a cup of water and consuming honey makes it a hydrating and refreshing drink any time of the day.
Can I make lemon chia water with warm water?
If you are making it as instant detox water, take a glass of warm water, add lemon extract and chia seeds, stir well, and consume immediately without a sweetener.
The above procedure is a quick and instant way of making lemon chia seeds water, and adding some ice and crushed mint leaves to the drink also helps to increase the health benefits.
Variations
The chia seeds water and lemon detox recipe shown here can be used immediately or infused with the ingredients at least 30 minutes before consumption.
There are other variations in making this detox, such as skipping cucumber slices.
Alternative recipe
Ingredients
1 glass water
1 lemon extract
1 tablespoon soaked chia seeds
2-3 mint leaves
½ teaspoon honey
Directions
Add lemon extract, soaked chia seeds, and mint leaves, honey, to a glass of water and stir quickly to avoid chia lumps.
Drink or consume immediately and feel refreshed and energized.
When to drink
To help with better digestion and detoxification, drink this detox early in the morning on an empty stomach.
If you missed out on drinking in the morning, have it before meals regularly in place of water to keep yourself hydrated.
Storage
If making the lemon and chia water in bulk, make it in a pitcher, leave it in the refrigerator overnight, and store it for 3 to 4 days to keep its freshness and taste intact.
The more we leave the ingredients to infuse in water, the better the water gets as the water gets infused with all the nutrients from all the ingredients, and this is more helpful than drinking plain water.
Many prefer to drink something other than plain water. In such cases, detox water by adding healthy flavors to the drink benefits our digestive system and improves overall health.
Recipe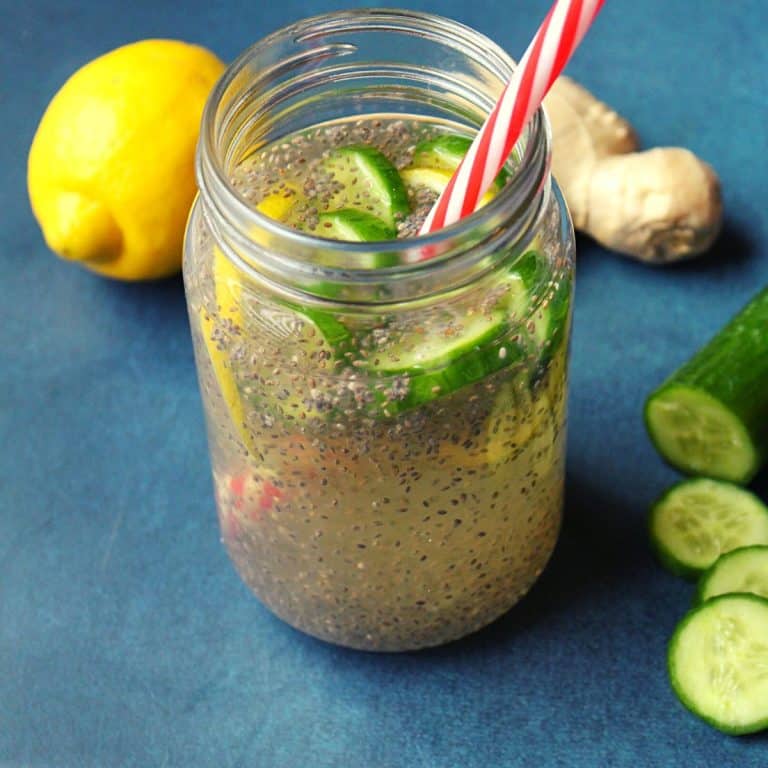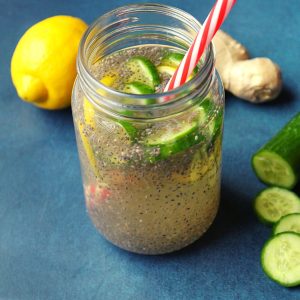 Lemon chia seed water
Detox and weight loss drink using lemon water and chia seeds.
Ingredients
1

lemon

(cut into round slices)

1

tablespoon

chia seeds

½

cucumber

(cut into round slices)

5-6

mint leaves

2

glasses of water

(16 oz)

½

teaspoon

honey

(optional)/ use stevia drops for zero-calorie sweetener
Instructions
Add all lemon slices to a large pitcher.

Also, add cucumber slices and mint leaves to a mason jar or a pitcher.

Add chia seeds.

Add drinking water to the above ingredients.

Stir all the ingredients.

Let it sit in the refrigerator for at least 1 hour before consuming it.

When ready, add honey as an optional ingredient if you like to use a sweetener.

The drink can also be kept overnight in the refrigerator before serving.

Serve when required and have a perfect detox ready to drink anytime.

Serve as is or serve with ice.
Nutrition
Nutrition Facts
Lemon chia seed water
Amount Per Serving
Calories 61
Calories from Fat 18
% Daily Value*
Fat 2g3%
Sodium 5mg0%
Potassium 216mg6%
Carbohydrates 11g4%
Protein 2g4%
Vitamin A 175IU4%
Vitamin C 32mg39%
Calcium 69mg7%
Iron 1mg6%
* Percent Daily Values are based on a 2000 calorie diet.