Have you ever tried a 1000-calorie smoothie or a high-calorie shake to increase your weight? We all do at some point when we are too lean or thin.
This recipe is a high-calorie smoothie to gain weight which uses different ingredients to make the shake or smoothie loaded with many calories.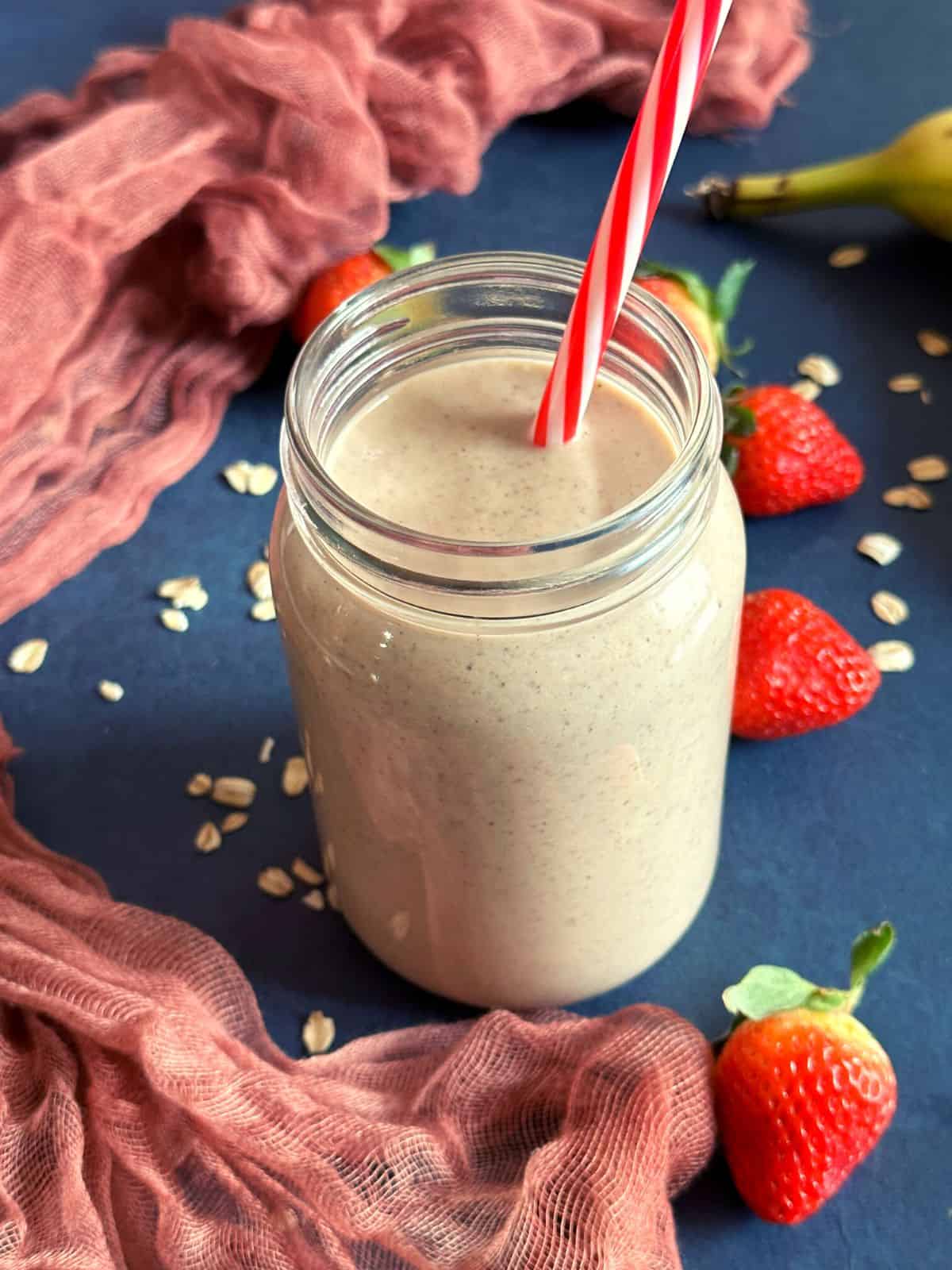 Other drinks or smoothies to check out on the blog are green smoothie for diabetics, berries smoothie with almond milk, etc.
Jump to:
About the weight gain smoothie
The smoothie uses different food items to make it high in calories, but all the ingredients used are healthy and help with healthy weight management.
This smoothie is the most delicious smoothie I have ever made. It's one of my favorite smoothies, although it's more in its calorie content.
The smoothie is loaded with healthy fruits, oats, chia seeds, milk, and yogurt, which help you increase pounds and stay healthy and fit.
Ingredients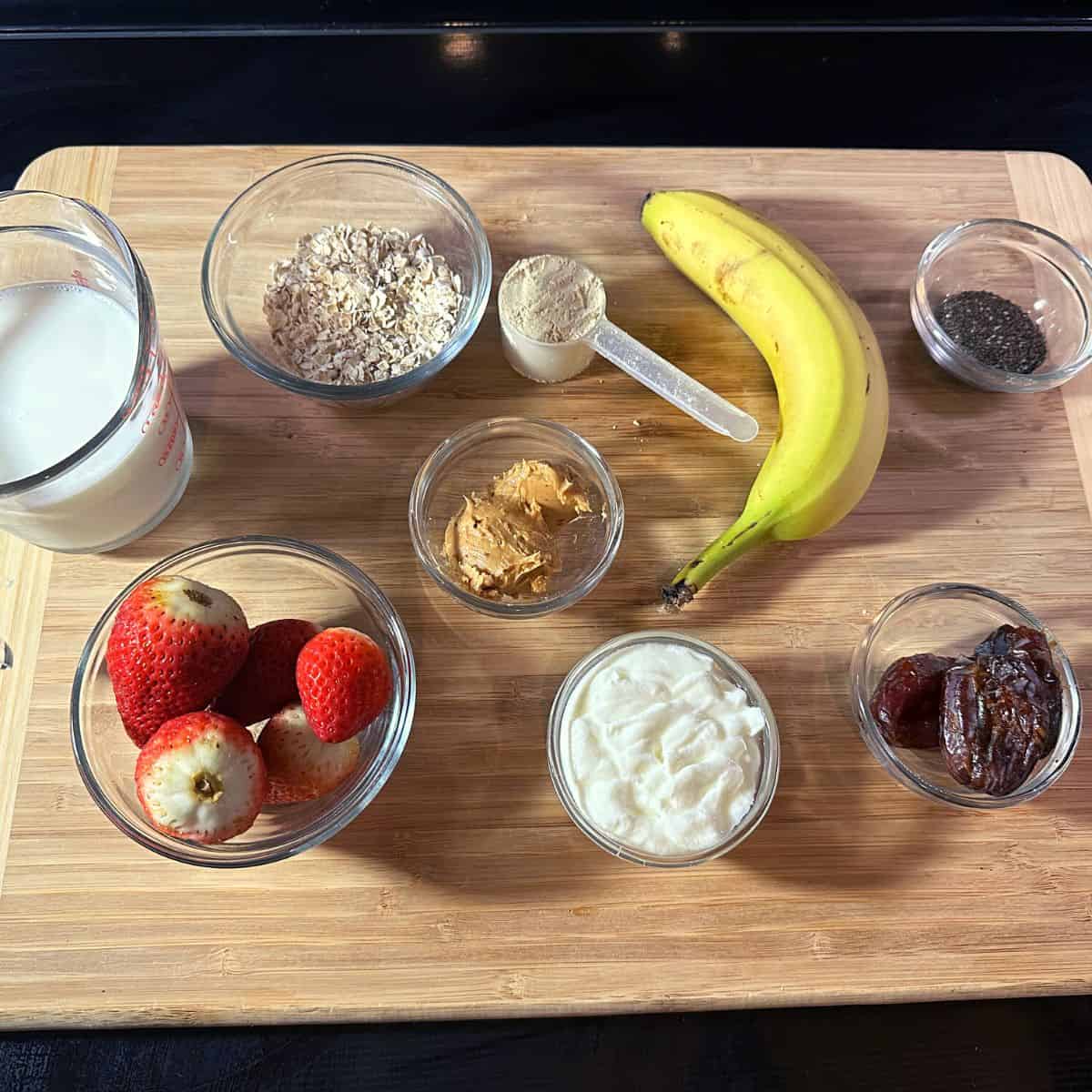 Oats: Oats make a high-calorie smoothie and are a healthy food source if used in reasonable amounts.
Banana: Banana has always been a weight-gaining ingredient when used regularly or frequently.
Strawberries: A healthy fruit with good fiber and a heart-healthy fruit to make a healthy smoothie.
Whole milk: Adds protein, and milk has good calories that make it a perfect ingredient to add to weight gain smoothies.
Yogurt: Adds not only protein but milk and yogurt are a good source of calcium too.
Chia seeds: Adding a tablespoon of chia seeds provides high fiber, and adding chia in tablespoons offers enough calories to keep one full.
Dates: Each date contains sufficient calories and can give perfect sweetness naturally to a smoothie.
Peanut butter: Peanut butter again provides protein and healthy fats and gives healthy calories to any smoothie.
Make sure not to add the peanut butter in large quantities.
Protein powder: A single scoop of protein powder is enough to provide a filling meal when added to a glass of smoothie.
A scoop of protein powder contains high protein and high calories.
Why this high-calorie smoothie?
This healthy shake for weight gain adds creaminess, richness, and protein to your meals, making a perfectly filling meal replacement smoothie.
This 1000-calorie smoothie has everything needed to boost body weight quickly and helps you stay full.
This healthy weight gain smoothie does not let you crave unhealthy high calories from unhealthy foods or drinks, which can cause unhealthy weight gain.
This drink is a healthy smoothie with healthy ingredients but is high in calories to help you increase your weight.
Skipping a few ingredients is a healthier option to reduce additional calories and gain weight simultaneously.
To have a smoothie intending to lose weight, aim for a smoothie with more than 500 calories, easily obtained using my recipe.
To help reduce the calories to 500, read the entire post, as I will be sharing the quantity of the ingredients to cut down the calories.
This smoothie, of course, has more calories to assist readers in their weight loss journey.
If you are also looking for a high-calorie shake for weight gain with more protein, this smoothie is for you.
It has protein from milk, yogurt, and peanut butter, and using protein powder adds more protein and makes it a bulky smoothie.
Ingredient calories in the smoothie
The smoothie recipe shared below is a 1000-calorie shake; check out how much each ingredient quantity contributes to the calories below.
Oats: Half a cup of oats(½ cup oats) provides us with approximately 150 calories approximately.
Banana: A banana provides roughly around 105 calories.
Read: Banana smoothie with milk
Milk: I am using whole milk, and 1.5 cups of whole milk provide approximately 220 calories.
Yogurt: Half a cup of yogurt is around 75 calories.
Chia seeds: A tablespoon (1 tbsp) of chia seeds is around 58 calories.
Peanut butter: Two tablespoons of peanut butter in the smoothie is about 190 calories.
Protein powder: One scoop of protein powder contains approximately 120 calories.
Strawberries: This fruit in the smoothie contributes to approximately 46 calories.
Dates: This natural sweetener provides the smoothie with around 40 calories on average.
Below shared is how to make weight gain smoothies according to calorie requirements.
Read: peanut butter smoothie without banana
How to make it a 500-calorie smoothie
First method
An easy way is to divide all the ingredients in half. Check out the ingredient lists below to make it 500 calories.
Ingredients
3 strawberries
½ banana
½ tablespoon peanut butter
¾ cup whole milk
3 tablespoon cup yogurt
½ scoop protein powder(vanilla or plant-based)
1 date
½ tablespoon chia seeds
3 tablespoon cup oats
Dividing all the ingredients from the smoothie recipe is the easiest way to make it a smoothie that can reduce the calories in half.
Second method
Another method is to skip some of the high-calorie ingredients, which contribute to loading the calories with the smoothie.
The ingredients to skip to reduce some calories are,
Protein powder: Protein powder may only be handy sometimes, and ignoring this ingredient can reduce 100 calories quickly.
Make the smoothie without protein powder if you like to lessen the calories in the smoothie.
Peanut butter: This is a high-calorie ingredient; skipping this or adding it in lesser quantity can make a lot of difference in the calories of the smoothie.
Dates: Skip adding dates if you like to cut down on additional calories and make a difference to your smoothie.
Dates and peanut butter can add sweetness and increase the calories in the smoothie; reducing these three ingredients can cut down the calories to a more considerable extent.
Can I make this smoothie 2000 calories?
Two thousand calories(2000 cal) can be heavy for a smoothie, although it can make a filling smoothie.
The ingredients can be easily doubled from this 1000-calorie smoothie to make it a 2000-calorie smoothie.
Divide the smoothie into containers and store it to use later.
Storage
The smoothie tastes good if stored in an airtight jar for 2-3 days, and best to consume it within two days for the smoothie to taste delicious and fresh.
If the quantity of the smoothie is more, store the leftover smoothie in the refrigerator in an airtight container.
A mason jar too can be used to store the smoothie, but consume it within two days.
Also, not only leftovers but make the smoothie and divide it into two halves if you cannot drink all the smoothies at once and store it airtight in the refrigerator.
Variations and Substitutions
Almond milk for whole milk: Almond milk can be replaced with whole milk, which makes the smoothie light and can reduce the calories of the smoothie.
The whole milk in the smoothie added is about 220 calories, and its substitute almond milk is approximately 30-40 calories.
Almond milk can easily make the smoothie cut down to 800 calories just by replacing whole milk with almond milk.
Greek yogurt for regular yogurt: Using Greek yogurt instead of regular yogurt is a perfect option to reduce additional calories in the smoothie.
Tips
The smoothie can be adjusted to the desired calorie, as I have shared each ingredient's calories above.
To make it a high-calorie smoothie, double the ingredients, and to reduce the calories, skip some of the high-calorie ingredients.
To make it a healthier smoothie, replace whole milk with nondairy milk such as soy or almond milk and use Greek yogurt for regular yogurt.
All the ingredients in the smoothie are perfect choices to increase weight and fasten the weight gain process.
Drink this smoothie regularly, and one can quickly achieve results with the help of this high-calorie smoothie.
Note
Do not use high-calorie ingredients if you suffer from underlying health issues, and please seek a doctor's advice before consuming any drink from the blog for weight loss or weight gain.
I hope you like my high-calorie smoothie that helps increase pounds as it contains ingredients that aid in fattening, such as peanut butter, banana, protein powder, etc.
Try the smoothie, and please share your weight gain results below in the comment box, along with your feedback.
FAQ
Is banana and peanut butter good for weight gain?
Bananas and peanut butter contain good calories and are healthy fattening ingredients that help you gain weight healthily.
Use them in reasonable amounts regularly to get better results.
Recipe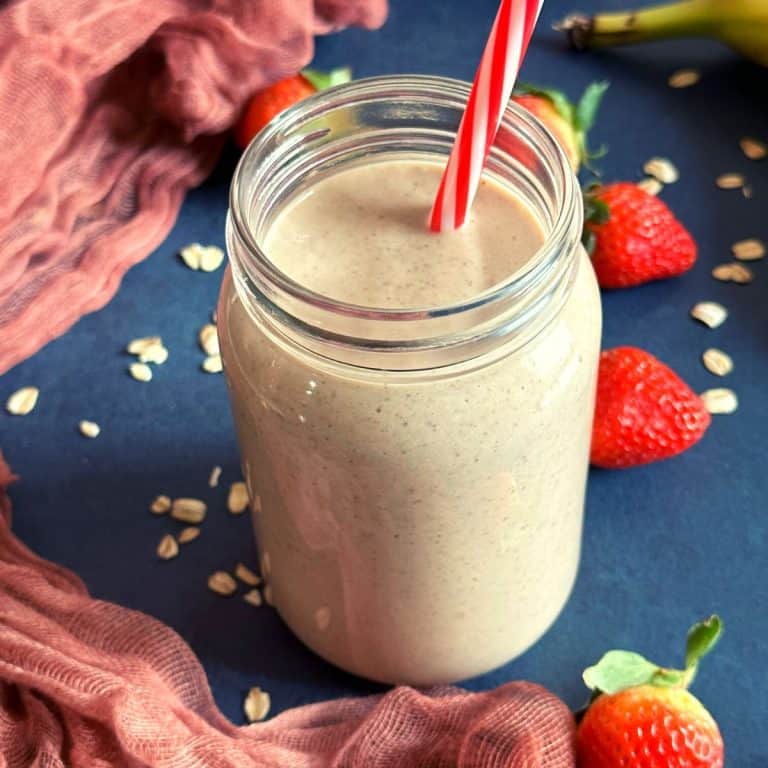 1000 calorie smoothie, weight gain smoothie
A smoothie made to gain weight using fattening ingredients.
Ingredients
½

cup

oats

1

cup

strawberries

1

banana

3

dates

2

tablespoon

peanut butter

1

scoop protein powder

(vanilla flavored or plant-based)

1.5

cup

whole milk

½

cup

yogurt

1

tablespoon

chia seeds
Instructions
Add oats to a blending jar.

Add the strawberries and peeled banana to the oats.

Also, add dates and peanut butter, the main ingredients to add to body weight.

Now add protein powder to add protein to the smoothie.

Pour milk and yogurt as the liquid base to blend the smoothie ingredients.

Add chia seeds and blend the smoothie finely.

When the smoothie purees into a fine texture, pour it into a mason jar or glass.

Serve fresh.
Notes
Add some crushed ice as an optional ingredient to make a chilled smoothie.
Nutrition
Nutrition Facts
1000 calorie smoothie, weight gain smoothie
Amount Per Serving
Calories 1003
Calories from Fat 369
% Daily Value*
Fat 41g63%
Cholesterol 110mg37%
Sodium 384mg17%
Potassium 1936mg55%
Carbohydrates 114g38%
Protein 59g118%
Vitamin A 895IU18%
Vitamin C 96mg116%
Calcium 841mg84%
Iron 6mg33%
* Percent Daily Values are based on a 2000 calorie diet.