Hibiscus tea, a healthy drink or tea made using hibiscus flower and is a miracle tea that has good health benefits as well. This flower is available in many countries or can be purchased in its dried form.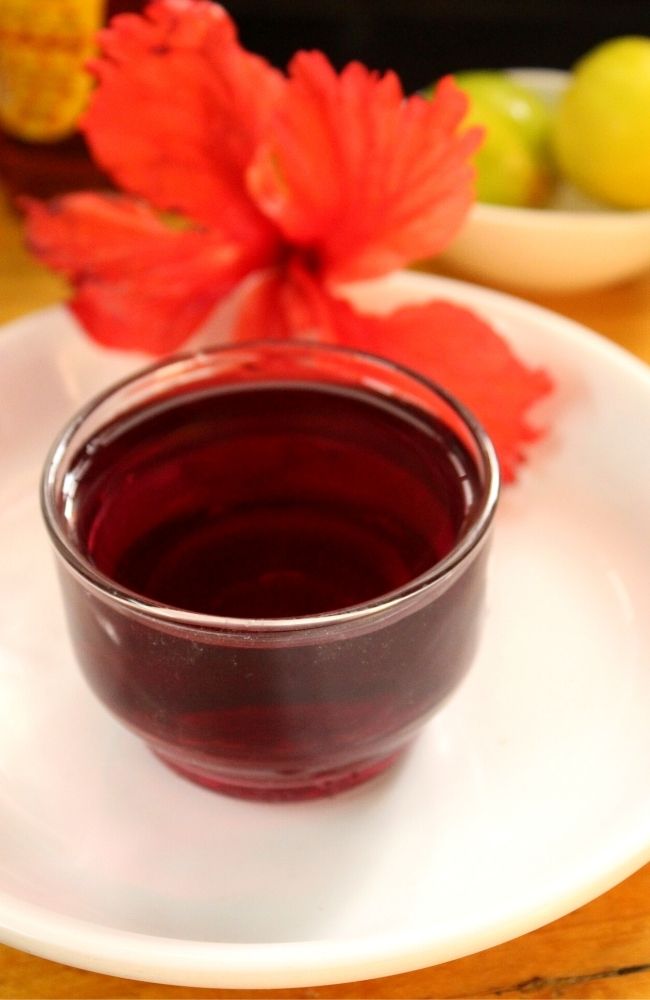 What is Hibiscus and its uses?
It is a red flower which has got beautiful petals to it. In India it is one of the mostly used flowers. It is used to make tea, used for face packs and the main purpose of the flower is to apply to hair by making its oil and mixing it with other ingredients and using it on hair as a hair pack.
Check out other healthy indian drinks from the blog such as turmeric water, lemon cucumber detox water etc...or check out some DIY recipes such as how to make aloe vera gel at home...
Hibiscus Tea making procedure:
This tea is quite easy and simple in making procedure. It just requires some water and then the petals of the hibiscus flower are added to the water and boiled until all the nutrition and flavor from the flower gets absorbed into the water and turns out into a flavorful tea.
The color of the tea turns into beautiful dark pink or magenta color when the water absorbs the color from the flower and the flower turns almost white as it releases all the flavors and color into the tea.
Just boiling for few minutes and then consuming after cooling it down is a very healthy option.
Uses and benefits of Hibiscus flower and leaves:
It is used to make oil which makes the hair lustrous, healthy and helps in regrowing of the hair.
The oil is made by making a paste of hibiscus flower and leaves and then adding it to the hair oil such as coconut and then heating the oil mixed with paste.
The oil gets all the nutrients from the paste and applying this oil to the hair 1 or 2 hours before hair wash makes the hair healthy and strong.
It can help in getting rid of dandruff too.
The hibiscus flower is dried and then made into a powder too which is mixed with henna or yogurt and applied to hair.
It has lots of benefits related to hair.
Benefits of using the tea made using hibiscus:
It is known to lower the blood pressure levels.
It is also known to lower the blood sugar levels.
It is also known to help a lot in weight loss.
However, these studies are not completely proven and overdose of these drinks might cause harm to the body.
Note: Always consult a physician before using any home remedy especially if it is meant to drink or consume or taken internally.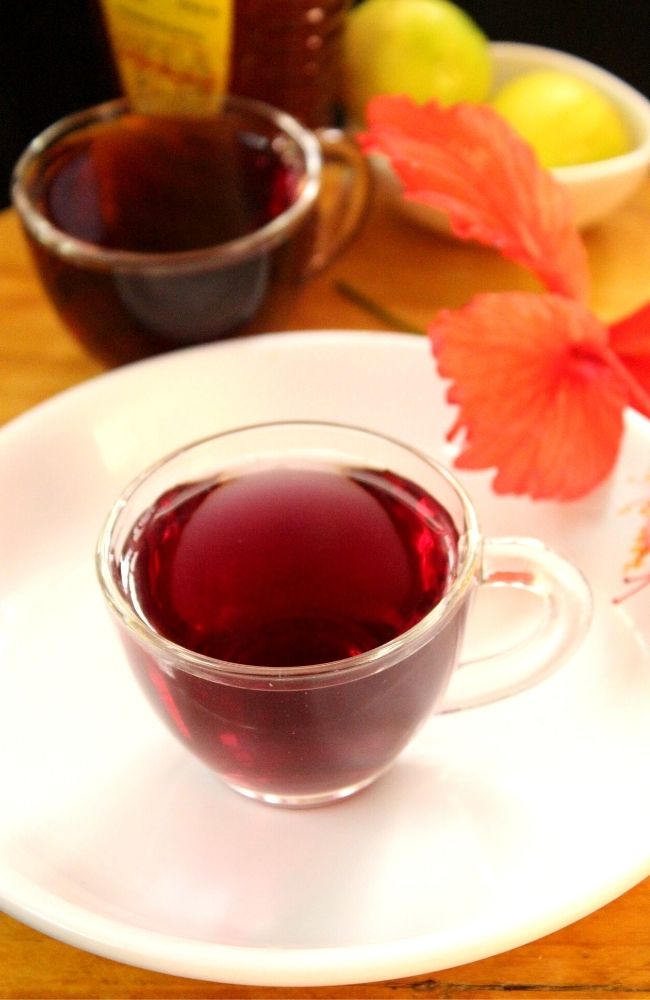 Ingredients required to make this tea:
Water: It is an essential ingredient to make any tea and there are many other healthy tea recipes already posted on the blog using water such as turmeric tea, tulsi tea, ginger tea for cold.
Hibiscus flower: This is the most important ingredient in making the tea and is essential to lower blood pressure levels. Only the petals should be used in the flower and not the whole flower. Just pluck the petals to be added into the water that is ready to be boiled.
Other ingredients to be added to lose weight:
Hibiscus is known to reduce the fat levels but in order to focus on losing weight with this remedy it is better to add additional ingredients.
The ingredients are lemon and honey: These are widely used to help in weight loss and adding them to weight loss tea recipes makes them tastier and also beneficial in terms of burning the calories.
The drink cannot be taken without any sweetener and therefore, using a sweetener such as honey makes it consumable as well as makes it even more healthier.
Honey works as a great fat cutter if mixed with healthy beverages or just used as plain honey.
How to dry the the flower:
Just pluck the petals and do not use any other parts of the flower.
Wash the petals well, wipe the water on petals with a cloth and make sure the leaves are not moist.
Leave the petals open on a plate or take a large sieve and place the petals on the sieve and make sure the leaves are kept away from each other.
Within few days they start to dry up.
Once completely dry, make its powder or directly use the dry petals to make tea or can be used for hair packs or face packs.
How and when to drink the tea?
It is always best to drink it during night or anytime during the day as it works in lowering the blood pressure and keeps it under control.
However, I suggest to take doctor's advise before using it as well as if there is any medication to follow.
Note: The information provided here is not given by any medical expert and before using anything please look at how genuine any remedy is through sources provided by experts.
Below are the recipe details on how to make the red tea using hibiscus flower...
How to make hibiscus tea:
Recipe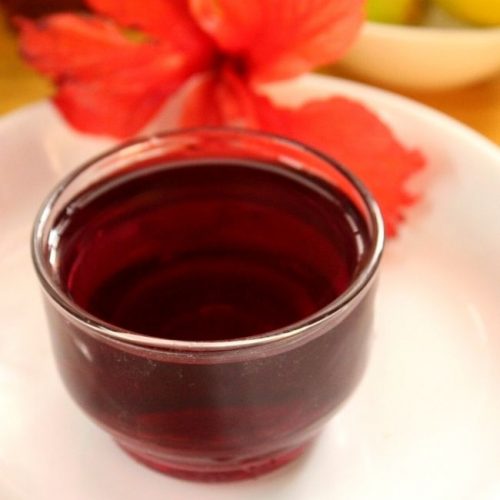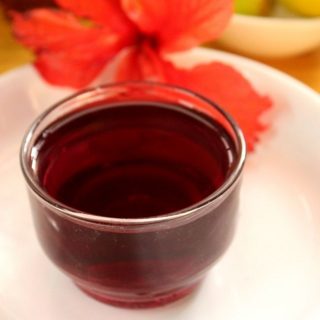 Hibiscus tea recipe, Red tea
A simple and quick tea made by boiling the flower petals...
Ingredients
1

glass of water

3

hibiscus flower petals

ice cubes

1

teaspoon

honey

½

teaspoon

lemon extract
Instructions
Take a sauce pan, add water into it.

Add the petals of the hibiscus flowers into the water.

Allow the flavors to steep well into the water.

Simmer it for 15-20 minutes.

Strain the tea into a glass.

Add honey and lemon drops if required.

Sip it chilled for best taste.
Notes
If fresh hibiscus petals are not available, then make use of dried leaves which are easily available in stores or can be bought online.
Make sure to buy organic dried leaves which are processed without chemicals.
Nutrition
Nutrition Facts
Hibiscus tea recipe, Red tea
Amount Per Serving
Calories 21
% Daily Value*
Sodium 1mg0%
Carbohydrates 6g2%
Protein 1g2%
* Percent Daily Values are based on a 2000 calorie diet.